Summary
Insan dışı primat beynin normal işleme anlamak için önemli bir translasyonel türüdür. Primat beynin anatomik organizasyonu, insanlarda normal ve patolojik durumları önemli bilgiler sağlayabilir.
Abstract
Insan olmayan primatlardan, insanlarda gelişim ve yaşlanma süreçleri anlamak için mükemmel bir translasyonel modeli sağlar
Protocol
Log in
or
Start trial
to access full content. Learn more about your institution's access to JoVE content
here
Bölüm 1: Ön-işleme doku
Doku paraformaldehid, glutaraldehid, ya da formalin ile perfüze edilmelidir. Bu, genellikle diğer organlarda hasat için kullanılan standart transcardial perfüzyon yoluyla elde edilebilir. Bu çalışmada konu derinden sodyum pentobarbital (25 mg / kg, iv), aşırı dozda ötenazi ketamin hidroklorür (10 mg / kg, im), sedasyon ve tamamen exsanguinated.This takip olana kadar 0.1 M PBS ile transcardially perfüze 5 dakika (~ 1 litre) PBS içinde% 4 paraformaldehid çözüm.
Bölüm 2: Stereotaksik engelleme
Önce baş stereotaksik çerçeve içine yerleştirerek Horsley-Clarke/interaural uçak sıfır koordinatları alınması gerekir. Bu kulağı arasında teorik bir orta nokta. Bu düzlemde ölçmek için, kulak çubukları eşit aparat takılır gerekir, daha sonra stereotaksik manipülatör kolunun bir neşter bıçak ve kulak çubukları arasındaki orta ölçmek. Bu araştırma ihtiyaçlarını dayalı doku blok nerede belirlemek için önemlidir. Bu aşama tamamlandıktan sonra kafatası stereotaksik cihazın içine sabitleme için hazırlıklı olmak gerekiyor.
Baş stereotaksik çerçeve içine yerleştirmek için alt çene kemik rongeurs ve bir neşter ile temizlenebilir olması. Ayrıca cilt, kas, bağ doku ve kemik, kafatası açığa amacıyla çıkarılmalıdır. Bağ dokusu, kafatası kaldırıldıktan sonra, calvaria (oksipital kemik tablo kısmı parietal yanı sıra, reklam frontal kemiklerin) yontulmasıyla beynin maruz bırakmayın. Calvaria mevcut deney parçası olarak tüm hazır kaldırıldı. Temporal kemikler kulak kanalları stereotaksik çerçeve içine başını yere sağlam olması gerekir, çünkü tamamen kaldırmak için değil, dikkatli olun. Maruz kalan bir beyin kalan dura madde çıkarılmalıdır. Kafatası stereotaksik çerçeve içine yerleştirilmek üzere hazırdır.
Aynı şekilde tek bir stereotaksik ameliyat olacağı, göz, damak ve kulak çubukları ağzı stereotaksik aparat sabit olduğunu ayarlayabilirsiniz. Stereotaksik manipülatör yerleştirin ve önceden belirlenmiş (A / P) anterior / posterior koordinatlarda manipülatör beynin lateral hareket. Yavaşça, beyin içine bıçak alt beyinden gelen bıçak tamamen yükseltmek, daha sonra mediale hareket ettirin ve tekrar bıçak düşük. Bıçak ters yarımkürede lateral ulaşıncaya kadar bu iki adımı tekrarlayın. Bu ilk koronal blok tamamlar. Tüm beyni bloke dek sonraki koronal blok A / P ekseni ve tekrar manipülatör 1cm hareket.
Bölüm 3: kafatası beyin çıkarma
Stereotaksik çerçeve başını çıkarın ve elinizin avuç maruz kalan beyin tutun. Coddling beyin elinizin avuç içinde hafifçe yerleştirerek ve frontal loblar, kafatasının, beynin bu en aza indirir hareketi arasında serçe parmak beyin güvenli çalışın. Pial beyin yüzeyinin kurumasını önlemek için, bir parça PBS beyin boyunca nemlendirilmiş gazlı bez yerleştirin. Omuriliğe birlikte kafatası ve yonga uzak kalan oksipital ve temporal kemikler tarafından iyice kafa tutun. Bu beyin taban ve yanal yönlerini ortaya koyar. Son olarak koku ampuller erişim sağlayacaktır kalan frontal kemik ve burun kemiği, kaldırmak. Kafatası tabanı kaldırmak gibi beyin biraz hareket eder ve frontal loblar fontal kemik pürüzlü kenarlar zarar görmüş olabilir, çünkü son frontal kemikte kaldırmak için önemlidir. Kesme ve kalan dura madde kaldırmak. Dikkatle, beynin ön kaldırın kafatası, beyin ve beynin altında neşter kaydırın.
Bölüm 4: Ölçüler
Donmaya karşı önce yapılabilir yararlıdır ölçümlerin bir dizi vardır. Örneğin, bir cetvel ile beyin A / P ekseni. Ayrıca belirli bir yoğunluk mezun silindir hacmi deplasman (Tablo 1) ağırlık bölünmesi yerinden su hacmini ölçerek, beyin ağırlığında ölçülebilir.
Bölüm 5: Son beyin engelleme.
Genelde beyin neşter bıçak takıldığında bunu tamamen beyin tam dorsal-ventral ölçüde nüfuz etmek için yeterince uzun değildir. Beyin kaldırılır ve brüt ölçümler elde edildikten sonra, bir doku dilimleme bıçağı alır ve beynin ventral tarafında (Şekil 2) yoluyla beyni bloke bitirmek.
Blokları dondurma önce, bakımı, 4 ˚ C kadar beyin lavabolar (10, 20, ve% 30) doku cryoprotect kademeli PBS-tamponlu sakaroz çözümler gereklidir. Genellikle 2-3 gün ve% 20 ek 3-5 gün kabın dibine batırmak için bloklar için% 30,% 10 bir gece inkübasyon alır. Inci bir günlük değişime% 30 sakaroz çözeltisini tavsiye edilir.
Bölüm 6: Temsilci Sonuçlar
Beyin kafatası kaldırıldıktan sonra yapılabilir brüt morfolojik ölçümleri vardır. Bunlar A / P uzunluk, ağırlık, ve özgül yoğunluğu (Tablo 1). Biz genellikle 1cm (Şekil 1) ölçüm 6-7 bloklar halinde beyin blok. Her bir parça sonra fotoğraflandı (Şekil 2) ve daha fazla araştırma ihtiyaçlarına bağlı olarak disseke veya kademeli sakaroz çözümler dondurmak için hazırlanmış olabilir.

Konu
A / P Uzunluk
(Mm)
Ağırlık
(Gram)
Su Hacmi
(Ml)
Özgül Yoğunluk
(G / ml)
O2303-2-1-1
64,3
28,1
24
1,171
O5180-1
71,3
38,7
34
1,138
O2708-3-1
62,8
28,7
26
1,104
O9184-4-2
65,3
29,5
24
1,229
N459-1-14-2
68,2
31,6
26
1,215
ORTALAMA
66,38
31,32
26,8
1,171
STD DEV
3,38
4,33
4,17
0,052
5 Ay Eski Vervets sağ yarımkürede Tablo 1 Brüt Morfolojik Ölçümleri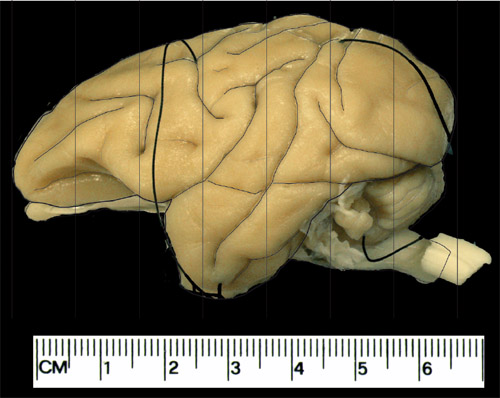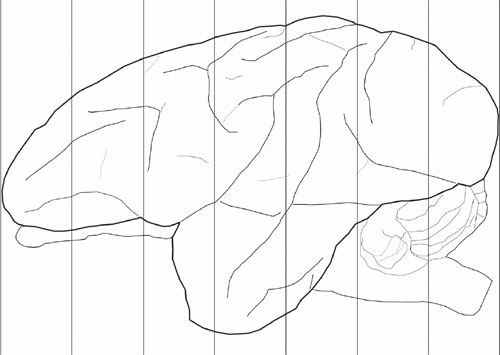 Şekil 1. Beyin engellemek için kullanılan koronal planlarda Şemalar Bu bir dışsallaşmış yetişkin vervet beyin bir örnektir. Engelleme işlemi örneği. Burada dikey çizgiler genellikle her yarımkürede 7 koronal blok üreten, 1 cm aralıklı.

Şekil 2. Stereotaksik alan beyin doku bloklar Her blok 50μm alınan yaklaşık 200 bölüm verim. Bu örnekleme şeması ile koronal planda dilimlenmiş korteks üzerinden 1200'den fazla bölümleri beyincik ve ek bir 400-500 olacak.
Subscription Required. Please recommend JoVE to your librarian.
Discussion
Log in
or
Start trial
to access full content. Learn more about your institution's access to JoVE content
here
St Kitts vervet (Chlorocebus aethiops sabeus) insanların kortikal ve subkortikal beyin gelişiminde benzer alışkanlıkları ve oranları ile bir Eski Dünya primat. Bu tür gibi karmaşık insan davranış bozuklukları endişeli davranış, hipertansiyon 8, hemisferektomi 9, Parkinson hastalığı 10, Alzhemier hastalığında 11 ve alkol kötüye kullanımı 12 modeli için kullanılır olmuştur. Daha yakın zamanlarda, bu tür natüralist prenatal etanol maruz kalma nöroanatomik etkilerini incelemek için kullanılır olmuştur. Hamile vervets üçüncü trimesterde, 3-5 standart içki haftada dört kez eşdeğer içmek için izin ve frontal korteks 13 nöronların% 35'lik bir azalma olduğu rapor edildi . Bu çalışma için beyinleri stereotaxically sadece 3 7 blok kesitli frontal korteks stereolojik değerlendirme tamamlamak için gereken bloke edildi. Bu tekniğin insan dışı primat beyin sınırlı değildir, ama yanı sıra kemirgen beyin uzatılabilir. Örneğin, bir sıçan somatosensoriyel korteks ilgi bölge ise o bölgenin ön ve arka stereotaksik kesme kemirgen stereotaksik çerçeve kullanarak olabilir. Bu bölümde küçük bir bölge ve hayvanlar arasında bir standart koronal düzlemde sağlar. Medial-lateral herhangi bir hareketi, aksi takdirde bıçak un mutlaka beyin hasarı stereotaksik manipülatör yapılmadan önce bıçak beyin tamamen retrakte gerektiğini not etmek önemlidir.
Subscription Required. Please recommend JoVE to your librarian.
Acknowledgments
Yazarlar Ikiel Ptito onun devam eden teknik destek için teşekkür etmek istiyorum. MP NSERC hibe.
Materials
| | | | |
| --- | --- | --- | --- |
| Name | Company | Catalog Number | Comments |
| Scalpel | Fine Science Tools | 10003-12 | |
| Scalpel blades | Fine Science Tools | 10011-00 | |
| Scissors | Fine Science Tools | 14090-11 | Any surgical scissors are sufficient |
| Rongeurs | Fine Science Tools | 16121-14 | |
| Forceps | Fine Science Tools | 11027-12 | |
| Filter paper | Fisher Scientific | 09-924-150 | |
| Stereotaxic Frame | Kopf Instruments | | |
| Tissue slicing blade | Thomas Scientific | | |
References
Gallagher, M., Rapp, P. R. The use of animal models to study the effects of aging on cognition. Annu Rev Psychol 48. 339-370 (1997).
Clancy, B., Darlington, R., Finlay, B. Translating developmental time across mammalian species. Neuroscience. 105, 7-17 (2001).
Nowakowski, R. S., Rakic, P. The site of origin and route and rate of migration of neurons to the hippocampal region of the rhesus monkey. J Comp Neurol. 196, 129-154 (1981).
Rakic, P., Bourgeois, J. P., Eckenhoff, M. F., Zecevic, N., Goldman-Rakic, P. S. Concurrent overproduction of synapses in diverse regions of the primate cerebral cortex. Science. 232, 232-235 (1986).
Granger, B., Tekaia, F., Le Sourd, A. M., Rakic, P., Bourgeois, J. P. Tempo of neurogenesis and synaptogenesis in the primate cingulate mesocortex: comparison with the neocortex. J Comp Neurol. 360, 363-376 (1995).
Zecevic, N., Rakic, P. Development of layer I neurons in the primate cerebral cortex. J Neurosci. 21, 5607-5619 (2001).
Ervin, F. R., Palmour, R. M., Young, S. N., Guzman-Flores, C., Juarez, J. Voluntary consumption of beverage alcohol by vervet monkeys: population screening, descriptive behavior and biochemical measures. Pharmacol Biochem Behav. 36, 367-373 (1990).
Palmour, R. M., Mulligan, J., Howbert, J. J., Ervin, F. Of monkeys and men: vervets and the genetics of human-like behaviors. Am J Hum Genet. 61, 481-488 (1997).
Boire, D., Théoret, H., Ptito, M. Stereological evaluation of neurons and glia in the monkey dorsal lateral geniculate nucleus following an early cerebral hemispherectomy. Exp Brain Res. 142, 208-220 (2002).
Bjugstad, K. B., Teng, Y. D., Redmond, D. E. J. r, Elsworth, J. D., Roth, R. H., Cornelius, S. K., Snyder, E. Y., Sladek, J. R. Jr Human neural stem cells migrate along the nigrostriatal pathway in a primate model of Parkinson's disease. Exp Neurol. 211, 362-369 (2008).
Lemere, C. A., Beierschmitt, A., Iglesias, M., Spooner, E. T., Bloom, J. K., Leverone, J. F., Zheng, J. B., Seabrook, T. J., Louard, D., Li, D., Selkoe, D. J., Palmour, R. M., Ervin, F. R. Alzheimer's disease abeta vaccine reduces central nervous system abeta levels in a non-human primate, the Caribbean vervet. Am J Pathol. 165, 283-297 (2004).
Mash, D. C., Staley, J. K., Doepel, F. M., Young, S. N., Ervin, F. R., Palmour, R. M. Altered dopamine transporter densities in alcohol-preferring vervet monkeys. Neuroreport. 7, 457-462 (1996).
Burke, M. W., Palmour, R. M., Ervin, F. R., Ptito, M. Neuronal reduction in frontal cortex of primates after prenatal alcohol exposure. Neuroreport. 20, 13-17 (2009).