Summary
Dieses Video zeigt, wie eine präklinische kostengünstige und zuverlässige Modell nutzen, um pathobiologischen und pathophysiologische Prozesse in-Stent-Restenose Entwicklung zu studieren. Longitudinal in vivo-Überwachung mit OCT (Optical Coherence Tomography) und die Analyse von OCT-Bilder werden auch gezeigt.
Abstract
Präklinische Modelle der Restenose sind unerlässlich, um die pathophysiologischen Vorgänge, die in-Stent-Restenose zu führen und bestehende und zukünftige drug-eluting stents optimieren zu entwirren.
Eine Vielzahl von Antikörpern und transgenen und Knockout-Stämme sind in Ratten. Folglich würde ein Modell für In-Stent-Restenose in der Ratte sehr bequem sein pathobiologischen und pathophysiologische Studien.
In diesem Video stellen wir Ihnen das gesamte Verfahren und pit-fällt einer Ratte Stent-Modell geeignet für hohen Durchsatz Stent Forschung. Wir zeigen den chirurgischen Eingriff des Stents Bereitstellung und die Beurteilung der In-Stent-Restenose mit der elegantesten Technik der OCT (Optical Coherence Tomography). Diese Technik bietet eine hohe Genauigkeit bei der Beurteilung der Plaque CSA (Querschnitt Bereiche) und korreliert gut mit histologischen Schnitten, die spezielle und zeitaufwendige Einbettung und Schneiden Techniken erfordern. OCT-Bildgebung ermöglicht ferner longitudinale Beobachtung der Entwicklung von In-Stent-Restenose innerhalb des gleichen Tieres im Vergleich zum One-Time-Snapshots mit der Histologie.
Protocol
Aortenstent Deployment
Männliche Sprague-Dawley Ratten mit einem Gewicht 550-600 g sind von Harlan (Indianapolis, IN, USA) erworben. Haus Ratten unter üblichen Bedingungen, gefüttert Standard Rattenfutter und Wasser ad libitum.
Anesthetize Ratte mit Isofluran (2%) und Ketamin (25 mg / kg). Unter mikroskopischer Sicht, führen Sie eine obere mediane Mini-Laparotomie zur infrarenalen Aorta freizulegen.
Präparieren Sie die Bauchaorta aus dem umliegenden Gewebe, von der Ebene der Nierenarterien bis in die Bifurkation. ACHTUNG: Keine Notwendigkeit zur Aorta von der IVC zu sezieren.
Verwenden Sie microclamps der Aorta Blutfluss zu stoppen. Legen Sie die proximale Klemme erstens durch die distale Klemme gefolgt.
Öffnen Sie die Aorta mit einer kleinen queren und bündig die Aorta mit Heparin (200 Einheiten).
Die Aorta Endothel wird durch die Verabschiedung eines 2-französisch Fogarty arteriellen Embolektomie Katheter (Baxter Healthcare, Deerfield, IL, USA) entblößt.
Verwenden Sie eine beliebige menschliche Stent Größe zwischen 8 mm und 12 mm in der Länge und 2,5 mm-3mm im Durchmesser. ACHTUNG: Der Durchmesser des Stents sollte nicht mehr als der Gefäßdurchmesser um mehr als 10% auf Pre-und Post-Stent-Stenose zu vermeiden. ACHTUNG: Schalten Sie nicht Stentlänge innerhalb der gleichen Studie.
Bereitstellen des Stents unter Verwendung der entsprechenden Ballon Druck auf den gewünschten Durchmesser zu erreichen.
Der kleine Aorta Schnitt mit 9-0 Prolene Fäden (Ethicon, Norderstedt, Deutschland) geschlossen.
Schließen Sie den Bauchschnitt in Schichten mit 4-0 Vicryl fortlaufenden Nähten (Ethicon, Norderstedt, Deutschland).
Die Hautnaht sollte noch innerhalb von 7-14 Tagen, auch wenn Viacryl verwendet wird entfernt werden.
Die Tiere erhielten Carprofen (6mg/kg) intraoperativ und Metamizol für 7 Tage in der Trinkwasser.
Optical Coherence Tomography (OCT) Imaging
OCT-Bilder werden mit dem M2 OCT-System (LightLab Imaging, Inc., Westford, MA, USA) erhalten. ImageWire ist ein bildgebendes Sonde an das Licht, um das Gewebe zu liefern und sammeln die Signale. Die ImageWire besteht aus 0,006 "(0,15 mm) Glasfaser-Kern, in einem Mantel mit einer maximalen OD von 0,019" (0,48 mm).
Anesthetize Ratte mit Isofluran (2%) und Ketamin (25 mg / kg). Unter mikroskopischer Sicht, führen Sie eine mediane Laparotomie Redo der infrarenalen Aorta freizulegen.
Klemmen Sie den proximalen Aorta und beide iliaca.
Führen Sie eine quer Arteriotomie am distalen Ende der Aorta, mit 1 ml PBS mit einer 28G-Katheter spülen und legen Sie die OCT-Katheters und leitet es in die Aorta.
Motorisierte Pullback OCT-Bildgebung ist eine Trendwende in Höhe von 1,0 mm pro Sekunde.
Erwerben Sie Bilder mit 15 Frames pro Sekunde; Bilder sind mit einem Farb-Look-Up-Tabelle angezeigt und digital archiviert.
Schließen Sie die Arteriotomie.
Schließen Sie die Bauch-und Schnitte mit 4-0 Vicryl fortlaufenden Nähten (Ethicon, Norderstedt, Deutschland).
Die Hautnaht sollte noch innerhalb von 7-14 Tagen, auch wenn Viacryl verwendet wird entfernt werden.
Die maximale Neointimabildung wird innerhalb von 6 Wochen nach Stent-Implantation zu entwickeln.
Analysieren OCT-Bilder
Oktober Messungen werden mit dem LightLab OCT-Bildgebung proprietäre Software mit einer Ratte-basierte Schnittstelle.
Kalibrieren Sie das System auf die Reflexion des OCT-Bildgebung Draht, der die Standard-Kalibrierung Technik für dieses System ist.
Trace Lumen und Stent Querschnittsflächen (CSA) manuell auf jeder 1,0 mm Abständen.
Berechnen Plaque Querschnitt als Stent CSA aus dem Lumen CSA abgezogen. Berechnen Prozent Plaque-Bereich als Plaque CSA von Stents CSA (%) aufgeteilt. Berechnen Sie durchschnittliche prozentuale Plaque Bereichen.
Die Validierung der OCT-Technik
Oktober Ergebnisse korrelieren gut mit der Histopathologie (Abbildung 1). Histologische Plaque CSAs berechnet wie oben beschrieben. Histologisch Intimahyperplasie mit hoher Dichte von spindelförmigen Zellen und nur wenige mononukleäre Entzündungszellen. Nach 6 Wochen werden Stents komplett mit neointimale Granulationsgewebe bedeckt und die Plaque CSA Maßnahmen 1,3 ± 0,4 mm 2 in einer 2,5-mm-Stent.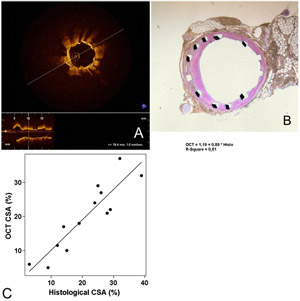 Abbildung 1: OCT (A) und histologische (B; Vergrößerung 16x) Bilder des Stents 6 Wochen nach der Bereitstellung. Plaque CSA Ergebnisse von OCT-Bildern erhalten korrelieren gut mit der Histopathologie. Bitte klicken Sie hier, um eine größere Version der Abbildung 1 zu sehen.
Discussion
Obwohl das Kaninchen iliaca und das Schwein koronaren Modelle die am häufigsten für die Stentimplantation 1, eine Kombination von radiologischen und chirurgischen Geräten erforderlich ist, eingesetzt werden, ist zur Unterbringung der Tiere Kapazitäten begrenzt, und die Kosten des Erwerbs sind hoch. Einschränkungen der Ratte Stent-Modell ist der notwendige Einsatz von speziell Stents für Ratten, die Metall-Arterie Quotienten in mehr Gefäßverletzung 2, und die künstlich hohen Inzidenz von Thrombosen 3.
Die Ratte Stenting-Modell ist eine einfache, kostengünstige, schnelle und genaue präklinischen Modell 4. Nach dem ersten Bericht über das direkte Stenting der Aorta von Ratten von Lowe et al. 5, Machbarkeit und Eignung dieses Modells für die Beurteilung der Pathophysiologie der In-Stent Restenose wurde gründlich 5,6 dargestellt. Der Durchmesser der Aorta von Ratten ist ausreichend, um Ausbau von kommerziell erhältlichen Stents ohne Störung der physiologischen Gefäß-Architektur ermöglichen. Es hat sich gezeigt, dass die pathophysiologischen Mechanismen, wie Thrombenbildung, Entzündungen und SMC-Proliferation, in diese Ratte Modelle zu entwickeln, wie sie bei Kaninchen und Schweinen zu tun. Daher sind diese Modelle gut Darstellungen der eigentliche Prozess der Restenose.
Die OCT hochauflösenden Imaging-Technologie ist nützlich, um Intimahyperplasie zu bewerten. Die Eindringtiefe ist nur 1,5-2 mm, aber die Auflösung ist um eine Größenordnung größer als die des intravaskulären Ultraschall (IVUS) 7,8. Mehrere Studien zum Vergleich von OCT mit IVUS Schluss, dass OCT derzeit ist das bevorzugte Verfahren zur Neointimahyperplasie nach Stentimplantation 8-10 zu bewerten. Gerade in kleinen Tiere mit kleinen Gefäßdurchmesser, macht die hohe Auflösung der OCT es das beste bildgebende Verfahren für die Bewertung von Restenose.
Zusammenfassend zeigt dieses Video, dass (1) Ratte Aortenstenting leicht machbar ist, (2) Ratte Bauchaorta Stenting eignet sich zur Prüfung kommerziell hergestellten Stents und (3) OCT-Bildgebung ist eine präzise und elegante Technik für Längs-Überwachung von In-Stent- Restenose.
Disclosures
Alle Ratten wurden in der Tierstation an der Stanford University Medical Center (Stanford, CA) unter Standardbedingungen Temperatur, Luftfeuchtigkeit und Lichtverhältnisse untergebracht und wurden zur Verfügung gestellt Rattenfutter und Wasser ad libitum. Die Untersuchung des Leitfadens für die Pflege und Verwendung von Labortieren durch die US National Institutes of Health (NIH Publikation Nr. 85-23, revised 1996) veröffentlicht entsprach. Das Studienprotokoll wurde von der Verwaltungskommission Panel on Laboratory Animal Care, Stanford University zugelassen.
Acknowledgments
Finanzierung
Die vorliegende Studie wurde von der Falk Research Fund für die Abteilung Herz-und Thoraxchirurgie an der Stanford University School of Medicine, Stanford, CA, USA unterstützt. Tobias Deuse wurde durch ein Forschungsstipendium der Deutschen Gesellschaft für Kardiologie gefördert. Sonja Schrepfer hat ein Forschungsstipendium der Deutschen Forschungsgemeinschaft (DFG) (SCHR992/2-1) erhalten.