Summary
Questo descrive un intervento parziale legatura della carotide, che causa condizioni di flusso disturbato e lo sviluppo dell'aterosclerosi successivi (in due settimane) con intraplaque neo-vascolarizzazione (in quattro settimane) nel topo l'arteria carotide comune. Abbiamo anche descritto un nuovo metodo di isolamento di RNA dal dell'intima carotidea, fornendo RNA di elevata purezza endoteliali.
Abstract
Nonostante la ben nota stretta associazione, la prova diretta che collega il flusso disturbato per l'aterogenesi è mancata. Recentemente abbiamo usato una versione modificata della carotide metodi di legatura parziale [1,2] per mostrare che induce acutamente condizioni di basso flusso e oscillatori, due caratteristiche fondamentali del flusso disturbato, nel topo l'arteria carotide comune. Utilizzando questo modello, abbiamo fornito la prova diretta che il flusso disturbato porta infatti allo sviluppo dell'aterosclerosi rapido e robusto nel topo knockout Apolipoproteina E [3]. Abbiamo anche sviluppato un metodo di preparazione endoteliale RNA con elevata purezza dalla carotide del mouse intima [3]. Utilizzando questo modello di topo e il metodo, abbiamo scoperto che la legatura parziale le cause della disfunzione endoteliale in una settimana, seguito dalla formazione dell'ateroma robusto e rapido in due settimane in un modello murino iperlipidemici oltre a funzionalità di formazione di lesioni complesse, come neovascolarizzazione intraplaque da quattro settimane. Questa rapida
Protocol
Log in
or
Start trial
to access full content. Learn more about your institution's access to JoVE content
here
1. Legatura parziale della carotide sinistra
I topi sono utilizzati a ~ 8 settimane di età. Il peso dei topi si raccomanda di avere almeno 18 grammi.
Sterilizzare gli strumenti per 30 secondi in sterilizzatore strumento tallone e lasciare raffreddare
Indurre l'anestesia con ketamina (80mg/kg) e xilazina (10mg/kg) anestesia intraperitoneale (ip) iniezione o alternative come approvato dalla IACUC. Per l'iniezione ip, iniettare del mouse nel quadrante in basso a sinistra dell'addome.
Del mouse posto in una camera di riscaldamento fino a completa anestetizzati. Verificare profondità dell'anestesia con risposta a pizzico piedi.
Posizionare il mouse su un palco chirurgico, in posizione supina (pancia verso l'alto) posizione. Il nastro zampe anteriori palme e le zampe posteriori solo fino al palco.
Applicare quantità liberale di agente depilatorie (ad esempio Nair) al collo tra la mandibola e lo sterno. Massaggiare delicatamente fino a quando tutti i capelli è stato rimosso.
Pulire l'agente depilatorie e applicare quantità liberale di Betadine a zona depilate.
Preparare 1 pollice-lunghi tratti di 6-0 sutura seta per legature. Ogni topo avrà bisogno di due pezzi di sutura.
Utilizzando un piccolo forbici affilate, fare una 4-6mm incisione verticale al centro del collo. Sia la pelle e la fascia sottostante devono essere tagliate.
Spostare la ghiandola parotide sinistra dalla linea mediana a sinistra e cominciare senza mezzi termini dissezione appena a destra della trachea. Dovreste essere in grado di identificare il pulsante carotide comune sinistra facilmente.
Seguire la carotide comune caudalmente fino a individuare la biforcazione.
Senza mezzi termini sezionare la biforcazione per esporre i seguenti quattro rami distali al largo della sinistra arteria carotide comune: arteria carotide esterna, interna dell'arteria carotide, l'arteria occipitale e l'arteria tiroidea superiore. Questi vasi, tiroide soprattutto superiore, può essere fragile. State molto attenti con i vostri dissezione.
Legare la carotide esterna SOPRA il tiroidea superiore utilizzando 6-0 sutura di seta. Per fare questo, passare una pinza sotto l'arteria e afferrare un pezzo di sutura pretagliati con l'aiuto del vostro pinze altri. Tirare delicatamente la sutura di passare sotto l'arteria. Tie saldamente evitando qualsiasi tessuto circostante essere catturati nel nodo. Se si legano sotto il decollo dell'arteria tiroidea superiore, entro la fine della procedura si avrà effettivamente eseguito un completo legatura che è un modello sostanzialmente diverso.
Legare le arterie carotide interna e occipitale con un nodo con la stessa tecnica.
Verificare la posizione dei punti di sutura e la pervietà dell'arteria tiroidea superiore.
Approssimativa della pelle e la pelle chiudere con una piccola quantità di tessuto-Mend.
Topi posto in una camera di riscaldamento fino al recupero. Recupero richiede in genere 30 o 60 minuti.
Una singola dose di buprenorfina (0.1mg/kg) deve essere somministrata immediatamente dopo l'intervento chirurgico se l'anestesia utilizzati non fornire sollievo prolungato dolore (es. isoflurano per via inalatoria) o se l'animale è in difficoltà nelle prime 24 ore. Nella nostra esperienza, la dose di ketamina somministrata per l'anestesia analgesia fornisce sufficiente quando la chirurgia è eseguita da chirurgo esperto e non è necessario un ulteriore analgesia.
2. Ecografia carotidea esame
Per convalidare se la legatura parziale indotto disturbato il flusso, il flusso carotideo devono essere esaminati uno giorni post-legatura
Indurre l'anestesia con isoflurano - box induzione dell'anestesia potrebbero essere utilizzati in caso di necessità
Luogo topi anestetizzati sul palco di imaging, lato pancia in su
Braccia e gambe a nastro ECG sensore sul palco di imaging
Defoliare collo mediante l'applicazione liberale di Nair (questo passo è necessario solo se non già fatto per la procedura di legatura)
Inserire termometro rettale per registrare la temperatura
Applicare Echo gel al collo
Avvio in B-mode.
Aereo Imaging dovrebbe essere di 90 ° (manopola della sonda deve essere rivolto verso il naso del mouse)
Abbassare la sonda sul collo del mouse fino a quando l'immagine è ottenuta.
Manipolare stadio a destra ea sinistra fino trachea (linea mediana struttura) viene identificato
Identificare sinistra arteria carotide comune
Fase di imaging inclinazione in modo che un angolo si crea tra il piano di imaging e la carotide. Quanto maggiore è questo angolo, migliore è il segnale Doppler sarà.
Luogo di impulsi Doppler in mezzo carotide comune sinistra.
Usa correzione angolare, se necessario.
Ripetere le misurazioni sulla carotide comune destra.
Successo legatura parziale della carotide comporterà riduzione complessiva del flusso (~ 80-90%) nella carotide comune sinistra rispetto al lato destro, con inversione del flusso verso l'ingresso aortica durante la diastole.
Una volta che le immagini soddisfacenti sono stati ottenuti, spegnere l'anestesia, gel per pulire echo off topi e topi privi di res nastrotraints. Posto i topi in camera di recupero riscaldato.
3. Intimale carotideo isolamento dell'RNA da
Sacrificio topi da CO 2 inalazione secondo il protocollo istituzionale IACUC
Nastro le zampe di un tovagliolo di carta.
Tagliare la pelle del mouse dall'addome alla parte superiore del torace.
Aprire la parete addominale sotto la gabbia toracica con un paio di forbici affilate.
Sollevare lo sterno con una pinza e tagliare il diaframma, poi tagliare via la gabbia toracica per esporre il cuore.
Tagliare la vena cava con le forbici.
Pressione profumato (120 mmHg) per 2 o 3 minuti con soluzione fisiologica contenente 10 Unità / ml di eparina attraverso il ventricolo sinistro fino a quando i polmoni e il fegato diventare pallido.
Tagliare la pelle del collo e togliere tutto il grasso, muscoli e tessuti connettivi fino carotidi sono esposti.
Posizionare il mouse sotto un microscopio da dissezione.
Perforare un foro proprio sotto i siti legatura nella carotide sinistra per la perfusione secondo.
Pressione profumato di nuovo per circa 1 min con soluzione fisiologica contenente 10 Unità / ml di eparina attraverso il ventricolo sinistro, assicurandosi che la carotide sinistra è ben consultato attentamente.
Utilizzando una pinza punta fine e forbici piccola sorgente, rimuovere con attenzione il peri-avventiziale tessuti circostanti delle carotidi. Fare attenzione a non comprimere o allungare le carotidi durante questa fase di pulizia.
Tagliare la carotide sinistra tra l'arco aortico ed i punti di legatura al di sopra della biforcazione carotidea.
Tagliato l'arteria carotide destra tra il punto di diritto arteria succlavia ramificazione e la biforcazione carotidea.
Trasferimento delle carotidi di un piatto della cultura 35 mm, contenenti ghiacciata HBSS. Se necessario, rimuovere con cura ogni residuo peri-avventiziale tessuti.
Preparare una siringa per insulina (3 / siringa da 10 ml) con un ago 29g compilando con 150 microlitri di buffer di lisi QIAsol (Qiagen) per ogni carotide.
Inserire con cautela punta dell'ago in una fine della carotide.
Mentre si tiene la carotide e la punta dell'ago con una pinza, rapidamente (~ 1 sec) svuotare il buffer QIAsol lisi (150 microlitri) in una provetta 1,5 ml (eluato intima).
Sciacquare il rimanente carotide (media + avventizia), una volta in HBSS, mettetelo in una provetta da 1,5 ml, e snap-congelare in azoto liquido.
Eluato intima e il rimanente congelato vengono poi utilizzati per dell'intima o terreni di isolamento + avventizia RNA utilizzando il miRNeasy mini kit (Qiagen) secondo le istruzioni del produttore.
4. Rappresentante dei risultati:
Siamo parzialmente legatura sinistro del mouse arterie carotidee e ecografia è stata effettuata il giorno successivo l'intervento. Come mostrato nella Figura 1, successo legatura parziale riduce velocità del flusso sanguigno e inverte il flusso (flusso disturbato) a sinistra, arteria carotide comune durante la diastole. Legatura parziale di ApoE knockout (KO) topi accompagnato da una dieta ricca di grassi provoca aterosclerosi robusta nella sinistra arteria carotide comune (LCA), ma non nella carotide controlaterale destro, da due settimane (Figura 2). RNA raccolti dal dell'intima carotidea contiene geni marcatori endoteliali come PECAM-1, mentre senza mediale geni marcatori delle cellule muscolari lisce come un-SMA (Figura 3).

Figura 1: Schema di anatomia carotidea e legature: Tre rami di sinistra dell'arteria carotide comune (LCA) [carotide esterna (ECA), arteria carotide interna (ICA), e l'arteria occipitale (OA)] sono stati legatura, lasciando l'arteria tiroidea superiore (STA) aperto.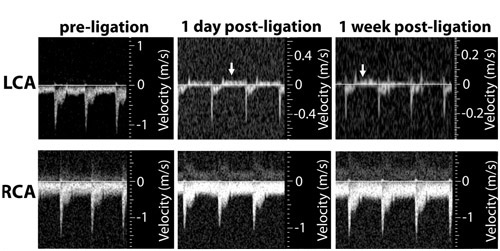 Figura 2: Le immagini ecografiche mostrano profili di velocità del flusso e rivelano che la legatura parziale induce inversione del flusso (indicato dalle frecce) in LCA durante la diastole. Portata in RCA rimane invariato dopo la legatura.

Figura 3: la legatura parziale e dieta ricca di grassi induce rapidamente l'aterosclerosi in LCA di ApoE topi KO ApoE topi KO sono stati parzialmente legata e alimentato la dieta ricca di grassi per 1 a 3 settimane.. Sezioni congelate di LCA sono state colorate con Oil-Red-O.

Figura 4. Intimale Metodo di preparazione di RNA. Intimale RNA e mediale + avventizia (m + a) RNA sono stati ottenuti da sham-operati coronarica destra e sinistra in C57BL / 6 topi. RNA sono stati analizzati mediante semi-quantitativa RT-PCR (A) e qPCR (B, C) ​​per PECAM-1 e α-SMA utilizzando minori di 18 anni come un controllo interno. Grafici a barre sono media ± SEM, n = 3.
Subscription Required. Please recommend JoVE to your librarian.
Discussion
Log in
or
Start trial
to access full content. Learn more about your institution's access to JoVE content
here
In questa procedura, corretta identificazione di tutti i rami della carotide comune tra cui la carotide esterna, carotide interna, arteria occipitale e l'arteria tiroidea superiore è essenziale. E 'anche importante per verificare il modello di flusso utilizzando gli ultrasuoni, come dimostrato. Nelle nostre mani esperte, il nostro tasso di successo di interventi chirurgici legatura parziale basati sugli studi ecografia di più di 500 topi è migliore del 90%. Per la preparazione di RNA intimale carotideo, è importante prestare attenzione alla comparsa della carotide dopo la fase di perfusione prima. Se vi è evidenza di ostruzione del flusso nella carotide comune sinistra, a questo punto, si consiglia di non utilizzare questi campioni per ulteriori analisi.
Subscription Required. Please recommend JoVE to your librarian.
Acknowledgments
Questo lavoro è stato supportato da finanziamenti dal NIH concede HL87012 (HJ), HL75209 (HJ), UO1HL80711 (DH, DG, HJ) e una World Class University Project (HJ) da parte del Ministero di Scienza, Tecnologia e Istruzione della Corea del Sud.
Materials
| | | | |
| --- | --- | --- | --- |
| Name | Company | Catalog Number | Comments |
| Normal Saline (0.9% sodium chloride) | Baxter Internationl Inc. | 2B1323 | |
| Insulin syringe (3/10 ml 29g syringe) | Tyco Healthcare, Covidien | 8881600145 | |
| HBSS | Cellgro | 21-023 | |
| miRNeasy mini kit (including, QIAzol) | Qiagen | 217004 | |
| Vevo 770 High-Resolution Micro-Imaging System | VisualSonics, inc. | a.Visualsonics 770 system b.Imaging stage c.Vevo integrated rail system d.RMV scan head for mice | or similar system |
| 6-0 Silk Suture, sterile | Covidien | s-1172 c2 | |
| Small scissors | Roboz Surgical Instruments Co. | RS-5675 | or similar |
| Dissecting Forceps | Roboz Surgical Instruments Co. | RS-5005 | or similar |
| Tissue Mend II | Webster Veterinary | 07-856-7946 | |
References
Korshunov, V. A., Berk, B. C. Flow-induced vascular remodeling in the mouse: a model for carotid intima-media thickening. Arterioscler Thromb Vasc Biol. 23, (12), 2185-2191 (2003).
Sullivan, C. J., Hoying, J. B. Flow-dependent remodeling in the carotid artery of fibroblast growth factor-2 knockout mice. Arterioscler Thromb Vasc Biol. 22, (7), 1100-1105 (2002).
Nam, D. Partial carotid ligation is a model of acutely induced disturbed flow, leading to rapid endothelial dysfunction and atherosclerosis. Am J Physiol Heart Circ Physiol. 297, (4), H1535-H1543 (2009).