Summary
Abbiamo descritto una tecnica per la preparazione di omogenati chiarito umano corticale, la separazione delle proteine ​​mediante SDS-PAGE, recupero antigene e immunoblotting con un anticorpo per il peptide Aβ. Usando questo protocollo, abbiamo costantemente rilevare Aβ monomerici e multimerica nel tessuto corticale da esseri umani con patologia di Alzheimer.
Abstract
Il ripiegamento anomalo e polimerizzazione del β-amiloide (Aβ) peptide è pensato di avviare la cascata neurodegenerative nella patogenesi della malattia di Alzheimer
Protocol
Log in
or
Start trial
to access full content. Learn more about your institution's access to JoVE content
here
Parte 1: Preparazione di omogenati di tessuti chiarito
Dounce omogeneizzare non fissati tessuto corticale in 4 volumi tempi del freddo buffer (0.1M PBS [Ca + + - e Mg + +-free] da cocktail più di proteasi 2x inibitore [Santa Cruz]) con circa 30 colpi, anche pestello (cioè tampone aggiungere 400μl a 100 mg di tessuto).
Omogenati Spin per 5 minuti a 3.000 g (4 ° C). Rimuovere con cautela surnatanti chiarito e aliquote vendite di questi estratti a -80 ° C fino al momento dell'uso.
Determinare la concentrazione totale di proteine ​​(mg / mL) per omogenati chiarita utilizzando un acido bicinchoninic (BCA) test, secondo le istruzioni del produttore (ThermoFisher).
Parte 2: SDS-PAGE La preparazione del campione
Con un 10 e, il 10-20% Tricine gel (Invitrogen), il volume massimo che può essere caricato per bene è ~ 25μl. Volume totale comprende 2x tampone campione SDS e 10x agente riducente, in modo che il volume massimo di omogenato chiarito che possono essere caricati per bene è 10μl. Chiarito il 20% (w / v) omogenati corticali dovrebbe avere una concentrazione totale di proteine ​​superiore a 5 mg / mL, permettendo 50μg di proteine ​​totali per bene. I campioni con meno di 5mg/ml proteina richiederà meno carico di proteine ​​totali per bene. Tuttavia, i livelli di proteine ​​sono ottimali per la rilevazione di Aβ monomerica e aggregati (50-60μg delle proteine ​​totali è ottimale).
Caricare sempre la stessa quantità di proteine ​​totali per bene.
Per ogni gel, carico di almeno un bene con 10μl di un marcatore di peso molecolare come SeeBlue Plus2 (Invitrogen). Come controllo positivo, eseguire 10-100 ng di sintesi Aβ40 o Aβ42 peptide (diluito in 1xPBS) in un altro bene.
Preparare miscele di reazione su ghiaccio, con appena scongelati, omogenati chiarite. Tubi vortex per 5-10 secondi, il calore in un bagno secco a 100 ° C per 5 minuti, quindi girare velocemente tutti i campioni per eliminare condensa nel tappo.
Parte 3: SDS-PAGE elettroforesi su gel
Caricare i campioni in agitazione su un gel Tricine 10-20% nel Certo XCell Blocco Mini-Cell Gelbox, utilizzando Tricine tampone SDS in esecuzione, secondo le istruzioni del produttore (Invitrogen),
Eseguire gel ad una tensione costante di 125V per circa 90 minuti. Lasciate che i campioni fino al marcatore 4KDa la band è di circa 1 cm dal fondo del gel.
Parte 4: Trasferimento di proteine ​​da gel a Membrane
Rimuovere con cura dal gel in plastica e assemblare il panino trasferimento all'interno del modulo XCell II Blot, secondo le istruzioni del produttore (Invitrogen). Pre-umido assorbente pastiglie e le membrane di nitrocellulosa 0.2μm con Tris-Glicina buffer di trasferimento (20% metanolo), ed eliminare eventuali bolle dal pad assorbente o il filtro di carta / membrana sandwich.
Nel Gelbox XCell, riempire la camera interna con buffer di trasferimento e riempire la camera esterna con DIH 2 O (esposizione metanolo può logorare la gelbox plastica nel tempo).
Eseguire il trasferimento per 2-3 ore a un amperaggio costante di 25mA.
Quando il trasferimento è stato completato, decostruire il panino e posizionare il gel in DIH 2 O e le membrane in 1xPBS, sia in piazza scatole Petri in plastica (o altro contenitore appropriato).
Per visualizzare l'efficienza del trasferimento di proteine, gel può essere colorato con i Simply Blue SafeStain (Invitrogen), e le membrane con Ponceau S macchia rossa (Sigma Aldrich), sia secondo le istruzioni del produttore. Questa colorazione non interferirà con immunoblotting. Se la colorazione rivela inefficiente trasferimento di proteine, modificare il tempo di trasferimento al punto 3.
Parte 5. Antigene-epitopo recupero e Immunoblotting
Recupero Antigen è un passo importante nel rivelare il epitopi Aβ sulla membrana il legame degli anticorpi durante immunoblotting. Ogni bagno a vapore, forno a microonde, o l'acqua che mantiene una temperatura costante di 100 ° C sarà sufficiente. Per il recupero antigene in un piroscafo, termosaldato la membrana in un robusto sacchetto di plastica riempito di Kapak 1xPBS, a temperatura ambiente. Posare il sacchetto appartamento in un pre-riscaldato a vapore, una volta che il sacchetto comincia ad espandersi, incubare per altri 15 minuti. Lasciare che la membrana si raffreddi prima di rimuoverla dal sacchetto, per evitare pieghe eccessive.
A temperatura ambiente, rimuovere con attenzione la membrana dal sacchetto fumante e risciacquare la membrana per 5 minuti in 1xPBS, seguito da 5 minuti a sciacquare in TBS-T (Tris-Buffered Saline, pH 8,0 con 0,05% di Tween-20 [sigma] ), su un agitatore orbitale. Incubare la membrana in una soluzione bloccante (latte scremato 2,5% in TBS-T) per un'ora, agitando. Senza risciacquo, trasferimento a membrana su un piatto o sacchetto di plastica contenente l'anticorpo primario diluito in soluzione bloccante (6E10 a 1:1000 [1μg/ml] 1:5.000 [0.2μg/ml] diluizione, Covance), bolla evitandos. Incubare su un agitatore orbitale a temperatura ambiente per un'ora e poi 24-48 ore in agitazione a 4 ° C (più lungo di incubazione può dare un segnale migliore).
Sciacquare la membrana per 30 minuti in TBS-T (una risciacquata veloce seguita da 3 x 10 risciacqui minuto).
Incubare la membrana in HRP-coniugato anticorpo secondario (Amersham ECL di pecora anti-topo, GE Healthcare), diluito in soluzione 1:10.000 blocco, per 90 minuti mediante l'agitatore a temperatura ambiente.
Sciacquare la membrana per 30 minuti in TBS-T (una risciacquata veloce seguita da 3 x 10 risciacqui minuto).
L'agitatore, incubare la membrana in appena fatto reagente Electrochemiluminescence SuperSignal Pico West (ThermoFisher) per 5 minuti, fuori macchia reagente in eccesso sulla privo di carta da filtro e collocare la membrana in un film di cassetta, tra protettori foglio di plastica. Blot off ulteriori reagente SuperSignal con polvere Kimwipes se necessario.
Esporre ad una pellicola Kodak Biomax MR per intervalli di 30 secondi fino a 30 minuti e si sviluppano in uno sviluppatore film. Dopo 5 minuti, le bande di monomero Aβ sarà probabilmente saturo.
Membrane possono essere rimossi (dopo il risciacquo in TBS-T), agitando in Restore Plus stripping tampone per 30 minuti a temperatura ambiente e reprobed con anticorpi aggiuntivi se lo si desidera.
Parte 6: Rappresentante Immunoblot: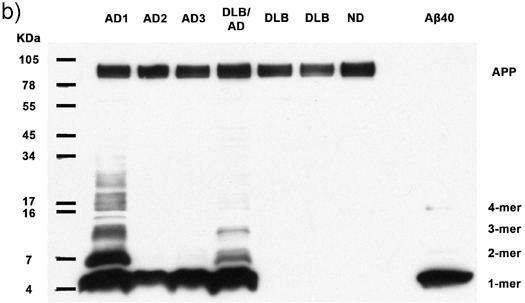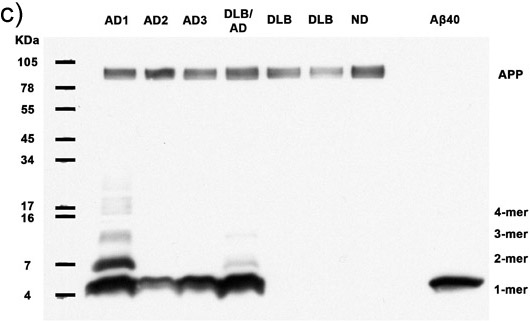 Figure 1a-c. Omogenati Chiarito contenente 50μg di proteine ​​totali da 7 soggetti umani vengono analizzati per la presenza di Aβ multimerica e APP. Immunoblotting con anticorpi 6E10 rivela Aβ monomeri, dimeri, trimeri, tetrameri, e APP (banda superiore) in tutti i casi di Alzheimer, così come più abbondante peso molecolare multimeri Aβ in 2 casi AD. Sintetico Aβ40 conferma l'identità delle bande basso peso molecolare. AD: malattia di Alzheimer, DLB: demenza con corpi di Lewy, ND: umana dementi (a) esposizione film di 30 minuti, (b) l'esposizione film di 5 minuti, (c) 30 esposizione secondo film..
Subscription Required. Please recommend JoVE to your librarian.
Discussion
Log in
or
Start trial
to access full content. Learn more about your institution's access to JoVE content
here
Nonostante l'importanza di aggregazione Aβ nella patogenesi della malattia di Alzheimer 1,4,5, pochi studi hanno descritto o quantificata la distribuzione di diversi multimeri Aβ in campioni di tessuto umano corticale 2. Comunemente usato tecniche immunoistochimiche non consentono la discriminazione di specie distinte Aβ multimerica nel fisso tessuto corticale. Non fissati in omogenati di tessuto corticale, multimeri Aβ possono essere separati e biochimicamente valutata mediante elettroforesi su gel a base di anticorpi e di metodi di rilevamento. Tuttavia, gli epitopi Aβ che sono indirizzate possono essere nascosti all'interno delle strutture peptidi aggregati e post-traduzionali modificato, impedendo l'individuazione e la quantificazione precisa della Aβ aggregati. Utilizzando il calore indotto da antigene-epitopo recupero combinato con SDS-PAGE e immunoblotting con un anticorpo alla regione N-terminale di Aβ 6,7, siamo in grado di separare e individuare naturale multimeri Aβ isolato dal cervello umano. Distinte popolazioni multimer Aβ in omogenati di tessuto chiarito può quindi essere quantificata densitometria. Inoltre, la combinazione di gel o membrana-estrazione con Aβ immunoblotting consentirà un'ulteriore caratterizzazione strutturale di natura post-traduzionali modificato multimeri Aβ da tessuti umani. Sarà importante per determinare se multimeri Aβ nel cervello umano sono SDS-resistente, o se sono SDS-sensibili e quindi suddivisi in piccoli aggregati mediante SDS denaturazione in condizioni definite. La caratterizzazione delle diverse forme di Aβ aggregati nel cervello umano faciliterà la ricerca di terapie e biomarcatori per la malattia di Alzheimer.
Subscription Required. Please recommend JoVE to your librarian.
Acknowledgments
Molte grazie a Elaine Pranski e Carolyn Suwyn per un'eccellente assistenza tecnica e di Harry LeVine III, M. Paul Murphy, e ingranaggi per le conversazioni importanti Marla. Il finanziamento è stato fornito da RR-00165, PO1AG026423, P50AG025688, AG030539, la Fondazione Woodruff e la Emory University Comitato di ricerca.
Materials
| | | | |
| --- | --- | --- | --- |
| Name | Company | Catalog Number | Comments |
| Complete Protease Inhibitor Cocktail Tablets | Santa Cruz Biotechnology, Inc. | Sc-29130 | 1 tablet in 25ml buffer |
| BCA Protein Assay kit | Thermo Fisher Scientific, Inc. | 23225 | |
| XCell SureLock Mini-Cell and XCell II Blot Module Kit CE Mark | Invitrogen | EI0002 | |
| Novex Tricine SDS Sample Buffer (2X) | Invitrogen | LC1676 | |
| NuPAGE Sample Reducing Agent (10X) | Invitrogen | NP0004 | |
| SeeBlue Plus2 Pre-Stained Standard | Invitrogen | LC5925 | |
| Novex 10-20% Tricine Gel 1.0 mm, 10 well | Invitrogen | EC6625BOX | |
| Nitrocellulose membranes, 0.2 μm pore size | Invitrogen | LC2000 | |
| Novex Tricine SDS Running Buffer (10X) | Invitrogen | LC1675 | |
| Novex Tris-Glycine Transfer Buffer (25X) | Invitrogen | LC3675 | |
| SimplyBlue SafeStain | Invitrogen | LC6060 | Will not interfere with immunostaining |
| ATX Ponceau S Red staining solution | Sigma-Aldrich | 09276 | Will not interfere with immunostaining |
| Kapak heat sealable plastic sample pouches | Fisher Scientific | 0181225AA | |
| 6E10 mouse monoclonal antibody to Aβ(1-16) | Covance | SIG-39320 | Dilute 1:1,000 up to 1:5,000 for WB |
| Tween 20 | Sigma-Aldrich | P2287 | |
| ECL Mouse IgG, HRP-Linked Whole Aβ (from sheep) | GE Healthcare | NA931-1ML | Dilute at 1:10,000 |
| SuperSignal West Pico Chemiluminescent Substrate | Thermo Fisher Scientific, Inc. | 34077 | |
| Kodak Biomax MR Film | Carestream Health | 870 1302 | |