Overview
Denne video beskriver en metode til at teste olfaktorisk sonderende adfærd i frugtfluen, kaldet Y-labyrinten. Den fremhævede protokol klip viser, hvordan du opsætter og gennemføre analysen.
Protocol
Denne protokol tekst er et uddrag fra Simonnet et al., Test Drosophila Olfaction med en Y-labyrint Assay, J. Vis. Exp. (2014).
1. Før du starter
Brug en isogeniseret referencebestand med stabile og robuste adfærdsmæssige fænotyper. Der er ingen generel regel for valg af denne bestand, da alle potentielle kontroller kan bære heterogene baggrunds alleler.
Brug denne kontrol stamme til backcross alle andre bestand er nødvendige for senere trin. Dette backcrossing trin er typisk repræsenteret ved mindst 5 på hinanden følgende krydsninger af en enkelt jomfru kvinde (for at tillade eventuel krydsning-over mellem homologe kromosomer) til 2-3 isogene reference hanner. Dette trin er vigtigt for at homogenisere den genetiske baggrund mellem de forskellige fluebestande.
Vedligehold Drosophila lagre på en standard majsmel (9%), gær (10%), og agar medium (1,5%) suppleret med antibiotika (0,4% methyl para-hydroxy-benzoat) i en 12-timers lys/mørk cyklus ved 25 °C.
Opnå kemosensoriske eksperimenter i et temperaturstyret rum (25 °C) under langt rødt lys (for at eliminere bidraget fra visuelle signaler og for at fokusere på kemosensoriske signaler). Forny regelmæssigt rummets luft for at ventilere området mellem hvert eksperiment.
2. Olfaktorisk respons ved hjælp af en Y-labyrint Assay
Fluerne sultes i 16-18 timer ved 25 °C i glasrør, der indeholder vådt køkkenrulle, inden de testes.
dig til et Y-form stik til to glasglas og til et mindre plastglas (læsseglas). Brug 1 ml pipettespidser, der passerer gennem skumpropperne, til at forbinde stikket med de tre hætteglas og for at opnå en tæt forseglet Y-labyrint. Skær de smalle ender af to pipettespidser (~ 2 mm diameter for at undgå enhver tilbagevenden af fluen, når den har truffet sin beslutning) for at danne to "fælde" hætteglas og en stor ende af en pipettespids for at danne "lastningsrøret" (Figur 1A).
Lige før du forbinder "fælde" hætteglas(Figur 1B), placere en ~ 6 mm diameter filterpapir i hvert hætteglas. Der tilsættes 40 μl lugtopløsning på et filterpapir og 40 μl af det tilsvarende opløsningsmiddel på det andet filterpapir.
Introducer ti 4 til 9 dage gamle fluer i "lastning" hætteglasset. Brug ikke CO 2-anæstesi under denne overførsel, da det har en stærk effekt på adfærd. Brug hellere kort køling på is. Korrekt manipulation af bedøvede fluer er vigtigt at begrænse stress på emnerne så meget som muligt.

Udfør en række Y-labyrinttest ved 25 °C under langt rødt lys (ved hjælp af LED-pærer for at begrænse mulig varmekilde) for at undgå visuelle stimuli så meget som muligt. Vær omhyggelig med at skifte retning af Y-labyrinter (lugtstof, der indeholder rør til venstre, eller til højre, og lastning rør foran eller i ryggen; Figur 1C).
Tillad flere timer for fluerne at komme ind i fældeglasset, der indeholder lugtmidlet eller opløsningsmidlet. Count flyver efter 24 timer for at øge deltagelsen op til mere end 80% og give den maksimale olfaktoriske indeksværdi (Simonnet, personlig kommunikation).
Det resulterende olfaktoriske indeks beregnes ved hjælp af følgende formel: (tal i lugtrøret - tal i opløsningsmiddelrøret) /samlet antal lastede fluer.

Vask Y-maze set-up som følger: blød demonteret set-up i RBS 35 MD natten. Skyl grundigt ud med vand fra hanen. Til sidst skylles med deioniseret vand og tørres ud.
3. Statistisk analyse af dataene
Udfør en t-test, en envejs ANOVA eller en tovejs ANOVA afhængigt af data og variabler.
Subscription Required. Please recommend JoVE to your librarian.
Representative Results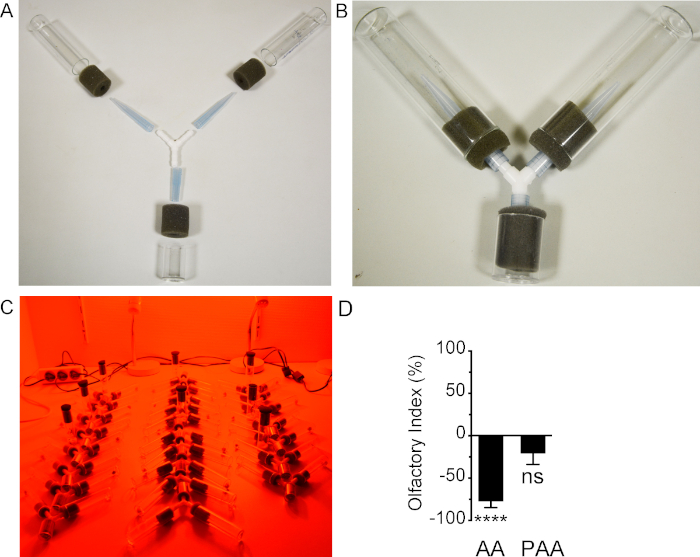 Figur 1: Mandligt olfaktorisk respons vurderet med et Y-labyrint-set-up. A) Split enhed. B) Samlet anordning. C) Opsætning i arbejdstilstand under langt rødt lys. D) Kvantificering af mandlige olfaktoriske reaktioner på eddikesyre (AA) eller phenylaedikesyre (PAA) begge fortyndet i destilleret vand (10% v/v) (N = 11, svarende til i alt 110 fluer). Statistisk analyse blev udført ved hjælp af en t-test, der sammenlignede dataene med 0. 0 betyder ingen præference. En negativ værdi angiver en modvilje mod lugten, og en positiv værdi en attraktion. : p < 0,0001; ns: ikke-signifikant (p = 0,1680). Klik her for at se en større version af dette tal.
Subscription Required. Please recommend JoVE to your librarian.
Materials
Name
Company
Catalog Number
Comments
Drosophila Polystyrene tube
VWR europe
734-2255
30 x 25 mm Y-maze
Drosophila Borosilicate tube
Dijon verre
95 X 25 mm Y-maze
Foam stopper
Dutscher
999038
Y-maze
Y-shaped connector
Europrix
11020605
Y-maze
100-1,000 µl pipette tips
Corning
4868
Join the following pipette tips to the Y-shaped connector.
Cut 2 pipette tips at 65 mm from the wide end, and connect the narrow end (with a ~2 mm opening) to 2 test vials.
These openings will limit the U-turns once the flies enter the tubes containing the odors.
Cut 1 pipette tip at 35 mm from the wide end, and connect it to the loading vial.
Far-Red LED Bulb
Rubin-Lacaque
0RB180238
625-630 nm
Acetic Acid
Sigma-Aldrich
45725
Phenylacetic Acid
Sigma-Aldrich
P16621
Yeast
Sensient Flavors Strasbourg
1018880464
Cornmeal
eurogerm
Farine de maïs
Agar
Kalys
HP-697-25
Methyl hydroxy 4 benzoate
VWR international
25605293
Tags
Tom værdi
Problem