Overview
Denne videoen beskriver en metode for å teste olfaktorisk utforskende oppførsel i fruktfluen, kalt Y-labyrinten. Det utvalgte protokollklippet viser hvordan du konfigurerer og utfører analysen.
Protocol
Denne protokollteksten er et utdrag fra Simonnet et al.,Testing Drosophila Olfaction med en Y-maze Assay, J. Vis. Exp. (2014).
1. Før du starter
Bruk en isogenisert referanselager med stabile og robuste atferdsfenotyper. Det er ingen generell regel for å velge denne aksjen, siden alle potensielle kontroller kan bære heterogene bakgrunnsgater.
Bruk denne kontrollstammen til å tilbakese annenhver lager som er nødvendig for senere trinn. Dette backcrossing trinnet er vanligvis representert av minst 5 påfølgende kryss av en enkelt jomfru kvinne (for å tillate mulig kryssing mellom homologe kromosomer) til 2-3 isogene referansehanner. Dette trinnet er viktig for å homogenisere den genetiske bakgrunnen mellom de forskjellige fluebestandene.
Vedlikehold Drosophila-lagre på et standard maismel (9%), gjær (10%), og agar medium (1,5%) supplert med antibiotika (0,4 % metylparahydroksy-benzoat) i en 12-timers lys/mørk syklus ved 25 °C.
Oppnå kjemosensoriske eksperimenter i et temperaturkontrollert rom (25 °C) under langt rødt lys (for å eliminere bidraget fra visuelle signaler, og for å fokusere på kjemosensoriske signaler). Forny regelmessig luften i rommet for å ventilere området mellom hvert eksperiment.
2. Olfaktorisk respons ved hjelp av en Y-labyrintanalyse
Sult fluene i 16-18 timer ved 25 °C i glassrør som inneholder vått papirhåndkle før testing.
Koble en Y-form kobling til to hetteglass i glass og til et mindre hetteglass av plast (hetteglass med lasting). Bruk 1 ml pipettespisser som passerer gjennom skumproppene for å koble kontakten til de tre hetteglassene, og for å få en tett forseglet Y-labyrint. Klipp de smale endene av to pipettespisser (~ 2 mm diameter, for å unngå retur av flyet når det har tatt sin beslutning) å danne to "felle" hetteglass, og en stor ende av en pipettespiss for å danne "lasting" -røret (Figur 1A).
Like før du kobler til hetteglassene med "felle" (figur 1B), plasserer du ett filterpapir med diameter ~6 mm i hvert hetteglass. Tilsett 40 μl luktvæskeoppløsning på ett filterpapir, og 40 μl av det tilsvarende løsningsmidlet på det andre filterpapiret.
Introduser ti 4 til 9 dag gamle fluer i hetteglasset "lasting". Ikke bruk CO2 anestesi under denne overføringen, siden det har en sterk effekt på atferd. Bruk heller kort kjøling på is. Riktig manipulering av bedøvede fluer er viktig for å begrense stress på fagene så mye som mulig.

Utfør en serie Y-labyrint tester ved 25 °C under fjernt rødt lys (ved hjelp av LED-pærer for å begrense mulig varmekilde) for å unngå visuelle stimuli så mye som mulig. Pass på å skifte orienteringene til Y-labyrintene (luktstoff som inneholder rør til venstre, eller til høyre, og lasterør foran eller bak; Figur 1C).
La det gå flere timer før fluene kommer inn i felle hetteglasset som inneholder luktstoffet eller løsningsmidlet. Count flyr etter 24 timer for å øke deltakelsen opp til mer enn 80% og gi maksimal olfaktorisk indeksverdi (Simonnet, personlig kommunikasjon).
Beregn den resulterende olfaktoriske indeksen ved hjelp av følgende formel: (nummer i luktrøret - nummer i løsningsmiddelrøret)/totalt antall lastede fluer.

Vask Y-labyrintoppsettet på følgende måte: Bløtlegg det demonterte oppsettet i RBS 35 MD over natten. Skyll grundig med vann fra springen. Skyll til slutt med deionisert vann og la det tørke ut.
3. Statistisk analyse av dataene
Utfør en t-test, en enveis ANOVA eller en toveis ANOVA avhengig av data og variabler.
Subscription Required. Please recommend JoVE to your librarian.
Representative Results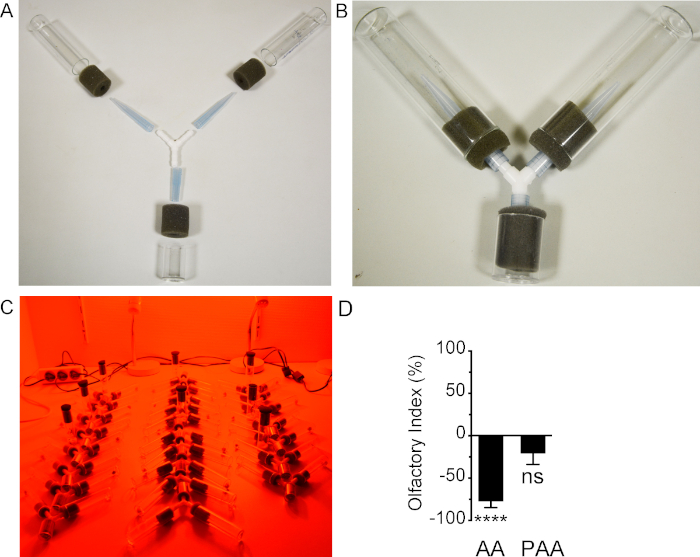 Figur 1: Mannlig olfaktorisk respons vurdert med et Y-labyrintoppsett. A) Delt enhet. B) Montert enhet. C) Oppsett i arbeidstilstand under fjernt rødt lys. D) Kvantifisering av mannlige olfaktoriske responser mot eddiksyre (AA) eller fenylacetic acid (PAA) begge fortynnet i destillert vann (10% v / v) (N = 11, som representerer totalt 110 fluer). Statistisk analyse ble utført ved hjelp av en t-test som sammenlignet dataene med 0. 0 betyr ingen preferanse. En negativ verdi indikerer en aversjon mot luktstoffet, og en positiv verdi en attraksjon. : p < 0,0001; ns: ikke signifikant (p = 0,1680). Klikk her for å se en større versjon av denne figuren.
Subscription Required. Please recommend JoVE to your librarian.
Materials
Name
Company
Catalog Number
Comments
Drosophila Polystyrene tube
VWR europe
734-2255
30 x 25 mm Y-maze
Drosophila Borosilicate tube
Dijon verre
95 X 25 mm Y-maze
Foam stopper
Dutscher
999038
Y-maze
Y-shaped connector
Europrix
11020605
Y-maze
100-1,000 µl pipette tips
Corning
4868
Join the following pipette tips to the Y-shaped connector.
Cut 2 pipette tips at 65 mm from the wide end, and connect the narrow end (with a ~2 mm opening) to 2 test vials.
These openings will limit the U-turns once the flies enter the tubes containing the odors.
Cut 1 pipette tip at 35 mm from the wide end, and connect it to the loading vial.
Far-Red LED Bulb
Rubin-Lacaque
0RB180238
625-630 nm
Acetic Acid
Sigma-Aldrich
45725
Phenylacetic Acid
Sigma-Aldrich
P16621
Yeast
Sensient Flavors Strasbourg
1018880464
Cornmeal
eurogerm
Farine de maïs
Agar
Kalys
HP-697-25
Methyl hydroxy 4 benzoate
VWR international
25605293