Abstract
Achtergrond: Eierstokkanker is over het algemeen gediagnosticeerd in een vergevorderd stadium waar de zaak / sterfte-verhouding hoog is en dus blijft de meest dodelijke van alle gynaecologische maligniteiten onder Amerikaanse vrouwen 1,2,3. Sereuze tumoren zijn de meest voorkomende vormen van kanker van de eierstokken en 4,5 van de Tg-MISIIR-Tag transgene is de enige muis model dat zich spontaan ontwikkelt dit type tumoren. Tg-MISIIR-Tag muizen express SV40 transformeren gebied onder controle van de Müller groeiremmende stof type II Receptor (MISIIR) gen promoter 6. Extra transgene lijnen geïdentificeerd die uitdrukken van de SV40 TAg transgen, maar ontwikkelen geen ovariële tumoren. Niet-tumor gevoelig muizen vertonen typische levensduur voor C57Bl / 6 muizen, en zijn vruchtbaar. Deze muizen kunnen worden gebruikt als syngene transplantaat ontvangers voor tumor cellen geïsoleerd uit Tg-MISIIR-tag-DR26 muizen.
Doelstelling: Hoewel tumor beeldvorming mogelijk is zeven, de vroege opsporing van diepe tumoren is een uitdaging in kleine levende dieren. Om de pre-klinische studies in een immunologisch intact diermodel voor sereuze eierstokkanker, beschrijven we een syngene muismodel voor deze vorm van eierstokkanker, dat vergunningen in vivo beeldvorming, studies van de tumor micro-omgeving en de tumor immuunrespons.
Methoden: We hebben eerst afgeleid een TAG + muis kanker cellijn (MOV1) van een spontane ovariële tumor geoogst in een 26 weken oude DR26 Tg-MISIIR-Tag vrouw. Dan hebben we stabiel MOV1 cellen getransduceerd met TurboFP635 lentivirus zoogdieren vector die codeert voor Katushka, een ver-rood mutant van de rode fluorescerende eiwit uit zee-anemoon Entacmaea quadricolor met excitatie / emissie maxima bij 588/635 nm 8,9,10. We orthotopically geïmplanteerd MOV1 Kat in de eierstok 11,12,13,14 van niet-tumor gevoelig Tg-MISIIR-Tag vrouwelijke muizen. Tumorprogressie werd gevolgd door in vivo optische beeldvorming en de tumor micro-omgeving werd geanalyseerd door immunohistochemie.
Resultaten: Orthotopically geïmplanteerde MOV1 Kat cellen ontwikkeld sereuze ovariële tumoren. MOV1 Kat tumoren zouden kunnen worden gevisualiseerd door in vivo beeldvorming tot drie weken na de implantatie (fig. 1) en werden geïnfiltreerd met leukocyten, zoals waargenomen in de menselijke eierstokkanker 15 (fig. 2).
Conclusies: We beschrijven een orthotope model van eierstokkanker die geschikt zijn voor in vivo beeldvorming van vroege tumoren als gevolg van de hoge pH-stabiliteit en fotostabiliteit van Katushka in diepe weefsels. Wij stellen het gebruik van deze roman syngene model van sereuze eierstokkanker voor in vivo beeldvormend onderzoek en monitoring van de tumor immuunrespons en immuuntherapie.
Protocol
Log in
or
Start trial
to access full content. Learn more about your institution's access to JoVE content
here
1. Cel Cultuur
Voor orthotope injectie, cultuur MOV1 Kat cellen, afgeleid van DR26 tumoren, in een T175 fles totdat ze 90% confluent. Van plan om 1 tot 5 miljoen cellen per injectie, die nodig 1 of 2 T175 flessen te gebruiken.
Op de dag van de injectie, oogst de cellen en bepaalt het aantal cellen met behulp van een hemocytometer.
Zodra de cel concentratie is vastgesteld, pellet van de cellen door centrifugatie gedurende 5 minuten bij 300 xg bij kamertemperatuur.
Naar aanleiding van de spin, resuspendeer de cellen om 1 miljoen in 10 microliter van steriele PBS met 0,002 M EDTA
2. Pre-Surgery
Voorafgaand aan de operatie, vullen een 3/10cc insuline spuit met 1 miljoen MOV1-Kat cellen in 10 microliter van PBS EDTA.
Overdracht een isofluorane verdoofde muis om een ​​verwarmingselement. Voeg oogzalf in oog uitdroging te voorkomen. Dan, meteen invoegen van het dier hoofd in een neus-systeem is aangesloten op een isofluraan anesthesie verdamper te leveren door de operatie.
Na desinfectie van de injectieplaats met alcoholdoekjes, subcutaan injecteren 5 mg / kg van Ketoprofen, een pre-operatieve analgeticum, met een 3/10cc insuline spuit.
Met behulp van klippers, scheren de linker caudale deel van het dorsale gedeelte van de thoracolumbale afslag naar de basis van het dier staart. Van toepassing ontharingscrème volledig te verwijderen het haar. Verwijder vervolgens het overtollige met een natte papieren handdoek.
Zodra het haar is verwijderd, steriliseren het geschoren gebied met povidon-jodium en alcoholdoekjes. Plaats dan een chirurgische draperen rond het gebied van de incisie.
3. Chirurgie
Net voor de operatie, stelt u de isofluraan vaporizer niveaus tot 1,5%.
Controleer of het dier volledig verdoofd door knijpen de voet pad.
Zoek vervolgens de milt onder de huid. Vervolgens met behulp van chirurgische schaar, een dorsolaterale incisie 1-2 cm lang in de rechterbovenhoek van de milt.
Ontleden het retroperitoneum. Het pad rondom de muis eierstok in acht worden genomen. Gebruik gebogen pincet te begrijpen en bloot het vet pad rond de muis eierstok.
Hydrateer het orgel met enkele druppels van steriele PBS.
Gebruik gebogen tang te vatten, trekken ... positie ... en zet de eierstok voor injectie
Terwijl stevig grijpen de eierstok met de tang, injecteren 10 microliter van MOV1 Kat tumor cellen in de eierstok. Een stevige greep zal voorkomen dat vocht regurgitatie of lekkage.
Onmiddellijk na de injectie, laat de spanning die wordt uitgeoefend door de tang. De perforatie in de eierstok moet spontaan trekken en te sluiten.
Met behulp van een absorbeerbare polyglycolzuur hechtdraad bevestigd aan een naald, sluit de retro-buikvlies wond.
Laat het dier uit de neuskegel.
Strek de huid en sluit de dorsolaterale wondranden met een paar druppels van het weefsel lijm.
Tot slot, oraal toedienen 100 microliter van antibiotica voor het dier. En plaats het terug in zijn kooi en monitor voor herstel. Houd het dier op antibiotica in het drinkwater voor een week.
4. In vivo beeldvorming
Een week na de injectie van orthotope MOV1 Kat tumorcellen, uit te voeren in vivo beeldvorming. Begin door de overdracht van een isofluorane verdoofd muis om de beeldvorming kamer.
Draai de isofluraan vaporizer niveau tot 2%.
Presteren in vivo beeldvorming op basis van de imaging-systeem instructies van de fabrikant. In deze video, zal het Lumina-systeem worden gebruikt.
Om de afbeelding, klikt u op de Living Image software pictogram op het bureaublad. Dan, op de IVIS Acquisition Control Panel, kies "initialiseren". Het instrument instellingen zijn analoog aan een camera-instellingen
Bij de acquisitie Control Panel instellen van het instrument overname parameters. Voor fluorescentie, vink dan "Fluorescent." Klik op de foto vak om een ​​foto te verwerven met elke afbeelding.
Stel vervolgens de belichtingstijd als Auto. Onder "Pixel binning of CCD resolutie", check "Medium". Vervolgens onder F / stop of het diafragma, controleer dan de waarde van 2. Selecteer vervolgens de 535 excitatie-filter en de DsRed emissie-filter.
Onder gezichtsveld, klikt u op View B het imago van een enkele muis.
Klik vervolgens op de te verwerven om de afbeelding te overname te beginnen.
Zodra het beeld acquisitie is afgerond, gebruik maken van de regio of Interest, of ROI, tool voor het meten van het signaal. Klik op de meting icoon om het signaal waarden en het gebied vrij te geven.
Klik ten slotte op "Opslaan" om de afbeelding op te slaan in de map gebruiker
Nadat de beelden zijn opgeslagen, stop de toediening van isofluraan en terug te keren met de muis naar zijn kooi. De muis moet onmiddellijk wakker.
5. Representatieve resultaten
-Met behulp van dit protocol, Kan de in vivo groei van een orthotope eierstokkanker worden gecontroleerd gedurende ten minste 3 weken met een niet-invasieve procedure.

Figuur 1. MOV1 Kat cellen, of PBS als negatieve controle werden orthotopically geïnjecteerd in de eierstok van de niet-tumor gevoelig muizen (rechts en links van dieren dier en respectievelijk). In vivo beeldvorming werd twee weken later plaats. De fluorescentie-emissie gegenereerd door MOV1 Kat cellen geënt in de eierstok werd gemeten en vergeleken met die van de negatieve controle muis.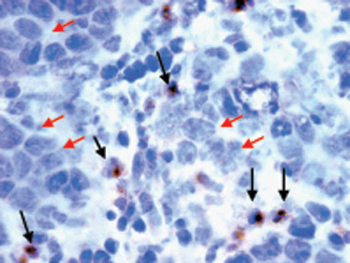 Figuur 2. Bevroren secties van MOV1 Kat ovariële tumoren werden gekleurd met gebiotinyleerd anti-CD4 mAb, gevolgd door DAB substraat (donker bruin) van de tumor infiltrerende lymfocyten (zwarte pijl) te detecteren. Cellen werden tegengekleurd met methyl-groen tot celkernen (blauw) te visualiseren. Tumorcellen (rode pijlen) werden morfologisch onderscheiden van T-cellen. De dia verschijnt 40x vergroot.
Subscription Required. Please recommend JoVE to your librarian.
Discussion
Log in
or
Start trial
to access full content. Learn more about your institution's access to JoVE content
here
Chirurgie en orthotope injecties
Orthotope injectie in de eierstokken bursa vraagt ​​training en precisie. Dus
In het geval van een slechte chirurgische ervaring, oefenen met kadavers eerste.
Gebruik bij voorkeur multipara vrouwen (een of twee nestjes) zoals ze zich ontwikkelen groter eierstokken loop van de tijd die injectie en verhoging van overleving faciliteert om te vergelijken met nullipara vrouwen.
Vanwege de kleine omvang van de muis ovariële slijmbeurs, is het gebruik van de kleinste beschikbare breinld sterk aangemoedigd.
In vivo beeldvorming
Gebruik altijd een referentie voor fluorescentie, zoals een 1,5 ml ependorf buis gevuld met 6 oktober-07 oktober MOV1 kat cellen in 100 pi tot 1 ml PBS.
Voeden de dieren met luzerne-vrij dieet om fluorescentie achtergrond te verminderen.
Zorgvuldig te scheren het dier voordat het in vivo beeldvorming op de achtergrond te verminderen.
Betekenis
Dit syngene model van sereuze eierstokkanker bij immunocompetente dieren die orthotopically worden geïnjecteerd met ver-rood fluorescerende eierstokkanker cellen (MOV1 KAT) kunnen preklinische studies om nieuwe strategieën te evalueren voor beeldvorming en therapie van vroege tumoren, wanneer de ziekte is nog steeds goed te behandelen, maar ook als in vivo monitoring van tumor immuunrespons en immuuntherapie.
Subscription Required. Please recommend JoVE to your librarian.
Disclosures
Geen belangenconflicten verklaard.
Acknowledgments
Dit werk werd ondersteund door de NIH subsidie ​​P01 AI 068.730 (SNC, NS), het NIH subsidie ​​CA016520 / TAPITMAT (NS), de private financiering van de Claneil Foundation (NS), en de ovariële SPORE verlenen aan FCCC en de University of Pennsylvania ( P50 CA83638) en het Fox Chase Cancer Center Core Grant (P30 CA06927) (DCC). De auteurs danken de uitstekende technische bijstand van de Optische / Bioluminescentie Core Facility onder leiding van dr. EJ Delikatny aan de Universiteit van Pennsylvania, Anthony Secreto uit de Stem Cell en xenograft Core onder leiding van dr. G. Danet-Desnoyers aan de Universiteit van Pennsylvania Kanker centrum voor de opleiding van SNC tot orthotope injectietechniek en Denada Dangaj aan de Universiteit van Pennsylvania / OCRC voor de ondersteuning van de operatie.
Materials
| | | | |
| --- | --- | --- | --- |
| Name | Company | Catalog Number | Comments |
| DMEM-GLUTAMAX | Invitrogen | 10564-011 | |
| PBS | GIBCO, by Life Technologies | 14040 | |
| Versene | Lonza Inc. | 17-711E | |
| Heating pad | Deltaphase | 39 DP | |
| Povidone pads | Dynarex | 1108 | |
| Alcohol pads | Fisher Scientific | 06-669-62 | |
| Artificial tears ointment | Phoenix Pharmaceuticals, Inc. | 17845-153 | |
| Ketoprofen | Fort Dodge Animal Health | | |
| 3cc/insulin syringe | BD Biosciences | 309301 | |
| Polyg Polyglycolic Acid suture/needle (3/8 19mm) | Syneture | 9612-31 | |
| Tissue adhesive | Vetbond | 3M | |
| Vet Bactrim/ oral suspension | Hi-tech Pharmacal | 840823 | |
| IVIS-Lumina | Caliper Life Sciences | | |
| Isofluorane | Phoenix Pharmaceuticals, Inc. | J108013 | |
| Fetal Bovine Serum, Qualified | Invitrogen | 10437036 | |
| Penicillin/streptomycin | GIBCO, by Life Technologies | 15140 | |
| TurboFP635 mammalian vector | Evrogen | FP721 | |
| T175 flasks | cellstar | 660-190 | |