Abstract
Bakgrund: Äggstockscancer är i allmänhet diagnostiseras i ett sent skede där ärendet / dödsfall ratio är hög och därmed fortfarande den mest dödliga av alla gynekologiska maligniteter bland amerikanska kvinnor 1,2,3. Serös tumörer är den mest utbredda formerna av äggstockscancer och 4,5 TG-MISIIR-Tag transgena representerar den enda musmodell som spontant utvecklar denna typ av tumörer. TG-MISIIR-Tag möss uttrycka SV40 förvandla regionen under kontroll av Mullerian inhibitorämnet typ II receptorantagonist (MISIIR) genen 6. Ytterligare transgena linjerna har identifierats som uttrycker SV40 Tag transgenen, men inte utvecklas äggstockarna tumörer. Icke-tumör benägen möss uppvisar typiska livslängden för C57BL / 6 möss och är fertila. Dessa möss kan användas som syngena transplantatavstötning mottagare för tumörceller isolerade från Tg-MISIIR-Tag-DR26 möss.
Mål: Även bildgivande är möjligt 7, är tidig upptäckt av djupa tumörer utmanande i små levande djur. För att möjliggöra prekliniska studier på ett immunologiskt intakt djurmodell för serös äggstockscancer, beskriver vi ett syngena musmodell för denna typ av äggstockscancer som tillåter in vivo imaging, studier av tumören mikromiljön och tumör immunsvar.
Metoder: Vi först härrör en tagg + mus linje cancercell (MOV1) från en spontan äggstockarna tumör skördats i ett 26 veckor gammalt DR26 Tg-MISIIR-Tag kvinna. Sedan transduced vi stabilt MOV1 celler med TurboFP635 lentivirus däggdjur vektor som kodar Katushka, ett långt rött mutant av de röda fluorescerande proteinet från havsanemon Entacmaea quadricolor med excitation / emission Maxima vid 588/635 nm 8,9,10. Vi inopererad orthotopically MOV1 Kat i äggstocken 11,12,13,14 av icke-tumör benägna Tg-MISIIR-Tag honmöss. Tumörprogression följdes av in vivo optisk avbildning och tumörens mikromiljö analyserades med immunohistokemi.
Resultat: Orthotopically inopererad MOV1 Kat celler utvecklas serös äggstockarna tumörer. MOV1 Kat tumörer kan visualiseras genom in vivo imaging upp till tre veckor efter implantation (bild 1) och var infiltrerade med leukocyter som observerats i mänskliga äggstockscancer 15 (Fig. 2).
Slutsatser: Vi beskriver en orthotopic modell av äggstockscancer passar in vivo avbildning av tidiga tumörer på grund av de höga pH-stabilitet och fotostabilitet av Katushka i djupa vävnader. Vi föreslår användning av denna roman syngena modell serös äggstockscancer för in vivo imaging studier och uppföljning av tumör immunsvar och immunterapi.
Protocol
Log in
or
Start trial
to access full content. Learn more about your institution's access to JoVE content
here
1. Cell Culture
Innan orthotopic injektion, kultur MOV1 Kat celler, som härrör från DR26 tumörer, i en T175 kolv tills de är 90% konfluenta. Planerar att använda 1 till 5.000.000 celler per injektion, vilket kommer att kräva 1 eller 2 T175 kolvar.
På dagen för injektionen, skörda celler och bestämmer mobilnummer med hjälp av en hemocytometer.
När cellkoncentrationen har bestämts, pellets cellerna genom centrifugering i 5 minuter i 300 X g vid rumstemperatur.
Efter spinn, återsuspendera cellerna att ha 1 miljon i 10 mikroliter sterilt PBS med 0,002 M EDTA
2. Innan operation
Före operation, fylla upp en 3/10cc spruta med 1 miljoner MOV1-Kat celler i 10 mikroliter PBS EDTA.
Överför en isofluorane sövda musen till en värmedyna. Lägg ögonsalva att förhindra ögat uttorkning. Sedan omedelbart sätta i djurets huvud in i en noskon system anslutet till en isofluran Vaporizer att leverera anestesi under kirurgi.
Efter desinfektion av injektionsstället med spritsuddar subkutant injicera 5 mg / kg ketoprofen, en pre-kirurgisk smärtstillande, med en 3/10cc Insulin spruta.
Använda hårklippningsmaskiner, raka vänster bakre delen av dorsum från torakolumbala korsningen till basen av djuret svansen. Applicera hårborttagningskräm att helt ta bort hår. Ta sedan bort överskottet med en blöt pappershandduk.
När håret har tagits bort, sterilisera det rakade området med povidon-jod och kompresser med alkohol. Sedan placera en kirurgisk drapera runt området av snitt.
3. Kirurgi
Strax före operation, justera isofluran Vaporizer nivåerna till 1,5%.
Kontrollera att djuret är helt sövd genom att klämma foten pad.
Nästa, leta mjälten under huden. Sedan använda kirurgisk sax, gör en dorsolaterala snitt 1-2 cm lång i övre högra av mjälte.
Dissekera retroperitoneum. Dynan runt musen äggstocken kommer att iakttas. Använd böjd pincett att förstå och avslöja fettet pad runt musen äggstocken.
Hydrate orgeln med några droppar steril PBS.
Använd böjd pincett att förstå, dra tillbaka ... läge ... och sedan säkra äggstocken för injektion
Även fast greppa äggstocken med pincett, injicera 10 mikroliter av MOV1 Kat tumörceller i äggstocken. Ett fast grepp förhindrar vätska uppstötningar eller läckage.
Omedelbart efter injektion, släpp spänningen utövas av pincett. Perforeringen i äggstocken borde spontant tillbaka och nära.
Använda en absorberbara Polyglycolic syra sutur fäst vid en nål, stäng retro-bukhinnan sår.
Släpp djuret från noskonen.
Sträck huden och försegla dorsolaterala sårkanterna med några droppar av vävnad lim.
Slutligen, muntligt administrera 100 mikroliter av antibiotika till djur. Lägg sedan tillbaka den i sin bur och övervaka för återvinning. Håll djuret på antibiotika i dricksvattnet i en vecka.
4. In vivo Imaging
En vecka efter orthotopic injektion av MOV1 Kat tumörceller, utföra in vivo imaging. Börja med att överföra en isofluorane sövda mus till avbildning kammaren.
Vrid isofluran Vaporizer nivå ned till 2%.
Utför in vivo imaging enligt bildhanteringssystem tillverkarens anvisningar. I denna video kommer Lumina systemet användas.
För bilden, klicka på levande bild ikonen programvara skrivbordet. Då, på den IVIS Förvärv Kontrollpanelen, välj "Initiera". Instrumentet inställningarna är analog med en kamerainställningar
Om förvärv Kontrollpanelen ställa upp instrumentet förvärv parametrar. För fluorescens, kontrollera "Lysrör". Klicka på fotografiet rutan för att få ett foto med varje bild.
Ställ sedan in exponeringstid som Auto. Under "Pixel binning eller CCD upplösning", kryssa i "Medium". Sedan under F / stoppa eller bländare, kontrollera värdet 2. Välj sedan 535 excitation filter och DsRed utsläpp filtret.
Enligt synfält, klicka på View B till bilden en enda mus.
Klicka sedan på förvärv för att påbörja bilden förvärvet.
När bilden förvärvet är klar, använd regionen av intresse, eller ROI, verktyg för att mäta på signalen. Klicka på mätningen ikonen för att släppa signalen värden och området.
Slutligen klickar du på "Spara" för att spara bilden i användarens mapp
När bilderna har sparats, stoppa tillförsel av isofluran och återgå musen till sin bur. Musen ska vakna upp omedelbart.
5. Representativa resultat
-Med detta protokollKan in vivo-tillväxten av en orthotopic äggstockscancer övervakas i minst 3 veckor med en icke-invasiv förfarande.

Figur 1. MOV1 Kat celler, eller PBS som negativ kontroll, var orthotopically injiceras i äggstocken av icke-tumör benägen möss (höger djur och vänster djur och respektive). In vivo imaging utfördes två veckor senare. Fluorescensen utsläpp som genereras av MOV1 Kat celler engrafted i äggstocken mättes och jämfördes med den från negativ kontroll musen.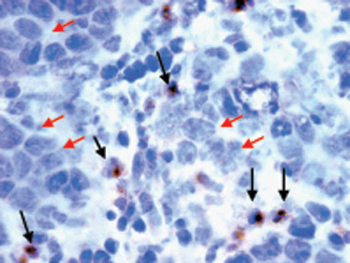 Figur 2. Frysta delar av MOV1 Kat ovarialtumörer färgades med biotinylerad anti-CD4 mAb följt av DAB-substrat (mörkbrun) för att upptäcka tumörinfiltrerande lymfocyter (svart pil). Celler counterstained med metyl-gröna att visualisera cellkärna (blå). Tumörceller (röda pilar) var morfologiskt skiljer sig från T-celler. Bilden visas förstorade 40x.
Subscription Required. Please recommend JoVE to your librarian.
Discussion
Log in
or
Start trial
to access full content. Learn more about your institution's access to JoVE content
here
Kirurgi och Orthotopic injektioner
Orthotopic injektion i äggstockarna Bursa kräver utbildning och precision. Således
I händelse av dålig kirurgisk erfarenhet, praxis med kadaver först.
Använd företrädesvis multipara kvinnor (en eller två kullar) eftersom de utvecklar större äggstockar med tiden vilket underlättar injektion och öka överlevnaden att jämföra med unga djur utan avkomma honor.
På grund av den begränsade storleken på musen äggstockarna Bursa, är användningen av den minsta tillgängliga st uppmuntras starkt.
In vivo imaging
Använd alltid en referens för fluorescens, till exempel en 1,5 ml ependorf rör fyllt med 10 juni-10 Juli MOV1 Kat celler i 100 l till 1 ml PBS.
Mata djuren med alfalfa-diet för att minska fluorescens bakgrund.
Försiktigt raka djur innan in vivo imaging att minska bakgrunden.
Betydelse
Denna syngena modell av serös äggstockscancer hos immunkompetenta djur som orthotopically injiceras med långt rött fluorescerande celler äggstockscancer (MOV1 KAT) möjliggör prekliniska studier för att utvärdera nya strategier för diagnostik och behandling av tidiga tumörer, när sjukdomen fortfarande är behandlingsbar, samt som in vivo övervakning av tumör immunsvar och immunterapi.
Subscription Required. Please recommend JoVE to your librarian.
Disclosures
Inga intressekonflikter deklareras.
Acknowledgments
Detta arbete stöddes av NIH bidraget P01 AI 068.730 (SNC, NS), NIH bidraget CA016520 / TAPITMAT (NS), den privata finansiering från Claneil Stiftelsen (NS) och äggstockscancer SPORE bidraget till FCCC och University of Pennsylvania ( P50 CA83638) och Fox Chase Cancer Center Kärna Grant (P30 CA06927) (DCC). Författarna tackar utmärkt teknisk hjälp av den optiska / mareld Core Facility regisserad av Dr EJ Delikatny vid University of Pennsylvania, Anthony Secreto från stamceller och xenograft Kärna regisserad av Dr G. Danet-Desnoyers vid University of Pennsylvania Cancer Centrum för utbildning SNC att orthotopic injektionsteknik och Denada Dangaj vid University of Pennsylvania / OCRC för att hjälpa på kirurgi.
Materials
| | | | |
| --- | --- | --- | --- |
| Name | Company | Catalog Number | Comments |
| DMEM-GLUTAMAX | Invitrogen | 10564-011 | |
| PBS | GIBCO, by Life Technologies | 14040 | |
| Versene | Lonza Inc. | 17-711E | |
| Heating pad | Deltaphase | 39 DP | |
| Povidone pads | Dynarex | 1108 | |
| Alcohol pads | Fisher Scientific | 06-669-62 | |
| Artificial tears ointment | Phoenix Pharmaceuticals, Inc. | 17845-153 | |
| Ketoprofen | Fort Dodge Animal Health | | |
| 3cc/insulin syringe | BD Biosciences | 309301 | |
| Polyg Polyglycolic Acid suture/needle (3/8 19mm) | Syneture | 9612-31 | |
| Tissue adhesive | Vetbond | 3M | |
| Vet Bactrim/ oral suspension | Hi-tech Pharmacal | 840823 | |
| IVIS-Lumina | Caliper Life Sciences | | |
| Isofluorane | Phoenix Pharmaceuticals, Inc. | J108013 | |
| Fetal Bovine Serum, Qualified | Invitrogen | 10437036 | |
| Penicillin/streptomycin | GIBCO, by Life Technologies | 15140 | |
| TurboFP635 mammalian vector | Evrogen | FP721 | |
| T175 flasks | cellstar | 660-190 | |