Summary
Dit artikel presenteert een robuuste protocol voor isolatie en kweek van neurale stamcellen uit menselijke haarzakjes.
Abstract
Haarfollikels ondergaan permanente groei en haarcyclus een goed gecontroleerde proces met stamcelproliferatie en rust. Hair uitstulping is een goed gekarakteriseerd niche voor volwassen stamcellen 1. Dit segment van de buitenste wortelschacht omvat een aantal verschillende soorten stamcellen, inclusief epitheliale stamcellen 2, melanocyt stamcellen 3 en neurale stamcellen, zoals 4-7. Haarfollikels vertegenwoordigen een toegankelijke en rijke bron voor verschillende types van menselijke stamcellen. Wij en anderen hebben geïsoleerd neurale stamcellen (NCSCs) van menselijke foetale en volwassen haarzakjes 4,5. Deze menselijke stamcellen zijn label-behoud van cellen en zijn in staat zelf-vernieuwing door middel van asymmetrische celdeling in vitro. Ze drukken onvolwassen neurale cel markers, maar niet differentiatie markers. Onze expressie profilering studie toonde aan dat zij een vergelijkbaar gen expressie patroon te delen met de huid van muizen onvolwassen neurale creërenst cellen. Ze vertonen klonale multipotent die aanleiding kunnen aan myogene, melanocytaire, en neuronale cellijnen geven na in vitro klonale enkele cel cultuur. Gedifferentieerde cellen niet alleen het verwerven van afkomst-specifieke merkers, maar ook blijk geven van voldoende functies in ex vivo omstandigheden. Bovendien zijn deze NCSCs tonen differentiatie potentieel in de richting van mesenchymale geslachten. Gedifferentieerde neuronale cellen kunnen volharden in de hersenen van muizen en behouden van neuronale differentiatie markers. Het is aangetoond dat haarzakje kan afgeleid NCSCs zenuw hergroei helpen, en ze verbeteren functie in muizen getransplanteerd met deze stamcellen na doorsnijden ruggenmerg 8. Bovendien zijn perifere zenuwen gerepareerd met stamcel transplantaten 9 en implantatie van de huid afkomstige precursor cellen naast gemalen sciatic zenuwen heeft geleid tot remyelinisatie 10. Daarom hebben de haarfollikel / huid afgeleid NCSCs al veelbelovende resultaten opgeleverd voor regenerative therapie in preklinische modellen.
Somatische cellen herprogrammeren om geïnduceerde pluripotente stamcellen (iPS) cellen heeft aangetoond een enorm potentieel voor regeneratieve geneeskunde. Er zijn echter nog steeds veel problemen met iPS cellen, in het bijzonder op de lange termijn effect van oncogen / virus-integratie en het potentieel tumorigeniciteit van pluripotente stamcellen zijn niet adequaat aangepakt. Er zijn nog veel hindernissen worden overwonnen voordat iPS cellen kunnen worden gebruikt voor regeneratieve geneeskunde. Dat de volwassen stamcellen zijn bekend als veilig en ze zijn klinisch gebruikt voor vele jaren, zoals beenmergtransplantatie. Veel patiënten hebben al geprofiteerd van de behandeling. Autologe volwassen stamcellen zijn nog steeds de voorkeur cellen voor transplantatie. Daarom is de gemakkelijk toegankelijke en uitbreidbaar volwassen stamcellen in de menselijke huid / haarzakjes zijn een waardevolle bron voor regeneratieve geneeskunde.
Protocol
Log in
or
Start trial
to access full content. Learn more about your institution's access to JoVE content
here
1. Bereiding van weefselkweekplaten
Coat elk putje met voldoende Poly-D-Lysine (PDL) aan de bodem van de put te dekken. Laat de platen te drogen in de kap.
Nadat de putjes droog, spoelen met steriel water en aspireren. Laat de platen te drogen in de kap.
Na droging laag met fibronectine (dat werd opgelost in water BioWhittaker nacht bij 37 ° C bij een concentratie van 1 mg in 6 ml).
Voeg NCSC medium [95 ml DMEM/F12, 1 ml Penn / Strep (P / S), 1 ml N2, 2 ml B27, 100 pl mercaptoethanol (2ME, 50 mM stock), bFGF (20 ng / ml medium), IGF -1 (20 ng / ml medium) en EGF (20 ng / ml medium)] bij droge fibronectine in de platen,
2. Extract Haar Follikel Cellen van menselijke hoofdhuid
Alvorens de procedure te isoleren NCSCs moet men de respectieve media en reagentia te bereiden (zie Tabel 1).
Verse volwassen menselijke hoofdhuid huid van facelift procedures of fetal scalp weefsel wordt verzameld, gewassen met PBS bevattende penicilline-streptomycine.
De huid wordt vervolgens overgebracht in 50 ml buizen en geïncubeerd in DMEM met Dispase (10 mg / ml) gedurende de nacht bij 4 ° C. Incubatie gedurende 2-4 uur bij 37 ° C is ook effectief. Huidstukken moet een breedte van 1 cm om voor enzym te dringen zijn.
Breng de huid in een gesteriliseerde petrischaal; trek elke haar van de huid door het vastgrijpen van de haarschacht in de buurt van het huidoppervlak en trekken stevig en soepel. De haarzakjes tonen morfologie van zowel anagen (Figuur 1A) of telogen (Figuur 1B).
Incubeer de geïsoleerde fragmenten follikel in 0,05% trypsine-EDTA (Invitrogen) gedurende 15-20 minuten bij kamertemperatuur onder schudden periodiek wordt 4 ml DMEM met 10% FBS om reactie te stoppen. De folliculaire epitheel getrypsiniseerd en gefiltreerd door 40 urn filter om een ​​enkele celsuspensie bevattende cellen van verschillende grootte en vorm te verkrijgen.
Spinnenbij 200 xg gedurende 5 minuten, verwijder het supernatant voorzichtig, resuspendeer in 1 ml PBS met 2% serum (FBS).
Als alternatief kan geplukt haarzakjes worden geplaatst in cultuur zonder trypsine digestie om haar bollen groeien in situ.
3. Isolatie van haarfollikel NCSCs Met behulp van flowcytometrische cell sorteren
Haarfollikel enkele celsuspensie werd verkregen door trypsine digestie en gelabeld met antilichamen tegen CD271 (APC-geconjugeerd) / HNK1 (FITC-geconjugeerd) of CD271 / alfa4-integrine (PE-geconjugeerd) gedurende 40 min op ijs in het donker.
Centrifugeer gedurende 5 min bij 200 xg bij kamertemperatuur en zuig de supernatant.
Resuspendeer cellen in PBS dat 2% serum (FBS) en vóór sortering, wordt PI toegevoegd aan de gate dode cellen.
Voer celsortering door flow cytometrie (FACS). Verzamel CD271 +, HNK1 + dubbele positieve cellen of CD271 +, alfa4 integrine + dubbele positieve cellen (Figuur 2).
Na sorterening, CD271 +, HNK1 + dubbele positieve cellen of CD271 +, alfa4 integrine + dubbele positieve cellen worden gekweekt in ultra-lage bevestigingsplaten in de NCSC medium
4. Cultuur van Primaire NCSCs
Cultuur de gedistantieerd folliculaire cellen of FACS gesorteerde cellen in ultra-lage bevestigingsplaten in de NCSC medium, verandert medium elke dag.
Controleer celcultuur elke dag onder de microscoop. NCSCs begint te kleine drijvende aggregaten na enkele dagen en goed gevormde bollen in 2-5 weken in cultuur afhankelijk van de leeftijd van de donors (Figuur 3A). Uitgroei zal verschijnen in een paar dagen in het bultgebied en goed gevormde bollen in situ in enkele weken (figuur 3B) als hele haarfollikels worden gekweekt in het NCSC medium.
5. Uitbreiding van NCSCs
Was de cellen eenmaal met PBS.
Voeg voorverwarmde (tot 37 ° C, kritische) Accutase en incubeer bij 37 ° C gedurende 5-10min onder schudden regelmatig zodat neurale stamcel bollen gedissocieerd tot afzonderlijke cellen (voor bevestiging gekweekte NCSC, incubeer cellen met Accutase bij 37 ° C gedurende 5 min ervoor zorgen haarfollikel stamcellen vrijstaand).
Wassen en centrifugeren cellen tweemaal gedurende 5 min bij 200 xg bij kamertemperatuur in DMEM/F12 medium om de resterende oplossing te verwijderen Accutase.
Re-schorten cellen met NCSC kweekmedium.
Voor drijvende cultuur, zet de cellen in ultra-low bevestigingsplaten. Voor bevestiging cultuur gebracht in de cellen voorbehandeld weefselkweekplaten.
6. Representatieve resultaten
NCSC kweekmedium voldoende om hNCSCs in een ongedifferentieerde toestand te houden zonder voedingscellen. Keratinocyten niet prolifereren en geleidelijk stierf in het medium. Bepaalde kleine ronde cellen prolifereren en vormen kleine aggregaten in suspensie na 3 tot 5 dagen. Deze drijvende aggregaten langzaam toegenomen in formaat gegenereerd driedimensionale bol structuren die we noemen haar gebied (Figuur 3A). Indien gekweekt in beklede platen, zal de NCSCs hechten aan het oppervlak en vormen geen bollen. De bijgevoegde NCSCs sneller groeien dan in suspensie. De bol-vormende of bevestigde stamcellen expressie NCSCs markers. Als hele haarfollikels culturen worden bolletjes gevormd op het gebied dat de uitstulping (Figuur 3B).

Figuur 1. Uitgetrokken anagene (A) en telogen (B) haarfollikels.

Figuur 2. Afbeeldingen slechts ter illustratie van de FACS-analyse van NCSCs Links paneel:. Cellen zijn gated met behulp van anti-CD271 en anti-alphe 4 integrine antilichamen. Rechter paneel: cellen zijn gated met behulp van anti-CD271 en anti-HNK1 antilichamen.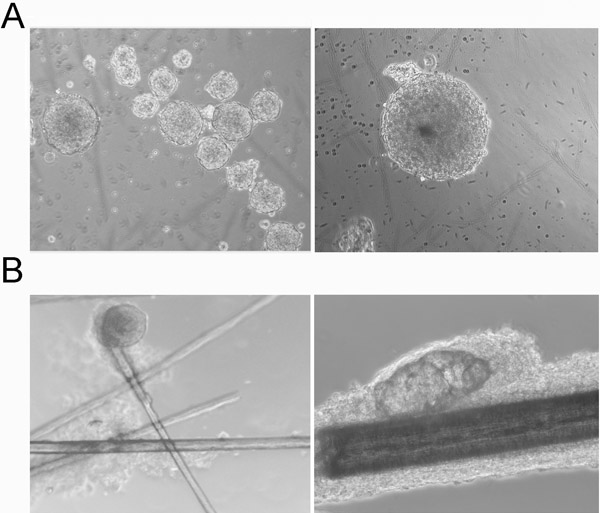 Figuur 3. Morfologie van het haar bollen (A) Morfologie van drijvende haar bollen, linkerpaneel:. Laag vermogen, rechter paneel:. Hoog vermogen (B) morfologie van het haar bol in situ op de bultgebied, linkerpaneel: een haar bol in telogene bult, rechterpaneel: een haar bol op de bobbel gebied van een anagene haarfollikel.
Subscription Required. Please recommend JoVE to your librarian.
Discussion
Log in
or
Start trial
to access full content. Learn more about your institution's access to JoVE content
here
De cel beschreven isolatie en kweekwerkwijzen reproduceerbaar en robuust. We hebben gegenereerd NCSCs uit tientallen individuen over een breed leeftijdsbereik. Hoewel het het beste om het weefsel te verwerken direct na weefsel oogst, vonden we dat de hoofdhuid weefsels kunnen veilig worden opgeborgen in de media op ijs voor overnachting vervoer met een minimale impact op de levensvatbaarheid van de cellen.
Het is belangrijk om de hoofdhuid weefsel te behandelen met antibiotica en aseptische techniek in haarfollikel isolatie mogelijke micro-organismen te voorkomen. Afgedankte facelift huid of foetale hoofdhuid weefsel opbrengsten honderden levensvatbare follikels en meestal het genereren van voldoende weefsel voor FACS sortering of verdere experimenten in slechts een paar dagen. Punch biopsie van de hoofdhuid weefsel genereert meestal beperkt aantal cellen en vereist extra weefsel cultuur voldoende cellen te produceren voor verdere experimenten.
Embryonale NCSCs leiden tot een groot aantal verschillendeceltypen in het lichaam 11 blijkt dat haar afgeleid NCSCs ook follikel een breed spectrum van differentiatiecapaciteit. Hair uitstulping is de niche voor verschillende soorten stamcellen 3,12. Lyle en zijn collega's hebben aangetoond isolatie van humane epitheliale stamcellen uit haar uitstulping en deze cellen zijn meerdere krachtige langs de epitheliale lijnen 13. Melanocyt voorlopers ook wonen in het haar uitstulping 3. Het is daarom mogelijk om gelijktijdig verschillende populaties van stamcellen te isoleren door kweken haarfollikel-afgeleide cellen in media met verschillende soorten groeifactoren. Haarfollikel stamcellen uit zijn een veelbelovende bron voor cel regeneratieve therapieën.
Subscription Required. Please recommend JoVE to your librarian.
Disclosures
We hebben niets te onthullen.
Acknowledgments
Dit werk wordt ondersteund door NIH subsidie ​​R01AR054593 en R01AR054593-S1 aan Xu.
Materials
Name
Company
Catalog Number
Comments
DMEM
Invitrogen
11965-092
DMEM/F12
Invitrogen
11330-32
Heat-inactivated FBS
Hyclone
SH30071.03
B27 supplement
Invitrogen
17504044
N2 supplement
Invitrogen
17502048
bFGF
Invitrogen
PHG0026
EGF
R&D system
236-EG-01M
IGF-I
R&D system
291-G1-050
0.05% Trypsin/EDTA
Invitrogen
25300-054
Dispase
Invitrogen
17105041
Penicillin-Streptomycin
Invitrogen
15070063

Table 1.