Summary
En roman fluorescens
Abstract
Fluorescens in situ hybridisering (FISH) er en teknik, der tillader specifikke DNA-sekvenser, der skal påvises på metafase eller interfase kromosomer i celle nuclei 1. Teknikken benytter DNA-sonder med unikke sekvenser, der hybridiserer til hele kromosomer eller specifikke kromosomale regioner, og fungerer som en kraftfuld supplement til klassiske cytogenetik. For eksempel rapporterede mange tidligere undersøgelser den hyppige påvisning af øget kromosomafvigelser i leukæmipatienter forbindelse med benzen eksponering, benzen-forgiftning patienter og raske arbejdstagere udsat for benzen, ved hjælp af klassiske cytogenetisk analyse 2. Ved hjælp af FISH, har leukæmi-specifikke kromosomale ændringer blevet observeret at være forhøjet i tilsyneladende raske arbejdstagere, der udsættes for benzen 3-6 med angivelse af de kritiske roller cytogentic ændringer i benzen-induceret leukemogenesis.
Generelt en enkelt FISH analyse undersøger kun én eller nogle få hele kromosomereller specifikke loci per slide, så flere hybridiseringer skal udføres på flere dias til at dække alle de menneskelige kromosomer. Spectral karyotyping (SKY) giver mulighed for visualisering af hele genomet samtidigt, men kravet for speciel software og udstyr begrænser anvendelsen heraf 7. Her beskriver vi en ny FISH analyse, OctoChrome-fisk, som kan anvendes for Chromosomics, som vi definerer her som den samtidige analyse af alle de 24 menneskelige kromosomer på et dias i humane undersøgelser, såsom kromosom-dækkende aneuploidi undersøgelse (CWA-standarder) 8. Grundlag af den metoden, markedsføres af Cytocell som den Chromoprobe Multiprobe System, er en OctoChrome enhed, der er opdelt i 8 firkanter, som hver udoever tre forskellige helt kromosom maleri prober (figur 1). Hver af de tre proberne er direkte mærket med en forskellig farvet fluorofor, grøn (FITC), rød (Texas Red), og blå (Cumarin). Den arrangement af kromosom kombinationer på OctoChrome enheden har været designet til at lette identifikationen af ​​de ikke-tilfældige strukturelle kromosom ændringer (omplantninger) fundet i de mest almindelige leukæmier og lymfomer, for eksempel t (9; 22), t (15; 17), t (8; 21 ), t (14; 18) 9. Oevrigt, kan numeriske ændringer (aneuploidi) i kromosomer blive detekteret samtidigt. Den tilsvarende template Objektglasset også opdelt i 8 firkanter hvorpå metafase spreads er bundet (figur 2), og er placeret over den OctoChrome indretningen. Proberne og target DNA befinder denatureres ved høj-temperatur og hybridiseret i et fugtigt kammer, og derefter alle 24 humane kromosomer kan være visualiseres samtidigt.
OctoChrome FISH er en lovende teknik til den kliniske diagnose af leukæmi og lymfom og for sporing af aneuploidies i alle kromosomer. Vi har anvendt denne nye Chromosomic fremgangsmåde i en CWA-standarder undersøgelse af benzen-eksponerede kinesiske arbejdere 8,10.
Protocol
1. Stikprøve slide forberedelse
OctoChrome FISH er designet til at undersoege kromosomale ændringer i metafasespredninger af humane celler, herunder men ikke begrænset til dyrkede perifere blodceller, stamceller / progenitorceller, og cellelinier. Prøver bør udarbejdes efter den normale procedure for høst metafaser 3,11-13: ved at ansætte colcemid behandling til at anholde celler i metafase, hypotonisk behandling til at svulme op celler, og Carnoys fixativ for at fastsætte celler i suspension på ca 0,5-1 x 10 6 celler per ml.
Rengør 8-pladsen slide (forudsat i OctoChrome Kit, Katalog #: PMP 803, Cytocell Ltd, Cambridge, England, figur 2) ved at dyppe i ren ethanol i 2 min.
Før prøven glider, falder en lille mængde af celler på et dias for at kontrollere celletæthed. Hvis cellen densiteten er for højt (for mange overlappende celler), fortyndes suspensionen med frisk fiksativ. Hvis cellen massefylden er for lav (for få celles på dias), spin ned cellerne og re-suspension i et mindre volumen af ​​frisk fiksativ. Pipette 5-10 ul cellesuspension på hver af 8 områder af skabelonen dias i en sekvens af alternerende kvadrater 1/7 - 2/8 til 3/5 - 4/6. Når de to første pladser har lufttørret, spotte de resterende pladser på samme måde. Dette vil forhindre cellereferencerne spreads fra interferere med hinanden.
Den tørrede slide kan opbevares ved -20 ° C i nitrogen atmosfære til større end 5 år før hybridisering.
2. Lokalisering af metafaser ved hjælp af et automatiseret system
Anvende 20 ul 4 ',6-diamidino-2-phenylindol (0,2 ug / ml) til midten af ​​hver halvdel af diaset og derefter dække med en dækglas.
Udfør en automatiseret scanning af prøven dias til lokalisere de metafase cellerne under anvendelse Metafer software (MetaSystems, Altlußheim, Tyskland). Dette letter placering af alle de metafaser og fremtidige revurdering af alle celle billeder.
Se scanningsresultater manuelt og slette ikke-metafase artefakter.
3. Hybridisering
Forberedelse af prøven dias og OctoChrome enhed
Dyppe prøven diaset i 2x SSC buffer ved stuetemperatur i 30 min at vaske væk DAPI.
Dehydratisere prøven diaset gennem en serie af ethanol vaskninger (2 minutter hver i 70%, 85% og 100% ethanol), lad det tørre og placere på en 37 ° C kogeplade i 5 minutter.
Placere Chromoprobe Multiprobe Hybridisering Afdeling (tilvejebragt i OctoChrome Kit) i en 37 ° C vandbad og lad at ækvilibrere til 37 ° C (+ / - 1 ° C).
Bland hybridiseringsopløsningen opløsningen (tilvejebragt i OctoChrome Kit) ved gentagen pipettering og præ-varm en 25 ul aliquot per OctoChrome enheden til at 37 ° C.
Præ-varm hver OctoChrome indretning (tilvejebragt i OctoChrome Kit, figur 2 se) til 37 ° C ved at anbringe indretningen etiketsiden nedad på en varmeplade. RØR IKKE than prægede overflader af OctoChrome enheden som de indeholder proberne.
Positionering af prøven glider hen over OctoChrome anordningen (figur 2)
Tilsættes 2 pi foropvarmede hybridisering-opløsning til hver af de otte områder på det foropvarmede OctoChrome enhed, mens det forbliver ved 37 ° C.
Omhyggeligt inverterer skabelonen glider hen over OctoChrome indretning, såsom at antallet 1, som nu er på hovedet, er placeret over det øverste højre hånd område af OctoChrome indretningen. For at hjælpe med at finde pladsen 1, har sin position på enheden er markeret med orange.
Sørg for, at skabelonen slide nøje afstemt med de tilsvarende områder på OctoChrome enhed. Omhyggeligt sænke glider hen over OctoChrome enheden, så at de dråber af hybridiserings opløsning skabe kontakt med diaset. Finder anvendelse blid, jævnt tryk at sikre, at hybridiseringen opløsningen spredes til kanterne af hver af de hævede områder på OctoChrome enheden.
Løftdiaset / OctoChrome, omhyggeligt holde den matterede enden af ​​glasset diaset, og invertér således at glideren er nedenunder den OctoChrome enheden. Kontroller, at enheden ikke smøre på tværs af skabelonen slide, da dette kan medføre krydskontaminering af sonderne.
Sted på en 37 ° C (+ / - 1 ° C) kogeplade i 10 minutter.
Denaturering
Overfør prøven slide / OctoChrome enhed til kogepladen det især tilstræbes at holde det niveau. Sørg for, at prøven glide jævnt kontakter kogepladen.
Denaturerer på varmepladen ved 75 ° C (+ / - 1 ° C) i 5 minutter.
Hybridisering
Prøven anbringes slide / OctoChrome enhed i Chromoprobe Multiprobe Hybridisering Afdeling.
Erstatte den låget og flyde kammeret i den 37 ° C (+ / - 1 ° C) vandbad (non - omrøring) natten over. Bemærk: Luk ikke låget på hybridisering kammer, Luk ikke låget på vandbadet; IKKE hybridisere i eninkubator. Disse trin er afgørende for at kontrollere luftfugtigheden.
Post-hybridiserings vaskninger
Forberedelse af vaskeopløsninger
Løsning 1: Forbered en Coplin / Hellendahl krukke indeholder 0,4 X SSC. Ækvilibrere til 72 ° C (+ / - 1 ° C) i et vandbad og pH justeres til 7,0.
Løsning 2: Forbered en Coplin / Hellendahl krukke indeholder 2x SSC og 0,05% Tween 20. Henstaar ved stuetemperatur.
Fjern OctoChrome enheden forsigtigt fra objektglasset og læg slide i Løsning 1 til 2 minutter.
Placer glider ind Løsning 2 i 30 sekunder.
4. Montering og visualisering af resultater
Anvend 20 ul DAPI til midten af ​​hver halvdel af slæden og der sættes dækglas.
Inkuber i mørke i 10 minutter ved stuetemperatur, før visning ved fluorescensmikroskopi.
5. Repræsentative Resultater
Figure 3A viser en normal metafasehæmmer celle i Square 2. (1) - (3): Kromosomer 8, 21 og 12 var malede rød, grøn, og blå, og er visualiseres gennem en Texas Red, FITC, og DEAC filter, henholdsvis; (4): Visualization via et DAPI / FITC / Texas Red tredobbelt filter. Generelt, kromosomerne med påmalet blå er ikke klart gennem det tredobbelte filteret og være nødvendigt at ses under den specifikke DEAC filteret.
Figuren 3B viser repræsentative abnorme celler med leukæmi-specifik kromosomal translokation og aneuploidi. (1): t (8; 21), en fælles kromosomal translokation i akut myeloid leukæmi; (2): trisomi 21, tre kopier af kromosom 21, en faelles aneuploidi i leukæmi.
Figur 1. Arrangement af kromosom kombinationer på OctoChrome enheden og forventede kromosom maleri resultater.
Figur 2. Positionering af stikprøve glider hen over OctoChrome indretningen.
Figur 3. Repræsentative resultaterfra OctoChrome FISK (Square 2).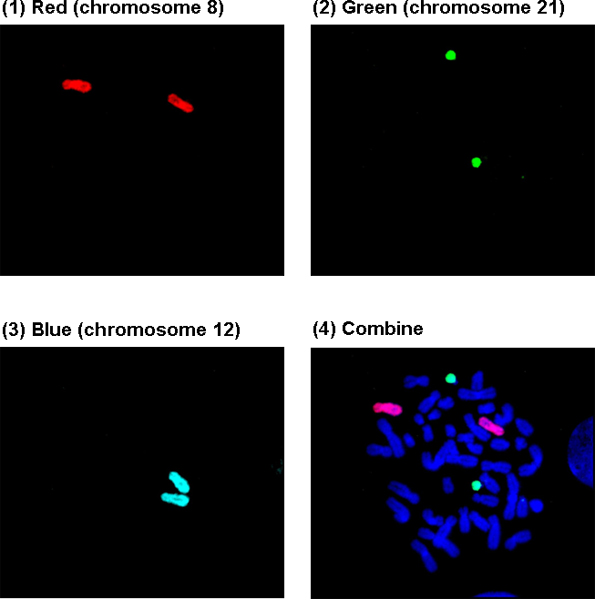 Figur 3A. En normal celle med kromosomer 8, 12, 21 malet i Square 2.
Figur 3B. Repræsentative unormale celler med leukæmi-specifikke kromosomal translokation og aneuploidi i Square 2.
Subscription Required. Please recommend JoVE to your librarian.
Discussion
Denne roman OctoChrome-FISH-analysen giver en samtidigt undersøge alle 24 menneskelige kromosomer i en enkelt hybridisering på et dias. Den arrangement af kromosom kombinationer på de 8 firkanter er blevet designet at lette identifikationen af ​​de ikke-tilfældige kromosom omlejringer i de mest almindelige leukæmier og lymfomer. Således kan analysen opdage numeriske (aneuploidi), såvel som strukturelle (translokationer) kromosom ændringer samtidigt.
Det mest kritiske trin i dette assay er at styre fugtigheden under den natten over hybridisering i den svævende kammeret i vandbadet. De FISH prober og hybridiseringsbufferen let tørre ud, hvis luftfugtigheden er lav, eller bliver for fortyndes ved at absorbere for meget fugt, hvis luftfugtigheden er høj. Enten udfald kan få negativ indvirkning på resultaterne. En mulig modifikation at overvinde denne udfordring er at forsegle den OctoChrome enheden og prøven slide med tape og hybridisere på en 37 °; C kogepladen i mørke natten over.
Sample dias, der er blevet i alderen for meget kan være uegnede til anvendelse i dette assay direkte. Mens fordøje sådanne prøver med pepsin vil forbedre hybridisering, opbevaring forberedte prøve dias i en nitrogen atmosfære ved -20 ° C anbefales kraftigt at minimere ældning.
OctoChrome-FISH er en lovende teknik til den kliniske diagnose af leukæmi og lymfom. Det er også meget nyttig for behandlingen af ​​de fleste specifikke kromosomale omlejringer relateret til menneskets leukæmi og lymfom i populationer udsat for potentielle leukemogens og lymphomagens og for at studere de aneuploidi-fremkaldende virkninger af kemikalier i en kromosom-dækkende måde. Vores tidligere CWA-standarder studie ved hjælp af denne teknik viste, at visse kromosomer kan være mere påvirket end andre ved udsættelse for benzen 8,10, en primær industriel kemisk og en allestedsnærværende miljøforurening, der forårsager menneskelig leukæmi 14.Dette fænomen af ​​"selektiv aneuploidi" kunne blive undersøgt i andre kemiske påvirkninger ved hjælp af CWA-aftalerne.
Subscription Required. Please recommend JoVE to your librarian.
Disclosures
Vi har intet at afsløre.
Acknowledgments
Forfatterne vil gerne takke Dr. Cliona M. McHale for kritisk læsning og redigering af manuskriptet. Dette arbejde blev finansieret af National Institute of Environmental Health Sciences, National Institute of Health tilskud R01ES017452 til L Zhang.
Materials
| | | | |
| --- | --- | --- | --- |
| Name | Company | Catalog Number | Comments |
| | | | |
| OctoChrome Kit | Cytocell Ltd. | PMP 803 | |
| phytohaemagglutinin (PHA) | Invitrogen | 10576-015 | |
| Colcemid | Invitrogen | 15212-012 | |
| Carnoy's fixative | | | Methanol : glacial acetic acid = 3: 1 |
| Fluorescence microscope | | | Equipped with filters to view DAPI, Texas Red, FITC, and Coumarin spectra individually and a DAPI/FITC/Texas Red triple filter to view different colors simultaneously |
| Metafer software | MetaSystems, Altlussheim, Germany | | Facilitate to locate all metaphases and to re-evaluate the abnormalities |