Summary
En ny fluorescens
Abstract
Fluorescens in situ-hybridisering (FISH) är en teknik som tillåter specifika DNA-sekvenser som skall detekteras på metafas-eller interfas-kromosomer i cell cellkärnor 1. Tekniken använder sig av DNA-prober med unika sekvenser som hybridiserar till hela kromosomer eller specifika kromosomala regioner, och fungerar som ett kraftfullt komplement till klassiska cytogenetik. Till exempel rapporterade många tidigare studier att det ofta upptäckt av ökade kromosomavvikelser hos leukemipatienter relaterade med bensen exponering, bensen-förgiftning patienter och friska arbetstagare som exponeras för bensen, med klassisk cytogenetisk analys 2. Med FISH har leukemi-specifika kromosomala förändringar observerats vara förhöjda i till synes friska arbetare exponerade för bensen 3-6, med angivande av kritiska roller cytogentic förändringar i bensen-inducerad leukemogenesis.
Generellt undersöker en enda fisk analys endast en eller ett fåtal hela kromosomereller specifika loci varje glas så att flera hybridiseringar behöver göras på flera bilder för att täcka alla de mänskliga kromosomer. Spectral karyotypering (SKY) kan visualisering av hela genomet samtidigt, men kravet på särskild programvara och begränsar utrustning dess tillämpning 7. Här beskriver vi en ny FISH analys, OctoChrome-FISH, som kan tillämpas för Chromosomics, som vi definierar här som samtidig analys av alla 24 mänskliga kromosomer på en bild i humanstudier, såsom kromosom hela aneuploidi studie (workshopöverenskommelsernas) 8. Grundval av den metod, marknadsförs av Cytocell som den Chromoprobe Multiprobe System, är ett OctoChrome-enhet som är indelat i 8 kvadrater som vardera och en bär tre olika hela prober kromosomspecifika målning (Figur 1). Vardera av de tre sonderna är direkt märkt med en annorlunda färgad fluorofor, grön (FITC), röd (Texas Red), och blått (Kumarin). Den arrangemanget av kromosom kombinationer på den OctoChrome enheten har utformats för att underlätta identifieringen av de icke-slumpmässiga strukturella kromosom förändringar (flyttning) som finns i de vanligaste leukemi och lymfom, till exempel t (9; 22), t (15; 17), t (8; 21 ), t (14; 18) 9. Dessutom kan numeriska förändringar (aneuploidi) i kromosomer påvisas samtidigt. Den motsvarande-mallen objektglaset är också indelad i 8 rutor på vilken metafas-spreadar är bundna på (figur 2), och är positionerad över den OctoChrome anordningen. De sonder och mål-DNA-är denatureras vid hög-temperatur och hybridiserades i en fuktig kammare, och sedan alla 24-humana kromosomer kan visualiseras simultant.
OctoChrome FISH är en lovande teknik för klinisk diagnos av leukemi och lymfom och för detektering av aneuploidier i alla kromosomer. Vi har tillämpat denna nya Chromosomic tillvägagångssätt i en workshopöverenskommelsernas studie av bensen-exponerade kinesiska arbetare 8,10.
Protocol
1. Prov diabild förberedelse
OctoChrome FISK är utformad för att undersöka kromosomala förändringar i metafas-smörfettsprodukter med mänskliga celler, inklusive men inte begränsade till odlade perifera blodceller, stamceller / progenitor-celler, och cellinjer. Prover bör vara beredd att följa standardförfarandet för skörd metafaser 3,11-13: genom att använda Colcemid behandling för att stoppa celler i metafas, hypoton behandling att svälla celler, och Carnoys fixativ för att fixera celler i suspension vid ca 0,5-1 x 10 6 celler per ml.
Rengöra det 8-kvadrat diabild (tillhandahållet i OctoChrome Sats, Catalogue #: PMP-803, Cytocell Ab, Cambridge, Storbritannien, figur 2) genom att doppa in i ren etanol i 2 min.
Innan provet bilden, släppa en liten mängd celler på en bild för att kontrollera celltätheten. Om cellen densiteten är för hög (alltför många överlappande celler) späds det suspensionen med färsk fixativ. Om celltätheten är för låg (för få cellers på objektglaset), centrifugera ner de celler och på nytt-suspendera i en mindre volym av färskt fixativ. Pipett 5-10 il av cell-suspensionen på vart och ett av 8 områden i förhållande till mallens objektglaset i en sekvens av alternerande kvadrater 1/7 till 2/8 - 3/5 - 4/6. När de två första rutorna har lufttorkad, upptäcka de återstående rutor på samma sätt. Detta förhindrar att cell sprids från att störa varandra.
Den torkade objektglaset kan lagras vid -20 ° C i kväveatmosfär under högre än 5 år före hybridisering.
2. Lokalisering av metafaser använda ett automatiserat system
Tillämpa 20 il av 4 ',6-diamidino-2-fenylindol (0,2 | ig / ml) till centrum av varje halv av objektglaset och sedan täcka med en täckglas.
Utför en automatisk skanning av provet bilden för att lokalisera metafas celler med användning Metafer programvara (MetaSystems, Altlussheim, Tyskland). Detta underlättar placeringen av alla metafaser och framtida omprövning av alla celler bilder.
Visa sökningsresultat manuellt och stryka icke-metafas artefakter.
3. Hybridisering
Beredning av provet bilden och OctoChrome enhet
Doppa provet objektglaset i 2x SSC-buffert vid rumstemperatur under 30 min för att tvätta bort DAPI-.
Torka provet bilden genom en serie av etanol tvättar (2 minuter vardera i 70%, 85% och 100% etanol), låt torka och placera på en 37 ° C kokplatta i 5 minuter.
Placera den Chromoprobe avdelningen Multiprobe Hybridisering (förutsatt att i den OctoChrome Kit) i ett 37 ° C vattenbad och tillåta att jämvikta till 37 ° C (+ / - 1 ° C).
Blanda den hybridisering lösningen (förutsatt i den OctoChrome Kit) genom upprepad pipettering och pre-varm en 25 | il alikvot per OctoChrome enhet till 37 ° C.
Pre-varmt varje OctoChrome enhet (förutsatt i OctoChrome Kit, se figur 2) till 37 ° C genom att placera sidan enhetsetikett ner på en värmeplatta. Rör INTE tHan präglade ytor OctoChrome enheten som de innehåller sonderna.
Positionering av provet objektglaset över den OctoChrome anordningen (Figur 2)
Tillsätt 2 | il av för-värmd hybridiseringslösning till var och av de åtta områden på för-värmd OctoChrome enhet medan det förblir vid 37 ° C.
Omsorgsfullt invertera den-mallen objektglaset över den OctoChrome anordning såsom att det antal 1, som nu är upp och ned, är belägen över toppen högra hand område i den OctoChrome anordningen. Att hitta ruta 1, har sin position på enheten markerats i Orange.
Se till att mallen Skjut försiktigt är i linje med de matchande områden på OctoChrome enheten. Sänk försiktigt ned bilden över OctoChrome enheten så att droppar av hybridiseringslösningen komma i kontakt med i bilden. Tillämpa skonsam, till och med arbetstrycket för att se till att den hybridiseringen lösningen är spridd till kanterna av vart och ett av de upphöjda områden på OctoChrome anordningen.
Lyftbilden / OctoChrome och höll noga frostade änden av glasskivan, och invertera så att bilden är under OctoChrome enheten. Se till att enheten inte smeta över mallen bilden eftersom detta kan orsaka korskontaminering av sonderna.
Place den en 37 ° C (+ / - 1 ° C), värmeplatta under 10 minuter.
Denaturering
Överför provet bilden / OctoChrome enheten till plattan med särskild omsorg för att hålla den nivån. Se till att provet slide jämnt i kontakt med kokplatta.
Denaturerar på kokplattan vid 75 ° C (+ / - 1 ° C) i 5 minuter.
Hybridisering
Placera provet bild / OctoChrome enhet i Chromoprobe Multiprobe Hybridisering avdelningen.
Sätt tillbaka locket och flyter kammaren i 37 ° C (+ / - 1 ° C) vattenbad (icke - omrörning) över natten. Observera: INTE försegla locket på hybridisering kammaren, inte försegla locket på vattenbad, inte hybridisera i eninkubator. Dessa steg är avgörande för att kontrollera fukt.
Post-hybridisering tvättar
Beredning av tvättlösningar
Lösning 1: Förbered en Coplin / Hellendahl burk innehåller 0,4 X SSC. Jämvikta till 72 ° C (+ / - 1 ° C) i ett vattenbad och justera pH till 7,0.
Lösning 2: Förbered en Coplin-/ Hellendahl burk som innehöll 2x SSC och 0,05% Tween 20. Låt stå vid rumstemperatur.
Ta bort OctoChrome verktyget väl från bilden och placera bilden i Lösning 1 i 2 minuter.
Placera objektglaset in i Lösning 2 i 30 sekunder.
4. Montering och visualisering av resultat
Applicera 20 pl av DAPI till centrum av varje halva av bilden och lägg på ett täckglas.
Inkubera i mörker under 10 minuter vid rumstemperatur innan som tittar på genom fluorescens-mikroskopi.
5. Representativa Resultat
FIGURe 3A visar en normal metafas cell i Square 2. (1) - (3): har Kromosomer 8, 21 och 12 målade röda, gröna och blå och visualiseras via en Texas Red, FITC och DEAC filter, respektive, (4): Visualisering genom en DAPI / FITC / texas Röd trippel filtret. Generellt kromosomerna målade med blå är inte klart genom trippel filtret och måste ses under det specifika DEAC filtret.
Figuren 3B visar representativa onormala celler som fått leukemi-specifik kromosomal translokation och aneuploidi. (1): t (8; 21), en vanlig kromosomal translokation vid akut myeloisk leukemi, (2): trisomi 21, tre exemplar av kromosom 21, en vanlig aneuploidi vid leukemi.
Figur 1. Arrangemang av kromosom kombinationer på OctoChrome enheten och förväntade kromosomala resultat målning.
Siffra 2. Positionering av provet objektglaset över den OctoChrome anordningen.
Siffra 3. Representativa resultaterhållits från OctoChrome FISH (Square 2).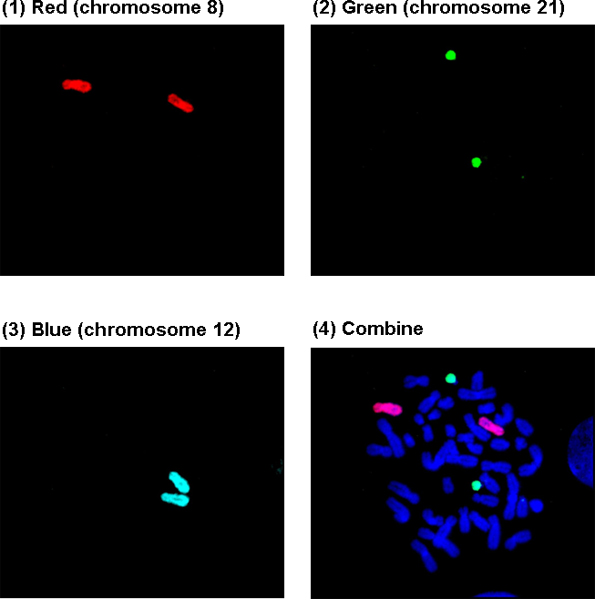 Figur 3A. En normal cell-med kromosomer 8, 12, 21 målade i Square 2.
Figur 3B. Representativa onormala celler med leukemi-specifik kromosomal translokation och aneuploidi i Square 2.
Subscription Required. Please recommend JoVE to your librarian.
Discussion
Denna nya OctoChrome-FISH analys gör att man samtidigt undersöka alla 24 mänskliga kromosomer i en enda hybridisering på en bild. Arrangemanget av kromosom kombinationer på de 8 rutor har utformats för att underlätta identifieringen av de icke-slumpmässiga kromosom omdisponeringar i de vanligaste leukemi och lymfom. Således kan analysen upptäcka numeriska (aneuploidi) samt strukturella (flyttningar) förändringar kromosom samtidigt.
Det mest kritiska steget i denna analys är styrning av fuktigheten under den över natten hybridisering i den svävande kammaren i vattenbadet. De FISK sonder och hybridiseringsbuffert torka lätt ut om luftfuktigheten är låg, eller bli alltför utspädd genom att absorbera för mycket fukt, om luftfuktigheten är hög. Antingen resultatet skulle kunna påverka resultaten. En möjlig modifiering att övervinna denna utmaning är att försegla den OctoChrome anordningen och provet objektsglas med tejp och hybridisera på en 37 °; C-kokplatta i mörker över natten.
Exempeldata objektglasen som har tagits i åldern alltför mycket kan vara olämpliga för användning i denna assay direkt. Medan smälta sådana prover med pepsin kommer att förbättra hybridisering, lagring beredda provet bilder i en kväveatmosfär vid -20 ° C rekommenderas för att minimera åldrande.
OctoChrome-FISH är en lovande teknik för klinisk diagnos av leukemi och lymfom. Det är också mycket användbar för att undersöka mest specifika kromosomala omflyttningar som rör människors leukemi och lymfom i populationer utsätts för potentiella leukemogens och lymphomagens och för att studera de aneuploidi-inducerande effekter av kemikalier i en kromosom hela sätt. Vår tidigare workshopöverenskommelsernas studie med denna teknik visat att vissa kromosomer kan vara mer drabbade än andra av exponering för bensen 8,10, en primär industrikemikalier och en allestädes närvarande miljöförorening som orsakar mänskligt leukemi 14.Detta fenomen av "selektiva aneuploidi" kan utforskas i andra kemiska exponering med workshopöverenskommelsernas.
Subscription Required. Please recommend JoVE to your librarian.
Disclosures
Vi har inget att lämna ut.
Acknowledgments
Författarna vill tacka Dr Cliona M. McHale för kritiskt läsa och redigera manus. Detta arbete har finansierats av National Institute of Environmental Health Sciences, National Institute of Health bidrag R01ES017452 till L Zhang.
Materials
| | | | |
| --- | --- | --- | --- |
| Name | Company | Catalog Number | Comments |
| | | | |
| OctoChrome Kit | Cytocell Ltd. | PMP 803 | |
| phytohaemagglutinin (PHA) | Invitrogen | 10576-015 | |
| Colcemid | Invitrogen | 15212-012 | |
| Carnoy's fixative | | | Methanol : glacial acetic acid = 3: 1 |
| Fluorescence microscope | | | Equipped with filters to view DAPI, Texas Red, FITC, and Coumarin spectra individually and a DAPI/FITC/Texas Red triple filter to view different colors simultaneously |
| Metafer software | MetaSystems, Altlussheim, Germany | | Facilitate to locate all metaphases and to re-evaluate the abnormalities |