Summary
De endogene productie van stikstofoxide (NO) regelt diverse biologische functies. Het wordt steeds duidelijker dat verstoring of ontregeling van NO op basis van signalering is betrokken bij vele ziekten bij de mens. Methoden voor het kwantificeren van relevante NO metabolieten kunnen nieuwe diagnostische of prognostische biomarkers voor ziekte bij de mens.
Abstract
Stikstofoxide (NO) is een twee atomen vrije radicalen die extreem korte duur in biologische systemen (minder dan 1 seconde in het circulerende bloed) 1. NO kan worden beschouwd als een van de meest belangrijke signaalmoleculen die in ons lichaam, regelen van essentiële functies met inbegrip van maar niet beperkt tot regeling van de bloeddruk, immuunsysteem en neurale communicatie. Daarom zijn nauwkeurige detectie en kwantificering in biologische matrices is cruciaal voor het begrijpen van de rol van NO in gezondheid en ziekte. Met een dergelijke korte halfwaardetijd fysiologische NO, zijn alternatieve strategieën voor het detecteren van reactieproducten van NO biochemie ontwikkeld. De kwantificering van relevante NO metabolieten in verschillende biologische vakken levert waardevolle informatie met betrekking tot in vivo NO productie, biologische beschikbaarheid en de stofwisseling. Gewoon het bemonsteren van een enkele ruimte, zoals bloed of plasma niet altijd een nauwkeurige beoordeling van de gehele body geen status, met name in weefsels. De mogelijkheid om bloed te vergelijken met bepaalde weefsels bij proefdieren zal helpen de kloof tussen fundamentele wetenschap en klinische geneeskunde voor zover diagnostische en prognostische nut van NO biomarkers bij gezondheid en ziekte. Daarom is extrapolatie van plasma of bloed geen status aan specifieke weefsels van belang is niet langer een geldige benadering. Hierdoor methoden blijft en gevalideerd waarmee de detectie en kwantificering van NO en NO-producten / metabolieten in meerdere compartimenten proefdieren in vivo. De gevestigde paradigma van NO biochemie aan de productie door NO synthases tot activatie van oplosbare pGC (SGC) om eventuele oxidatie in nitriet (NO 2 -) en nitraat (NO 3 -) mag alleen vertegenwoordigen een deel van de effecten van NO in vivo. De interactie van NO en NO-afgeleide metabolieten eiwit thiolen, secundaire aminen en metalen S-nitrosothi vormenOLS (RSNOs), N-nitroso-verbindingen (RNNOs) en nitrosylverbindingen-heem respectievelijk vertegenwoordigen cGMP onafhankelijk effecten van NO en waarschijnlijk even belangrijk fysiologisch het activeren van sGC door NO. Een ware begrip van NO in de fysiologie is afgeleid van in vivo experimenten bemonstering meerdere compartimenten tegelijkertijd. Stikstofoxide (NO) methodiek is een complex en vaak verwarrend wetenschap en de focus van veel debatten en discussie over NO biochemie. De ontrafeling van nieuwe mechanismen en signaalwegen betrokken NO hangt af van ons vermogen om specifiek, selectief en gevoelig detecteren en kwantificeren van NO en NO alle relevante producten en metabolieten in complexe biologische matrices. Hier we een werkwijze voor snelle en gevoelige analyse van nitriet en nitraat door HPLC en detectie van vrije NO in biologische monsters met in vitro ozon gebaseerde chemiluminescentie met chemische derivitazation moleculaire bron van NO en ex vivo bepalenorgaanbad myography.
Protocol
Log in
or
Start trial
to access full content. Learn more about your institution's access to JoVE content
here
1. Hele bloedafname
Verzamel veneuze bloed van mensen of van proefdieren in NEM / EDTA met buizen.
Onmiddellijk spin down bloed in een benchtop centrifuge op 14.300 RCF (relatieve centrifugale kracht) gedurende 7 minuten op plasma en rode bloedcellen pellet voor te bereiden.
Bereid plasma-monsters voor high performance liquid chromatografie (HPLC) en chemiluminescentie detectie (CLD) analyse.
HPLC: Voeg 01:01 volume koud methanol plasma vortex en centrifugeer bij 13.200 rpm gedurende 10 minuten te precipiteren plasma eiwitten. Verzamel supernatant voor HPLC-analyse.
CLD: aliquot een monster en preincubate met sulfanilamide en kwikchloride specifiek test nitrosothiols.
Bereid rode celpellet voor HPLC en CLD-analyse.
HPLC: Voeg 01:04 rode bloedcellen pellet over in een hypotone lysis oplossing die 10 mM NEM, 2,5 mM EDTA en 10 mM ferricyanide. Vortex grondig en voeg 01:01 methanol, vortex en CENTRIFUGE bij 13.200 rpm gedurende 10 minuten neerslag eiwit. Verzamel supernatant voor HPLC-analyse.
CLD. Voeg 01:04 rode celpellet een hypotonisch lyseren oplossing van 10 mM EDTA, 2,5 mM EDTA en 10 mM ferricyanide. Analysehoeveelheden om buisjes met sulfanilamide en kwikchloride voor de specifieke detectie van nitrosothiols.
2. Tissue winning en het wassen
Om te bepalen weefsel niveaus van NO metabolieten, is het eerst nodig om het bloed vrij weefsel te oogsten voor monstervoorbereiding zoals hierboven beschreven. Een volledige bloed-uitwisseling vindt plaats door het inbrengen van fysiologische buffer door de top van de linker hartkamer. Als al het bloed is verwijderd, kan de weefsels van belang dan worden geoogst.
Gehomogeniseerd weefsel en bereid zoals hierboven beschreven voor HPLC en CLD analyse.
3. Aorta-Ringen Isolatie voor endotheelfunctie
Tissue Organ Bath
Muizen zullen Anesthetized met diethylether tot niet meer reageren op snufje teen, en ondergaan cervicale dislocatie voorafgaand aan de operatie. Een thoracotomie wordt uitgevoerd om thoracale en abdominale aorta bloot te leggen. Een 25 gauge spuit wordt in de top van linker ventrikel en perfusie zonder bloed geoxygeneerde Krebs Henseleit buffer.
De rechter atrium wordt gesneden naar een afslag voor bloed te geven. Abdominale aorta zal worden verwijderd en gereinigd van de adventitia.
Ringen zal worden gesneden in 2 mm lang segmenten en gemonteerd op een vier-kanaals weefsel orgaanbad (DMT 720MO, AD Instruments) badend in een fysiologische bufferoplossing.
Vaatringen gehandhaafd in 10 ml orgaanbaden met geoxygeneerde Krebs buffer (95% O2 en 5% CO2) bij 37 ° C. Een gram voorspanning op elke aorta ring (geschikte uitgangsmaterialen spanning optimale vasomotor functie zoals bepaald in de voorgaande experimenten). Een acht-kanaals octale brug (Powerlab) en data-acquisitie software (grafiek versie 5.2.2) eenopnieuw gebruikt om alle krachtmetingen nemen.
Ringen mogen equilibreren 80 minuten met buffer in elk orgaanbad ververst 20 minuten. Na equilibratie 80 min wordt een pM fenylefrine toegevoegd aan elk ring submaximale contractie.
Na stabilisatie wordt endotheliale agonist zoals acetylcholine toegevoegd NO productie en mate van het vaartuig ontspanning bepalen. Na de dosering reactie acetylcholine wordt baden gespoeld en recontracted en vervolgens behandeld met een exogene stikstofmonoxide, natriumnitroprusside tot reactie van gladde spiercellen te bepalen en een voor 100% ontspanning.
NO scavengers kan worden toegevoegd aan bad aanschouwelijk vrijkomen van NO en remming van het vaartuig ontspanning.
4. Representatieve resultaten
Gebruik van de ENO-20 toegewijde HPLC biedt een eenvoudig te gebruiken high throughput methode te gebruiken voor specifieke en gevoelige detectie van nitriet en nitraat inbiologische matrices. Het principe van detectie en een origineel chromatogram figuur 1. Deze methode kan worden gebruikt voor biologische monster voor het bepalen nitriet en nitraat. CLD gebaseerde detectie van NO metabolieten vereist chemische derivitization stap om de bron van de moleculaire NO bepalen. De experimentele opstelling voor gelijktijdige oxidatieve en reducerende denitrosation denitrosation de chemiluminescentie detector is weergegeven in figuur 2. Het reactievat rechts gevuld met 800 mm ferricyanide in PBS pH 7,4 en het reactievat links gevuld met kaliumjodide / jodium mengsel azijnzuur vermindering denitrosation (Figuur 2A). De gehele installatie wordt weergegeven in figuur 2B. Figuur 3 toont groep specifieke denitrosation assays die kunnen detecteren en te kwantificeren nitriet, nitrosothiols nitrosaminen en nitrosylverbindingen heem producten. Deze methode is eerder described en gevalideerd 4,5. Deze belangrijke biochemische analyses kunnen eenvoudig worden gecorreleerd met functionele studies op geïsoleerde aorta ringen om vast te stellen endotheliale NO productie bij proefdieren. Dit klassieke farmacologische experiment kan gemakkelijk en nauwkeurig te beoordelen endotheliale NO-functie en productie. Meetvat reactiviteit endotheliale agonisten zoals acetylcholine direct vaststellen endothelial NO productie die vervolgens kunnen worden gecorreleerd met biochemische biomarkers gedetecteerd in het bloed en weefsels van het proefdieren. Een typische weergave van een dosis-respons op acetylcholine is weergegeven in figuur 4. Gezonde controle muizen met een normale werking van het endotheel reageren op acetylcholine door het ontspannen van. Muizen met endotheeldysfunctie (hypercholesterolemie muizen) een verminderde ontspanning als gevolg van verminderde NO productie aan dezelfde stimulus.

Figure 1. Principe van detectie van nitriet en nitraat door ENO-20 en monster chromatogram op. (Top) Schematische voorstelling van ENO-20 voor de detectie van nitriet en nitraat. (Onder) Standard chromotogram 10 pmol nitriet en nitraat geïnjecteerd ENO-20 (100 pi van 100 nM oplossing van nitriet en nitraat). Gevoeligheid van 1 nM voor elke anion met 100 ul injectievolume. Geen storing eiwit of gekleurde soorten.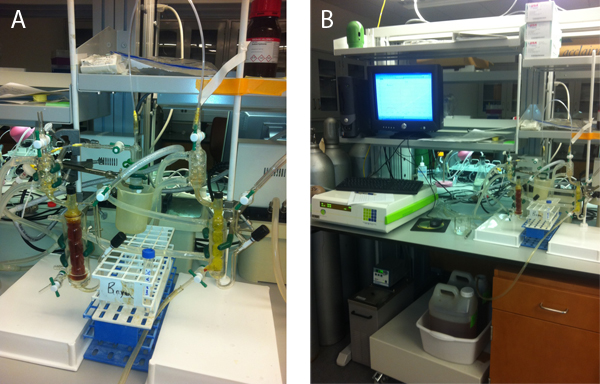 Figuur 2. CLD experimentele opstelling met behulp van zowel oxidatieve denitrosation door ferricyanide en reductieve denitrosation met behulp van jodide / jodium test met gasfase detectie van gezuiverd stikstofmonoxide gas.

Figuur 3. (Paneel A) chemiluminescentiedetectie van nitriet, RSNO, RNNO in reductieve denitrosation bepaling door monster voorincubatie met groep specifieke chemieal reagentia. Aftrekken van de piekoppervlakken kan detectie van nitriet en RSNOs. (Panel B) de detectie van Chemiluminescent nitrosylverbindingen heem species met oxidatieve denitrosation ferricyanide oplossing. Deze methode is specifieke NO-heem producten zonder kruisreactiviteit met RSNOs (GSNO of SNO-albumine) of RNNO (NO-pyrrolidine en N-nitroso-albumine).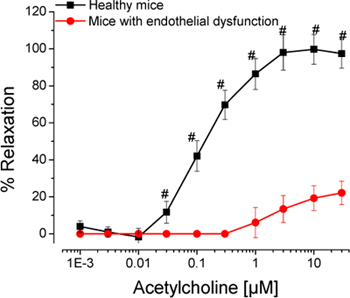 Figuur 4. Ex vivo orgaanbad op geïsoleerde aorta ringen biedt een directe meting van endotheliale NO productie die vervolgens kunnen worden gecorreleerd met biochemische biomarkers gedetecteerd met behulp van HPLC en CLD. Dit cijfer illustreert verminderd ontspanning in muizen met endotheliale dysfunctie als gevolg van verminderde NO productie.
Subscription Required. Please recommend JoVE to your librarian.
Discussion
Log in
or
Start trial
to access full content. Learn more about your institution's access to JoVE content
here
De hier beschreven methoden voor de kwantificering van relevante NO metabolieten in verschillende biologische compartimenten zal zorgen voor fingerprinting van NO biologie in gezondheid en ziekte die kan worden gecorreleerd met functionele metingen van NO door het endotheel. Deze methoden vereisen eenvoudige monstervoorbereiding met potentieel voor de aanpassing voor high throughput. De relatieve hoeveelheid van deze moleculen kan begrijpen productie van NO en metabolisme in een aantal experimentele modellen ziekte zelfs seriële monsters van menselijke patiënten. Er zijn veel valkuilen bij het opsporen van NO op basis van biomarkers en vele analytische methoden kunstmatig een aantal van deze producten te produceren tijdens de monstervoorbereiding. Een zorgvuldige boekhouding van nitriet in biologische monsters is cruciaal vanwege de reactiviteit met cysteïne thiolen 6 en kunstmatig vorming van nitrosothiols 7. CLD-gebaseerde methoden voor de specifieke detectie van nitriet onder anaërobe omstandigheden leiden tot een inconsistente resultaten door de activiteit van bepaalde nitrietreductase enzymen in verschillende biologische compartimenten 8. Alle methoden hier beschreven zijn goed gedocumenteerd en gevalideerd en rekening houden met maatregelen op te heffen of te verminderen artefacten 9. We beschrijven kritische stappen die nodig zijn om artefacten te voorkomen. Deze meerdere compartimenten screening van NO metabolieten zal helpen bij het identificeren van de merkers die diagnostische of prognostische nut kan zijn bij mensen en vervolgens laat de ontwikkeling van gestandaardiseerde werkwijzen die gebruikt kunnen worden in de kliniek of standaard laboratorium. De recente erkenning van een menselijke stikstofcyclus, waarbij nitraat en nitriet worden tot NO verminderd met een enterosalivary verspreiding van nitraat 10,11 opent nu de mogelijkheden voor het gebruik van speeksel als een potentiële biomarker voor geen status in bepaalde ziekten. Tot op heden geen status maakt geen deel uit van de standaard samenstelling van het bloed regelmatig worden gebruikt voor diagnostische doeleinden bij patiënten. Thwordt is schokkend gezien de kritieke aard van NO veel ziekteprocessen. Uiteindelijk, aan het bepalen van het niveau van deze Geen gerelateerde biomarkers door eenvoudig te gebruiken en misschien wel een snelle zijkant van het bed point-of-care testen na een adequate validatie zal een echte bewijs van hun rol in de moleculaire geneeskunde zijn. Het is verstandig op dit moment voor geconcentreerde en gezamenlijke inspanningen in het veld om te valideren en een standaard en accurate test te ontwikkelen voor het bepalen van geen status in diermodellen voor de validatie bij de mens. De methoden beschreven in dit protocol zal toestaan ​​dat anderen snel een consensus methode voor dergelijke metingen.
Subscription Required. Please recommend JoVE to your librarian.
Disclosures
Geen belangenconflicten verklaard.
Acknowledgments
De auteurs willen graag naar Hong Jiang, Ph.D. dank en Deepa Parathasarthy, MPH, BDS voor de technische bijstand.
Materials
| | | | |
| --- | --- | --- | --- |
| Name | Company | Catalog Number | Comments |
| N-ethylmaleimide | Thermo Fisher Scientific, Inc. | 23030 | |
| EDTA | Sigma-Aldrich | E7889 | |
| Potassium Ferricyanide | Fluka | 60299 | |
| HPLC | Eicom Corp | ENO-20 | |
| Autosampler | Alcott | | |
| DMT Myograph | ADInstruments | | |
| PowerLab | ADInstruments | | |
| Chemiluminescent | EcoPhysics | CLD 88Y | |
| Centrifuge | Eppendorf | 5415D | |
| Acetylcholine | Sigma-Aldrich | A6625 | |
| R-(-) Phenylephrine | Sigma-Aldrich | P6126 | |