Summary
Den endogene produksjonen av nitrogenoksid (NO) regulerer en rekke biologiske funksjoner. Det blir stadig klarere at avbrudd eller feilregulering av NO baserte signalering er involvert i mange menneskelige sykdommer. Metoder for å kvantifisere relevant Ingen metabolitter kan gi nye diagnostiske eller prognostiske biomarkører for sykdom hos mennesker.
Abstract
Nitrogenoksid (NO) er en diatomic fri radikal som er ekstremt kortvarig i biologiske systemer (mindre enn 1 sekund i sirkulerende blod) 1. INGEN kan betraktes som en av de viktigste signalmolekyler som produseres i kroppen vår, som regulerer viktige funksjoner, inkludert men ikke begrenset til regulering av blodtrykk, immunforsvar og nevrale kommunikasjon. Derfor sin nøyaktig deteksjon og kvantifisering i biologiske matriser er kritisk til å forstå rollen av NO i helse og sykdom. Med en slik kort fysiologisk halveringstid av NO, har alternative strategier for påvisning av reaksjonsprodukter av NO biokjemi blitt utviklet. Kvantifisering av relevante Ingen metabolitter i flere biologiske avdelinger gir verdifull informasjon med hensyn til in vivo NO produksjon, biotilgjengelighet og metabolisme. Bare prøvetaking en enkelt avdeling som blod eller plasma kan ikke alltid gi en nøyaktig vurdering av hele body NO status, spesielt i vev. Muligheten til å sammenligne blod med utvalgte vev i forsøksdyr vil hjelpe bygge bro over gapet mellom grunnforskning og klinisk medisin så langt som diagnostisk og prognostisk nytte av NO biomarkører i helse og sykdom. Derfor er ekstrapolering av plasma eller blod NO status til bestemte vev av interesse ikke lenger en gyldig tilnærming. Som et resultat, metoder fortsatt bli utviklet og validert som tillater påvisning og kvantifisering av NO og NO-relaterte produkter / metabolitter i flere avdelinger av forsøksdyr i vivo. Den etablerte paradigmet av NO biokjemi fra produksjon av Ingen synthases til aktivering av løselig guanylyl cyclase (SGC) til eventuell oksidasjon til nitritt (NO 2 -) og nitrat (NO 3 -) kan bare representere en del av NO sine effekter in vivo. Samspillet av NO og NO-derived metabolitter med protein tiol, sekundære aminer, og metaller for å danne S-nitrosothiOLS (RSNOs), N-nitrosaminer (RNNOs), og nitrosyl-heme henholdsvis representerer cGMP-uavhengige effekter av NO og er sannsynligvis like viktig fysiologisk som aktivering av SGC av NO. En sann forståelse av NO i fysiologi er hentet fra in vivo-forsøk prøvetaking flere rom samtidig. Nitrogenoksid (NO) metodikk er en kompleks og ofte forvirrende vitenskap og fokus for mange debatter og diskusjoner om NO biokjemi. Den klarlegging av nye mekanismer og signalveier som involverer INGEN hengsler på vår evne til å spesifikt, selektivt og følsomt oppdage og kvantifisere NO og all relevant Ingen produkter og metabolitter i komplekse biologiske matriser. Her presenterer vi en metode for rask og sensitiv analyse av nitritt og nitrat ved HPLC samt påvisning av NO i biologiske prøver ved hjelp in vitro ozon basert chemiluminescence med kjemisk derivitazation å bestemme molekylær kilde til NO samt ex vivo medorgel bad myography.
Protocol
Log in
or
Start trial
to access full content. Learn more about your institution's access to JoVE content
here
1. Hele Blodprøvetaking
Samle venøst ​​blod fra mennesker eller fra forsøksdyr i NEM / EDTA som inneholder rør.
Umiddelbart spinner ned blod i en Borstemmaskin sentrifuger ved 14 300 RCF (relativ sentrifugalkraft) i 7 minutter til å forberede plasma og røde blodceller pellet.
Forbered plasmaprøver for høy ytelse væskekromatografi (HPLC) og chemiluminescence deteksjon (CLD) analyse.
HPLC: Legg 01:01 volum av kulde metanol til plasma, vortex og sentrifuger ved 13200 rpm i 10 minutter til å fremkalle plasmaproteiner. Samle supernatant for HPLC analyse.
CLD: delmengde en prøve og preincubate med sulfanilamide og kvikksølv klorid å spesifikt analysen nitrosothiols.
Forbered røde cellepelleten for HPLC og CLD analyse.
HPLC: Legg 01:04 røde cellepelleten til en hypoton lysis løsning som inneholder 10 mM NEM, 2,5 mM EDTA og 10 mm ferricyanide. Vortex grundig og deretter legge 01:01 metanol, vortex og centrifuge på 13200 rpm i 10 minutter til bunnfall protein. Samle supernatant for HPLC analyse.
CLD. Legg 01:04 røde cellepelleten til en hypoton lysis løsning som inneholder 10 mM EDTA, 2,5 mM EDTA og 10 mm ferricyanide. Delmengde prøvene til rør som inneholder sulfanilamide og kvikksølv klorid for spesifikk påvisning av nitrosothiols.
2. Tissue Utvinning og klargjøring
Å bestemme vev nivåer av NO metabolitter, er det først nødvendig å høste blod gratis vev for prøveopparbeidelse som beskrevet ovenfor. En full blod utveksling vil skje ved infusjon fysiologisk buffer gjennom apex av venstre ventrikkel. Når alt blod er fjernet, kan vev av interesse så høstes.
Homogenisere vevsprøver og forberede prøver som beskrevet ovenfor for HPLC og CLD analyse.
3. Aorta Rings Isolasjon for endotelfunksjon
Tissue Organ Bath
Mus vil være anesthetized med dietyleter til det ikke lenger mottakelig til tå knipe, og gjennomgår cervical dislokasjon før operasjonen. En torakotomi utføres for å avdekke torakal og abdominal aorta. En 25 gauge sprøyte settes inn i toppen av venstre ventrikkel og perfused fri for blod med oksygenrikt Krebs Henseleit buffer.
Høyre atrium er kuttet for å gi en utgang for blod. Abdominal aorta vil bli fjernet og rengjort for adventitia.
Ringene vil bli kuttet i 2 mm lange segmenter og montert på en firekanals vev organ bad (DMT 720MO, AD Instruments) badet i en fysiologisk buffer løsning.
Fartøyet ringene er opprettholdt i 10-ml orgel bad med oksygenrikt Krebs buffer (95% O 2 og 5% CO 2) ved 37 ° C. Ett gram pretensjon er plassert på hver aorta ring (passende start spenning for optimal vasomotorisk funksjon som bestemmes i tidligere forsøk). En åtte-kanals oktale bro (Powerlab) og datainnsamling programvare (Figur versjon 5.2.2) enre brukt til å registrere alle kraft målinger.
Ringene er lov til stabilisering i 80 minutter med buffer i hvert organ bad skiftes hver 20 min. Etter stabilisering for 80 min, er en mM fenylefrin lagt til hver ring for submaximal sammentrekning.
Etter stabilisering, vil endotelial agonist som acetylkolin legges til bestemme NO produksjon og graden av fartøy avslapning. Etter dose respons på acetylkolin, vil bad skylles og recontracted og deretter behandlet med en eksogen kilde til nitrogenoksid, natrium nitroprusside å bestemme responsen av glatt muskulatur og å få en verdi på 100% avslapping.
INGEN scavengers kan legges til bad for å tydelig illustrere utslipp av NO og hemming av fartøy avslapning.
4. Representative Resultater
Bruk av ENO-20 dedikert HPLC gir en enkel å bruke høy gjennomstrømning metode for spesifikk og sensitiv påvisning av nitritt og nitrat ibiologiske matriser. Prinsippet for deteksjon og en original kromatogram er vist i Figur 1. Denne metoden kan brukes til noe biologisk prøve for å bestemme nitritt og nitrat. CLD basert deteksjon av NO metabolitter krever en kjemisk derivitization skritt for å fastslå den molekylære kilden til NO. Den eksperimentelle oppsett for samtidig oksidativt denitrosation og reduktive denitrosation for chemiluminescence detektoren er vist i figur 2. Reaksjonen fartøy på venstre fylt med 800mm ferricyanide i PBS pH 7,4 og reaksjonen fartøyet til venstre er fylt med kaliumjodid / jod blandingen i eddiksyre for reduksjon denitrosation (Figur 2A). Hele oppsettet er vist i figur 2B. Figur 3 illustrerer gruppe spesifikke denitrosation analyser som kan oppdage og kvantifisere nitritt, nitrosothiols og nitrosaminer samt nitrosyl heme produkter. Denne metoden har vært tidligere beskrevetseng og validert 4,5. Disse viktige biokjemiske analysene kan lett bli korrelert med funksjonelle studier på isolerte aorta ringer for å avgjøre endotelial ingen produksjon i forsøksdyr. Denne klassiske farmakologiske eksperimentet kan enkelt og nøyaktig vurdere endotelial NO funksjon og produksjon. Måling fartøy reaktivitet til endotelceller agonister som acetylkolin kan direkte bestemme endotelial ingen produksjon som deretter kan korrelert med biokjemiske biomarkører oppdaget i blod og vev av forsøksdyr. En typisk representasjon av en dose respons på acetylkolin er vist i Figur 4. Friske kontrollpersoner mus med normal endotelfunksjon svare på acetylkolin ved å slappe av. Mus med endotelial dysfunksjon (hypercholesterolemic mus) viser redusert avslapping på grunn av redusert NO produksjon til samme stimulus.

Figure en. Prinsippet for påvisning av nitritt og nitrat ved ENO-20 og prøve kromatogram. (Til toppen) Skjematisk fremstilling av ENO-20 metoden for påvisning for nitritt og nitrat. (Nederst) Standard chromotogram på 10 pmol nitritt og nitrat injisert i ENO-20 (100 mL av 100 nM løsning av nitritt og nitrat). Følsomhet av 1 nM for hver anion med 100 mL injeksjonsvolum. Ingen interferens med protein eller fargede arter.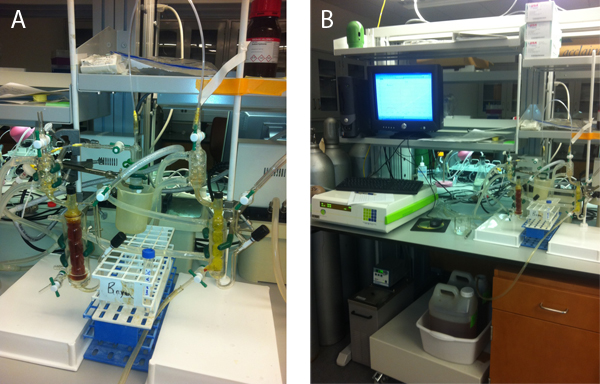 Figur 2. CLD eksperimentelt oppsett med både oksidativ denitrosation av ferricyanide og reduktive denitrosation hjelp iodide / jod analysen med gassfase påvisning av renset nitrogenoksid gass.

Figur 3. (Panel A) Chemiluminescence påvisning av nitritt, RSNO, RNNO i reduktiv denitrosation analysen av prøven preincubation med gruppen bestemt Chemicalal reagenser. Subtraksjon av peak områder tillate deteksjon av nitritt og RSNOs. (Panel B) kjemiluminescerende påvisning av nitrosyl heme arter med oksidative denitrosation løsning ferricyanide. Denne metoden er spesifikk for NO-heme produkter uten kryssreaksjon med RSNOs (GSNO eller SNO-albumin), eller RNNO (NO-pyrrolidine og N-nitrosogrupper-albumin).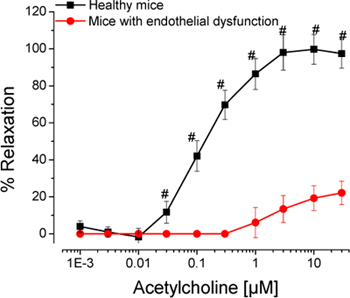 Figur 4. Ex vivo orgel bath på isolerte aorta ringer gir et direkte mål endotelial NO-produksjon som kan så være korrelert med biokjemiske biomarkører oppdaget ved HPLC og CLD. Denne figuren illustrerer redusert velvære i mus med endotelial dysfunksjon på grunn av redusert NO produksjon.
Subscription Required. Please recommend JoVE to your librarian.
Discussion
Log in
or
Start trial
to access full content. Learn more about your institution's access to JoVE content
here
Metodene som beskrives her for kvantifisering av relevante Ingen metabolitter i flere biologiske avdelinger vil tillate for fingerprinting av NO biologi i helse og sykdom som kan være korrelert med funksjonelle målinger av NO ved endotelet. Disse metodene krever enkel prøveopparbeidelse med potensial for tilpasning for høy gjennomstrømming. Den relative mengden av disse molekylene kan hjelpe å forstå produksjonen av NO og metabolske skjebne i en rekke eksperimentelle modeller av sykdom og til og med serielle prøver fra menneskelige pasienter. Det er mange fallgruver i å oppdage INGEN baserte biomarkører og mange analytiske metoder kunstig produsere noen av disse produktene under tillagingen. Forsiktig regnskapsføring av nitritt i biologiske prøver er kritisk på grunn av sin reaktivitet med cystein tioler 6 og artifactual dannelse av nitrosothiols 7. CLD baserte metoder for spesifikk påvisning av nitritt under anaerobe forhold fører til ikonsistente resultater som følge av aktiviteten av bestemte nitritt reduktase enzymer i forskjellige biologiske avdelinger 8. Alle metodene som beskrives her er godt dokumentert og validert og ta hensyn til tiltak for å eliminere eller redusere artefakter 9. Vi vil beskrive kritiske nødvendige skritt for å hindre artefakter. Denne multi-kupé screening av NO metabolitter vil bidra til å identifisere relevante biomarkører som kan ha diagnostisk eller prognostisk nytte i mennesker og vil da gi for utvikling av standardiserte metoder som kan brukes i klinikken eller for standard laboratorieanalyse. Den nylige anerkjennelse av en menneskelig nitrogen syklus der nitrat og nitritt blir redusert til NO med en enterosalivary sirkulasjon av nitrat 10,11 åpner nå opp potensialet for bruk av spytt som en potensiell biomarkør for NO status i visse sykdommer. Hittil NO status er ikke en del av standard blod kjemi brukes rutinemessig for diagnostiske formål i pasienter. Ther er sjokkerende gitt kritiske natur INGEN mange sykdomsprosesser. Til syvende og sist, å bestemme nivåer av disse ingen relaterte biomarkører ved enkel bruk og kanskje rask bed side point-of-care-analyser etter adekvat validering vil være et reelt bevis på sin rolle i molekylær medisin. Det er klokt på dette tidspunktet for konsentrerte og kombinert innsats på feltet for å validere og utvikle en standard og nøyaktig analyse for å fastslå NO status i dyremodeller for validering hos mennesker. De metodene som beskrives i denne protokollen vil tillate andre å raskt vedta en konsensus metode for slike målinger.
Subscription Required. Please recommend JoVE to your librarian.
Disclosures
Ingen interessekonflikter erklært.
Acknowledgments
Forfatterne ønsker å takke Hong Jiang, Ph.D. og Deepa Parathasarthy, MPH, BDS for teknisk assistanse.
Materials
| | | | |
| --- | --- | --- | --- |
| Name | Company | Catalog Number | Comments |
| N-ethylmaleimide | Thermo Fisher Scientific, Inc. | 23030 | |
| EDTA | Sigma-Aldrich | E7889 | |
| Potassium Ferricyanide | Fluka | 60299 | |
| HPLC | Eicom Corp | ENO-20 | |
| Autosampler | Alcott | | |
| DMT Myograph | ADInstruments | | |
| PowerLab | ADInstruments | | |
| Chemiluminescent | EcoPhysics | CLD 88Y | |
| Centrifuge | Eppendorf | 5415D | |
| Acetylcholine | Sigma-Aldrich | A6625 | |
| R-(-) Phenylephrine | Sigma-Aldrich | P6126 | |