Summary
Den endogena produktionen av kväveoxid (NO) reglerar ett stort antal olika biologiska funktioner. Det blir allt tydligare att störningar eller dysreglering av NO baserad signalering är involverad i många mänskliga sjukdomar. Metoder för att kvantifiera relevanta inga metaboliter kan ge nya diagnostiska eller prognostiska biomarkörer för sjukdomar hos människor.
Abstract
Kväveoxid (NO) är en diatomär fria radikaler som är mycket kortlivad i biologiska system (mindre än 1 sekund i cirkulerande blod) 1. NO kan vara en av de mest viktiga signalmolekyler som produceras i kroppen, som reglerar viktiga funktioner inkluderande men ej begränsade till reglering av blodtryck, immunsvar och neurala kommunikation. Därför sin noggrann detektion och kvantifiering biologiska matriser är avgörande för att förstå betydelsen av NO i hälsa och sjukdom. Med en sådan kort fysiologisk halveringstid av NO, har alternativa strategier för påvisande av reaktionsprodukter av NO biokemi utvecklats. Kvantifiering av relevanta inga metaboliter i flera biologiska fack ger värdefull information när det gäller in vivo NO-produktion, biotillgänglighet och metabolism. Helt enkelt provtagning samma utrymme såsom blod eller plasma inte alltid en korrekt bedömning av hela body NO status, särskilt i vävnader. Förmågan att jämföra blod med utvalda vävnader i försöksdjur kommer att bidra till att överbrygga klyftan mellan grundforskning och klinisk medicin när det gäller diagnostisk och prognostisk nyttan av NO biomarkörer i hälsa och sjukdom. Därför är extrapolering av plasma eller blod NR status till specifika vävnader av intresse inte längre en giltig metod. Som ett resultat, metoder fortsätta att utvecklas och valideras som tillåter detektion och kvantifiering av NO och NO-relaterade produkter och metaboliter i flera fack av försöksdjur i vivo. Den etablerade paradigm av NO biokemi från produktion av NO-syntaser till aktivering av lösligt guanylylcyklas (SGC) för att eventuellt oxidation till nitrit (NO 2 -) och nitrat (NO 3 -) får endast utgör en del av NO effekter in vivo. Interaktionen av NO och NO-härledda metaboliter med proteintioler, sekundära aminer, och metaller för att bilda S-nitrosothiOLS (RSNOs), N-nitrosaminer (rnNOS) och nitrosyl-hem representerar respektive cGMP-oberoende effekter av NO och sannolikt lika viktigt fysiologiskt som aktivering av SGC av NO. En verklig förståelse av NO i fysiologi härrör från in vivo-experiment provtagning flera fack samtidigt. Kväveoxid (NO) metod är en komplex och ofta förvirrande vetenskap och fokus för många debatter och diskussioner om NO biokemi. Klarlägga nya mekanismer och signalvägar som inte innebär några hänger på vår förmåga att specifikt, selektivt och varsamt upptäcka och kvantifiera NO och alla relevanta NO produkter och metaboliter i komplexa biologiska matriser. Här presenterar vi en metod för snabb och känslig analys av nitrit och nitrat med hjälp av HPLC samt detektering av fri NO i biologiska prover med hjälp av in vitro ozon baserad kemiluminiscens med kemiska derivitazation att bestämma molekylära källa NO samt ex vivo medOrganbadet myography.
Protocol
Log in
or
Start trial
to access full content. Learn more about your institution's access to JoVE content
here
1. Helblodstappning
Samla venöst blod från människor eller från försöksdjur i NEM / EDTA innehåller rör.
Omedelbart sakta ner blod i en bordscentrifug vid 14.300 RCF (relativ centrifugalkraft) under 7 minuter för att framställa plasma och röda blodkroppar pelleten.
Förbereda plasmaprover för högprestandavätskekromatografi (HPLC) och kemiluminescensdetektion (CLD)-analys.
HPLC: Tillsätt 1:1 volym av kall metanol till plasma, virvel och centrifugera vid 13.200 rpm under 10 minuter till proteiner utfällning plasma. Supernatanten för HPLC-analys.
CLD: alikvot ett prov och preinkubera med sulfanilamid och kvicksilverklorid specifikt assay nitrosotioler.
Förbered röda cellpellet för HPLC-och CLD analys.
HPLC: Tillsätt 01:04 röda cellpelleten till en hypotonisk lys-lösning innehållande 10 mM NEM, 2,5 mM EDTA och 10 mM ferricyanid. Vortex grundligt och sedan lägga 1:1 metanol, virveln och centrifugeringseffektuge vid 13.200 rpm under 10 minuter för att fälla proteinet. Supernatanten för HPLC-analys.
CLD. Tillsätt 01:04 röda cellpelleten till en hypotonisk lys-lösning innehållande 10 mM EDTA, 2,5 mM EDTA och 10 mM ferricyanid. Delmängder som rör som innehåller sulfanilamid och kvicksilverklorid för specifik detektion av nitrosothioler.
2. Tissue utvinning och bearbetning
För att bestämma vävnad nivåer av NO metaboliter, är det först nödvändigt att skörda blod fritt vävnad för provberedning som beskrivits ovan. En fullständig blod utbyte sker genom infusion fysiologisk buffert genom spetsen av den vänstra ventrikeln. När alla blod avlägsnas, kan vävnaderna av intresse sedan skördas.
Homogenisera vävnadsprover och framställning av prover, såsom beskrivits ovan för HPLC och CLD-analys.
3. Aortaringar isolation för endotelfunktion
Vävnad organbad
Möss kommer att vara Anesthetized med dietyleter tills inte längre svarar på tå nypa, och genomgår cervikal dislokation före operation. En torakotomi utförs för att frilägga torakala och abdominala aortan. En 25 gauge spruta sätts in i toppen av vänstra kammaren och perfuserades fria från blod med syresatt Krebs Henseleit-buffert.
Höger förmak skärs för att tillhandahålla en utgång för blod. Bukaortan kommer att avlägsnas och rengöras från adventitia.
Ringar kommer att minska i 2 mm långa segment och monterade på en fyra-kanals vävnad organbad (DMT 720MO, AD Instruments) badat i en fysiologisk buffertlösning.
Fartygets ringar bibehålls i 10-ml organbad med syresatt Krebs-buffert (95% O2 och 5% CO2) vid 37 ° C. Ett gram anspråk placeras på varje aortaringen (lämplig start spänning för optimal vasomotorisk funktion som fastställts i tidigare experiment). En åtta-kanals oktala Bridge (Powerlab) och data förvärvet programvara (diagram version 5.2.2) enre används för att registrera alla kraftmätningar.
Ringarna får anta jämvikt under 80 minuter med bufferten i varje organbad ändras var 20 min. Efter jämviktning under 80 min, 1 pM fenylefrin sattes till varje ring för submaximal kontraktion.
Efter stabilisering kommer endotel agonist såsom acetylkolin läggas att bestämma NO och graden av fartyget avkoppling. Efter dos respons till acetylkolin, kommer bad sköljas och recontracted och behandlades sedan med en exogen källa av kväveoxid, natriumnitroprussid att bestämma känsligheten hos glatt muskulatur och för att få ett värde för 100% relaxation.
NO elimineringsmedel kan tillsättas till badet för att tydligt illustrera frisättning av NO och hämning av kärlet avslappning.
4. Representativa resultat
Användning av ENO-20 dedikerad HPLC ger ett lättanvänt hög genomströmning metod för specifik och känslig detektion av nitrit och nitrat ibiologiska matriser. Principen för detektering och en ursprunglig kromatogrammet visas i figur 1. Denna metod kan användas för något biologiskt prov för bestämning nitrit och nitrat. CLD baserad detektion av NO metaboliter kräver ett steg kemisk derivatisering för att bestämma den molekylära orsaken till NO. Den experimentella uppställningen för samtidig oxidativ denitrosering och reduktiv denitrosering för kemiluminiscens detektor visas i figur 2. Reaktionskärlet till höger är fylld med 800 mM ferricyanid i PBS pH 7,4 och reaktionskärlet till vänster är fylld med kaliumjodid / jod blandning i ättiksyra för reduktion denitrosering (Figur 2A). Hela installationen visas i figur 2B. Illustrerar gruppspecifika denitrosering analyser som kan upptäcka och kvantifiera nitrit, nitrosotioler, nitrosaminer liksom nitrosyl produkter heme figur 3. Denna metod har tidigare descrisäng och validerade 4,5. Dessa viktiga biokemiska analyser kan korreleras med funktionella studier på isolerade aortaringar att bestämma endotel NO-produktion hos försöksdjur. Denna klassiska farmakologiska experiment kan enkelt och exakt bedöma endotel ingen funktion och produktion. Mätkärlet reaktivitet mot endoteliala agonister såsom acetylkolin kan direkt bestämma endotel NO-produktion, som sedan kan korreleras med biokemiska markörer detekteras i blod och vävnad av försöksdjuren. En typisk representation av en dos-respons till acetylkolin visas i figur 4. Friska kontrollpersoner möss med normal endotelfunktion svara på acetylkolin genom att koppla. Möss med endotelial dysfunktion (hyperkolesterolemiska möss) visar minskad avslappning på grund av minskad produktion av NO till samma stimuli.

Fig.ure 1. Principen för upptäckt av nitrit och nitrat med ENO-20 och prov kromatogram. (Top) Schematisk bild av ENO-20 metod för detektion för nitrit och nitrat. (Botten) Standard chromotogram av 10 pmol nitrit och nitrat injiceras i ENO-20 (100 | il av 100 nM lösning av nitrit och nitrat). Känslighet av 1 nM till varje anjon med 100 | il injektionsvolym. Ingen interferens med protein eller färgade arter.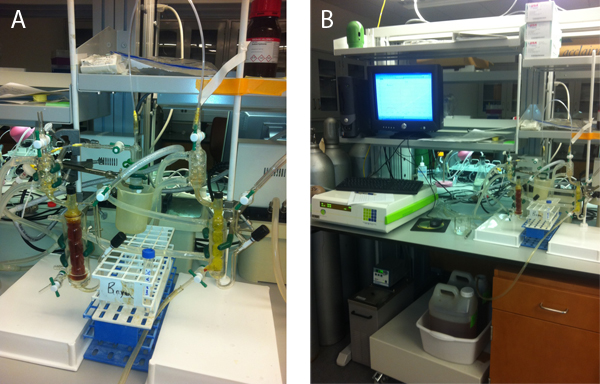 Figur 2. CLD experimentuppställning med både oxidativ denitrosering av ferricyanid och reduktiv denitrosering med jodid / jod analys med gasfas detektering av renad kväveoxid gas.

Figur 3. (Panel A) Kemiluminescens detektering av nitrit, RSNO, RNNO i reduktiv denitrosering analys av provet förinkubation med gruppspecifik Pharmacfl reagens. Subtraktion av toppareor möjliggöra detektion av nitrit och RSNOs. (Panel B) Kemiluminiscerande detektering av nitrosyl heme arter med oxidativ denitrosering lösning av ferricyanid. Denna metod är specifik för NO-hem produkterna utan någon korsreaktivitet med RSNOs (GSNO eller SNO-albumin), eller RNNO (NO-pyrrolidin och N-nitroso-albumin).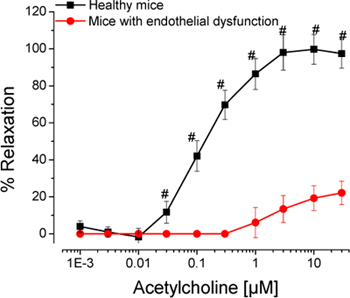 Figur 4. Ex vivo organbad på isolerade aortaringar tillhandahåller ett direkt mått på endotel NO-produktion, som sedan kan korreleras med biokemiska markörer detekteras genom HPLC och CLD. Denna siffra visar minskade avkoppling i möss med endoteldysfunktion på grund av minskad NO-produktion.
Subscription Required. Please recommend JoVE to your librarian.
Discussion
Log in
or
Start trial
to access full content. Learn more about your institution's access to JoVE content
here
De metoder som beskrivs här för kvantifiering av relevanta inga metaboliter i flera biologiska fack kommer att möjliggöra fingeravtryck av NO biologi i hälsa och sjukdom som kan korreleras med funktionella mätningar av NO från endotelet. Dessa metoder kräver enkel provberedning med potential för anpassning för hög genomströmning. Den relativa mängden av dessa molekyler kan hjälpa till att förstå produktionen av NO och dess metaboliska öde i ett antal experimentella modeller av sjukdomen och även seriella prover från mänskliga patienter. Det finns många fallgropar i att upptäcka NO baserade biomarkörer och många analysmetoder på konstgjord väg producera några av dessa produkter under provberedning. Noggrann bokföring av nitrit i biologiska prover är kritisk på grund av dess reaktivitet med cystein tioler 6 och artefaktuella bildning av nitrosothioler 7. CLD-baserade metoder för specifik detektion av nitrit under anaeroba förhållanden leder ikonsekventa resultat på grund av aktiviteten hos specifika enzymer nitritreduktas i olika biologiska fack 8. Alla de metoder som beskrivs här är väl dokumenterade och validerade och ta hänsyn till åtgärder för att eliminera eller minska artefakter 9. Vi kommer att beskriva viktiga åtgärder som är nödvändiga för att förhindra artefakter. Denna multi-fack screening av Inga metaboliter kommer att bidra till att identifiera relevanta biomarkörer som kan ha diagnostisk eller prognostisk användbarhet hos människor och kommer då möjliggöra utveckling av standardiserade metoder som kan användas på kliniken eller för vanlig laboratorieanalys. Den senaste erkännandet av en mänsklig kvävets kretslopp där nitrat och nitrit reduceras till NO med en enterosalivary cirkulation av nitrat 10,11 öppnar nu upp möjligheten för att använda saliv som en potentiell biomarkör för ingen status i vissa sjukdomar. Hittills har ingen status inte är del av standarden blodkemin används rutinmässigt för diagnostiska ändamål i patienter. Thär är chockerande med tanke på kritiska naturen av NO många sjukdomsprocesser. I slutändan, för att fastställa nivåerna av dessa Inga relaterade biomarkörer av enkel användning och kanske snabba sängen sida point-of-care analyser efter adekvat validering kommer att bli en riktig bevis på deras roll i molekylär medicin. Det är klokt i detta läge för koncentrerade och kombinerade insatser på området för att validera och utveckla en standard och noggrann analys för att fastställa ingen status i djurmodeller för validering hos människor. De metoder som beskrivs i detta protokoll kommer att tillåta andra att snabbt anta en konsensus metod för sådana mätningar.
Subscription Required. Please recommend JoVE to your librarian.
Disclosures
Inga intressekonflikter deklareras.
Acknowledgments
Författarna vill tacka Hong Jiang, Ph.D. och Deepa Parathasarthy, MPH, BDS för tekniskt stöd.
Materials
| | | | |
| --- | --- | --- | --- |
| Name | Company | Catalog Number | Comments |
| N-ethylmaleimide | Thermo Fisher Scientific, Inc. | 23030 | |
| EDTA | Sigma-Aldrich | E7889 | |
| Potassium Ferricyanide | Fluka | 60299 | |
| HPLC | Eicom Corp | ENO-20 | |
| Autosampler | Alcott | | |
| DMT Myograph | ADInstruments | | |
| PowerLab | ADInstruments | | |
| Chemiluminescent | EcoPhysics | CLD 88Y | |
| Centrifuge | Eppendorf | 5415D | |
| Acetylcholine | Sigma-Aldrich | A6625 | |
| R-(-) Phenylephrine | Sigma-Aldrich | P6126 | |