Summary
De methode beschrijft de procedure waarmee de Hawaiiaanse bobtail inktvis,
Abstract
Specifieke bacteriën worden gevonden in samenwerking met dierlijk weefsel 1-5. Deze host-bacteriële verenigingen (symbiose) kunnen schadelijk zijn (pathogene), hebben geen fitness gevolg (commensale), of nuttig zijn (mutualistische). Hoewel veel aandacht is besteed aan pathogene interactie, is er weinig bekend over de processen die de reproduceerbare overname van nuttige / commensale bacteriën uit de omgeving bepalen. Het licht-orgel mutualisme tussen het mariene Gram-negatieve bacterie V. fischeri en de Hawaiiaanse bobtail squid, E. scolopes, staat voor een zeer specifieke interactie waarbij een host (E. scolopes) een symbiotische relatie met slechts een bacteriesoort (V. fischeri) in de loop van de levensduur van 6,7. Bioluminescentie door V. fischeri tijdens deze interactie geeft een anti-agressieve voordeel E. scolopes tijdens nachtelijke activiteit 8,9, terwijlde voedselrijke gastheerweefsel biedt V. fischeri met een beschermde nis 10. Tijdens elke host generatie, wordt deze relatie samengevat, zodat aan een voorspelbaar proces dat kan in detail worden beoordeeld in verschillende stadia van symbiotische ontwikkeling. In het laboratorium, de jeugdige inktvis luik aposymbiotically (uncolonized), en, indien verzameld binnen de eerste 30-60 minuten en overgebracht naar symbiont-vrij water, kan niet worden gekoloniseerd, behalve door de experimentele inoculum 6. Deze interactie geeft een nuttig modelsysteem waarin de afzonderlijke stappen die leiden tot de specifieke verkrijging van een microbe symbiotische uit de omgeving 11,12 beoordelen.
Hier beschrijven een werkwijze om de mate van kolonisatie die optreedt wanneer pasgeboren aposymbiotic E. beoordelen scolopes worden blootgesteld aan (kunstmatige) zeewater met V. fischeri. Deze eenvoudige test beschrijft inenting, een natuurlijke infectie, en herstelvan de bacteriële symbiont van de ontluikende lichtorgel van E. scolopes. Er wordt op een consistente omgeving voor de dieren tijdens het symbiotische ontwikkeling, in het bijzonder met betrekking tot de kwaliteit van het water en licht signalen. Methoden om de beschreven symbiotische bevolking kenmerken omvatten (1) meting van bacterieel afgeleid bioluminescentie, en (2) directe kolonie tellen van teruggewonnen symbionten.
Protocol
Log in
or
Start trial
to access full content. Learn more about your institution's access to JoVE content
here
1. Voorbereiding van Bacteriële Inocula
Dag 0
Twee dagen voorafgaand aan de inktvis inoculatie, het bord van de relevante bacteriestammen op LBS 13 agar.
Incubeer bacteriën bij 25-28 ° C geroerd.
Dag 1
Inoculeer 3 ml LBS medium in een glazen cultuur buis met een kolonie van elk V. fischeri stam voor infectie. Bereid dubbele buizen als back-up.
Dag 2
(Coördineren van bacteriële stappen 1.4-1.6 met inktvis stappen 3.7-3.10)
1 h vóór de inoculatie, subcultuur bacteriën 1:80 (37,5 pi) in 3 ml LBS in een glazen buis en cultuur groeien gedurende 1 uur met beluchting.
Meet de OD 600 van het monster vóór de inoculatie. Metingen zijn 0.3-0.6 afhankelijk van de stam.
Een doel inoculum van 3-5 x 10 3 CFU / ml berekenen inoculum volume als volgt: Inoculum volume (il) = 1,25 / OD 600 (bijvoorbeeld voor OD 600 = 0,5, de berekende inoculum volume = 1.25/0.5 = 2,5 pi). Dit bedrag wordt direct toegevoegd aan het zeewater met inktvis in stap 4.1. Deze berekening moet mogelijk worden aangepast voor verschillende stammen van V. fischeri of voor inoculatie met lagere of hogere niveaus dan de hier aangegeven.
2. Voorbereiding van Agar Platen voor de telling van de Inocula
Voor elke behandeling, label LBS platen (2 per behandeling) tot op het bord monsters van het inoculum in stap 4.1.
Voeg 5 steriele plating kralen per plaat.
3. Het verzamelen van Squid Jeugdigen
Meet het zoutgehalte van Instant Ocean met behulp van de refractometer en aan te passen tot 35 ‰.
Filter 1 L van Instant Ocean met behulp van de filtratie-eenheid en een aangrenzende vacuüm lijn of vacuümpomp, om een ​​filter gesteriliseerde Instant Ocean (FSIO) te genereren. Zuurstof in het water door het kolkende krachtig voorafgaand aan elke aflevering. The filter kan worden hergebruikt voor 2 dagen.
Aliquot 40-50 ml van FSIO in elk van twee (2) wegwerp monster kommen. Label een als primeurs en een als timelies.
Bereid een teveel aan plastic overdracht pipetten voor het verwerven van jonge inktvis door het snijden van de pipet ongeveer 1 cm van de punt, boven de laagste randen (zie figuur 3). Dit vergemakkelijkt een groter gebied, waardoor de inktvis kan passeren bij de inzameling. Gooi transferpipetten waarin een ruw oppervlak blootgesteld.
Met behulp van voorbereide overdracht pipetten, het verzamelen van E. scolopes dat 's nachts uitgekomen en over te dragen aan de primeurs kom FSIO. Vroege jongen zijn in het ei-systeem voor meer dan 1 uur en zijn gevoelig voor kolonisatie door vervuilende V. fischeri het ei systeem. Gebruik geen primeurs voor gevoelige kolonisatie experimenten.
Controleer ei tanks elke 30-45 min voor de nieuwe jongen. Zorg ervoor dat alle jongen worden gewist tijdens elke check. Verwijder de jongen met een transfer pipet, en storting in de timelies kom FSIO. Dieren verzameld in een tijdig beschikbaar zijn voor kolonisatie experimenten.
Wanneer de collectie klaar is (~ 45 min na zonsondergang), over te dragen van de inktvis naar de belangrijkste laboratorium. Empirisch is het voordelig om de dieren te koloniseren onder ononderbroken laboratorium licht gedurende 3 uur injecties.
Voor elke behandeling, bereidt u een kom met 40 ml FSIO. Voeg inktvis de schalen voor de test (maximaal n = 40 per bak).
Bereid een extra kom als een aposymbiotic (negatieve) controle.
Bereid een speciale transferpipet voor elke behandeling.
Euthanaseren extra inktvis in 2% ethanol.
4. Squid Colonization
Dag 2 - met een P10 Pipetman, afgezien de berekende hoeveelheid bacteriën (stap 1,5) in elke squid schaal (stap 3.8) voor elke behandeling. Start een 3 uur timer onmiddellijk nade eerste inenting.
Voor elke behandeling, maak dan een 'vortex' in de kom met de speciale transferpipet door het plaatsen van de pipet aan de rand van de kom en en neer te pipetteren herhaaldelijk op het water en inktvis te mengen voor ongeveer 10 sec. Grondig mengen is van cruciaal belang.
Plaat 50 ul van elke kom op een LBS-agarplaat van Stap 2.2 (voor technische replica, plaat twee 50 ul platen per behandeling). Incubeer bij 25-28 ° C geroerd.
Bereid wassen kommen (100 ml FSIO / e bis) voor elke behandeling.
Bereid Drosophila flacons (4 ml FSIO / EA) voor elke inktvis.
Na precies 3 uur, over te dragen de inktvis aan hun respectieve waskommen (compleet voor alle behandelingen). Dit stopt de inenting.
Ga verder met elke individuele inktvis over te dragen aan zijn eigen Drosophila flacon met FSIO. Gebruik een aangewezen transferpipet voor elke behandeling.
Verplaats trays van Drosophila flacons aan de inktvis mogelijkheid om terug te keren naar de dag / night lichtcyclus de dieren ervaren tijdens de embryogenese.
Dag 3 - Bereid Drosophila flacons (4 ml FSIO / EA) voor elke inktvis.
Voorafgaand aan de schemering te 22-24 uur na inenting, breng elke inktvis aan een nieuwe Drosophila flacon. Gebruik een aangewezen transferpipet voor elke behandeling.
Dag 4 - Bereid het label 1,5 ml microcentrifugebuizen (1/squid).
Voorafgaand aan de schemering op 46-48 uur na inenting, meet en noteer de luminescentie van elke inktvis in de Drosophila flacon (luminometer set voor integratie 6 s en auto-lezen op deksel sluiting).
Als negatieve controle voor achtergrond luminescentie, meet een flacon met FSIO dat bevat geen inktvis.
Overdracht elk squid in een volume van circa 700 pi van een 1,5 ml microcentrifugebuisje uit stap 4.12. Ga naar een kartonnen doos vriezer. Zodra het deksel wordt geplaatst op de doos, verwijder het niet als het licht aanwijzingen voor bacteriën uitzetting niet WELl-begrepen.
Freeze microcentrifugebuizen bij -80 ° C gedurende de nacht.
5. Bepaling van kolonisatie niveaus
Voor elke squid, bereid twee (2) PCR met elk 475 pi FSIO (of autoclaaf 70% Instant Ocean).
Bereid stampers door eerst met behulp van een Kimwipe ook het slot schoon te maken en grove puin en / of weefsel te verwijderen.
Plaats stampers tip-down in een 50 ml bekerglas met 95% ethanol. Ethanol worden toegevoegd aan een hoogte van ongeveer 3 cm.
Voor elke stamper, te verwijderen uit de beker en veeg de punt met een Kimwipe.
Dompel stamper terug in de ethanol bad, te verwijderen en plaats (punt naar boven) in een microcentrifugebuis rack en volledig laten drogen aan de lucht voor ongeveer 15 minuten.
Dooi inktvis in een microcentrifugebuis rack (maximaal n = 8).
Indien nodig, het volume tot 700 ul.
Met behulp van een stamper van Stap 5,5, kan het dierlijk weefsel totdat de inkt weg RUPturen (het water zal een donkere grijze kleur te zetten).
Verwijder de stamper en zorgen dat alle weefsel blijft in de buis.
Vortex het weefsel kort voor precies 10 seconden (gebruik maken van een timer).
Laat het weefsel rusten gedurende 10 minuten. Het weefsel zal bezinken en de bacteriën en inkt in oplossing blijven. Voor de berekeningen die volgen, de bacterie / inkt oplossing is de [A] verdunning (dat wil zeggen de E. scolopes lichtorgel homogenaat in 700 pi). Seriële 1:20 verdunningen ([B], [C]) worden hieronder beschreven.
Voor [B] verdunning voeg 25 ul [A] een der reactievaatjes bereid in stap 5.1. Vortex.
Voor [C] verdunning voeg 25 ul [B] een van de reactievaatjes bereid in stap 5.1. Vortex.
Plaat 50 ul van elke verdunning op LBS-agar, 2 duplo's per behandeling.
Incubeer de platen bij 25-28 ° C geroerd.
6. Data-analyse
Om de CFU / lichtorgel (LO), landen te berekenent kolonies op de plaat voor elke behandeling waarbij 10-400 kolonies aanwezig zijn, en gebruik de juiste formule:
CFU / LO = (kolonies op [A] plaat) x 14, of
CFU / LO = (kolonies op [B] plaat) x 280, of
CFU / LO = (kolonies op [C] plaatje) x 5600.
Zet individuele gegevens punten en medianen op een logaritmische schaal.
De gegevens worden vaak niet normaal verdeeld, met verschillende varianties, en de uitschieters kunnen biologisch zinvolle informatie bevatten. Derhalve niet-parametrische tests een bruikbare methode of de behandeling aanzienlijk verschillen.
Gebruik GraphPad Prism-software voor statistische analyse. Voor twee behandelingen, gebruik maken van de Wilcoxon Rank Sum test. Voor vergelijkingen tussen meer dan twee behandelingen, gebruik maken van de Kruskal-Wallis test met de juiste post-tests.
7. Representatieve resultaten
Resultaten van een monster kolonisatie assay worden getoond in Figuur 4. Twee stammen van E. scolopes symbiont, ES114 14, en hoe helderder Sepiola robusta symbiont, SR5 15,16. Soortgelijke inoculumniveaus (Fig. 4A) tot 100% kolonisatie binnen 3 h. Na 48 uur werden de luminescentie niveaus (Fig. 4B) en CFU tellingen (fig. 4C) bepaald de kolonisatie beheersing van de stam beoordelen. Bepaling van de specifieke luminescentie (afb. 4D; per bacterie) maakt voor het bepalen van de helderheid van elke bacteriestam tijdens de symbiose.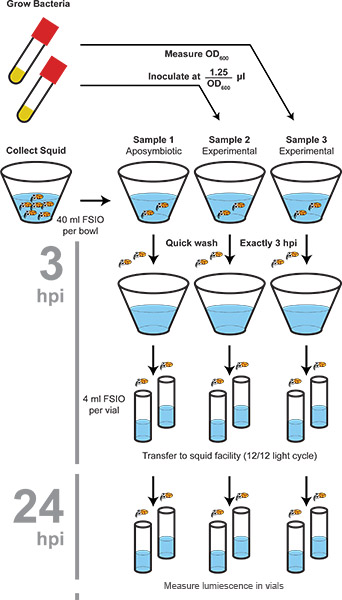 Figuur 1. Stroomschema van de kolonisatie procedure. Bacteriën en inktvis worden apart geoogst, vervolgens gemengd op de opgegeven inoculum. Squid gewassen, vervolgens overgebracht naar nieuwe water 3 uur, 24 uur en 4 8 uur na enting. Na 48 h de luminescentie wordt gemeten en de dieren bevroren, die dient om het oppervlak gesteriliseerd de dieren. Light-orgaan gekoloniseerd bacteriën levensvatbaar blijven bij -80 ° C door een dooi (geen extra vries-ontdooi cycli).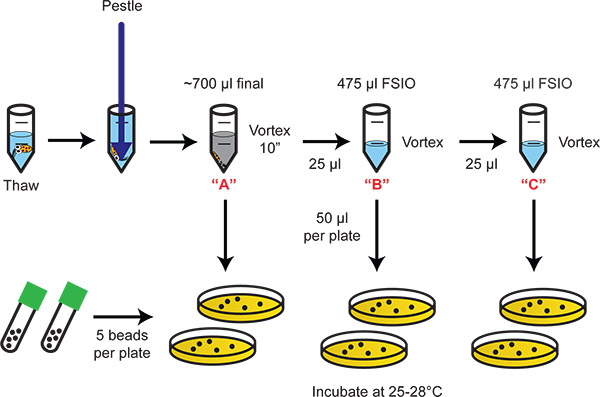 Figuur 2. Stroomschema homogenisatie en verdunningseffect van de bacteriën. Serial 20-voudige verdunningen de passende dynamisch bereik voor de telling van gekoloniseerde bacteriën.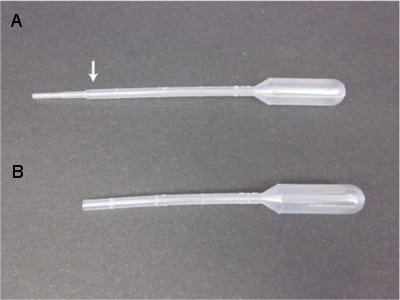 Figuur 3. Breng pipetten met een geschikt smalle schacht taps naar een smalle boring (A) dat de jonge inktvis zou beschadigen. Voorbehandeling door het afsnijden van het smalste deel met een schaar of een scheermesje levert een geschikt instrument (B) voor het overbrengen van jonge inktvis.
s/ftp_upload/3758/3758fig4.jpg "/>
Figuur 4. Voorbeeld van gegevens voor een kolonisatie test. (A) Het niveau van de bacteriën in het inoculum kommen. (B) luminescentie van individuele inktvis. (C) kiemgetal van individuele inktvis. (D) Specifieke luminescentie van individuele inktvis. Apo, Aposymbiotic (uncolonized negatieve controle).
Subscription Required. Please recommend JoVE to your librarian.
Discussion
Log in
or
Start trial
to access full content. Learn more about your institution's access to JoVE content
here
De beschreven kolonisatie assay maakt analyse van een natuurlijk proces symbiotische in een gecontroleerde laboratorium. Als zodanig kan worden gebruikt om kolonisatie beoordelen door mutante stammen door verschillende natuurlijke isolaten en onder verschillende chemische regimes. Variaties op de beschreven experimenten worden vaak gebruikt om verschillende aspecten van de symbiose te beoordelen. De kinetiek van de kolonisatie kan worden gemeten door behandeling luminescentie tijdens de eerste 24 uur, die automatisch kunnen worden gedetecteerd in een scintillatieteller waarin de koincidentiedetektor is verwijderd. Bovendien kan de relatieve kolonisatievermogen van een stam opzichte van een ander gemeten worden door een concurrerende kolonisatie assay, waarin de uitgang verhouding van de twee stammen in een reeks dieren genormaliseerd op de ingang ratio (differentiële detectie van verschillende antibioticumresistentie, fluorescentie of chromogene [LacZ / Xgal] markers). Tot slot kan kolonisatie direct worden afgebeeld door confocale MICRoscopy.
Het is van cruciaal belang voor een gezonde jonge inktvis gebruiken voor de experimenten. Gedragsindicatoren van een slechte gezondheid zijn onder andere inktvis zwemmen in cirkels (laten inslapen van het dier), of dieren die blijven wit en laten hun chromatoforen om bruin op een donkere ondergrond (met zorg). Zoals bestaat variatie in de gastheren, een groter aantal herhaalde proeven met kleinere aantallen dieren vaak waardevoller dan een kleiner aantal herhaalde proeven met grote steekproeven.
Subscription Required. Please recommend JoVE to your librarian.
Disclosures
De auteurs hebben niets te onthullen.
Acknowledgments
De auteurs danken Mattias Gyllborg voor inktvis facilitaire ondersteuning en voor reacties op dit manuscript, Michael Hadfield en de Kewalo Marine Laboratory voor hulp tijdens de veld verzamelen, en leden van de Ruby en McFall-Ngai Laboratorium voor bijdragen aan dit protocol. Werk in de Mandel Laboratorium wordt ondersteund door NSF IOS-0843633.
Materials
| | | | |
| --- | --- | --- | --- |
| Name | Company | Catalog Number | Comments |
| Glass Culture Tubes, 16 mm Diameter | VWR international | 47729-580 | |
| Caps for Glass Culture Tubes | Fisher Scientific | NC9807998 | |
| Visible Spectrophotometer for Determination of OD600 | Biowave | CO8000 | Any spectrophotometer capable of measuring OD600 will work. This unit can measure the OD600 of liquid directly in the glass culture tubes. Some adjustment of the inoculum calculation may be necessary depending on the instrument used. |
| GloMax 20/20 Single-Tube Luminometer | Promega Corp. | E5311 | Equivalent to the Turner BioSystems 20/20n Luminometer. Includes the microcentrifuge tube holder. |
| GloMax 20/20 Light Standard | Promega Corp. | E5341 | For luminometer calibration. |
| Refractometer, Handheld | Foster & Smith | CD-14035 | Calibrate before each use with deionized water. Rinse after every use with deionized water to prevent salt build-up. |
| Instant Ocean (artificial seawater concentrate) | Foster & Smith | CD-16881 | Prepare at 35 ≥ in deionized water, using the refractometer, then filter through a 0.2 μm SFCA filter. |
| Filtration Unit | Nalge Nunc international | 158-0020 | Surfactant-free cellulose acetate (SFCA) membrane, 0.2 μm. We have observed variable results with some surfactant-containing PES filters. |
| Transfer Pipettes | Fisher Scientific | 13-711-9AM | Using scissors or razor blade, cut the tip cleanly above the first ridge to increase the diameter of the pipette tip and avoid squeezing the squid hatchlings. |
| Disposable Sample Bowls (plastic tumblers) | Comet | T9S (9 oz.) | Bowls for inoculation, with upper diameter 3 ¼", lower diameter 2 ¼", height 3". Bowls create a homogenous environment as they have no bottom rim, in which squid can get trapped in a low-oxygen niche. The size is optimized for 40-ml inoculum. Available at webstaurantstore.com, #619PI9. |
| Drosophila Vials | VWR international | 89092-720 | Vial diameter matches the opening on the luminometer PMT. |
| 1.5 ml Microcentrifuge Tubes | ISC Bioexpress | C-3217-1CS | Tubes must fit the shape of the pestles. |
| Ethanol, 200 Proof | Fisher Scientific | BP2818-100 | |
| Pestles | Kimble Chase | 749521-1500 | |
| Plating Beads, 5 mm diameter | Kimble Chase | 13500 5 | Prepare 5 per tube and autoclave. |