Summary
Viral vektörler hedefli gen manipülasyonu için izin verir. Bu arka boynuzu içine, bir viral vektör stereotaksik enjeksiyon, birincil somatosensoriyel afferentleri ve merkezi sinir sistemi nöronları arasındaki sinaptik bir temas önemli yer kullanılarak, koşullu gen ekspresyonu ya da fare omurilik ablasyonu için bir yöntem göstermektedir.
Abstract
Bir viral vektörün intraparankimal enjeksiyon nöronlar ya da merkezi sinir sisteminin belirli bölgelerinde farklı popülasyonlarda şartlı gen manipülasyonu sağlar. Biz fare omurilik dorsal boynuz hedeflenen gen ekspresyonu veya susturulması sağlayan bir stereotaksik enjeksiyon tekniği göstermek. Cerrahi prosedür kısa. Bu hayvan ve omurganın uğramamış motilite hızlı kurtarma sağlayan, tek vertebra laminektomi gerektirir. Eğimli cam kanül ile mikroenjektör düşük hız ve kullanım küçük bir vektör süspansiyon hacmi Kontrollü enjeksiyonu doku lezyonu aza indirmek. Vektör lokal bağışıklık cevabında istihdam virüs içsel özelliklerine bağlıdır; bizim deneyim, bir rekombinant adeno-ilişkili virüs kullanıldığında küçük ve kısa sürelidir. Bu tür gelişmiş yeşil floresan proteini gibi bir raportör gen vektör izlenmesi uzaysal dağılımının kolaylaştırır ve etkinliği ve hücresel specitransfeksiyon özgüllük.
Introduction
Log in
or
Start trial
to access full content. Learn more about your institution's access to JoVE content
here
Fare koşullu gen manipülasyonu Gelişmiş teknolojiler merkezi sinir sisteminde sinaptik yollar ve fonksiyonel bağlantılarının araştırılması için çok yönlü yaklaşımlar sağlar. Transgenlerin östrojen reseptör 1 mutasyona uğramış bir ligand-bağlayıcı etki tanıyan bir repressör veya gen transkripsiyon aktivatörü veya tamoksifen gibi çalışması için dizayn edilebilir bir tetrasiklin kontrollü Transaktivatörü, hareket gibi doksisiklin gibi küçük moleküllü etkileyiciler tarafından düzenlenebilir . Tersinmez transgen değişiklik yaygın deoksiribonükleik asit (DNA) rekombinaz tarafından elde edilir. Cre (nedenleri rekombinasyon) ve FLP (flippase rekombinasyon enzim) eksizyonu, inversiyon veya sırasıyla 1 loxP (crossing x odağı üzerinde, P1) veya Frt (flippase tanınması hedef) siteleri tarafından kuşatılmıştır DNA parçalarının translokasyon katalize. Uygulamalar gen aktivasyonu veya susturulması ve indüklenebilir ribonükleik asit (RNA) girişime dahil 3 incelemek için kullanılabilir. Kuzey Amerika (Büyük ölçekli mutajenez projeler http://www.norcomm.org/index.htm ) ve Avrupa ( http://www.knockoutmouse.org/about/eucomm ) ile fare embriyonik kök hücre klonlarının kütüphaneleri üretiyoruz sonunda tüm fare genomuna kapsayacak koşullu gen hedefleri ve tuzaklar. Bu klonlar elde Fare seçici gen manipülasyonu için nöronların belirli bir nüfus (özel yararlanıcılar veya lokus altında DNA rekombinaz ifade o fare hatları genişleyen bir sayı ile geçilebilir http://nagy.mshri.on.ca/cre_new/index . php ).
4 mevcuttur. Yüksek kapasiteli (korkak) adenovirüs, adeno-ilişkili virüs, herpes simpleks virüsü ve lentivirüs yaygın nörotropik vektörler kullanılır. Bir araştırma sorusu için uygun olan virüs seçilmesi deneysel tasarım çok önemli bir parçasıdır. Transgen büyüklüğü, doğum şekli, inflamatuar ve toksik yan etkileri 4 düşünülmesi gereken glial hücreleri, enfeksiyon etkinliği, aksine nöronlara enfeksiyon özgüllüğü.
Burada omurilik dorsal boynuz, biz ağrı nörobiyoloji üzerine araştırma koşullu gen regülasyonu için kullandıkları bir tekniktir bir viral vektör stereotaksik enjeksiyon tarif. Dorsal boynuz nosiseptif nöronlar da dahil olmak üzere birincil somatosensoriyel nöronlardan gelen afferent girdi alır. Projeksiyon nöronları onu ifade etmeden önce yerel internöron bilgi işlembeyin 5 dorsal boynuz. Biz yapısal olarak aktif sitomegalovirüs organizatörü altında arttırılmıştır yeşil flüoresan protein (eGFP) ifade eden bir nörotropik rekombinant adeno-ilişkili virüs (rAAV) ile spinal segmental seviyede L4 dorsal boynuz nöron enfeksiyonu gösterir.
Subscription Required. Please recommend JoVE to your librarian.
Protocol
Log in
or
Start trial
to access full content. Learn more about your institution's access to JoVE content
here
Açıklanan cerrahi prosedür Columbia Üniversitesi Kurumsal Hayvan Bakım ve Kullanım Kurulu (IACUC) tarafından onaylanmıştır.
1. Ekipman ve Virüs Parçacık Süspansiyon hazırlanması
Ekipmanı temizleyin ve dezenfekte edin, cerrahi aletler ve vertebra L1 düzeltmek için kullanılacak V çentik sivri sterilize.
Çekin ve konik cam pipetler. Biz, 40 um arasında bir uç çapı olan ve 20 ° 'lik bir açı ile eğimli olan pipetler kullanır. Cam pipetler sterilize.
Stereotaksik çerçeve kurma, manipülatör üzerine mikroenjektör enjektör montaj ve kontrol için enjektör bağlayın.
Sıkıştırma montaj takımı kullanılarak mikroenjektör için cam pipet bir takın.
Mikroenjektör gelen plenseri ve mineral yağ ile şırınga doldurun. Oil Red O (1 - (2,5-dimetil-4-(2,5-dimethylphenylazo) fenilazo)-2-naftol) kendi v artırmak için mineral yağ ile eklenebilirisibility. Piston takın ve ucu tüm yol kadar itin. Dikkatlice bir hava kabarcığı oluşturmaktan kaçının.
Bir biyogüvenlik kabine virüs parçacık süspansiyonu hazırlayın. Buz üzerinde donmuş virüs çözülme ve kullanmadan hemen önce, istenen partikül konsantrasyonu tuzlu steril fosfat-tamponlu ile seyreltin.
Enjektör üzerindeki yuvasına mikroenjektör yerleştirin.
Küçük bir plastik levha üzerine virus süspansiyonu pipetle 5 ul, örneğin Parafilm. Damla içine cam pipet indirin ve mikroenjektör doldurmak için pistonu çekiniz. Tıkanmasını önlemek için pipet ucunda küçük bir hava kabarcığı oluşturun.
2. Laminektomi
Tezgah ve dezenfektan ile ısıtma pedi silerek ameliyat alanı hazırlayın.
Fare anestetize. Biz izofluran ile inhalasyon anestezi kullanmak (% 3 indüksiyon, bakım sırasında% 2 -3% sırasında).
Sırasında kurumasını gözleri korumak için her gözün üzerine yağ koyunişlem.
Alt arka fare boyun kürk Tıraş ve böyle klorheksidin veya povidon-iyot ve% 70 etanol gibi bir topikal antiseptik mendil alternatif ile cildi dezenfekte edin. Cerrahi örtü ile aseptik hazırlanmış sitede ayırın ve bupivakain (% 0.25, serum fizyolojik ile sulandırılmış 1:10) ile kesi yeri sızmak.
Orta hat (2-3 cm) boyunca göğüs kafesinin kaudal sonunda cilt kesilirken ve omurga kapsayan fasya ayırın.
Omurilik vertebral kolon daha postnatal gelişimi sırasında önce büyümesini durdurur Çünkü, spinal segmentin L4 İlk lomber vertebra (L1) altında yatıyor. Vertebra L1 kaburga son çifti tutan vertebra kaudal yer almaktadır. Belirleyin ve küçük spinal kas ve dorsal yüzeyine yapışan ligament kaldırarak vertebra L1 maruz kalmaktadır.
Hafif bir Adson forsepsi ile vertebra L1 kaldırın ve tutun. Dorsal Portio kaldırmak için özel bir laminektomi forseps kullanınn vertebra (omurga ve lamina) ve spinal kord teşhir. Omurilik zarar vermekten kaçının.
Stereotaksik çerçevesinde ısıtma plakası üzerine fare aktarın. Müteakip çalışma esnasında fare sıcaklığı izleyin.
3. Enjeksiyon
V çentik sivri vertebra L1 Fix. Omur solunum sırasında hareket etmez, böylece ani omurga stabilize olmalıdır.
Yakın böylece pipet laminektomi sitenin üstünde olduğunu mikroenjektör getir. Eğer pipet çıkmadan virüs süspansiyonu görene kadar pistonu aşağı indirin. Steril pamuk uçlu damlacık çıkarın.
Maruz omurilik rostral en kısmında pipet ucu yerleştirin. Merkezi posterior median sulkus üzerinde pipet, daha sonra 500 mikron yanal ucu hareket ettirin. Kablosunu ve delinme duramater yüzeyine ucu indirin veya bir unbeveled cam pipet ile çalışıyorsanız, d ponksiyon için eğimli çelik kanül kullanınura. Omurilik içine cam pipet 300 um uç alçaltın.
200 nl / dak 'lık bir hızla virüs süspansiyonu 1 ul enjekte edilir.
Enjeksiyonun sonunda, yavaş yavaş geri çekme pipet önce en az 2 dakika bekleyin.
Spinal segmentin L4 viral vektör tam dağılımı elde etmek için maruz omurilik kuyruk kısmının en az 3.5 kadar olan adımları 3.3 tekrarlayın. Iki enjeksiyon siteleri hedef bölgede doku hasarı önlemek için rostral ve L4 segment kaudal bulunmaktadır.
4. Yara Kapatma
Yayın omur V çentik kelepçelerden L1 ve stereotaksik çerçeveden fareyi çıkarın.
5.0 vikril ile fasya dikin. Kapalı fasya laminektomi site için kapak sağlar.
Naylon sütür veya cerrahi zımba ile cildi kapatın.
5. Postoperatif Bakım
Yumuşak, nonparticular yatak ile bir kurtarma kafes fare aktarın. T yerleştirino rahat nefes için yan. Bu yürüyebilen, tamamen uyanık ve içme başlayana kadar hayvan izleyin.
Biz, carprofen günlük subkutan enjeksiyon (5.0 mg / kg) ile 72 saat için cerrahi sonrası analjezi sağlar.
Ilk olarak 3 gün için günlük olarak kontrol cerrahi sonrası iyileşme izleyin, sonra deney kadar her gün ya da 3 gün haftada tamamlandı.
Yara iyileşmesi tamamlandığında, 7 ila 10 gün operasyon sonrası deri sütürler veya zımbaları çıkarın.
Deneyin tamamlanmasından sonra, hayvanın Euthanize.
Subscription Required. Please recommend JoVE to your librarian.
Representative Results
Log in
or
Start trial
to access full content. Learn more about your institution's access to JoVE content
here
Başarılı transfeksiyon getirileri karşı tarafa, ventral boynuz ve dorsal kök gangliyon dorsal boynuz koruyucu enjekte dorsal boynuz (Şekil 1) nöronlar, sağlam gen ekspresyonu.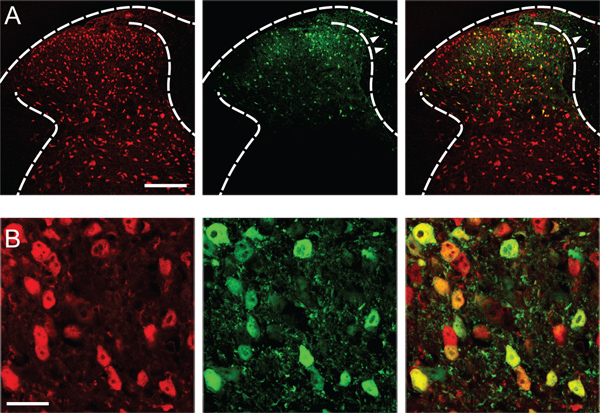 Şekil 1. Dorsal boynuz nöron transfeksiyonu. (A) L4 omurilik, rAAV-EGFP bir stereotaksik enjeksiyon iki hafta sonra (serotip AAV2 / 8/10 9 genom kopyalarının sol arka boynuzu flüoresan raportör EGFP (yeşil) Expression ) ul. Nöronlar sinir çekirdeğinin proteini (Neun, kırmızı) için boyama yapıldı. Ok dorsal kolon dağınık transfekte glial hücreler gelin başları. Ölçek çubuğu, 150 mikron. (B) medial dorsal boynuz nöron yaklaşık% 80'i enfekte edildi. Ölçek çubuğu, 20 mikron. Neun (EMD Millipore) karşı bir monoklonal antikor 1:2,0 arasında bir seyreltme de kullanılmıştırImmün için 00.
Subscription Required. Please recommend JoVE to your librarian.
Discussion
Log in
or
Start trial
to access full content. Learn more about your institution's access to JoVE content
here
Stereotaksik vektör enjeksiyon, nörodejenerasyon 11 önlenmesi veya tedavisi için yaralanma 9,10, veya gen tedavisi rejenerasyon sırasında 6,7 veya optogenetic disseksiyon 8, akson kılavuz yayılan virüs transsinaptik dayalı bu tür nöronal ağ eşleme gibi uygulamalar için, omurilik nöronları hedefleme sağlar 12. Viral vektörler somatosensoriyel, motor ve otonomik yolların 9,10,13-15 çalışma omurilikte gen manipülasyonu için kullanılmıştır. Fare en yaygın olarak beyin ya da omurilik içine, bir viral vektör stereotaksik enjeksiyon içeren çalışmalarda kullanılan model organizma, fakat teknik insan olmayan primatlar 16 de dahil olmak üzere diğer türler kullanılmıştır.
Fare omurilik içine Stereotaksik vektör enjeksiyon güvenli; hayvan instabili olmadan kurtarır, böylece burada açıklanan cerrahi prosedür enjeksiyon yerinde tek bir laminektomi gerektirironun omurga hareketlerinde ty. Enjeksiyon ve kanülün yavaş kaldırma 10 dakika içinde tamamlandığında, cilt hazırlığı ve yara kapanması da dahil tüm işlem yaklaşık 40 dakika sürer. Biz carprofen, steroid olmayan anti-enflamatuar analjezik ilaç ile 72 saat süreyle cerrahi sonrası anestezi sağlamak.
Doku travmasını en aza indirmek için, biz 40 um uç çapı ile çekti cam kanüller kullanır. Keskin eğimli kanül ucu bir mikropipet değirmeni yatırım haklı, omurilik içine yerleştirilmesi kolaylaştırır. Bir öğütücü kullanımı aynı zamanda enjeksiyon sonuç varyasyon azaltılması, her bir deney içinde, tutarlı bir eğim açısı sağlamak izin verir. Biz dorsal boynuz virüs parçacığı süspansiyonun eşit dağılımı için manuel muafiyet 17 üzerinde enjeksiyon hızı otomatik olarak kontrol tercih ve bir enjeksiyon hata riskini azaltmak için. Aynı kritik Injecti tamamladıktan sonra 2-5 dk başlanmalıdır kanül yavaş ekstraksiyon, birgeri virus süspansiyonu hazırlanması ve ekstraspinal dökülmeye neden önlemek için.
Intraspinal aktarılmasının Kapsamı ve dağıtım enjekte parçacık dozu ve böyle serotip ve enfeksiyon etkinliği gibi viral vektör doğal özelliklerine bağlıdır. Optimum parçacık seyreltme her bir virüs ve serotip için deneysel olarak tespit edilmesi gerekmektedir ve aynı virüsün değişik gruplar arasında değişebilir. Enfeksiyon ve DNA transdüksiyon hem etkinliği de nöronlar 18,19 arasında hedeflenen nüfusa bağlı olarak değişebilir. AAV patojenik ve minimal immün yan etkileri 20 olmadan nöronlarda gen aktarımı sağlıyor. Bizim tecrübelerimize göre, dorsal boynuz nöron enfeksiyon 1-2 hafta ve istikrarlı içinde tamamlandı. Biz enjeksiyon bölgelerine minör mikroglial tepkiler gözlemledim ama bu bir hafta içinde çözüldü.
Bu eval böyle EGFP gibi bir raportör gen ifade vektörleri farklı serotiplere karşılaştıran tavsiyetransfeksiyon oranları fizyolojik kök, enjeksiyon ve kararlı transfeksiyon arasındaki zaman aralıklarını belirlemek ve enfeksiyon nöronlar sınırlı olup olmadığının belirlenmesi. Spesifiklik vektörü, transfekte edilmiş gen promotörü ve hücre tropizm bağlı olacaktır. Somatosensoriyel yollarını inceleyerek Araştırmacılar ayrıca dorsal boynuz kendi merkezi terminallerinde veya beyin-omurilik sıvısı 19 kirden bu nöronların enfeksiyonu neden olabilir muhabiri gen, bir potansiyel ifade dorsal kök ganglion nöronlar incelemek gerekir.
Amerika Birleşik Devletleri'nde, gen manipülasyonu için viral vektörlerin kullanılması Rekombinant DNA molekülleri (ilgili araştırma için NIH Kılavuzu ile düzenlenir http://oba.od.nih.gov/rdna/nih_guidelines_oba.html ). Bu Kılavuz araştırmacı eğitimi, kişisel koruma, viral vektör çevreleme, decontaminatio gereksinimleri şartn, örneğin kullandığı şırınga ve kanüller ve enjeksiyondan sonra hayvan barınağı olarak kirlenmiş malzemelerin bertarafı. Müfettişler, kendi yerel IACUC veya araştırma için geçerli kural ve düzenlemelere belirlemek için kurumsal denetim eşdeğer vücut çalışması gerekir.
Subscription Required. Please recommend JoVE to your librarian.
Disclosures
Yazarlar hiçbir rakip mali çıkarlarının olmadığını beyan ederim.
Acknowledgments
Biz teknik yardım için Bakhos A. Tannous, Ph.D., rAAV-eGFP vektör bize sağlamak için Massachusetts Genel Hastanesi, Charlestown, Massachusetts, Nörobilim Merkezi Vektör Geliştirme ve Üretim Direktörü, ve John Whang ederim. Bu çalışma Nörolojik Bozukluklar ve İnme Ulusal Enstitüsü ödenekle R01 NS050408 (JS için) desteklenmiştir.
Materials
| | | | |
| --- | --- | --- | --- |
| Name | Company | Catalog Number | Comments |
| Spinal base plate | David Kopf Instruments | 912 | |
| Small animal stereotaxic instrument | David Kopf Instruments | 900 | |
| Mouse gas anesthesia head holder | David Kopf Instruments | 923-B | |
| Adjustable base mounts | David Kopf Instruments | 982 | |
| V notch spikes | David Kopf Instruments | 987 | |
| Small animal temperature control system | David Kopf Instruments | TCAT-2LV | |
| Adson forceps | Fine Science Tools | 11006-12 | |
| Laminectomy forceps | Fine Science Tools | 11223-20 | |
| UltraMicroPump (one) with SYS-Micro4 Controller | World Precision Instruments | UMP3-1 | |
| Microsyringe, 65RN | Hamilton | 7633-01 | |
| RN compression fitting, 1 mm | Hamilton | 55750-01 | |
| Borosilicate glass capillaries | World Precision Instruments | 1B100F-4 | |
| Microgrinder | Narishige | EG-44 | |