Summary
Den stigende brug af zebrafisk som en dyremodel kræver udvikling af effektive metoder til levering af kendte mængder af forbindelser og opløsninger. Den sonde nedenfor beskrevne procedure giver mulighed for oral indgivelse af præcise mængder af opløsning pålideligt, sikkert og effektivt til voksen zebrafisk.
Abstract
Zebrafisken er blevet en vigtig in vivo-model med biomedicinsk forskning. Effektive metoder skal udvikles og udnyttes til at levere forbindelser eller midler i løsninger til videnskabelig forskning. Nuværende metoder til administration af forbindelser oralt til voksne zebrafisk er unøjagtige som følge af variabiliteten i frivilligt forbrug af fisk. En sonde procedure blev udviklet til at levere præcise mængder af smitstoffer til zebrafisk for at studere i biomedicinsk forskning. Voksen zebrafisk over 6 måneder blev bedøvet med 150 mg / L af pufret MS-222 og sondeernæret med 5 ml af opløsningen ved hjælp af fleksible kateter implantation rørene forbundet til et snit 22-G nål. Den fleksible slange blev nedsænket i mundhule zebrafisk indtil spidsen af ​​slangen udvides forbi gællerne (ca. 1 cm). Opløsningen blev derefter injiceret langsomt ind i tarmkanalen. Denne metode var effektiv 88% af tiden, med fisk inddrive uneventfully. Detprocedure er også effektiv som én person kan mavesonde 20-30 fisk i en time. Denne metode kan bruges til præcist at administrere midler til infektionssygdomme undersøgelser eller undersøgelser af andre forbindelser i voksen zebrafisk.
Introduction
Log in
or
Start trial
to access full content. Learn more about your institution's access to JoVE content
here
Nuværende metoder til administration af forbindelser oralt til zebrafisk omfatter administrerer forbindelser top-belagt på foder, blandet ind i gelatine kost 1, bioencapsulated ind artemia 2, blandet med lipidindkapslede diæter 3, voks spray perler 4 og via gluten-baserede kost. 5 Begrænsninger i disse metoder til oral administration omfatter høje udvaskning satser og ufuldstændige eller uforudsigelige sammensatte forbrug af fisk. Disse variabler er problematisk, fordi i infektionssygdomme undersøgelser, vel vidende den infektive dosis administreret til fiskene kan være kritisk for at studere succes. Desuden har tidligere arbejde vist, at visse forbindelser administreres i vandbade forårsage giftige læsion at zebrafisk gæller før tarm-effekter, der kan være under studiet forekomme. 6.
Sonde er en standard metode, der anvendes i andre art laboratoriedyr at administrere præcise mængder af et produkt med aknown koncentration for studier i biomedicinsk og farmaceutisk forskning. Først for nylig har metoder til gavaging zebrafisk blevet beskrevet i litteraturen. Én beskrevne teknik er en to-personers metoden i en 24-G kateterkappen knyttet til en 2-20 gl pipette til at levere 5 ul opløsning. 7 beskrevne metode havde en dødelighed på 8,7% og 39% på den første og anden forsøg, henholdsvis det meste af dødeligheden blev tilskrevet drægtige hunner. Den anden sonde beskrevne teknik brugt stump spids sonde sprøjter at administrere 5 ul løsning medakas (Oryzias latipes). 8. Oplysninger om dødeligheden blev ikke leveret, og den nøjagtige proces til at udføre sonde ikke var beskrevet. Ifølge den canadiske Rådet om Animal Care og Laboratory Zebrafish, op til 1% af fiskens kropsvægt kan administreres via sonde. 9,10 Vores mål var at udvikle en gentagelig, sikker og effektiv metode til at levere præcise mængder af compounds oralt til voksne zebrafisk af begge køn og i alle faser af yngletiden. Denne procedure ville være gældende for enhver undersøgelse, hvor nøjagtig oral dosering af en forbindelse er påkrævet.
Subscription Required. Please recommend JoVE to your librarian.
Protocol
Log in
or
Start trial
to access full content. Learn more about your institution's access to JoVE content
here
1.. Forberedelse af bedøvende opløsning
Forbered en opløsning af 150 mg / L af MS-222 i systemet vand enten fra en stamopløsning eller fra pulverform.
Kontrollere pH ved anvendelse af et pH-meter.
Puffer med natriumbicarbonat efter behov, indtil pH-værdien er mellem 7-7,5.
Forbered en tank system vand fri fra MS-222 for fiskene at inddrive i. restitutionstid er typisk mindre end 1 min.
2.. Klargøring af sonde Apparatus
Skær den klare 22-G implantation slange til lidt mere end omtrentlig længde fra munden til tarmen pære af fisken. I første omgang foreslår vi, bedøve én fisk for hver ny gruppe bliver brugt til at få det bedste skøn over den nødvendige længde.
Skub cut klare implantation slange på ½ tomme 22-G nål, indtil det er sikkert, og der er ingen risiko for afmontering. Hvis ½ 22-C nålen ikke er tilgængelig, skære en længere kanyle til approximately denne længde.
Når det er færdigt, skal kateteret implantation slangen strækker omkring 1 cm fra spidsen af ​​nålen, eller kortere, hvis fiskene er mindre.
Fastgør den 22-G kanyle hub til en 1-cc luerlok sprøjte.
3.. Forberedelse til sondeernæring
Skær en rille i en svamp med en skalpel.
Gennemvæde svampen i systemet vand fri fra MS-222.
Placer fugtet svamp på en flad overflade.
Trække den 5 mikroliter løsning for sondeernæring i 22-G kateter slange og en 1-cc sprøjte.
4.. Anæstesi og sondeernæring
Hurtigt fisken i mindst 24 timer før proceduren.
Læg fisken i MS-222 opløsning, indtil det mister sin stabilitetsrefleks og reagerer ikke på en halefinne knibe, men fastholder opercular bevægelse. Det tager typisk omkring 2-3 min.
Fjern fisk fra bedøvende opløsning og placere det irillen i svampen med hovedet lidt fremspringende fra svampen, men gællerne dækket af svamp.
Flyt svampen i en lodret position.
Åbn zebrafisk mund ved hjælp af 22-G kateter slangen.
Sæt forsigtigt slangen indtil spidsen er forbi gællerne (ca. 1 cm eller længden af ​​slangen). Implantation slangen ikke behøver at blive tvunget. Modstand tyder røret kan ramme gælle bue eller hjerte.
Hvis der er modstand, forsigtigt trække tilbage, flytte og prøve igen.
Sprøjt materialet langsomt.
Mens indsprøjtning, sørge for, at løsningen ikke udrejse via gællerne eller munden.
Tag fisken ud af svampen og sted i genindvindingstanken.
Recovery forekommer typisk i mindre end 1 min og angives af fisk, der svømmer oprejst og opretholde ligevægt.
Overvåg fisk til opstød som vist ved at visualisere fiske aktivt udvisning material fra sin mund, eller ingen opercular bevægelse.
Fisk kan returneres til deres regelmæssige akvarium, når de har inddrevet.
Subscription Required. Please recommend JoVE to your librarian.
Representative Results
Log in
or
Start trial
to access full content. Learn more about your institution's access to JoVE content
here
Begge køn af fisk, herunder drægtige hunner lykkedes sondeernæret (Figur 1). En vellykket procedure tager mindre end ét minut med ingen væske ses forlader gællerne eller munden. Slangen kommer let uden kraft, uden blod ses ved fjernelse af kateter. Proceduren er hurtig og kræver ca 10 min til tvangsfodring på 3 til 4 fisk, med et gennemsnit på 30-45 sek pr fisk.
Zebrafisk bør ikke sondeernæret med mere end 5 ul af enhver løsning. Sondeernæring med 10 gl løsninger resulterede kun i en succesrate på 50% (figur 2). Sonde af 10 pi var også helt medhold i drægtige hunner. I denne undersøgelse, vejes den voksne fisk i gennemsnit 0,2 g hver. Brug af CCAC anbefaling, vil det betyde, at 4 pi løsning kunne gives til hver fisk. Den nuværende brug af 5 pi ville være i overensstemmelse med disse anbefalinger. Denne teknik havde cirka 10% mortality sats meste tilskrives drægtige hunner, der blev fundet døde næste dag. Mens dette dødeligheden er væsentligt lavere end andre rapporterede gavage teknikker, ideelt set bør groft drægtige hunner ikke sondeernæret medmindre det er nødvendigt med henblik på studier.

Figur 1. Sammenligning af procent succesrate mellem forskellige reproduktive grupper ved hjælp 5 ml af opløsningen. Den procentvise succes for alle kombinerede grupper var 88%. Den procentvise succes for drægtige hunner var 100% for ikke-drægtige hunner 90% og for mænd 82%.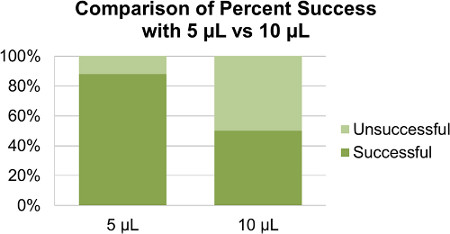 Figur 2. Sammenligning af den samlede procent succes ved hjælp af 5 ul versus 10 pi. Den samlede procent succes ved hjælp af 5 pi var 88%. Den samlede procent succes med 10pi var 50%.
Subscription Required. Please recommend JoVE to your librarian.
Discussion
Log in
or
Start trial
to access full content. Learn more about your institution's access to JoVE content
here
Betydning
Denne teknik er en forbedring og tilvejebringer adskillige fordele over de to tidligere beskrevne teknikker til gavaging voksen zebrafisk. For det første anvendelsen af en svamp til at fastholde fisken tillader en person til at udføre proceduren, i modsætning til en tidligere beskrevet teknik, der kræver to personer. 7. andet kateter implantation slangen er mere fleksibel end IV katetre, som kan hjælpe med at minimere sekundær traume på grund til perforering ligeledes at bruge stump spids sprøjter. 7,8 tredje ved hjælp af en klar slange, kan opløsningen nemt kan visualiseres ind i fisken. Og endelig sonde apparat er stabil så det kan genbruges hurtigt og effektivt, når mange fisk skal sondeernæret. Den sonde teknik i almindelighed reducerer variationen i forbruget og koncentration set i andre fremgangsmåder til oral indgivelse af forbindelsen til zebrafisk, og som sådan kan også reducere den mængde fisk nødvendig til pForetag en et eksperiment. 1-5
Kritiske trin
Det er også vigtigt at hurtigt fiskene i mindst 24 timer, da med en 12 timers hurtigt ikke alle zebrafisk har en tom tarm pære. 24 hr hurtigt vil forhindre regurgitation og tab af opløsningen gennem munden og gæller skyldes en delvis fuld tarmkanalen 13.. Det mest almindelige problem er væske ud gennem munden eller gællerne, hvilket indikerer, at slangen ikke er blevet indsat langt nok ned tarmkanalen. Væske forlader via munden eller gællerne kan undgås ved at observere den korrekte placering af slangen samt anvendelse af en slange med tilstrækkelig længde til at omgå gællerne. Mere alvorlige komplikationer kan omfatte gill traumer, intern blødning, intestinal perforation, gylp og pludselig død. Disse komplikationer kan eller ikke umiddelbart kan observeres. Typisk, pludselig død indtræffer timer efter at proceduren er afsluttet, mens fisken set ingenrmal under den indledende opsving.
De svampe blev gennemvædet i blegemiddel og derefter i natriumthiosulfatopløsning forud for kommer i kontakt med fisken. Dette fjernede enhver agenter eller kemikalier, som kan have været skadelige for fisk. MS-222 stamopløsning bør opbevares i en mørk beholder, væk fra lys og i op til 5 dage i køleskabet. Hvis en brunlig tone er observeret opløsning skal kasseres, da effekten er reduceret. 11,12
Begrænsninger
Denne protokol kræver anæstesi af zebrafisk at sikre succes. Dette kan være ufordelagtigt i visse omstændigheder, hvor narkosemiddel kan have en negativ virkning på forskningsresultater, der måles. 12. På nuværende tidspunkt er der ingen sonde protokol for zebrafisk, der ikke kræver anæstesi. 7,8 Hvis MS-222 anæstesi er kendt påvirke målte variable, kan andre anæstetika anvendes, eller et af de forrigeiously nævnte metoder for frivillige forbrug metoder kan udnyttes. 1-5
Denne teknik, som med tidligere beskrevne teknikker er udfordrende, når udført på drægtige hunner. 7. En mulig årsag til høj dødelighed i denne gruppe kan være tarmperforation fører til sepsis på grund tarmkanalen forskydes af æggene i coelom. Tilsvarende, hvis æggene samt tarm er perforerede, så en akut æg-associeret coelomitis kan også forekomme. Sådanne arrangementer kan minimeres ved gydningen de drægtige hunner, før gavaging. Alternativt kan en mindre gauge kateter anvendes til at udføre proceduren.
Hvis zebrafisk af en mindre størrelse anvendes der skal sørges for at justere størrelsen af ​​slangen og nålen således at diameteren og længden vil passe ind i deres mund og tarmkanalen.
Effektiviteten af ​​proceduren kan øges yderligere, hvis en anden individuaJeg skulle overvåge anæstesi og sikre en konstant forsyning af bedøvede fisk til den enkelte udfører sondeernæring. Denne teknik er forholdsvis let at styre og kræver ikke omfattende praksis at opnå færdigheder. Derudover har proceduren ikke kræver specialiseret udstyr eller faciliteter.
Trouble-shooting
Hvis zebrafisk ikke bliver bedøvet inden 2-3 min, ændre bedøvende løsning eller bruge en frisk tilberedt stamopløsning. Hvis slangen ikke glider let ned tarmkanalen af ​​zebrafisk, bør mindre diameter rør anvendes. Det kan være gavnligt at praktisere hjælp af en lille antal af tilsvarende størrelse fisk med henblik på at sikre en korrekt diameter og længden af ​​slangen samt at vurdere, om den indgivne volumen er passende for zebrafisk størrelse. Slangen kan også mærkes at notere den ideelle indtrængningsdybde for størrelsen af ​​fiskene bliver udnyttet.
Når denne teknik beherskes, kan det bruges til at levere en nøjagtig mængde af forskellige forbindelser eller infektiøse agenser til voksen zebrafisk effektivt og konsekvent, hvilket gør den anvendelig til forskellige forsknings-protokoller. Denne teknik kan også minimere antallet af fisk er nødvendig for at udføre eksperimenter, og tillade præcise tidsmålinger af virkningerne af forskellige forbindelser på fisk.
Subscription Required. Please recommend JoVE to your librarian.
Disclosures
Forfatterne erklærer, at de ikke har nogen konkurrerende finansielle interesser.
Acknowledgments
Rockefeller University Comparative Bioscience center ydet støtte til dette projekt. Vi takker Janelle Monnas til teknisk bistand.
Materials
Name
Company
Catalog Number
Comments
Equipment
A sponge
1-cc luer lock syringe
Becton Dickinson Co
22-G Micro-Renathane Implantation tubing (cut)
Braintree Scientific, Inc.
1 22-G needle (cut, if needed)
Becton Dickinson Co
pH meter
Hanna probe
1 scalpel blade
Name
Company
Catalog Number
Comments
Reagent/Material
MS-222 (Finquel)
Argent Laboratories
References
Royes, J. -A. B., Chapman, F. Preparing Your Own Fish Feeds. Department of Fisheries and Aquatic Sciences, Florida Cooperative Extension Service, Insitute of Food and Agricultural Sciences, University of Florida. (2009).
Gomez-Gil, B., Cabanillas-Ramos, J., Paez-Brambila, A., Roque, A. Standardization of the bioencapsulation of enrofloxacin and oxytetracycline in Artemia fransciscana Kellogg. Aquaculture. 196, 1-12 (1906).
Langdon, C. Microparticle types for delivering nutrients to marine fish larvae. Aquaculture. 227, 259-275 (2003).
Langdon, C., Nordgreen, A., Hawkyard, M., Hamre, K. Evaluation of wax spray beads for delivery of low-molecular weight, water soluble nutrients and antibiotics to Artemia. Aquaculture. 284, 151-158 (2008).
Zang, L., Morikane, D., Shimada, Y., Tanaka, T., Nishimura, N. A Novel Protocol for the Oral Administration of Test Chemicals to Adult Zebrafish. Zebrafish. 8, 203-210 (2011).
Goldsmith, J. R., Jobin, C. Think Small: Zebrafish as a Model System of Human pathology. Journal of Biomedicine and Biotechnology. (2012).
Tysnes, K. R., Jorgensen, A., Poppe, T., Midtlyng, P. J., Robertson, L. J. Preliminary expermients on use of zebrafish as a laboratory model for Giardia duodenalis infection. Acta Parasitologica. 57, 1-6 (2012).
Marie, B., Huet, H., et al. Effects of a toxic cyanobacterial bloom (Planktothris agardhii) on fish: Insights from histopathological and quantitative proteomic assessments following the oral exposure of medaka fish (Oryzias latipes). Aquatic Toxicology. 114-115, 39-48 (2012).
Canadian Council on Animal Care. CCAC guidelines on: the care and use of fish in research, teaching and testing. CCAC. Ottawa, Ontario, Canada. (2005).
Harper, C., Lawrence, C. The Laboratory Zebrafish. CRC Press. Boca Raton, Florida, USA. (2011).
De Tolla, L. J., Srinivas, S., et al. Guidelines for the Care and Use of Fish in Research. ILAR Journal. 37, (4), (1995).
Topic Popovic, N., Strunjak-Perovic, I., et al. Tricaine methane-sulfonate (MS-222) application in fish anaesthesia. Journal of Applied Ichthyology. 28, 553-564 (2012).
Field, H. A., Kelley, K. A., Martell, L., Goldstein, A. M., Serluca, F. C. Analysis of gastrointestinal physiology using a novel intestinal transit assay in zebrafish. Neurogastroenterology & Motility. 21, 304-312 (2009).