Summary
Het toenemende gebruik van zebravis als diermodel vereist de ontwikkeling van effectieve methoden voor het leveren van bekende hoeveelheden van verbindingen en oplossingen. De maagsonde hieronder beschreven procedure maakt het mogelijk voor de orale aflevering van de precieze omvang van de oplossing betrouwbaar, veilig en efficiënt op volwassen zebravissen.
Abstract
De zebravis is een belangrijk geworden in vivo model in het biomedisch onderzoek. Effectieve methoden moeten worden ontwikkeld en gebruikt om verbindingen of agenten leveren oplossingen voor wetenschappelijk onderzoek. Huidige methoden voor het toedienen van verbindingen oraal aan volwassen zebravissen zijn onjuist van de variabiliteit van de vrijwillige consumptie door de vis. Een maagsonde procedure werd ontwikkeld om precieze hoeveelheden van infectieuze agentia te leveren bij de zebravis voor studie in het biomedisch onderzoek. Volwassen zebravissen meer dan 6 maanden oud werden verdoofd met 150 mg / L van gebufferde MS-222 en gavaged met 5 pl oplossing met flexibele katheter implantatie slang bevestigd aan een cut 22-G naald. De flexibele buis werd neergelaten in de mondholte van de zebravis tot het uiteinde van de buis gestrekt boven de kieuwen (ca. 1 cm). De oplossing werd vervolgens langzaam geïnjecteerd in het darmkanaal. Deze methode is effectief 88% van de tijd, met vis herstellen uneventfully. Dezeprocedure is ook efficiënt als een persoon kan 20-30 vissen een maagsonde in een uur. Deze methode kan worden gebruikt om precies te beheren middelen voor infectieziekten studies of studies van andere verbindingen in volwassen zebravissen.
Introduction
Log in
or
Start trial
to access full content. Learn more about your institution's access to JoVE content
here
Huidige methoden voor het toedienen van verbindingen oraal aan zebravis het toedienen van verbindingen top-bekleed op voer, gemengd in gelatine diëten 1, bioencapsulated in Artemia 2, gemengd met lipide ingekapselde diëten 3, waxspray kralen 4 en via gluten-gebaseerde diëten. 5 Beperkingen van deze methoden van orale toediening omvatten hoge uitloogsnelheden en onvolledige of onvoorspelbare verbinding consumptie door de individuele vissen. Deze variabelen zijn problematisch omdat de besmettelijke ziekte in studies, het kennen van de infectieuze dosis toegediend aan de vis kan zijn van cruciaal belang voor studiesucces. Ook heeft vorige werk aangetoond dat bepaalde verbindingen toegediend in waterbaden toxische laesie aan kieuwen zebravis voordat de intestinale effecten die kunnen worden onder onderzoek plaatsvinden. 6
Maagsonde is een standaard methode die wordt gebruikt in andere proefdier is om precieze hoeveelheden van een product toedienen met aknown concentratie voor de studie in biomedisch en farmaceutisch onderzoek. Pas sinds kort hebben methoden voor gavaging zebravis is in de literatuur beschreven. Een techniek beschreven twee personen onder toepassing van een 24-G katheterschacht bevestigd aan een 2-20 ul pipet 5 pl oplossing te leveren. 7 De beschreven werkwijze had een sterftecijfer van 8,7% en 39% op de eerste en tweede proef, respectievelijk meeste sterfte werd toegeschreven aan zwangere vrouwen. De tweede maagsonde beschreven techniek gebruikt stompe getipt maagsonde spuiten tot 5 pl oplossing voor medakas (Oryzias latipes). 8 Informatie over de sterfte was niet voorzien en de exacte proces van het uitvoeren van de maagsonde werd niet beschreven toedienen. Volgens de Canadese Raad over Animal Care en het Laboratorium zebravis, tot 1% van de vis lichaamsgewicht kan worden toegediend via een maagsonde. 9,10 Ons doel was om een herhaalbare, veilige en efficiënte methode voor het leveren van nauwkeurige volumes com ontwikkelenpond mondeling naar volwassen zebravissen van beide geslachten en in alle fasen van de broedperiode. Deze procedure geschikt is voor een studie die nauwkeurige orale dosering van een verbinding noodzakelijk zijn.
Subscription Required. Please recommend JoVE to your librarian.
Protocol
Log in
or
Start trial
to access full content. Learn more about your institution's access to JoVE content
here
1. Voorbereiden van de verdoving Solution
Bereid een oplossing van 150 mg / l MS-222 systeem in water, hetzij uit een voorraadoplossing of poedervorm.
Controleer de pH met een pH-meter.
Buffer met natriumbicarbonaat als nodig totdat de pH tussen 7-7.5.
Bereid een tank van het systeem water vrij van MS-222 voor de vissen om te herstellen inch De hersteltijd is meestal minder dan 1 minuut.
2. Voorbereiden van de Gavage Apparatus
Snijd de heldere 22-G implantatie slang aan op een iets meer dan benaderende lengte van de mond naar de darm bol van de vis. Aanvankelijk, raden we verlamming van een vis voor elke nieuwe groep gebruikt om de beste schatting van de lengte die nodig is te krijgen.
Duw de cut duidelijke inplanting slang op de ½-inch 22-G naald totdat het veilig is en er geen risico van losmaken. Als een ½ 22-C naald niet beschikbaar is, snijd een langere naald approximately die lengte.
Wanneer voltooid, moet de katheter implantatie buis uitstrekken ongeveer 1 cm van de punt van de naald of korter wanneer de vis kleiner.
Bevestig de 22-G naald hub naar een 1-cc luerlok spuit.
3. Voorbereiding voor Gavage
Snijd een groef in een spons met een scalpel.
Week de spons in het systeem water vrij van MS-222.
Plaats de vochtige spons op een vlakke ondergrond.
Het opstellen van de juiste 5 ul oplossing voor maagsonde in de 22-G katheter buis en een 1-cc spuit.
4. Anesthesie en Gavage
Snel de vis ten minste 24 uur voor de procedure.
Leg de vis in de MS-222 oplossing totdat hij verliest zijn oprichtreflex, en reageert niet op een staartvin snuifje, maar handhaaft opercular beweging. Dit duurt meestal ongeveer 2-3 minuten.
Haal de vis uit de verdoving oplossing en plaats deze inde groef in de spons met het hoofd lichtjes uitsteekt uit de spons, maar de kieuwen waarop de spons.
Verplaats de spons in een verticale positie.
Open de mond van de zebravis met behulp van de 22-G katheter slangen.
Steek de slang totdat de punt is langs de kieuwen (ongeveer 1 cm of de lengte van de buis). De implantatie lijnen dienen niet te worden gedwongen. Weerstand suggereert de buis kan worden raken van de kieuw boog of het hart.
Als er weerstand is, zachtjes trekken, herpositioneren en probeer het opnieuw.
Injecteer het materiaal langzaam.
Tijdens het injecteren, zorg ervoor dat de oplossing niet verlaten via de kieuwen of de mond.
Haal de vis uit de spons en de plaats in de vuilwatertank.
Herstel optreedt bij minder dan 1 min en wordt aangegeven door de vis rechtop zwemmen en evenwicht te bewaren.
Monitor vis voor regurgitatie zoals getoond door het visualiseren van de vis actief verdrijven material uit zijn mond, of geen opercular beweging.
Vissen kunnen worden teruggestuurd naar hun reguliere tank zodra ze hersteld zijn.
Subscription Required. Please recommend JoVE to your librarian.
Representative Results
Log in
or
Start trial
to access full content. Learn more about your institution's access to JoVE content
here
Beide geslachten van vis, waaronder zwangere vrouwen werden met succes gavaged (figuur 1). Een succesvolle procedure duurt minder dan een minuut met geen vloeistof gezien het verlaten van de kieuwen of de mond. De slang gaat gemakkelijk, zonder geweld, zonder bloed gezien bij verwijdering van de katheter. De procedure is snel en vereist ongeveer 10 min tot maagsonde 3-4 vis, met een gemiddelde van 30-45 sec per vis.
Zebravis mag niet gavaged met meer dan 5 pl van elke oplossing. Maagsonde met 10 ul oplossingen resulteerde in slechts een succespercentage van 50% (figuur 2). Maagsonde van 10 pi was ook helemaal niet succesvol in zwangere vrouwen. In deze studie, de volwassen vissen wogen gemiddeld elk 0,2 g. Met behulp van de aanbeveling van de CCAC's, zou dit betekenen dat 4 pl van oplossing kan worden toegediend aan elke vis. Het huidige gebruik van 5 pl zou in overeenstemming zijn met deze aanbevelingen zijn. Deze techniek had ongeveer een 10% mortality tarief meestal toe te schrijven aan zwangere vrouwen die de volgende dag dood werden gevonden. Hoewel dit sterftecijfer aanzienlijk lager dan andere gemelde gavage technieken, idealiter, grove zwangere vrouwen niet worden gavaged tenzij dit noodzakelijk voor studiedoeleinden.

Figuur 1. Vergelijking van percentensucces tussen verschillende reproductieve groepen met 5 pl oplossing. Het percentage succes van alle gecombineerde groepen was 88%. Het percentage succes voor zwangere vrouwen was 100%, voor niet-zwangere vrouwen 90% en voor mannen 82%.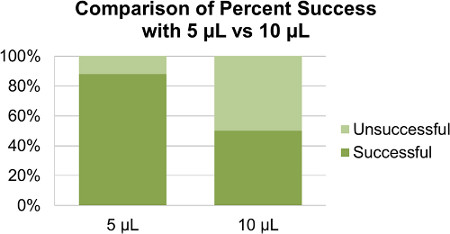 Figuur 2. Vergelijking van de totale procent succes met 5 pi versus 10 pi. De totale procent succes met 5 pi was 88%. De totale procent succes met behulp van 10gl was 50%.
Subscription Required. Please recommend JoVE to your librarian.
Discussion
Log in
or
Start trial
to access full content. Learn more about your institution's access to JoVE content
here
Betekenis
Deze techniek is een verbetering en biedt een aantal voordelen ten opzichte van de twee eerder beschreven technieken gavaging volwassen zebravissen. Ten eerste, het gebruik van een spons om de vis te beperken kan een persoon om de procedure uit te voeren, in tegenstelling tot een eerder beschreven techniek waarbij twee mensen. 7 tweede katheter implantatie slang flexibeler dan intraveneuze katheters, die kunnen helpen bij het ​​minimaliseren secundaire trauma door tegen perforatie dezelfde wijze met stompe tip spuiten. 7,8 derde met een transparante slang, de oplossing kan gemakkelijk worden gevisualiseerd invoeren van de vis. En tenslotte de maagsonde inrichting stabiel waardoor het snel en efficiënt worden hergebruikt met veel vissen moeten worden gavaged. De maagsonde techniek algemeen vermindert de variatie in consumptie en concentratie gezien in andere werkwijzen van orale toediening van de verbinding aan zebravis, en kan dan ook de hoeveelheid vis nodig perform een experiment. 1-5
Kritische stappen
Het is ook belangrijk om snel de vis ten minste 24 uur sinds een 12 uur vasten niet alle zebravis een lege darm lamp. De 24 uur vasten voorkomt regurgitatie en verlies van de oplossing door de mond en kieuwen door een gedeeltelijk volledige darmkanaal 13. Het meest voorkomende probleem wordt vloeistof die via de mond of de kieuwen, wat aangeeft dat de slang niet ver genoeg is geplaatst beneden het darmkanaal. Vloeistof die via de mond of kieuwen kunnen worden vermeden door met de juiste plaatsing van de buis en het gebruik van een buis van voldoende lengte om de kieuwen omzeilen. Meer ernstige complicaties kunnen onder kieuw trauma, inwendige bloeding, darmperforatie, oprispingen en plotselinge dood. Deze complicaties kunnen al dan niet onmiddellijk waargenomen. Typisch, plotselinge dood optreedt uur nadat de procedure is voltooid, terwijl de vis zag geenrmal tijdens eerste herstel.
De sponzen werden geweekt in bleekmiddel en vandaar in natriumthiosulfaat voor in contact met de vis. Dit verwijderd alle of chemische stoffen die schadelijk zijn voor de vissen kan zijn geweest. De MS-222 voorraadoplossing worden opgeslagen in een donkere container, tegen licht en tot 5 dagen in de koelkast. Als een bruinachtige kleur wordt waargenomen de oplossing weg De werkzaamheid verminderd. 11,12
Beperkingen
Dit protocol vereist verdoving van de zebravis om succes te garanderen. Dit kan nadelig zijn in bepaalde omstandigheden waarin het anestheticum een nadelig effect op de onderzoeksresultaten gemeten hebben. 12 Momenteel is er geen sondevoeding protocol voor zebravis die geen verdoving vereist. 7,8 als MS-222 anesthesie bekend invloed gemeten variabelen, kunnen andere anesthetica worden gebruikt, of een van de vorigeiously genoemde methoden van vrijwillige methoden consumptie kunnen worden gebruikt. 1-5
Deze techniek, net als eerder beschreven technieken uitdagend wanneer uitgevoerd op zwangere vrouwen. 7 Een mogelijke oorzaak van de hoge mortaliteit in deze groep kan intestinale perforatie leidt tot sepsis door het darmkanaal niet de door de eieren in de coelom zijn. Evenzo, als de eieren en darm zijn geperforeerd, dan een acute ei-geassocieerde coelomitis kunnen ook voorkomen. Dergelijke gebeurtenissen kunnen worden geminimaliseerd door het afzetten moeten de zwangere vrouwen wordt voor gavaging. Alternatief kan een kleinere gauge katheter worden gebruikt om de procedure uit te voeren.
Indien zebravis met kleinere afmetingen gebruikt zorg moeten worden genomen om de grootte van de buis en naald aangepast, zodat de diameter en lengte zullen passen in de mond en het darmkanaal.
De doeltreffendheid van de procedure kan verder worden verhoogd wanneer een tweede individuaIk zou volgen anesthesie en zorgen voor een constante toevoer van verdoofde vis aan de persoon van de maagsonde. Deze techniek is relatief eenvoudig te besturen en geen uitgebreide praktijk niet nodig om vaardigheid krijgen. Bovendien wordt de procedure niet gespecialiseerde apparatuur of faciliteiten nodig.
Trouble-shooting
Als de zebravis niet verdoofd worden binnen 2-3 min, veranderen de verdoving oplossing of gebruik een vers bereide stockoplossing. Indien de slang niet gemakkelijk glijden het darmkanaal van de zebravis, moeten kleinere diameter buis worden gebruikt. Het kan gunstig oefenen met een klein aantal even grote vis om de juiste diameter en lengte van de buis en te beoordelen of de toegediende hoeveelheid is geschikt voor de grootte van de zebravis te waarborgen. De slang kan ook worden gemarkeerd om op te merken het ideale indringdiepte voor de grootte van de vis wordt benut.
Zodra deze techniek beheerst, kan het worden gebruikt om een ​​nauwkeurige hoeveelheid van verschillende moleculen of infectieuze agentia efficiënt en consistent tot volwassen zebravis, waardoor het nuttig voor verschillende onderzoeksprotocollen. Deze techniek kan ook het minimaliseren van het aantal vissen nodig om experimenten uit te voeren en maken een nauwkeurige tijdmeting van de effecten van verschillende verbindingen op de vis.
Subscription Required. Please recommend JoVE to your librarian.
Disclosures
De auteurs verklaren dat zij geen concurrerende financiële belangen.
Acknowledgments
De Rockefeller University Comparative Bioscience Center steun verleend aan dit project. Wij danken Janelle Monnas voor technische ondersteuning.
Materials
Name
Company
Catalog Number
Comments
Equipment
A sponge
1-cc luer lock syringe
Becton Dickinson Co
22-G Micro-Renathane Implantation tubing (cut)
Braintree Scientific, Inc.
1 22-G needle (cut, if needed)
Becton Dickinson Co
pH meter
Hanna probe
1 scalpel blade
Name
Company
Catalog Number
Comments
Reagent/Material
MS-222 (Finquel)
Argent Laboratories
References
Royes, J. -A. B., Chapman, F. Preparing Your Own Fish Feeds. Department of Fisheries and Aquatic Sciences, Florida Cooperative Extension Service, Insitute of Food and Agricultural Sciences, University of Florida. (2009).
Gomez-Gil, B., Cabanillas-Ramos, J., Paez-Brambila, A., Roque, A. Standardization of the bioencapsulation of enrofloxacin and oxytetracycline in Artemia fransciscana Kellogg. Aquaculture. 196, 1-12 (1906).
Langdon, C. Microparticle types for delivering nutrients to marine fish larvae. Aquaculture. 227, 259-275 (2003).
Langdon, C., Nordgreen, A., Hawkyard, M., Hamre, K. Evaluation of wax spray beads for delivery of low-molecular weight, water soluble nutrients and antibiotics to Artemia. Aquaculture. 284, 151-158 (2008).
Zang, L., Morikane, D., Shimada, Y., Tanaka, T., Nishimura, N. A Novel Protocol for the Oral Administration of Test Chemicals to Adult Zebrafish. Zebrafish. 8, 203-210 (2011).
Goldsmith, J. R., Jobin, C. Think Small: Zebrafish as a Model System of Human pathology. Journal of Biomedicine and Biotechnology. (2012).
Tysnes, K. R., Jorgensen, A., Poppe, T., Midtlyng, P. J., Robertson, L. J. Preliminary expermients on use of zebrafish as a laboratory model for Giardia duodenalis infection. Acta Parasitologica. 57, 1-6 (2012).
Marie, B., Huet, H., et al. Effects of a toxic cyanobacterial bloom (Planktothris agardhii) on fish: Insights from histopathological and quantitative proteomic assessments following the oral exposure of medaka fish (Oryzias latipes). Aquatic Toxicology. 114-115, 39-48 (2012).
Canadian Council on Animal Care. CCAC guidelines on: the care and use of fish in research, teaching and testing. CCAC. Ottawa, Ontario, Canada. (2005).
Harper, C., Lawrence, C. The Laboratory Zebrafish. CRC Press. Boca Raton, Florida, USA. (2011).
De Tolla, L. J., Srinivas, S., et al. Guidelines for the Care and Use of Fish in Research. ILAR Journal. 37, (4), (1995).
Topic Popovic, N., Strunjak-Perovic, I., et al. Tricaine methane-sulfonate (MS-222) application in fish anaesthesia. Journal of Applied Ichthyology. 28, 553-564 (2012).
Field, H. A., Kelley, K. A., Martell, L., Goldstein, A. M., Serluca, F. C. Analysis of gastrointestinal physiology using a novel intestinal transit assay in zebrafish. Neurogastroenterology & Motility. 21, 304-312 (2009).