Abstract
Fibroblasten sind die Hauptzelltyp für die Sekretion der extrazellulären Matrix verantwortlich sind und eine wichtige Komponente vieler Organe und Gewebe. Fibroblast Physiologie und Pathologie zugrunde ein Spektrum von klinischen Einrichtungen, einschließlich Fibrosen in mehreren Organen, hypertrophe Narben nach Verbrennungen, Verlust der Herzfunktion nach Ischämie und der Krebsentstehung ein Stroma. Allerdings bleiben Fibroblasten ein schlecht charakterisierte Zelltyp, vor allem wegen ihrer inhärenten Heterogenität. Bestehenden Verfahren für die Isolierung von Fibroblasten erfordern Zeit in Zellkultur, die grundlegend beeinflusst Zellphänotyps und Verhalten. Folglich sind viele Studien, die Fibroblasten biology beruhen auf in-vitro-Manipulation und nicht genau Fibroblasten Verhalten in vivo zu erfassen. Um dieses Problem zu überwinden, haben wir eine FACS-basiertes Protokoll entwickelt für die Isolierung von Fibroblasten aus der Rückenhaut von erwachsenen Mäusen, die Zellkultur nicht erfordert, wodurch preserving die physiologische Transkriptions-und Proteom-Profil jeder Zelle. Unsere Strategie ermöglicht Ausschluss nicht mesenchymale Linien über eine Linie negative Gate (Lin -) statt eines positiven Selektionsstrategie zur Vorauswahl oder Anreicherung von einer Subpopulation von Fibroblasten zu vermeiden Expression spezifischer Oberflächenmarker und werden so umfassend wie möglich über diese heterogenen Zelltyp.
Introduction
Log in
or
Start trial
to access full content. Learn more about your institution's access to JoVE content
here
Fibroblasten werden oft morphologisch spindelförmigen Zellen, die auf Kunststoffsubstraten haften definiert. Fibroblasten sind das Prinzip Zelltyp für die Synthese und den Umbau der extrazellulären Matrix in embryonalen und adulten Organen 1 verantwortlich. Fibroblasten sind daher entscheidend für die Entwicklung von Säugetieren und tragen wesentlich zur extrazelluläre Milieu, das das Verhalten von benachbarten in jedem Gewebe und Organ vorliegenden Zelltypen beeinflußt.
Fibroblasten sind auch der Hauptzelltyp hinter eine vielfältige Reihe von medizinischen Bedingungen, die enorme klinische Belastung verursachen. Pathologische Fibroblastenaktivität beeinträchtigt die normale Gewebefunktion und umfasst Gewebe und Organfibrose (wie der Lunge und Leber), Narben nach kutaner Wundheilung, Atherosklerose, Sklerodermie und Bildung Atheromatoseplaques nach der Blutgefäßverletzung 2-5. Wundheilung insbesondere akut und chronisch sowohl beinhaltet deposition von Narbengewebe, die weder ähnelt auch Aufgaben wie das normale Gewebe umgibt, und führt zu einer signifikanten Morbidität über verschiedene pathologische Zustände. Nach Verletzung, gibt es einen Übergang von Fibroblasten zu Myofibroblasten, die dann sezerStruktur ECM Komponenten auszuüben parakrine Wirkungen auf benachbarten Zelltypen und Wiederherstellen mechanische Stabilität durch Abscheiden Narbengewebe 6.
In Hautgewebe besteht signifikante Abweichung in der Qualität der Wundreparatur in Entwicklungszeit zwischen anatomischen Stellen. In den ersten beiden Trimester des Lebens heilt der Fötus ohne Narbenbildung; jedoch von dem dritten Trimester auf und im Erwachsenenalter, Menschen heilen mit einer Narbe. Ortspezifische neben altersspezifische Unterschiede in der Wundheilung gibt. Wunden im Mundraum umzu mit minimaler Narbenbildung 7,8, während Narbengewebeablagerung innerhalb kutanen Wunden signifikant 9. Kontroverse besteht concerning den relativen Einfluss der Umwelt im Vergleich zu den intrinsischen Eigenschaften der lokalen Fibroblasten auf das Ergebnis der Wundheilung in Bezug auf sowohl Alter und Standort 10,11. Anbetracht der bedeutenden Unterschiede bei der Heilung von Maus oral vs. kutanen Dermis und früher embryonaler (E15) gegenüber späteren embryonalen (E18) Dermis, ist es wahrscheinlich, dass die intrinsische Unterschiede in den Populationen von Fibroblasten bei bestimmten Entwicklungs Alters und unter verschiedenen anatomischen Stellen existieren .
Im Jahr 1986, Harold F. Dvorak gesetzten Tumoren sind Wunden, die nicht heilen 12. Dvorak geschlossen, dass Tumoren verhalten sich wie Wunden im Körper und induzieren ihre Stroma durch Aktivieren der Wundheilungsreaktion des Wirts. Zahlreiche Studien haben seit sucht den Beitrag von Fibroblasten zur Progression von Karzinomen 13-15, aber wie im Falle der Wundheilung, die Identität und die embryonalen Ursprungs der Fibroblasten, die mit dem Stroma der kutanen ca beitragenrcinomas nicht ausreichend definiert. Die Antwort auf diese Frage trägt medizinische Relevanz angesichts der jüngsten Studien Aussetzen des Tumor-assoziierten Fibroblasten als potenziell wirksame Ziel für Anti-Krebs-Therapie 16.
Identifizierung und prospektiv Isolierung der Fibroblasten-Linien mit fibrogene Potenzial in vivo dotiert ist ein wesentlicher Schritt in Richtung ihrer Reaktion auf eine Verletzung in einem breiten Spektrum von akuten und chronischen Krankheitszuständen wirksam manipulieren. Im Jahr 1987 zeigte Cormack zwei Subpopulationen von Fibroblasten, einer mit Wohnsitz innerhalb der papillären und ein innerhalb der retikulären Dermis 17,18. Eine dritte Subpopulation gefunden wurde mit Haarfollikeln in der dermalen Papille Bereich des Follikels 19,20 verbunden. Wenn sie kultiviert werden, diese Fibroblasten-Subtypen zeigen Unterschiede in den Wachstumspotential, Morphologie und Wachstumsfaktor / Cytokine Profile 21-24.
Bisher Studien, Fibroblasten-erterogeneity weitgehend versäumt, angemessen zu Entwicklungs- und Funktionsvielfalt bei Fibroblasten in vivo. Dies ist teilweise ein Ergebnis einer Abhängigkeit von kultivierten Fibroblastenpopulationen und das homogenisierende Wirkung Zellkultur oder eine positive Selektion auf der Grundlage eines selbst-Oberflächenrezeptor nicht von allen Fibroblasten 25 ausgedrückt. Eine aktuelle Studie aus unserem Labor zeigten eine tiefgreifende Oberflächenmarker und Transkriptions-Verschiebung in kultivierten vs. uncultured Fibroblasten durch die FACS-basierte Isolierung Methodik in diesem Manuskript 26 präsentiert isoliert.
Anschließend identifizierten wir eine spezifische Fibroblastenlinie innerhalb der murine dorsal Dermis und bestimmt, dass diese Linie von embryonalen Expression des Engrailed-1 definiert ist, ist in erster Linie für Bindegewebsablagerung in die Rückenhaut verantwortlich. Die Linie Funktionen während der akuten und chronischen Formen der Fibrose einschließlich Wundheilung, Krebs Stromabildung undstrahleninduzierten Fibrose 27. Die Charakterisierung der verschiedenen Fibroblasten-Linien hat kritische Auswirkungen für Therapien, die auf die Modulation fibrogene Verhalten ausgerichtet.
Anstatt in einem der vorhandenen Protokolle, die auf In-vitro-Manipulation verlassen, um Zellisolierung 28,29 zu erreichen, wird die Ernte-Protokoll (Abbildung 1) detailliert hier Ausbeute informative Analysen von Fibroblasten, die mehr genau zu erfassen Phänotyp und Verhalten in vivo zu helfen.
Subscription Required. Please recommend JoVE to your librarian.
Protocol
Log in
or
Start trial
to access full content. Learn more about your institution's access to JoVE content
here
Dieses Protokoll folgt von der Stanford University Administrative Panel on Laboratory Animal Care anerkannten Methoden.
1. Die Verdauung von Murine Dermis
Euthanize Mäuse durch zervikale Dislokation nach der Anästhesie mit einer intraperitonealen Injektion von Ketamin 100 mg / kg + Xylazin 20 mg / kg Acepromazin + 3 mg / kg.
Hinweis: Verschiedene Altersgruppen und können verwendet werden.
Rasieren und enthaaren die Rückenhaut. Etwa 100.000 Zellen können aus einem Stück Rückenhaut 60 mm x 100 mm getrennt werden.
Tauchen Sie die Maus in 70% Ethanol und auf eine saubere, sterile Oberfläche zu trocknen.
Unmittelbar ernten dorsalen Haut von Mäusen unter Verwendung von sterilen Präparierscheren. Bei weiblichen Mäusen, zu vermeiden, einschließlich der Brustgewebe.
Ab der Basis des Schwanzes, verwenden Pinzette Zelt die Haut und machen eine Querschnitt vor dem Sezieren entlang der supra Faszienebene.
Sorgfältig zu vermeiden einschließlich subkutanem Fett, während der Erntedie Haut. Untersuchen Sie die Haut geerntet für jede Unterhautfett und vorsichtig abkratzen mit der stumpfen Seite eines Skalpells.
Spülen Sie die Haut geerntet in betadine gefolgt von 5x PBS Waschungen auf Eis.
Anmerkung: Es ist wichtig, die Haut so nahe wie möglich steril zur Vermeidung von Verunreinigungen zu halten.
Blatt vor den Mund, die Haut mit Rasierklingen und Präparierscheren in einem sterilen Teller, bis die Probe eine einheitliche Konsistenz mit 2-3 mm große Stücke.
Vorbereitung 50 ml konischen Röhrchen mit 20 ml Kollagenase IV in einer Konzentration von 1 mg / ml in DMEM. Teilen die Dermis in die Rohre auf der Basis von fünf Mäusen pro Röhrchen.
Man schüttelt kräftig Proben während der Inkubation bei 37 ° C für 1 h entweder in einem Wasserbad oder Ofen.
Proben zu entfernen aus dem Inkubator und durch ein 10-ml-Spritze ohne Nadel 3-5x in einer sterilen Haube.
Legen Sie die Proben wieder in den Brutschrank bei 37 ° C und kräftig schütteln für weitere 30 min.
In einer sterilen Haube, Pipette die Proben auf und ab 3-5x mit einer 10 ml Pipette. Pipettieren der Probe durch einen 100 um-Filter in ein neues 50 ml konischen Röhrchen.
Verlaufen in 20 ml 10% FBS DMEM über das gleiche Filter, um die Zellausbeute zu maximieren und bringt das Gesamtvolumen auf 40 ml. Zentrifuge bei 300 g für 8 min bei 4 ° C.
Entfernen Sie den Überstand mit einer sterilen Glaspipette, wobei große Sorgfalt, um zuerst die obere Fettschicht vor der verbleibende Überstand zu entfernen.
Anmerkung: Dieser Schritt ist entscheidend, um Adipozyten Kontaminierung.
Resuspendieren des Pellets in 20 ml 10% FBS DMEM.
Übergeben Sie die Zelle / DMEM Suspension durch ein 70 & mgr; m-Filter.
Spülen der Filter mit 10 ml 10% FBS DMEM und zentrifugieren die gefilterte Suspension wird bei 300 g für 8 min bei 4 ° C.
Entfernen Sie den Überstand mit einer sterilen Glaspipette, wieder darauf achten, dass zuerst alle verbleibenden Fettschicht zu entfernen.
Wenn es signifikante RBC Verschmutzung (das Pellet ist sichtlich rot), re-suspendieren die Pelletsin 20 ml ACK-Lysepuffer und Inkubation für 5 min bei RT. Andernfalls fahren Sie mit Schritt 24.
In das gleiche Volumen (20 ml) FACS-Puffer (PBS, 10% FBS, 0,1% Natriumazid), dann mischen und beiseite stellen eine 5-ml-Aliquot als ungefärbte Kontrolle. Zentrifugieren Sie die verbleibende Probe bei 300 g für 8 Minuten bei 4 ° C.
Überstand entfernen und legte Pellets auf Eis. Die Zellen können sich an dieser Stelle eingefroren werden, wenn FACS Zeit nicht verfügbar ist.
2. Isolierung von Fibroblasten durch FACS
Stellen Sie 500 ul Linie Antikörperinkubation Mix für jedes Pellet. Tun dies, indem zuerst 475 ul FACS-Puffer, enthaltend DNase (10 ug / ml) mit einem Rohr und dann Zugabe fluorophorkonjugierten CD31 (1: 100), CD45 (1: 200), Tie2 (1:50), Ter -119 (1: 200) und EpCAM (1: 100), Antikörper gegen die jeweilige Verdünnung für jeden Antikörper zu erzielen.
Re-suspend jedes Pellet in 500 ul Linie Antikörperinkubation Mischung und Inkubation dieser Suspension auf Eis für 20 min.
In 5ml FACS-Puffer, enthaltend DNase (10 ug / ml) zu der Probe und vorsichtig mischen. Zentrifuge bei 300 g für 8 min bei 4 ° C.
Den Überstand und wasche das Zellpellet mit 5 ml FACS-Puffer, enthaltend DNase (10 ug / ml) und zentrifugiert unter den gleichen Bedingungen wie in Schritt 26.
Das Pellet in 500 ul FACS-Puffer mit DNase (10 ug / ml) und zur Seite legen ein 50 ul Aliquot als Lebensfähigkeit Farbstoff Kontrolle.
Hinzufügen Lebensfähigkeit Farbstoff der Wahl, um die verbleibende Probe in dem für den gewählten Farbstoff angegebenen Konzentration.
Führen FACS-Analyse 31 und Sortierung für die Lebensfähigkeit Dye- / CD31- / CD45- / Tie2- / Ter-119- / EpCAM- Zellen (siehe Abbildung 2A). Sortierung direkt in FACS-Puffer.
Subscription Required. Please recommend JoVE to your librarian.
Representative Results
Log in
or
Start trial
to access full content. Learn more about your institution's access to JoVE content
here
Die Gültigkeit dieses Ansatzes (Abbildung 1) wurde in einer Reihe von Möglichkeiten, die im Detail in unserer jüngsten Veröffentlichung 27 geprüft werden kann verifiziert. Dazu gehören Immunzytochemie von sortierten Zellen und Stoffzelle und Einzelzelltranskriptionsanalyse von frisch sortierten Zellen. Sortieren von Fibroblasten direkt anstatt sich auf Kultur genauer erfasst ihre in vivo Phänotyp. Unter Verwendung einer Linie negativen Verarmungs Ansatz (2A) und nicht als positive Selektion Ansatz vermeidet Vorauswahl für bestimmte Subpopulationen. Der Wert dieses Ansatzes wurde kürzlich von Rinkevich et al. 27 gezeigt, identifiziert das Vorhandensein von CD26 positiven Fibroblasten auf einem Niveau der Dermis bisher nicht beschrieben.
Zu bestätigen, dass das Verfahren zur Kultivierung von Fibroblasten führt zu erheblichen Veränderungen in der Genexpression verwendeten wir Mikroarrays zu kultivierten Fibroblasten zu uncultured Fibroblasten zu vergleichen. Wir kultivierten Fibroblastendass durch zwei Techniken, die in dieser Handschrift und einem bekannten Gewebeexplantat Protokoll 28 detaillierte Live-Ernte-Protokolls isoliert. Whole-Transkriptom-Microarray-Analyse ergab, dass kultivierten Fibroblasten von der Live-Ernte (C.LH) und Gewebeexplantat isoliert (C.te) Methoden haben einen hohen Grad der Ähnlichkeit mit einer Transkriptom-weiten Ebene mit einem Pearson Produkt-Moment-Korrelationskoeffizient (r ) von 0,92 (2B). Im Vergleich dazu unterschied kultivierten Fibroblasten signifikant von Live geerntet uncultured Fibroblasten (U.LH). Ein Vergleich zwischen C.LH gegen U.LH ergab einen r von 0,61, während ein Vergleich der C.te gegen U.LH ergab einen r von 0,64 (2B). Diese Ergebnisse stellen die Bedeutung der Analyse Live geerntet Fibroblasten und nicht kultivierten Fibroblasten. Für eine vollständigere Analyse der Transkriptions und Proteomik Unterschiede zwischen kultivierten und nicht kultivierten Fibroblasten isoliert mit diesem Protokoll finden Sie in Walmsley <em> et al. 26

Abbildung 1. Übersicht über die Fibroblasten-Isolation. Schematische Darstellung der primären Schritte in dieser FACS-basierten Trennprotokolls beteiligt. Mit freundlicher Genehmigung von Walmsley wiederverwendet, GG et al. Live-Fibroblasten-Ernte deckt Oberflächen Marker Umschalttaste in vitro. Tissue Engineering. Teil C, Methods, doi:. 10,1089 / ten.TEC.2014.0118 (2014) Bitte klicken Sie hier, um eine größere Version dieser Figur zu sehen.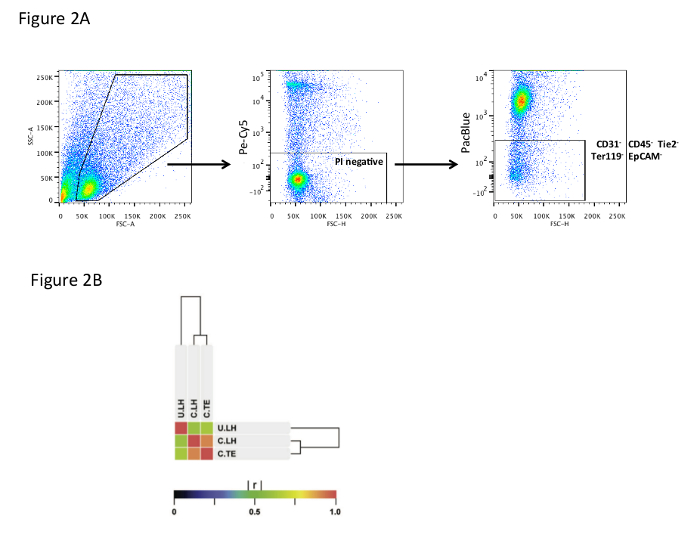 Abbildung 2. Durchflusszytometrie und Microarray-Analyse. (A) FACS-Gating-Strategie, die Auswahl von Einzelzellen (links Grundstück), Auswahl für lebensfähige Zellen auf Basis von Propidiumiodid staining (Mittelstück), und Auswahl von Fibroblasten (rechts Grundstück) auf der Basis der Linie Negativität für CD31, CD45, Tie2, Ter119 und EpCAM. (B) Microarray-Analyse von Uncultured Live-Harvested (U.LH) gegenüber kultivierte Live-Harvested (C.LH) gegenüber gezüchteten Gewebe Explantation (C.te) Fibroblasten. Ähnlichkeit der Genexpression zwischen U.LH (n = 3), C.LH (n = 3) und C.te (n = 3) Fibroblastenpopulationen der Korrelationskoeffizient (r) gemessen. [C.LH vs. C.te: r = 0,92]; [C.LH vs. U.LH: r = 0,61]; [C.te vs. U.LH: r = 0,64]. Mit freundlicher Genehmigung von Walmsley wiederverwendet, GG et al. Live-Fibroblasten-Ernte deckt Oberflächen Marker Umschalttaste in vitro. Tissue Engineering. Teil C, Methods, doi:. 10,1089 / ten.TEC.2014.0118 (2014) Bitte klicken Sie hier, um eine größere Version dieser Figur zu sehen.
Subscription Required. Please recommend JoVE to your librarian.
Discussion
Log in
or
Start trial
to access full content. Learn more about your institution's access to JoVE content
here
Die in dieser Handschrift beschriebenen Protokoll bietet ein Mittel, um Fibroblasten durch FACS-basierte Sortierung zu isolieren, im Vergleich zu bestehenden Verfahren, die entweder wählen Sie für eine Teilgesamtheit oder erfordern Zeit in der Zellkultur vor der nachfolgenden Analysen. Die von der Ernte der Haut, um das Sortieren von Fibroblasten benötigte Zeit beträgt ca. 6 Stunden; jedoch wird die Anzahl der Mäuse in der Ernte verwendet diese Abschätzung beeinflussen.
Einige Punkte im Protokoll erfordern besondere Sorgfalt. Die erste ist die Begrenzung Adipozyten Kontamination durch Entfernen von Fett aus der Haut vor der Verdauung und Entfernen der oberen Schicht der Lipidüberstand nach der Verdauung und Zentrifugieren während des Isolierungsverfahrens. Es kann auch hilfreich sein, in frische Röhrchen zu ändern, nachdem die Zellen werden pelletiert, da einige Lipidkomponenten auf die Kunststoffwände der Rohre haften und können nachfolgende Pellet Waschungen verunreinigen. Ein zweiter Punkt betrifft Sorgfalt zu trennen Dermis von Epidermisentlang der epidermalen-dermalen Kreuzung. Obwohl gefährdend epidermalen Zellen werden von der FACS Verarmungsstrategie entfernt werden, sollte eine Anstrengung, um eine Kontamination zu begrenzen hier noch gemacht werden.
Die Grenzen dieses Ansatzes gehören die potenzielle Anwesenheit von kontaminierenden Zellen nicht von der aktuellen Linie Platte eingefangen. Bei der Auswahl des Fluorophors an die Linie Antikörper (CD31, CD45, Tie2, Ter119, EpCAM) konjugiert ist, müssen die Forscher darauf achten, dass auch andere Oberflächenmarker analysiert sie wünschen können, um durchzuführen. Zusätzliche Flecken müssen in verschiedene Kanäle aus der gewählten Linie Antikörper-Fluorophor ist. Im allgemeinen fanden wir PacBlue eine ideale Konjugat, das eine Vielzahl von verfügbaren Wellenlängen für die weitere Analyse konserviert werden. Passende die Lebensfähigkeit Farbstoff auf der Linie Antikörper-Fluorophor erhält einen zusätzlichen Bereich von Wellenlängen. Zum Beispiel regt die Lebensfähigkeit Farbstoff DAPI und fluoresziert bei ähnlichen Wellenlängen PacBlue. Auf diese Weise werden alle DAPI positive und Abstammung Antikörper positive Zellen wirkungsvoll unter Verwendung einer einzigen Gate eliminiert werden, wobei nur lebensfähige Fibroblasten als die Zielpopulation. Es sollte auch angemerkt, dass die Zellen während des Isolierungsverfahrens für einen begrenzten Zeitraum und dies wahrscheinlich Einflüsse Genexpression zu FBS ausgesetzt ist, aus einer unbekannten Grad werden.
Die Möglichkeit, pauschal für alle Fibroblasten-Populationen zu sortieren ist eine Chance, um wirklich zu verhören die Heterogenität dieser schlecht verstanden Zelltyp. Dies findet Anwendung im Rahmen der normalen Physiologie, sowie eine Vielzahl von Krankheiten, die übermäßige Fibrose und anomale Fibroblasten Verhalten beinhalten.
Subscription Required. Please recommend JoVE to your librarian.
Acknowledgments
Diese Arbeit wurde zum Teil durch einen Zuschuss aus NIH R01 GM087609 (HPL), ein Geschenk von Ingrid Lai und Bill Shu zu Ehren von Anthony Shu (HPL), NIH Zuschusses U01 HL099776 (MTL), der Hagey Laboratory for unterstützt Pediatric Regenerative Medizin und der Oak Foundation (bis MTL, GCG und HPL). GGW wurde von der Stanford School of Medicine, der Stanford Medical Scientist Training Program unterstützt und NIGMS Ausbildungsförderung GM07365. ZNM wurde von der Plastic Surgery Foundation Research Fellowship Grant und der Hagey Family Fund unterstützt. MSH wurde vom California Institute für Regenerative Medizin (CIRM) Clinical Fellow Ausbildungsförderung TG2-01159, der American Society of Kiefer-Gesichtschirurgen (ASMS) / MKG-Chirurgen Foundation (MSF) Research Grant Award und dem Transplant und Tissue Engineering Fellowship Award unterstützt.
Materials
| | | | |
| --- | --- | --- | --- |
| Name | Company | Catalog Number | Comments |
| Surgical Forceps | Kent Scientific | INS650916 | |
| Micro-scissors | Kent Scientific | INS600127 | |
| Povidone Iodine Prep Solution | Dynarex | 1415 | |
| Nair (depilatory cream) | Church and Dwight Co. | 22600267058 | |
| Collagenase IV | Gibco | 17104-019 | |
| Elastase | Abcam | ab95133 | |
| DMEM | Life Technologies | A14430-01 | |
| Fetal Bovine Serum | Gibco | 16000-044 | |
| Ammonium-Chloride-Potassium (ACK) lysing buffer | Gibco | A10492-01 | |
| 40 μm filters | Fisher Scientific | 08-771-1 | |
| 70 μm filters | Fisher Scientific | 08-771-2 | |
| 100 μm filters | Fisher Scientific | 08-771-19 | |
| CD31 | BioLegend | 102421 | |
| CD45 | BioLegend | 103125 | |
| Tie2 | BioLegend | 124005 | |
| Ter-119 | BioLegend | 116233 | |
| EpCAM (CD326) | eBioscience | 48-5791 | |
| DAPI | Invitrogen | D3571 | |
| propidium iodide (PI viability stain) | BioLegend | 421301 | |