Summary
Hier presenteren we een protocol voor het isoleren gonadale weefsel van larvale zebravis, die onderzoeken zebravis geslachtsdifferentiatie en het onderhoud vergemakkelijkt.
Abstract
Hoewel wild zebravis hebben een ZZ / ZW sex-bepalingssysteem werden geacclimatiseerd zebravis het geslacht chromosoom verloren. Ze maken gebruik van een polygene geslachtsbepaling systeem, waarbij meerdere genen verspreid over het genoom gezamenlijk het geslacht identiteit exemplaren bepalen. Momenteel is de genen die betrokken zijn bij het reguleren van gonade ontwikkeling en hoe ze werken blijven ongrijpbaar. Normaal gesproken, het isoleren van gonadale weefsel is de eerste stap om het geslacht ontwikkelingsprocessen te onderzoeken. Hier presenteren we een procedure om gonadale weefsel te isoleren van 17 dpf (dagen na de bevruchting) en 25 dpf zebravis larven. De geïsoleerde gonadale weefsel kan vervolgens worden onderzocht door morfologie en genexpressie profilering.
Introduction
Log in
or
Start trial
to access full content. Learn more about your institution's access to JoVE content
here
De belangrijkste vrouwelijke geslacht determinant in het wild levende zebravis chromosoom 4 is verloren of gewijzigd in de gedomesticeerde zebravis (dwz gemeenschappelijke lab stammen) 1. In plaats daarvan hebben ze een polygene geslachtsbepaling systeem vergezeld door omgevingsfactoren zoals temperatuur, hypoxie, voedselbeschikbaarheid en bevolkingsdichtheid. De gedetailleerde mechanismen van de zebravis sex ontwikkeling worden niet volledig begrepen. Fundamentele vragen zoals wanneer zebravis geslachtsbepaling optreedt, wat de primaire geslachtsbepaling signaal (s) is / zijn, en welke genen reguleren de eerste stap van gonade omzetting nog worden beantwoord 2, 3.
In het proces van zebravis seks ontwikkeling, hebben een aantal belangrijke stadia erkend. In de vroege fase van ontwikkeling, uitgaande van 4 HPF (uur na bevruchting) primordiale kiemcellen (PGC) ondergaan specificatie, migratie en genitale ridgeproliferatie. PGC aantallen en onderlinge interacties tussen kiemcellen en somatische cellen zijn belangrijk voor differentiatie 4 gonaden. Op 13 dpf (dagen na de bevruchting), de geslachtsklieren zijn in de ongedifferentieerde fase. Uiterlijk op 17 dpf, de geslachtsklieren zich ontwikkelen tot bi-potentieel eierstokken in zowel de toekomstige vrouwen en mannen. De apoptose-afhankelijke overgang van de eierstok naar de testis beginnen bij 21 tot 25 dpf en kunnen gedurende een aantal weken. Met 35 dpf, heeft het geslacht van de gonaden bepaald en geslacht-specifieke productie van gameten gang in beide eierstokken en testes 5, 6, 7.
Tot op heden hebben diverse kandidaat-genen en mechanismen van geslachtsbepaling voorgesteld. Proteoomanalyse en transcriptoom analyse hebben veel genen die seksueel dimorfe expressie en deze genen zijn gebruikt om geslachtsdifferentiatie studie in zebravis 8, 9, 10. Bijvoorbeeld, in larvale zebravis, de cyp19a1a gen specifiek tot expressie gebracht in de eierstok maar niet in de testis 11, 12. Bovendien wordt AMH gen zwak tot expressie gebracht in de follikel granulosa cellen, maar sterk testis Sertoli cellen 13. Daarentegen wordt vasa gen continu tot expressie gebracht in de geslachtscellen van zowel vrouwelijke als mannelijke zebravis, waardoor het een geschikte gonade marker 14, 15.
Onderzoeken gonadale genexpressieniveaus is cruciaal voor het moleculaire mechanisme van de geslachtsbepaling en differentiatie begrijpen name de bi-potentiaal eierstok fase 3, 9. De geringe omvang van larvale zebravis en dienovereenkomstig kleine gonaden compliceren de isolatie van gonadal weefsel voor verdere moleculaire analyse. Eerdere studies gebruikt ontleed gehele heupgebied tussen opercula en anale poriën 16. Dit preparaat hoewel bevattende geslachtsklieren, bestaat uit meerdere weefsels en organen. Als alternatief kunnen transgene dieren met gonaden-specifiek GFP expressie zoals vasa: EGFP werden voor gonaden weefsel isoleren door fluorescentie geactiveerde celsortering (FACS) en laser capture microdissectie 17, 18. Maar hun wijdverbreide toepassing is beperkt. We beschrijven hier een eenvoudige procedure om gonaden weefsel te isoleren van larvale zebravis 17 dpf en 25 dpf. We tonen de positie van de geslachtsklieren met betrekking tot andere organen en isoleer de morfologisch intact geslachtsklieren uit de omliggende weefsels. We de gonaden-specifieke genen zoals vasa en cyp19a1a tonen verder zijn sterk tot expressie gebracht in de geïsoleerde geslachtsklieren opzichte van de romp weefsel door kwantitatieve PCR (qPCR) analyse. Het huidige protocol maakt de identificatie, isolatie, zuivering en RNA-amplificatie van specifieke gonadale genen van larvale zebravis, waardoor verdere moleculaire analyse gonadale weefsel 19 mogelijk.
Subscription Required. Please recommend JoVE to your librarian.
Protocol
Log in
or
Start trial
to access full content. Learn more about your institution's access to JoVE content
here
Zebravis experimenten werden goedgekeurd door de Fudan University Institutional Animal Care en gebruik Comite. Zebravis zijn gerezen en gekweekt volgens standaardwerkwijzen 20.
1. Voorbereidingen
Cultiveren 17 dpf en 25 dpf larvale zebravis

Transfer 2 mannelijke en 2 vrouwelijke volwassen zebravissen (gezond, 3 tot 6 maanden oud, laboratorium AB-stam) tot een kruispunt tank in de late namiddag voor de kruising dag. Scheid de mannen en vrouwen met een slagboom. De volgende ochtend, vernieuwt u de tank water en verwijder de barrière voor hen in staat stellen om te paren. Eieren verzamelen in 100 mm petrischalen 1-2 uur na de bevruchting.
Blijf ongeveer 40 embryo's in een 100 mm plaat met 40 mL embryo medium (EM) bij 28,5 ° C gedurende de vroege ontwikkelingsperiode (4 dagen) en ververs de EM tweemaal per dag. Transfer larven 1 L tanks (40 larven 300 ml systeemwater) en voer met levende raderdiertjes (volledige voeding, tweemaal daags) na 5 dpf.Feed voor live pekelgarnalen plaats van rotifer dieet na 10 dpf. Breng de vis in recirculerende watersysteem bij 14 dpf 21.
Verhogen larvale zebravis in het recirculerende watersysteem tot 17 dpf en 25 dpf. Zorgen de licht / donker cyclus 14/10 h en pH systeemwater ongeveer 7,2. Meet de lichaamslengte van 17 dpf (5,5-6,8 mm) en 25 dpf (8-11 mm) 22 larven.

Bereid 2% agar platen voor de dissectie.

Voeg 4 g agar met 200 ml steriel water. Verwarm het mengsel in een magnetron totdat deze transparant wordt.
Koel de agar gedurende ongeveer 15 minuten, giet het in 60 mm petrischalen (ongeveer 1/3 volume van de plaat). Bewaar het gestolde agar platen bij 4 ° C.
2. Protocol 1: Ontleden de Gonadale Tissue van 17 en 25 dpf Larven
Voeg crushed ijs in de tank te verdoven 17 dpf larven. Breng deverdoofd larven in een 100 mm petrischaal met gekoelde oplossing van 30 ml koude Ringer's. Houd de vis geïncubeerd in de oplossing van de gekoeld Ringer's gedurende ten minste 15 minuten om volledig te verdoven de larven.
Breng de larven naar een voorgekoeld agar plaat met een kleine plastic lepel. Dompel het gehele vislichaam in 10 ml gekoeld Ringer's oplossing en voorzichtig leg het op zijn kant.
Doe de volgende handelingen onder het veld visie van 25X stereo microscoop. Klem de vis stam met een pincet om te stabiliseren. Rip de buik lengterichting van de anus naar het hart met een pincet. Verwijder voorzichtig de huid en spieren aan één kant van het lichaam om de interne organen bloot te leggen.
Verwijder het gewicht van organen ventraal van de zwemblaas goed. Voorkom beschadiging van de gonade verbonden aan de zwemblaas.
Snijd de verbinding tussen de zwemblaas en de voorste lichaam. Trek de gehele zwemblaas en gonade weefsels voorzichtig.
LET OP: In de meeste gevallenTussen de gonadale weefsel 17 dpf bevat omringende epitheelweefsel en protonephridium. Ze zijn niet gemakkelijk van elkaar gescheiden, maar op 25 dpf kan het gemakkelijk worden gescheiden. De gonaden is eveneens verbonden met de anus. Een kruising met linker en rechter gonade met elkaar verbonden bij de anus duidelijk zichtbaar zijn.
Met een pincet de gonaden weefsel zorgvuldig gescheiden van de zwemblaas en het schoonmaken van het omringende vetweefsel.
Geeft de geïsoleerde gonadale weefsel overbrengen naar een voorgekoelde 1,5 ml centrifugebuis bevattende oplossing 200 ui Ringer's. Houd de buis op ijs tot alle gonadale weefsels worden gescheiden van de larven.
Ontleden de geslachtsklieren 25 dpf larven volgens de beschrijving bij 2,1-2,7.
3. Protocol 2: Analyse genexpressie van de geïsoleerde Gonadale Tissues
Extract totaal RNA uit de larvale gonadale weefsels.

Breng de geïsoleerde gonadale weefsels naar een nieuwe RNase-free 1.5 mL buis en verwijder Ringer's. Voeg 100 ul lyseoplossing. Vortex totdat de weefsels zijn volledig vernietigd.
Voer de totale RNA-extractiewerkwijze volgens de instructies van de fabrikant.
Voeg 1/10 volume 10x DNase I-buffer en 1 pi DNase I bij de RNA-oplossing en meng voorzichtig. Incubeer gedurende 20 minuten bij 37 ° C.
Voeg 1/10 volume DNase inactivatie reagens om het RNA-oplossing. Incubeer gedurende 10 minuten bij 70 ° C. Meet de concentratie van het totale RNA met behulp van een spectrofotometer. Bewaar bij -20 ° C.

Uitvoeren van eerste streng cDNA synthese

Gebruik een oligo (dT) primer-linker eerste streng cDNA-synthese uit te voeren volgens het protocol van de fabrikant. Voeg 1-2 ug RNA tot een totaal reactievolume op 20 ui.
Incubeer de reactieoplossing gedurende 90 minuten bij 45 ° C. Beëindig de reactie door verwarmen bij 70 ° C gedurende 5 minuten.
Voeg 1 pl RNase H om het cDNA zodatlutie om de resterende RNA te verwijderen. Meng voorzichtig en centrifugeer gedurende 10 seconden bij 13.000 x g ~. Incubeer gedurende 20 minuten bij 37 ° C. Voeg 20 ul nuclease vrij water. Bewaar bij -70 ° C.

Voer fluorescerende kwantitatieve PCR

Uitvoeren qPCR cycler op een systeem met een fluorescerende kleurstof. Gebruik de volgende PCR-cycling condities: 35 cycli bij 95 ° C gedurende 15 s, Tm-5 ° C gedurende 15 s, 68 ° C gedurende 30 s. Gebruik primersequenties als volgt: AMH (fwd: GTGGATGGCAGCAGTACGAC; rev: GCGGAGAGGTGGAAGAGAGAATG), cyp19a1a (fwd: GTCCTGTTGTCTCCTACTGTCG; rev: CATTTGAGTTGAATATGATGCCCTG), nanos3 (fwd: GCTCGGTGTACGCCAAATCAACAT; rev: CCAAGTGAAAACACAACACCAGTGC), vasa (fwd: ATCGCATAGGAAGAACTGGACGCT; rev: CCAAGTGAAAACACAACACCAGTGC) en β-actine (fwd: AGTGCGACGTGGACATCCGTA; rev: GCACTTCCTGTGGACGATGGA) 19.
Subscription Required. Please recommend JoVE to your librarian.
Representative Results
Log in
or
Start trial
to access full content. Learn more about your institution's access to JoVE content
here
Dissecties van de geslachtsklieren werden uitgevoerd op AB stam larvale zebravis. Figuur 1 toont typische gonadale weefsel van larvale zebravis 17 dpf en 25 dpf. Eerst wordt de huid en de spieren van een zijde van de buik gesneden om de interne organen bloot. Na verwijdering van de massa van inwendige organen, de zwemblaas met de gonaden blijven in de kofferbak. De gonaden werd aan de ventrale zijde van zwemblaas (pijl in figuur 1B). Op 17 dpf, de gonade was in de bi-potentieel eierstok podium. De geïsoleerde gonaden bevatte links en rechts gonaden en was doorzichtig (figuur 1C). In de meeste gevallen werd omringd door epitheelweefsel en protonephridium (pijl in figuur 1C). Bij 25 dpf de gonaden werd vaak verpakt door vetweefsel (figuur 1D). Op deze ontwikkeling stleeftijd, kan ofwel groot of klein gonade in acht worden genomen. De onrijpe eierstok groot als de ontwikkeling van de secondaire eicellen en follikelcellen verhogen gonade volume (figuur 1E). De onrijpe testis is klein vanwege de degeneratie en apoptose van de larvale ovarium (Figuur 1F).
De moleculaire eigenschappen van de geïsoleerde gonadale weefsels te analyseren, onderzochten we eerst de genexpressie niveaus van AMH, cyp19a1a, nanos3 en vasa vier gonade markers in zebravis door qPCR. Totaal RNA werd geëxtraheerd uit larvale gonadale weefsels (n = 35) met een RNA isolatie kit. Bovendien, verwijderden we de kop en staart van 17 dpf larven, en gebruikten de romp weefsel (tussen de structuur van het hart en anale porie) om RNA te extraheren als controlegroep (n = 15). De stam weefsel inclusief de huid, spieren, botten (wervels en ribben), zwemblaas, nier en gonaden. Oligo dT-primed cDNA werd gebruikt voor qPCR. Het resultaat toonde qPCR toename amh, cyp19a1a, nanos3 en vasa expressieniveaus in 17 dpf geïsoleerde gonade weefsels met ongeveer 397, 342, 45 en 170-voudig (Figuur 2).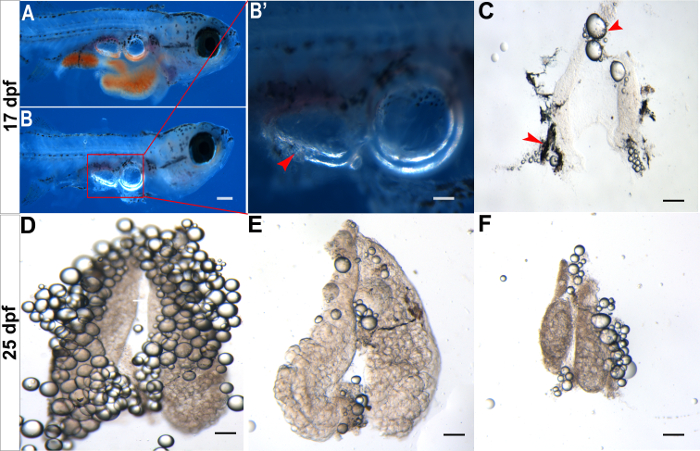 Figuur 1. Microfoto's van de gemiddelde gonaden weefsels in larvale zebravis 17 dpf en 25 dpf. (A) Rip de huid en spieren van een zijde van de buik om de interne organen onder een stereomicroscoop 25X bloot. (B) Na verwijdering van de massa van inwendige organen, de zwemblaas en gonade blijven aan de romp. (B) Amplified Gezien de rode box aan paneel B de relatieve positie van de zwemblaas en gonade tonen. De gonaden wordt aangegeven door de pijl. (C) Iso kend gonadale weefsel bij 17 dpf. De zwarte weefsel in het beeld (pijlen) zijn endotheelweefsel en protonephridium verbonden gonaden. (DE) Een grote gonade voor en na vetweefsel verwijderd bij 25 dpf. (F) Een kleine gonade 25 dpf. Schaalbalken: 200 urn. Klik hier om een grotere versie van deze afbeelding te bekijken.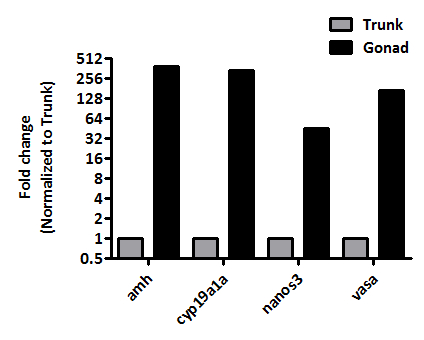 Figuur 2. Genormaliseerde Genexpressie niveaus van AMH, cyp19ala, nanos3 en vasa de stammen en geïsoleerde Gonads 17 dpf. Aantal dieren dat: controlegroep, n = 15; gonade groep, n = 35. De stam weefsels in de controlegroep zijn zonder kop en staart structuren. Gonaden groep heeft betrekking op de geïsoleerde gonadale weefsels./files/ftp_upload/55294/55294fig2large.jpg" target = '_ blank'> Klik hier om een ​​grotere versie van deze afbeelding te bekijken.
Subscription Required. Please recommend JoVE to your librarian.
Discussion
Log in
or
Start trial
to access full content. Learn more about your institution's access to JoVE content
here
De zebravis is uitgegroeid tot een krachtig model en wordt veelvuldig gebruikt in de ontwikkeling en ziekte-gerelateerd onderzoek. De methoden voor het isoleren van organen bij volwassen zebravis, zoals hersenen, hart, gonade, en nieren, zijn goed gedocumenteerd 23, 24, 25. Als gevolg van de kleine omvang en dynamische herinrichting van de gonadale weefsels in het larvale zebravis, isolatie van gonadale weefsel is een uitdagende taak. Eerdere studies gebruikt geheel ontleed stam weefsels of transgeen vasa: EGFP gebaseerd celsortering en laser microdissectie om de larvale geslachtsklieren 26 onderzoeken. Inwerkingen op chromosoom 4 tijdens acclimatisering maakt de geslachtsbepaling een mysterie in de gedomesticeerde zebravis. De hier beschreven werkwijze kan relatief schoon en vroege gonaden preparaten voor verdere morfologische en moleculaire onderzoeken, die nuttig kan zijn om de geslachtsbepalende mech staandanisms.
Het is niet eenvoudig om de zich ontwikkelende gonade van andere structuren te scheiden in een vroeg de ontwikkelingsstadia. Onze methode wordt beschreven hoe u de dissectie uit te voeren. Om dit protocol succesvol uit te voeren, moet een aantal kritische stappen te worden opgemerkt. Ten eerste, de groei conditie van larvale zebravis is van cruciaal belang om de opbrengst verwachte resultaten. De gonadale ontwikkeling van larvale zebravis is een zeer dynamisch proces. De grootte en het uiterlijk van gonadale weefsels worden bepaald door de ontwikkelingsstadia van de dieren 27. Het is belangrijk om verschillende partijen van de zebravis te handhaven in gestandaardiseerde conditie. De factoren die de groei van larven kunnen beïnvloeden, omvatten bevolkingsdichtheid, duur van licht en donker cycli voedselbeschikbaarheid en voedingsschema's. De standaardlengte meting van vissenlarven kan worden gebruikt als richtlijn voor de groei van de dieren 22 bepalen. Een tweede kritische factor voor een succesvolle gonadale weefsel isolation een goed begrip van de relatieve positie en morfologische verschillen tussen de gonaden en het omliggende weefsel. Omdat de gonade ligt aan de ventrale zijde van de zwemblaas, is het handig om eerst de gonaden met de zwemblaas isoleren. Bovendien is het distale uiteinde van de gonaden stevig bevestigd aan het distale einde van de darm. Zodat men voorzichtig zijn bij het verwijderen van de ingewanden uit de gonaden aan de distale einden. Voor daaropvolgende analyse van genexpressie, is het essentieel om voorgekoelde media en agarplaat gebruiken en snel uit te voeren de hele procedure.
Een soortgelijke werkwijze is met succes gebruikt door RF Ketting et al. 28. Zij pasten de gonade methodes voor het onderzoeken van de functie van piRNAs en de PIWI pathway in 3 weken oude larven. Hier hebben we ontleed gonadale weefsel van zebravis larven reeds op 17 dpf de moleculaire identiteit en het genexpressieprofiel van de ontwik verkennenping zebravis gonade. Toekomstige moleculaire analyses van de eerder geïsoleerde gonaden weefsel kan worden uitgevoerd om de transcriptoom methyloom en histonacetylering patronen op de onderliggende mechanismen seksuele ontwikkeling bij de zebravis helderen bepalen.
Subscription Required. Please recommend JoVE to your librarian.
Disclosures
De auteurs verklaren dat zij geen concurrerende financiële belangen.
Acknowledgments
Wij danken C Zhang voor vissen zorg. Dit werk werd ondersteund door de National Natural Science Foundation of China (31171074, 31371099 en 31571067 naar GP) en door de Pujiang Talent Project (09PJ1401900 aan GP).
Materials
| | | | |
| --- | --- | --- | --- |
| Name | Company | Catalog Number | Comments |
| Cell culture dish 100 mm | Corning | 430167 | For embryo incubation |
| 20x EM | | | For a 1 L needed: add 17.5 g NaCl, 0.75 g KCl and 2.9 g CaCl·2H2O; then add 0.41 g KH2PO4, 0.412 g Na2HPO4 anhydrous and 4.9 g MgSO4·7H2O. |
| 1x EM | | | Dilute 20x EM in distilled water |
| AGAROSE G-10 | Gene | 121985 | For preparing the 2% agar plates |
| Trizol Reagent | Invitrogen | 15596-026 | For RNA isolation |
| Meter glass | Shen Bo | 250 ml | For preparing the 2% agar plates |
| Microwave Oven | Midea | M1-211A | For heating the AGAR |
| Tweezer DUMONT#5INOX | World Precision Instrument | 500341 | For dissection |
| Stereomicroscope | Motic | SMZ168 | For dissection |
| Pure water equipment | Millipore | | |
| Ringer's solution | | | For a 1 L needed: Add 6.78 g NaCl, 0.22 g KCl, 0.26 g CaCl2 and 1.19 g Hepes; then fill to 1 L; Adjust pH to 7.2. Sterilize by filtration and keep in an autoclaved clear polycarbonate container. |
| Transfer pipette | Samco | 202, 204 | |
| Metal bath | QiLinbeier | | Model GL-150 |
| Microscope | Leica | M205 FA | For photomicrograph |
| Centrifuge | Eppendorf | 5417R | |
| Micro Scale RNA Isolation Kit | Ambion | AM1931 | For RNA isolation from gonad tissues |
| Dnase I | Sigma | AMPD1-1KT | For DNA digestion in the RNA solution |
| RevertAid First Strand cDNA Synthesis Kit | Thermo Scientific | #K1631 | For first-strand cDNA synthesis |
| Rnase H | Thermo Scientific | #EN0202 | For digesting the residual RNA in the cDNA solution. |
| SYBR Green Realtime PCR Master Mix | TOYOBO | QPK-201 | This product is a Taq DNA polymerase-based 2x master mix for real-time PCR and applicable for intercalation assay with SYBR Green I. |
| Spectrophotometer | Ne Drop | OD-2000+ | Measuring the concentration of the total RNA |
| Mastercycler | Eppendorf | AG 22331 Hamburg | gene expression profiling |