Summary
Her presenterer vi en protokoll for isolering av kjønnskjertelvevet over larve sebrafisk, noe som vil lette undersøkelser av sebrafisk kjønn differensiering og vedlikehold.
Abstract
Selv om vill sebrafisk har en ZZ / ZW sex-bestemmelsessystem har tamme sebrafisk tapt sex kromosomet. De benytter en polygenisk kjønnsbestemmelse system, hvor flere gener fordelt over hele genomet kollektivt bestemme kjønn identiteten til individuelle fisk. Foreløpig genene involvert i regulering gonadeutvikling og hvordan de fungerer fortsatt unnvikende. Normalt isolere kjønnskjertelvevet er det første trinnet for å undersøke kjønns utviklingsprosesser. Her presenterer vi en prosedyre for å isolere gonadal vev fra 17 dpf (dager etter befruktning) og 25 dpf sebrafisk larver. Det isolerte gonadal vev kan deretter undersøkes ved morfologi og genekspresjon profilering.
Introduction
Log in
or
Start trial
to access full content. Learn more about your institution's access to JoVE content
here
Den viktigste kvinnelige kjønns determinant i vilt sebrafisk kromosom 4 er tapt eller endres i temmet sebrafisk (dvs. felles lab stammer) 1. I stedet har de en polygenic kjønnsbestemmelse system ledsaget av miljøfaktorer som temperatur, oksygenmangel, næringstilgang og befolkningstetthet. De detaljerte mekanismer for sebrafisk sex utvikling er ikke fullt ut forstått. Grunnleggende spørsmål slik som når sebrafisk kjønnsbestemmelse finner sted, hva det primære kjønnsbestemmelse signal (er) er / er, og hvilke gener som regulerer det første trinn av gonade transformasjon gjenstår å bli besvart 2, 3.
I prosessen med sebrafisk sex utvikling, har flere viktige stadier blitt gjenkjent. I det tidlige stadium av utviklingen, ved å starte fra 4 HPF (timer etter befruktning) opphave bakterie-celler (PGC) gjennomgå spesifikasjon, migrering til genital mønet ogspredning. PGC tall og gjensidige interaksjoner mellom kjønnsceller og somatiske celler som er viktige for gonade differensiering 4. Ved 13 dpf (dager etter befruktning), gonadene er i udifferensierte trinnet. Ved 17 dpf, gonadene utvikle seg til bi-potensielle eggstokkene hos både fremtidige hunner og hanner. Den apoptose-avhengig overgang fra eggstokk til testis begynne ved 21 til 25 dpf og kan fortsette i flere uker. Med 35 dpf, og kjønn på gonade blitt bestemt og kjønnsspesifikke kjønnscelleproduksjon er i gang i begge eggstokkene og testiklene 5, 6, 7.
Hittil har diverse kandidatgener og mekanismer for kjønnsbestemmelse blitt foreslått. Proteomikk og transcriptomic analyse har isolert mange gener med seksuelt dimorf uttrykk og disse genene er blitt anvendt for å studere sex differensiering i sebrafisk 8, 9, 10. For eksempel, i larvesebrafisk, den cyp19a1a genet er spesifikt uttrykt i eggstokken, men ikke i testiklene 11, 12. I tillegg er AMH gen svakt uttrykt i eggstokkfollikelen granulosa celler, men sterkt i testis Sertolicellene 13. I motsetning til dette er vasa genet uttrykkes kontinuerlig i kjønnsceller både kvinnelig og mannlig sebrafisk, slik at det er en passende gonade markør 14, 15.
Investigating gonadale genekspresjonsnivåer er viktig å forstå den molekylære mekanismen for kjønnsbestemmelse og differensiering, spesielt i den bi-potensialet eggstokk trinn 3, 9. Imidlertid er den lille størrelsen på larvesebrafisk og tilsvarende små gonader kompliserer isoleringen av gonadal vev for ytterligere molekylær analyse. Tidligere studier anvendte dissekert hele stammen område mellom opercula og anal pore 16. Dette preparatet, selv om det inneholder gonader, består av flere vev og organer. Alternativt kan transgene dyr med gonade-spesifikk GFP uttrykk som vasa: ble EGFP anvendt for kjønnskjertelvevet isolert via fluorescens-aktivert cellesortering (FACS) laser og fange mikro disseksjon 17, 18. Men deres utbredt program er begrenset. Her beskriver vi en enkel prosedyre for å isolere gonadal vev fra larvesebrafisk på 17 dpf og 25 dpf. Vi viser posisjonen av gonadene i forhold til andre organer og isolere de morfologisk intakte gonadene fra det omgivende vev. Vi viser videre til gonade-spesifikke gener som vasa og cyp19a1a er sterkt uttrykt i de isolerte gonadene i forhold til stammen vev ved kvantitativ PCR (qPCR) analyse. Den foreliggende protokollen tillater identifisering, isolering, rensing og RNA-amplifikasjon av gonadal spesifikke gener fra larvesebrafisk, for derved å muliggjorde etterfølgende molekylær analyse av gonadal vev 19.
Subscription Required. Please recommend JoVE to your librarian.
Protocol
Log in
or
Start trial
to access full content. Learn more about your institution's access to JoVE content
here
Sebrafisk eksperimenter ble godkjent av Fudan University Institutional Animal Care og bruk Committee. Sebrafisk ble hevet og avlet i henhold til standard prosedyrer 20.
1. Forberedelser
Dyrke 17 dpf og 25 dpf larvesebrafisk

Transfer to mannlige og to kvinnelige voksen sebrafisk (sunt, 3 til 6 måneder gamle, laboratorium AB strain) til en kryssing tank sent på ettermiddagen før krysset dag. Separer hanner og hunner med en barriere. Neste morgen, oppdatere tank vann og fjerne barrieren for å tillate dem å pare seg. Samle egg i 100 mm Petri skåler en til to timer etter befruktning.
Hold omtrent 40 embryoene i en 100 mm skål med 40 ml embryo medium (EM) ved 28,5 ° C i løpet av den tidlige utviklingen perioden (4 dager), og oppdatere den EM to ganger om dagen. Overfør larver til 1 liter beholdere (40 larve til 300 ml vann-system) og mate med levende rotatorier (full forsyning, to ganger om dagen) etter 5 dpf.Mate levende artemia i stedet for rotatorie diett etter 10 dpf. Overfør fisken inn i re-sirkulerende vannsystem ved 14 dpf 21.
Hev larvesebrafisk i den resirkulerende vannsystem til 17 dpf eller 25 dpf. Sikre lys / mørke-syklusen er 14/10 h og pH-verdien av systemet vann er ca. 7,2. Måle kroppslengde på 17 dpf (5,5 til 6,8 mm) og 25 dpf (8 til 11 mm) larver 22.

Fremstille 2% agar-plater for disseksjon.

Tilsett 4 g agar i 200 ml sterilt vann. Varm opp blandingen i en mikrobølgeovn til den blir gjennomsiktig.
Avkjøl agaren løsningen i ca. 15 minutter, deretter helles den i 60 mm diameter Petri-skåler (ca. 1/3 av volumet av platen). Lagre de størknede agar-platene ved 4 ° C.
2. Protokoll 1: Skjær Gonadale Tissue på 17 og 25 dpf Larver
Legg knust is i tanken for å bedøve 17 dpf larver. Overførbedøvet larver til en 100 mm petriskål kjølt med 30 ml kald Ringers løsning. Holde fisken inkubert i kald Ringers løsning i minst 15 minutter for å full bedøve larver.
Overfør larvene til en forhåndskjølt agar-plate med en liten plastskje. Senke hele fiskekroppen i 10 ml kald Ringers løsning og forsiktig la den på høykant.
Gjør følgende operasjoner under synsfelt på 25x stereo mikroskop. Klem fiskekroppen med pinsetter for stabilisering. Rip buken i lengderetningen fra anus til hjertet med en annen pinsett. Fjern forsiktig hud og muskler på den ene side av legemet for å eksponere de indre organer.
Fjern massen av organer ventral til svømmeblæren nøye. Unngå å skade gonade festet til svømmeblæren.
Skjær av forbindelsen mellom svømmeblæren og fremre legeme. Trekk ut hele svømmeblæren og gonadal vev forsiktig.
MERK: I de fleste tilfelles, den kjønnskjertelvevet ved 17 dpf inneholder omgivende epitelvev og protonephridium. De er ikke lett separeres fra hverandre, men ved 25 dpf kan det lett skilles. Den gonade er også koblet til anus. En koplings med venstre og høyre gonade forbundet med hverandre ved anus vil være klart synlig.
Bruk pinsett til del forsiktig gonadal vev fra svømmeblæren og rydde opp i de omkringliggende fettvev.
overfører straks det isolerte kjønnskjertelvevet til en foravkjølt 1,5 ml sentrifugerør inneholdende 200 ul Ringers oppløsning. Holde røret på is inntil alle gonadale vev er adskilt fra larver.
Dissekere gonadene av 25 dpf larver som beskrevet i trinn 2.1 - 2.7.
3. Protokoll 2: Analyser Gene Expression av de isolerte gonadal vev
Utdrag total RNA fra larve gonadale vev.

Overfør de isolerte gonadale vev til en ny RNase-fri en.5 ml rør og fjerne Ringers oppløsning. Tilsett 100 mL lysis løsning. Vortex inntil vevet er fullstendig lysert.
Utfør total RNA utvinning prosedyre i henhold til produsentens instruksjoner.
Legg 1/10 volum av 10 x DNase I-buffer og 1 mL av DNase I til den RNA-løsning og bland forsiktig. Inkuber i 20 minutter ved 37 ° C.
Legg 1/10 volum DNase inaktive reagens til den RNA-oppløsningen. Inkuber i 10 minutter ved 70 ° C. Måle konsentrasjonen av den totale RNA ved anvendelse av et spektrofotometer. Oppbevar ved -20 ° C.

Utføre første-tråd cDNA syntese

Bruke en oligo (dT) -linker primer for å utføre første cDNA-trådsyntese ved fremstilling protokoll. Tilsett 1 til 2 ug av RNA til et totalt reaksjonsvolum på 20 ul.
Inkuber reaksjonsoppløsningen i 90 minutter ved 45 ° C. Avslutte reaksjonen ved oppvarming til 70 ° C i 5 min.
Tilsett 1 pl RNase H til cDNA såfortynningssonen for å fjerne gjenværende RNA. Bland forsiktig og sentrifuger i 10 s på ~ 13.000 x g. Inkuber i 20 minutter ved 37 ° C. Tilsett 20 mL nukleasefritt vann. Oppbevar ved -70 ° C.

Utføre fluorescerende kvantitativ PCR

Utfør qPCR på en cycler system med et fluorescerende fargestoff. Bruke følgende PCR sykkel betingelser: 35 sykluser ved 95 ° C i 15 s, Tm-5 ° C i 15 s, 68 ° C i 30 sek. Bruk primersekvenser som følger: AMH (VS: GTGGATGGCAGCAGTACGAC; rev: GCGGAGAGGTGGAAGAGAGAATG), cyp19a1a (VS: GTCCTGTTGTCTCCTACTGTCG; rev: CATTTGAGTTGAATATGATGCCCTG), nanos3 (VS: GCTCGGTGTACGCCAAATCAACAT; rev: CCAAGTGAAAACACAACACCAGTGC), vasa (VS: ATCGCATAGGAAGAACTGGACGCT; rev: CCAAGTGAAAACACAACACCAGTGC) og β-aktin (VS: AGTGCGACGTGGACATCCGTA; rev: GCACTTCCTGTGGACGATGGA) 19.
Subscription Required. Please recommend JoVE to your librarian.
Representative Results
Log in
or
Start trial
to access full content. Learn more about your institution's access to JoVE content
here
Disseksjoner av gonadene ble utført på AB strain larvesebrafisk. Figur 1 viser et typisk kjønnskjertelvevet over larve sebrafisk ved 17 dpf og 25 dpf. For det første er den hud og musklene på den ene side av magen skåret for å eksponere de indre organer. Etter fjerning av massen av indre organer, svømmeblæren sammen med den gonade forbli i bagasjerommet. Den gonade ble festet til den ventrale side av svømmeblæren (pil i figur 1 B '). På 17 dpf, den gonade var i bi-potensialet eggstokk scenen. Den isolerte gonade inne venstre og høyre gonade og var gjennomskinnelig (figur 1C). I de fleste tilfeller ble det omgitt av epitelvev og protonephridium (pil i figur 1C). Ved 25 dpf den gonade ble ofte pakket inn av adipose vev (Figur 1D). På denne utviklingen stalder, kan enten stor eller liten gonade holdes. Den umodne eggstokk er stor som utviklingen av de sekundære oocytter, og hårsekkceller øke gonade volum (figur 1E). Den umodne testis er liten på grunn av degenerasjon og apoptose av larve eggstokk (figur 1F).
For å analysere de molekylære egenskaper av de isolerte gonadal vev, vi først undersøkt genekspresjonsnivåer av AMH, cyp19a1a, nanos3 og vasa, fire gonade-markører i zebrafisk, etter qPCR. Total RNA ble ekstrahert fra larve gonadale vev (n = 35) ved hjelp av en RNA-isolasjonssett. I tillegg, fjernet vi hode og hale av 17 dpf larve, og anvendes stammen vev (mellom strukturen av hjertet og anal pore) for å ekstrahere RNA som kontrollgruppe (n = 15). Stammen vev inkludert hud, muskel, ben (virvler og ribber), svømmeblære, nyre og gonade. Oligo dT-primed cDNA ble anvendt for qPCR. QPCR Resultatet viste økninger i AMH, cyp19a1a, nanos3 og vasa ekspresjonsnivåene i 17 dpf isolert gonadal vev ved ca. 397, 342, 45 og 170 ganger i henholdsvis (figur 2).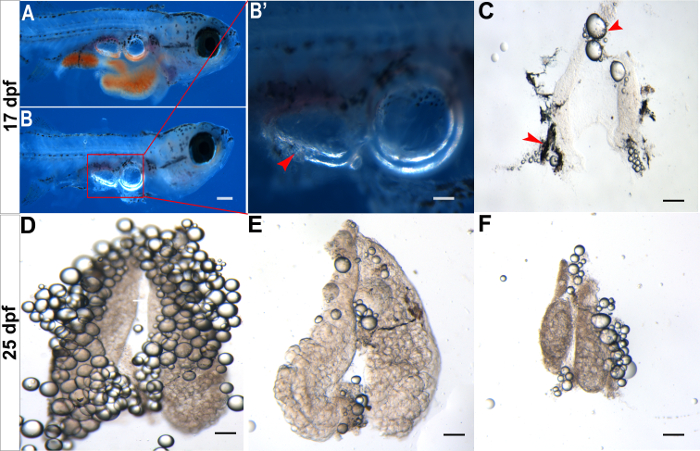 Figur 1. mikrofotografier av Typiske gonadal vev i larvenes Sebrafisk ved 17 dpf og 25 dpf. (A) Rip huden og musklene på den ene side av abdomen for å eksponere de indre organer under et stereomikroskop 25X. (B) Etter fjerning av massen av indre organer, svømmeblæren og den gonade forbli festet til stammen. (B ') Amplified riss av den røde boksen i panel B for å vise den relative stilling av svømmeblæren og gonade. Den gonade er indikert med pilen. (C) Iso lert gonadal vev ved 17 dpf. De sorte vev i bildet (piler) er det endoteliale vev og protonephridium festet til gonade. (DE) En stor gonade- før og etter fjerning av fettvev ved 25 dpf. (F) En liten gonade ved 25 dpf. Skala barer: 200 um. Klikk her for å se en større versjon av dette tallet.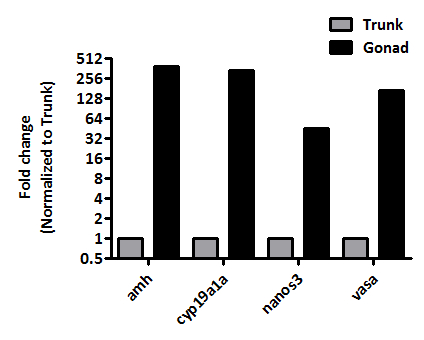 Figur 2. Normaliserte genekspresjonsnivåer av AMH, cyp19ala, nanos3 og vasa i stammer og Isolerte Gonader med 17 dpf. Antall dyr benyttet: kontroll, n = 15; gonade-gruppe, n = 35. Stammen vev i kontrollgruppen er uten hode og hale strukturer. Gonade gruppe refererer til de isolerte gonadale vev./files/ftp_upload/55294/55294fig2large.jpg" target = '_ blank'> Klikk her for å se en større versjon av dette tallet.
Subscription Required. Please recommend JoVE to your librarian.
Discussion
Log in
or
Start trial
to access full content. Learn more about your institution's access to JoVE content
here
Sebrafisk har blitt en kraftig modell og er mye brukt i utvikling og sykdomsrelatert forskning. Fremgangsmåtene for isolering av organer i voksne sebrafisk, slik som hjerne, hjerte, gonade-, og nyre, har blitt godt dokumentert 23, 24, 25. På grunn av den lille størrelsen og dynamisk remodellering av vev i gonadal larvesebrafisk, er isolasjon av kjønnskjertelvevet en krevende oppgave. Tidligere studier benyttet hele dissekert trunk vev eller transgen vasa: EGFP basert cellesortering og laser microdissection for å undersøke larve gonadene 26. Modifikasjonene i kromosom 4 under temming gjør kjønnsbestemmelse en hemmelighet i den tamme sebrafisk. Vår fremgangsmåte som er beskrevet her kan gi forholdsvis rene og begynnelsen av gonade-preparater for ytterligere morfologiske og molekylære undersøkelser, noe som kan være nyttig for å utforske de sex bestemmende mechanisms.
Det er ikke lett å skille utvikle gonade fra andre strukturer på tidlige utviklingsstadier. Vår metode beskriver hvordan du utfører disseksjon. For å kunne utføre denne protokollen, noen kritiske skritt må bli notert. For det første er den vekstbetingelse over larve sebrafisk kritisk for å gi forventede resultater. Den gonadal utvikling av larvesebrafisk er et høyt dynamisk prosess. Størrelsen og utseendet av gonadal vev bestemmes av utviklingsstadier av dyrene 27. Det er viktig å opprettholde ulike grupper av sebrafisk i standardisert tilstand. De faktorer som kan påvirke veksten av larvene omfatter befolkningstetthet, varighet av lys og mørke-sykluser, næringstilgang og mate tidsplaner. Standardlengden måling av fiskelarver kan brukes som en veiledning for å bestemme veksttilstanden til dyrene 22. En annen kritisk faktor for vellykket gonadal vev isolation er en god forståelse av den relative posisjon og morfologiske forskjeller mellom gonadene og omkringliggende vev. Fordi gonade er lokalisert til den ventrale side av svømmeblæren, er det hensiktsmessig først å isolere gonadene sammen med svømmeblæren. I tillegg er den distale ende av gonadene tett festet til den distale ende av tarmen. Så man må være forsiktig når du fjerner gut fra gonade på ytterste ender. For etterfølgende genekspresjon analyse, er det viktig å bruke på forhånd nedkjølte medier og agarskål, og utføre hele prosedyren raskt.
En lignende fremgangsmåte har med hell blitt benyttet av RF Ketting et al. 28. De påføres den gonade isoleringsmetode for å undersøke funksjonen av piRNAs og Piwi sti i 3 uker gamle larver. Her, dissekert vi gonadal vev fra sebrafisk larver så tidlig som 17 dpf for å utforske den molekylære identitet og genekspresjon profil av den utvikledeping sebrafisk gonade. Fremtidige molekylære analyser av den tidligere isolerte gonadal vev kan utføres for å bestemme de transkriptom, methylome og histon acetylerings- mønstre for å belyse de mekanismer som ligger til grunn for sex utvikling i sebrafisk.
Subscription Required. Please recommend JoVE to your librarian.
Disclosures
Forfatterne hevder at de ikke har noen konkurrerende økonomiske interesser.
Acknowledgments
Vi takker C Zhang for fisk omsorg. Dette arbeidet ble støttet av Natural Science Foundation National of China (31171074, 31371099 og 31571067 til GP) og ved Pujiang Talent Project (09PJ1401900 til GP).
Materials
| | | | |
| --- | --- | --- | --- |
| Name | Company | Catalog Number | Comments |
| Cell culture dish 100 mm | Corning | 430167 | For embryo incubation |
| 20x EM | | | For a 1 L needed: add 17.5 g NaCl, 0.75 g KCl and 2.9 g CaCl·2H2O; then add 0.41 g KH2PO4, 0.412 g Na2HPO4 anhydrous and 4.9 g MgSO4·7H2O. |
| 1x EM | | | Dilute 20x EM in distilled water |
| AGAROSE G-10 | Gene | 121985 | For preparing the 2% agar plates |
| Trizol Reagent | Invitrogen | 15596-026 | For RNA isolation |
| Meter glass | Shen Bo | 250 ml | For preparing the 2% agar plates |
| Microwave Oven | Midea | M1-211A | For heating the AGAR |
| Tweezer DUMONT#5INOX | World Precision Instrument | 500341 | For dissection |
| Stereomicroscope | Motic | SMZ168 | For dissection |
| Pure water equipment | Millipore | | |
| Ringer's solution | | | For a 1 L needed: Add 6.78 g NaCl, 0.22 g KCl, 0.26 g CaCl2 and 1.19 g Hepes; then fill to 1 L; Adjust pH to 7.2. Sterilize by filtration and keep in an autoclaved clear polycarbonate container. |
| Transfer pipette | Samco | 202, 204 | |
| Metal bath | QiLinbeier | | Model GL-150 |
| Microscope | Leica | M205 FA | For photomicrograph |
| Centrifuge | Eppendorf | 5417R | |
| Micro Scale RNA Isolation Kit | Ambion | AM1931 | For RNA isolation from gonad tissues |
| Dnase I | Sigma | AMPD1-1KT | For DNA digestion in the RNA solution |
| RevertAid First Strand cDNA Synthesis Kit | Thermo Scientific | #K1631 | For first-strand cDNA synthesis |
| Rnase H | Thermo Scientific | #EN0202 | For digesting the residual RNA in the cDNA solution. |
| SYBR Green Realtime PCR Master Mix | TOYOBO | QPK-201 | This product is a Taq DNA polymerase-based 2x master mix for real-time PCR and applicable for intercalation assay with SYBR Green I. |
| Spectrophotometer | Ne Drop | OD-2000+ | Measuring the concentration of the total RNA |
| Mastercycler | Eppendorf | AG 22331 Hamburg | gene expression profiling |