Summary
Knock-down gen ekspresyonu için bir virüs kaynaklı gen susturulması (VIGS) yöntemi Tanımı
Abstract
RNA enterferans (RNAi) dsRNA 1 tarafından tetiklenen son derece özel bir gen susturulması olgudur . MicroRNA, non-protein kodlayan genlerin ve kısa müdahale RNA'lar (siRNA) üretilmektedir: Bu susturma mekanizması RNA düzenleyiciler iki ana sınıfları kullanır. Tesisleri transpozonlar kontrol etmek ve çiçek organ oluşumu ve yaprak gelişimi 2,3,4 gibi gelişim süreçleri üzerinde sıkı bir denetim uygulamak için RNAi. Bitkiler de virüsler tarafından enfeksiyona karşı kendilerini savunmak için RNAi kullanabilirsiniz. Sonuç olarak, birçok virüs, ev sahibi 5 başarılı kolonizasyon izin susturma gen bastırıcılarının evrildi .
Virüs indüklenen gen susturulması (VIGS) bitki RNAi aracılı antiviral savunma mekanizması yararlanan bir yöntemdir. Değiştirilmemiş virüsleri ile enfekte olmuş bitkilerde mekanizması, özellikle viral genom karşı hedeflenmektedir. Ancak, ana genlerden kaynaklanan dizileri taşıyan virüs vektörleri, süreci ek karşılık gelen ana mRNA'ların karşı hedef olabilir. Plazmid Ti, tamamını ya da susturulması için hedeflenen gen dizisinin parçası taşıyan rekombinant virüs yoluyla VIGS teslim bitki patojen Agrobacterium tumefaciens kullanılarak bitkilerde yüksek verim fonksiyonel genomik için adapte edilmiştir. Sistemik virüs yaymak ve endojen bitki RNAi makine geri kalanının özen gösterin. hedef gen ilgili dsRNAs uzunluğu 21 ila 24 nükleotidler siRNA'lar içine Ribonükleaz Dicer tarafından üretilen ve sonra parçalanır. Bu siRNA'lar sonuçta hedef transkript 2 düşmeye RNA-indüklenmiş susturma kompleksi (RISC), rehberlik eder.
Farklı vektörleri VIGS istihdam edilmiş ve en sık kullanılan bir tütün çıngırak virüsü (TRV) dayanmaktadır. TRV, iki taraflı bir virüs olup, iki farklı A. tumefaciens suşları VIGS için kullanılır. Bir kat protein ve VIGS 6,7 için kullanılan sırasını, pTRV2, diğer limanlarda ise çoğaltma ve hareket viral fonksiyonları kodlar pTRV1 taşır. Aşılama Nicotiana benthamiana ve gen susturulması suşları sonuçları hem bir karışımı ile domates fideleri. Photobleaching neden endojen phytoene desaturaz (PDS) gen, susturma VIGS verimliliği için bir kontrol olarak kullanılır. Ancak, belirtmek gerekir ki, bu susturma domates genellikle N. daha az verimli benthamiana. Ilgi genin RNA transkript bolluğu her zaman hedef gen verimli down-regüle edildiğini sağlamak için ölçülmelidir. N. Bununla birlikte, heterolog gen dizileri benthamiana domates ve tam tersi 8 kendi orthologs susturmak için kullanılabilir.
Protocol
Bölüm 1: Bitki materyali
N. benthamiana susturmak için kullanılan bitkiler yaklaşık 2 ½ olmalıdır hafta eski kotiledonlarında ve ilk 2 - 4 gerçek yaprakları ortaya çıkmıştır. 8 gün sonra ortaya çıkması, gerçek yaprakları henüz görünürde yoktur - Domates (Solanum lycopersicum) bitkiler 7 kullanılır .
Bölüm 2: VIGS
1. GÜN
Her deney için, 50 mg / ml kanamisin ve 100 mikrogram / ​​mL rifampisin ile desteklenmiş LB agar plaklarına pTRV1 barındıran Agrobacterium tumefaciens, pTRV2, pTRV2-PDS ve pTRV2-host hedef geni yetiştirilmektedir. Rifampisin Agrobacterium için kanamisin pTRV plazmid için seçer. Plaka, 2 gün boyunca 30 ° C'de inkübe edin.
PDS susturma photobleach bitkiler neden olur ve susturulması etkinliğini kontrol olarak kullanılır. Ayrıca, bir pTRV2 vektör içine downregüle olması genleri klonlanmış olmalıdır. Klonlama kolaylaştıracak bir Gateway uyumlu pTRV2 vektör ve Liu ve ark tarafından açıklanmıştır. (2002).
3. GÜN
Suşlarının her biri için yukarıda belirtilen antibiyotikler ile 3 ml LB sıvı kültür - 2 İnokülasyon. 16 - 18 saat ve 200 rpm, 30 ° C'de sallayarak inkübe
4. GÜN
Kanamisin, rifampisin ve 200 mcM acetosyringone (Tablo 1, 2 ve 3) ile ikincil bir sıvı İndüksiyon Medya (IM) Sohbet kültür birincil kültürü 25 seyreltme: 1 inoküle edin. Acetosyringone bir sohbet ortamı ev sahibi apoplast bu patojen karşılaştığında taklit ederken bitki 9 T-DNA transferi için gerekli olan Agrobacterium vir genlerin indükleyicisi olarak kullanılır. 30 ° C'de 20 sallayarak inkübe - 24 saat ve 200 rpm
5. GÜN
3000 x g. az 10 dakika süreyle centrifugating hücrelerin Hasat Orijinal kültür, 10 mM MgCl 2, 10 mM (MES), pH 5.5 ile aynı hacim içinde süspanse edin . Hücreler nazikçe onları tekrar süspansiyon vortekslenmiş olabilir.
3000 x g. az 10 dakika için tekrar hücreleri Centrifugue Orijinal kültür yarım hacmi 10 mM MgCl2, 10 mM MES pH = 5.5 ile tekrar
Her bir bakteri kültürü için bir OD 0.3 600 bakteriyel bir süspansiyon hazırlayın . PTRV1 kültürüne 400 mcM nihai konsantrasyonu acetosyringone ekleyin.
PTRV1 ve 1'e 1 oranında (ya da ilgi gen içeren pTRV2) pTRV2 içeren kültürlerin karıştırın. Ayrıca bir pTRV2-PDS kontrol içerir. Nihai acetosyringone konsantrasyonu 200 mcM ve her kültürün 0,15 OD 600 olduğunu lütfen unutmayınız.
Etiket susturuldu gen ve deney tarihi ile infiltre fide.
Her yaprak bir iğne ile infiltre içine bir delik Poke. Bakteriyel süspansiyon fide içine sızmak için 1 ml gereksiz şırınga kullanın. N. ise domates, iki kotiledonlarında sızmak benthamiana, en büyük iki gerçek yaprak sızmak. Beş mL her bir bakteri karışımı 15 N. sızmak için yeterli olacaktır benthamiana ve 25 domates fideleri. Ve aşılama sonraki güne kadar bitkilerin sulanması infiltrasyonlar arasında değişen eldivenler tarafından çapraz kontaminasyon kaçının.
Bitkiler 20 tutulur - 22 ° C 16 saatlik gün uzunluğu ve deneyleri için kullanılan olabilir önce en az 3 ½ hafta RH% 50 bir büyüme odasında.
Bölüm 3: Temsilci sonuçları
Şekil 1, N. ile temsil eden bir deney gösterir benthamiana ve domates bitkileri PDS susturuldu. Bitkiler azalmış miktarda karotenoid bitkilerde görülen karakteristik photobleaching fenotip göstermektedir. PDS sessiz kontrol bitkiler için photobleaching başlar, kısa sürede 1 olarak görülebilir ½ hafta infiltrasyon sonra.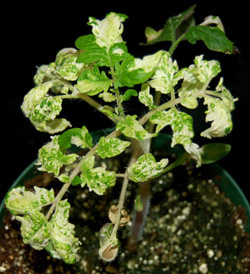 Şekil 1 PDS kontrol gen susturma N. benthamiana (A) ve domates (B) bitkiler photobleaching neden olur. Fotoğraflar susturulması 3 ½ hafta sonra alındı.
Tablo 1: İndüksiyon Orta (IM) hazırlanması.
| | |
| --- | --- |
| 400 mL | distile H 2 O |
| 4.88 g | MES (2 - (4 morfolino)-etan, propan sülfonik asit) |
| 2.5 g | Glikoz |
| 0.12 g | NaH 2 PO 4 |
DH 2 O son hacim 475 mL getirin ve 5.6 pH ayarlamak. Otoklav. Orta soğuduktan sonra, 25 ml 20X AB tuzları ekleyin.
Tablo 2. AB tuzları hazırlanması.
| | |
| --- | --- |
| 20 g | NH 4 Cl |
| 6 g | MgSO 4 · 7H 2 O |
| 3 g | KCl |
| 0.2 g | CaCl 2 |
| 0.05 g | FeSO 4 · 7H 2 O |
1 litre saf su ile son hacim kazandırın. Otoklav. AB tuzları turuncu bir toz olarak hızlandırabilir farkında olun. Sadece kendi kullanmadan önce dönen iyice karıştırın.
Tablo 3. 200 mM Acetosyringone hazırlanması. Acetosyringone kullanılacak günlük hazırlanması gerektiğini lütfen unutmayınız.
| | |
| --- | --- |
| 19.6 mg | Acetosyringone (3 ', 5'-dimetoksi-4'-hydroxyacetophenone) |
| 500 mcL | DMSO (Dimetil sülfoksit) |
Subscription Required. Please recommend JoVE to your librarian.
Discussion
Virüs indüklenen gen susturma, hızlı bir şekilde ters genetik ekranlar veren bir yöntem. T-DNA veya Arabidopsis ve mısır gibi bazı bitkiler mevcuttur transpozon aracılı gen knock-çıkışları, üretimi önler. Ayrıca bitki dönüşüm zaman alıcı bir süreç circumvents ve yeterli homoloji 10 ya da susturulması vektör 6, 11 farklı ana hedef dizileri tandem düzenlenmiş olması kaydıyla, aynı anda birden fazla genin hedef sağlar.
Ancak, susturulması hiçbir zaman 100% verimli ve sonuçları yorumlarken bu nedenle dikkatli olunmalıdır. Negatif bir sonuç, sadece kalıntı protein konsantrasyonu belirgin fenotipik sonuçları olmadan işlevini yürütmek için yeterli olduğunu gösteriyor olabilir. Ayrıca, bu her zaman, her gen susturma yapıları oluşturmak için en az iki farklı mRNA bölgelerde kullanmak için tavsiye edilir bazı yapıları diğerlerinden daha susturma iyi. Ayrıca off-hedef sessizliğini olasılığı, geçişli susturulması neden olabilir ikincil siRNA'lar, susturulması inşa veya bir genin yeterli homoloji varsa, her zaman 12 üretilmektedir . Bu gen aileler için özellikle geçerlidir. RT-PCR veya Northern blot analizleri ya da bu nedenle, hedef ve off-hedef genlerin susturulması verimliliğini ölçmek için büyük önem taşımaktadır. RT-PCR VIGS verimliliğini tahmin etmek için yöntem olarak seçilirse, primerlerin bir virüs tarafından üretilen transkript de amplifiye ve sonuçları gerçekten dowregulation yansıtmak olduğunu susturmak için hedef bölge dışında gen tavlama belirli bir endojen gen.
VIGS verimlilik her zaman daha N. benthamiana domates daha. Bu nedenle domates fideleri susturma, dikkatli alınmalıdır. Domates, doğru bitki gelişim aşamasında seçin ve viral yayılması için uygun çevre koşullarını sağlamak için kritik öneme sahiptir. Ayrıca, gen transkript bolluk çalışma kapsamında her bir tesis için yapılmalıdır. Buna ek olarak, genellikle domates VIGS, A. tumefaciens gerginlik N. GV3101 süre. benthamiana GV3101 veya GV2260 ya 6,13 kullanılır. Başka bir türe heterolog sıra istihdam, ikisi arasında yeterli homoloji olması koşuluyla bir gen susturması için mümkündür. Ayrıca, bir pTRV2 hedef gen vektör oluşturarak zaman, insert uzunlukları 200 ile 1000 bp aralığında olmalı ve onlar homopolymeric bölgelerde (örneğin poli kuyrukları) 14 içermemelidir.
Ilgi genlere sahip pTRV2 taşıyan kültürler PDS ile kontamine hale gelirse, bazen hiçbir photobleaching görülecektir. Bunun yerine, bitkiler kısa boylu olacaktır. Bu nedenle, deney sırasında herhangi bir çapraz kontaminasyon kaynakları en aza indirmek için kritik potansiyel önyargı sonuçları olabilir.
Subscription Required. Please recommend JoVE to your librarian.
Acknowledgments
Dr. Patricia Manosalva yazının onu değerli bilgiler için teşekkür ederim. Finansman Ulusal Bilim Vakfı Bitki Genom Programı, ödül sayısı DBI-0605059 tarafından sağlandı.