Summary
Beschrijving van een virus-geïnduceerde gen silencing (VIGS) methode voor de knock-down van genexpressie in
Abstract
RNA-interferentie (RNAi) is een zeer specifiek gen-silencing fenomeen veroorzaakt door een dsRNA. Dit zwijgen op te leggen mechanisme maakt gebruik van twee grote klassen van RNA toezichthouders: microRNA's, die geproduceerd worden uit niet-eiwit-coderende genen en short interfering RNA's (siRNA's). Planten gebruiken RNAi om transposons controle en strakke controle over ontwikkelingsprocessen zoals bloem orgel vorming en de bladontwikkeling 2,3,4 uit te oefenen. Planten ook gebruik maken van RNAi om zichzelf te verdedigen tegen infecties door virussen. Bijgevolg hebben veel virussen geëvolueerd onderdrukkers van gene silencing om hun succesvolle kolonisatie van hun gastheer 5 mogelijk te maken.
Virus-geïnduceerde gen silencing (VIGS) is een methode die gebruik maakt van de plant RNAi-gemedieerde antiviraal verdedigingsmechanisme. Bij planten die besmet zijn met niet-gemodificeerde virussen het mechanisme is specifiek gericht tegen het virale genoom. Echter, met virus vectoren die sequenties afgeleid van gastheer genen, kan het proces bovendien gericht tegen de corresponderende gastheer mRNA's. VIGS is aangepast voor high-throughput functionele genomica in planten met behulp van de plant pathogeen Agrobacterium tumefaciens te leveren, via de Ti-plasmide, een recombinant virus dragen van de gehele of een deel van de gensequentie gericht op zwijgen. Systemische verspreiding van het virus en de endogene plant RNAi machines zorgen voor de rest. dsRNA's die overeenkomen met de target-gen worden geproduceerd en vervolgens gesplitst door de ribonuclease Dicer in siRNA's van 21 tot 24 nucleotiden in lengte. Deze siRNA's uiteindelijk leiden de RNA-silencing geïnduceerde complex (RISC) om het doel transcript twee degraderen.
Verschillende vectoren zijn tewerkgesteld in VIGS en een van de meest gebruikte is gebaseerd op tabak rammelaar virus (TRV). TRV is een tweedelig virus en als zodanig, twee verschillende A. tumefaciens stammen worden gebruikt voor VIGS. Een draagt ​​pTRV1, die de replicatie en beweging virale functies codeert, terwijl de andere, pTRV2, havens de vacht eiwit en de sequentie die wordt gebruikt voor de VIGS 6,7. Inoculatie van Nicotiana benthamiana en tomaat zaailingen met een mengsel van beide stammen resulteert in een gen-silencing. Monddood maken van de endogene phytoene desaturase (PDS)-gen, waardoor fotobleken, wordt gebruikt als een controle voor VIGS efficiency. Hierbij moet echter worden opgemerkt, dat de silencing in tomaat is meestal minder efficiënt dan in N. benthamiana. RNA transcript overvloed van het gen van belang moet altijd worden gemeten om ervoor te zorgen dat de doelstelling-gen efficiënt is down-gereguleerd. Toch heterologe gen-sequenties uit N. benthamiana kan worden gebruikt om hun respectievelijke orthologen stilte in tomaat en vice versa 8.
Protocol
Deel 1: Plant-materiaal
N. benthamiana planten die voor silencing moet ongeveer 2 ½ week oud is het tijdstip waarop de zaadlobben en de eerste 2 - 4 Juist bladeren ontstaan. Tomaat (Solanum lycopersicum) planten worden gebruikt 7 - 8 dagen na opkomst, wanneer de ware bladeren nog niet verschenen.
Deel 2: VIGS
DAG 1
Voor elk experiment, zijn Agrobacterium tumefaciens koesteren pTRV1, pTRV2, pTRV2-PDS en pTRV2-host target-gen gekweekt op LB agar platen aangevuld met 50 ug / ml kanamycine en 100 ug / ml rifampicine. De kanamycine kiest voor de pTRV plasmide, terwijl de rifampicine doet dat voor de Agrobacterium. Incubeer de plaat bij 30 ° C gedurende 2 dagen.
Silencing van PDS zorgt ervoor dat de planten te photobleach en wordt gebruikt als een zwijgen efficiency controle. Ook moet de genen te neerwaarts worden gekloneerd in een vector pTRV2. Er is een Gateway-compatibele pTRV2 vector die het klonen kunnen vergemakkelijken en wordt beschreven door Liu et al.. (2002).
DAG 3
Inoculeren een 2 - 3 ml vloeibare cultuur van LB met de bovengenoemde antibiotica voor elk van de stammen. Incubeer door schudden bij 30 ° C gedurende 16 - 18 uur en 200 rpm
DAG 4
Inoculeren een 1: 25 verdunning van de primaire cultuur in een secundaire vloeistof Inductie Media (IM) IM cultuur met kanamycine, rifampicine en 200 uM acetosyringone (tabellen 1, 2 en 3). De acetosyringone wordt gebruikt als een inductor van de vir genen van Agrobacterium die nodig zijn voor T-DNA overdracht naar de plant 9, terwijl de IM bootst de omgeving deze ziekteverwekker ontmoetingen in de gastheer apoplast. Incubeer door schudden bij 30 ° C gedurende 20 - 24 uur en 200 rpm
DAG 5
Oogst de cellen door centrifugating gedurende 10 minuten bij 3000 x g. Resuspendeer in hetzelfde volume dat de oorspronkelijke cultuur had met 10 mM MgCl2, 10 mM MES pH 5,5. Cellen kunnen voorzichtig worden gevortexed om ze te mengen.
Weer Centrifugue de cellen gedurende 10 minuten bij 3000 x g. Resuspendeer in de helft van het volume van de oorspronkelijke cultuur met 10 mM MgCl2, 10 mM MES pH 5,5.
Bereid een bacteriële suspensie met een OD 600 van 0,3 voor elke bacteriële cultuur. Voeg acetosyringone tot een uiteindelijke concentratie van 400 uM aan de pTRV1 cultuur.
Meng de culturen die de pTRV1 en de pTRV2 (of de pTRV2 met het gen van belang) in een 1 op 1 ratio. Ook een pTRV2-PDS controle. Houdt u er rekening mee dat de uiteindelijke acetosyringone concentratie nu is 200 micrometer en dat elke cultuur is op een OD 600 van 0,15.
Label de zaailingen te worden geïnfiltreerd met het gen tot zwijgen worden gebracht en de datum van het experiment.
Poke een gat in elk blad te worden geïnfiltreerd met een naald. Gebruik een 1 ml spuit onnodig om de bacteriële suspensie infiltreren in de zaailingen. Voor tomaat, infiltreren zowel zaadlobben terwijl voor N. benthamiana, infiltreren de grootste twee echte bladeren. Vijf mL van elke bacteriële mengsel moet voldoende zijn om 15 N. infiltreren benthamiana en 25 tomaat zaailingen. Voorkom kruisbesmetting door het veranderen van handschoenen tussen infiltraties en door niet de planten water geven tot de volgende dag na de inenting.
De planten worden bewaard bij 20 - 22 ° C in een kamer met een groei van 16 uur daglengte en 50% RV gedurende minstens 3 ½ week voordat ze kan worden gebruikt voor tests.
Deel 3: Representatieve resultaten
Figuur 1 toont een representatief experiment met N. benthamiana en tomatenplanten zwijgen voor PDS. Planten tonen de karakteristieke fotobleken fenotype waargenomen in planten met verminderde hoeveelheden carotenoïden. Voor de PDS-zwijgen controle planten, photobleaching begint zodra een te zien is ½ weken na de infiltratie.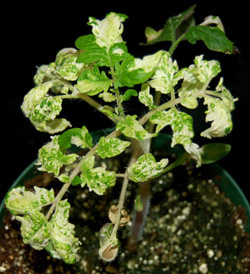 Figuur 1. Monddood maken van de PDS-controle-gen veroorzaakt fotobleken in N. benthamiana (A) en tomaat (B) planten. Foto's werden genomen 3 ½ weken na het zwijgen op te leggen.
Tabel 1. Voorbereiding van de Inductie Medium (IM).
| | |
| --- | --- |
| 400 ml | gedestilleerd H 2 O |
| 4,88 g | MES (2 - (4 morfolino)-ethaan sulfonzuur) |
| 2,5 g | Glucose |
| 0,12 g | NaH 2 PO 4 |
Breng aan een uiteindelijk volume van 475 ml met dH 2 O en breng de pH op 5,6. Autoclaaf. Nadat het medium is afgekoeld, voeg 25 ml 20X AB zouten.
Tabel 2. Voorbereiding van AB zouten.
| | |
| --- | --- |
| 20 g | NH 4 Cl |
| 6 g | MgSO 4 · 7H 2 O |
| 3 g | KCl |
| 0,2 g | CaCl 2 |
| 0,05 g | FeSO 4 · 7H 2 O |
Breng aan een eindvolume van 1 liter met gedestilleerd water. Autoclaaf. Wees ervan bewust dat AB zouten neerslaan als een oranje poeder. Gewoon goed meng ze door werveling voor het gebruik ervan.
Tabel 3. Voorbereiding van 200 mM Acetosyringone. Houdt u er rekening mee dat acetosyringone moet de dag dat het zal worden gebruikt worden voorbereid.
| | |
| --- | --- |
| 19,6 mg | Acetosyringone (3 ', 5'-Dimethoxy-4'-hydroxyacetofenon) |
| 500 pL | DMSO (dimethyl sulfoxide) |
Subscription Required. Please recommend JoVE to your librarian.
Discussion
Virus-geïnduceerde gene silencing is een methode die snel omgekeerde genetische screens mogelijk maakt. Het vermijdt de generatie van T-DNA of transposon gemedieerde gen knock-outs, die alleen beschikbaar zijn in bepaalde planten zoals Arabidopsis en maïs. Het omzeilt ook de tijdrovende proces van plant transformatie en maakt de gerichtheid van meerdere genen op hetzelfde moment, op voorwaarde dat ze voldoende homologie 10 of dat andere host doelsequenties zijn gerangschikt in tandem in het zwijgen op te leggen vector 6, 11 te hebben.
Maar zwijgen is nooit 100% efficiënt is en daarom, zorg moet worden genomen bij het interpreteren van resultaten. Een negatief resultaat kan alleen maar aangeven dat het resterende eiwit concentratie was voldoende om het uitvoeren van zijn functie zonder duidelijke fenotypische gevolgen. Ook sommige constructies zijn beter in het zwijgen op te leggen dan anderen dus het is altijd raadzaam om ten minste twee verschillende mRNA's gebruiken om de zwijgen constructen voor elk gen te genereren. Verder is er altijd de mogelijkheid van off-target zwijgen op te leggen indien er voldoende homologie van een gen met uw silencing te bouwen of als secundaire siRNA, die transitief zwijgen kunnen veroorzaken, worden geproduceerd 12. Dit geldt vooral voor gen-families. Het is daarom van het grootste belang te kwantificeren van de zwijgen efficiëntie van uw doelgroep en off-target genen, hetzij door RT-PCR of Northern blot analyses. Als RT-PCR is gekozen als de methode om VIGS efficiëntie schatten, moet een van de primers gloeien om het gen buiten de regio gericht op zwijgen, zodat het transcript wordt geproduceerd door het virus niet is versterkt en de resultaten echt weerspiegelen de dowregulation van een bepaalde endogene gen.
VIGS efficiëntie is altijd groter in N. benthamiana dan in tomaat. Daarom moet voorzichtigheid worden genomen bij het zwijgen op te leggen tomaat zaailingen. In tomaat is het essentieel om de juiste plant ontwikkelingsstadium te kiezen en de juiste omgevingscondities voor virale verspreiding te houden. Ook moet gen-transcriptie overvloed worden uitgevoerd voor elke plant in studie. Daarnaast, meestal in tomaat VIGS, de A. tumefaciens stam GV3101 terwijl in N. benthamiana ofwel GV3101 of GV2260 worden gebruikt 6,13. Het is mogelijk om de stilte een gen gebruik een heterologe sequentie van een andere soort, op voorwaarde dat er voldoende homologie tussen de twee. Ook bij de opbouw van een pTRV2-target-gen vector, moet insert lengtes in het bereik van 200 tot 1000 bp en ze mogen geen homopolymere regio's (bijvoorbeeld poly A staart) 14.
Als de culturen die pTRV2 met de genen van belang raken besmet met PDS, soms niet fotobleken in acht worden genomen. In plaats daarvan zal planten hebben een kortere lengte. Daarom is het van cruciaal belang voor alle bronnen van kruisbesmetting te minimaliseren tijdens het experiment, dat zou kunnen vooroordelen uw resultaten.
Subscription Required. Please recommend JoVE to your librarian.
Acknowledgments
Wij danken dr. Patricia Manosalva voor haar waardevolle inzichten op het manuscript. De financiering werd verstrekt door de National Science Foundation Plant Genome Program, award aantal DBI-0605059.