Summary
Beskrivning av ett virus-inducerad geners uttryck (VIGS) metod för knock-down av genuttryck i
Abstract
RNA-interferens (RNAi) är en mycket specifik gen-tystas fenomen som utlöses av dsRNA 1. Denna tysta mekanism använder två större grupper av RNA regulatorer: mikroRNA, som är producerad från icke-protein-kodande gener och korta interfererande RNA (siRNA). Växter använder RNAi för att styra transposoner och att utöva sträng kontroll över utvecklingsprocesser som blomman organ bildas och löv utveckling 2,3,4. Växter använder också RNAi att försvara sig mot infektioner av virus. Därför har många virus utvecklats dämpning av geners uttryck för att deras framgångsrika kolonisation av sin värd 5.
Virus-inducerad geners uttryck (VIGS) är en metod som utnyttjar anläggningen RNAi-medierad antivirala försvarsmekanism. I anläggningar infekterade med omodifierade virus mekanismen är specifikt riktade mot virala genomet. Men med virus vektorer bära sekvenser från värd gener kan processen dessutom vara riktat mot motsvarande mängd mRNA. VIGS har anpassats för hög genomströmning funktionsgenomik i växter med hjälp av växtpatogen Agrobacterium tumefaciens att leverera via sitt Ti plasmiden, ett rekombinant virus bär hela eller delar av gensekvens riktade för att tysta. Systemisk virusets spridning och den endogena anläggningen RNAi maskiner tar hand om resten. dsRNAs motsvarande målgenen produceras och sedan klyvs av ribonukleas Dicer in siRNA i 21 till 24 nukleotider långa. Dessa siRNA guide slutändan RNA-inducerad tysta komplex (RISC) för att bryta ned målet avskriften 2.
Olika vektorer har varit anställd i VIGS och en av de mest använda är baserad på tobak skallra virus (TRV). TRV är ett tvåparts virus och som sådan, två olika A. tumefaciens stammar används för VIGS. Man bär pTRV1, som kodar replikering och rörelse virus funktioner medan den andra, pTRV2, hamnar pälsen protein och ordningsföljden för VIGS 6,7. Inympning av Nicotiana benthamiana och plantor tomat med en blandning av båda stammarna resultat i geners uttryck. Tysta den endogena phytoene desaturase (PDS) genen, som orsakar fotoblekning, används som en kontroll för VIGS effektivitet. Det bör dock noteras att tysta i tomat vanligen är mindre effektiv än i N. benthamiana. RNA avskrift överflöd av genen av intresse ska alltid mätas för att säkerställa att målgenen effektivt har varit nere reglerade. Ändå heterologa gensekvenser från N. benthamiana kan användas för att tysta sina respektive Orthologs i tomat och vice versa 8.
Protocol
Del 1: växtmaterial
N. benthamiana växter som används för att tysta bör vara cirka 2 ½ veckor vilket är den tid då hjärtbladen och det första 2 till 4 äkta blad har dykt upp. Tomat (Solanum lycopersicum) växter använt 7 - 8 dagar efter uppkomst, då sanna bladen ännu inte dykt upp.
Del 2: VIGS
DAG 1
För varje experiment är Agrobacterium tumefaciens hyser pTRV1, pTRV2, pTRV2-PDS och pTRV2-host målgenen odlas på plattor LB agar kompletteras med 50 mikrogram / ​​ml kanamycin och 100 mikrogram / ​​ml av rifampicin. Den kanamycin väljer för pTRV plasmiden medan rifampicin gör det för att Agrobacterium. Inkubera plattan vid 30 ° C i 2 dagar.
Tysta PDS gör att växter till photobleach och används som en ljuddämpande effektivitet kontroll. Dessutom måste de gener som ska downregulated klonas in i en pTRV2 vektor. Det finns en gateway kompatibel pTRV2 vektor som kan underlätta kloning och beskrivs av Liu et al. (2002).
DAG 3
Inokulera en 2 - 3 ml flytande kultur LB med ovan nämnda antibiotika för var och en av stammarna. Inkubera genom att skaka vid 30 ° C för 16 - 18 timmar och 200 rpm
DAG 4
Inokulera en 1: 25 spädning av den primära kultur i en sekundär vätska Induktion Media (IM) IM kultur med kanamycin, rifampicin och 200 mikroM acetosyringone (tabellerna 1, 2 och 3). Den acetosyringone används som en inducerare av vir gener från Agrobacterium som krävs för T-DNA överförs till växten 9 medan IM härmar miljön denna patogen möten i den mottagande apoplast. Inkubera genom att skaka vid 30 ° C i 20 - 24 timmar och 200 rpm
DAG 5
Harvest cellerna genom centrifugating i 10 minuter vid 3000 x g. Resuspendera i samma volym som den ursprungliga kulturen hade med 10 mM MgCl 2, 10 mm MES pH 5,5. Celler kan vara försiktigt vortexed att återsuspendera dem.
Centrifugue cellerna igen i 10 minuter vid 3000 x g. Resuspendera i halva volymen av den ursprungliga kulturen med 10 mM MgCl2, 10 mm MES pH 5,5.
Förbered en bakteriesuspension med en OD 600 på 0,3 för varje bakteriekultur. Lägg acetosyringone till en slutlig koncentration av 400 mikroM till pTRV1 kulturen.
Blanda de kulturer som innehåller pTRV1 och pTRV2 (eller pTRV2 innehåller genen av intresse) i en 1 till 1 ratio. Också innehålla en pTRV2-PDS kontroll. Observera att den slutliga acetosyringone koncentrationen är nu 200 mikroM och att varje kultur är en OD 600 på 0,15.
Märk plantor vara infiltrerade med genen som ska tystas och dagen för experimentet.
Peta ett hål i varje blad att vara infiltrerade med en nål. Använd en 1 ml onödig spruta för att infiltrera bakteriesuspensionen i plantorna. För tomat, infiltrera både hjärtbladen medan N. benthamiana, infiltrera de största två sanna blad. Fem ml av varje bakteriella blandning borde räcka för att infiltrera 15 N. benthamiana och 25 plantor tomat. Undvik korskontamination genom att byta handskar mellan infiltrationer och genom att inte vattna växterna till nästa dag efter ympningen.
Plantorna hålls vid 20 - 22 ° C i en tillväxt kammare med en 16 timmars arbetsdag längd och 50% RH i minst 3 ½ vecka innan de kan användas för analyser.
Del 3: representativa resultat
Figur 1 visar en representativ experimentera med N. benthamiana och tomatplantor tystas för PDS. Växter visar den karakteristiska fotoblekning fenotypen observerats i anläggningar med minskade mängder av karotenoider. För PDS tystas kontroll växter, fotoblekning börjar ses som snart 1 ½ vecka efter infiltration.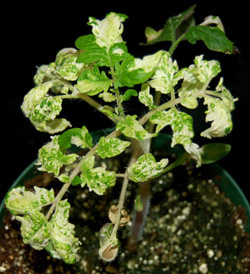 Figur 1. Tysta PDS kontroll genen orsakar fotoblekning i N. benthamiana (A) och tomat (B) växter. Fotografier togs 3 ½ veckor efter tysta.
Tabell 1. Beredning av induktion Medium (IM).
| | |
| --- | --- |
| 400 ml | destillerat H 2 O |
| 4,88 g | MES (2 - (4 morpholino)-etan sulfonsyra) |
| 2,5 g | Glukos |
| 0,12 g | NaH 2 PO 4 |
Ta till en slutlig volym av 475 ml med dH 2 O och justera pH till 5,6. Autoklav. När mediet har svalnat, tillsätt 25 ml 20X AB salter.
Tabell 2. Förberedelse av AB salter.
| | |
| --- | --- |
| 20 g | NH 4 Cl |
| 6 g | MgSO 4 · 7H 2 O |
| 3 g | KCl |
| 0,2 g | CaCl 2 |
| 0,05 g | FeSO 4 · 7H 2 O |
Ta till en slutlig volym på 1 liter med destillerat vatten. Autoklav. Var medveten om att AB salter fälls som ett orange pulver. Bara blanda dem väl genom att snurra innan de får användas.
Tabell 3. Förberedelse av 200 mm Acetosyringone. Observera att acetosyringone bör vara förberedda den dag det kommer att användas.
| | |
| --- | --- |
| 19,6 mg | Acetosyringone (3 ', 5'-Dimethoxy-4'-hydroxyacetophenone) |
| 500 mikroliter | DMSO (Dimetylsulfoxid) |
Subscription Required. Please recommend JoVE to your librarian.
Discussion
Virus-inducerad geners uttryck är en metod som möjliggör snabb vända genetiska skärmar. Man undviker den generation av T-DNA eller transposon medierad gen knock-outs, som bara finns i vissa växter som Arabidopsis och majs. Det kringgår också den tidskrävande process av växt-omvandling och gör att inriktningen av flera gener samtidigt, förutsatt att de har tillräckligt med homologi 10 eller att annan värd mål sekvenser är arrangerade parallellt i tysta vektor 6, 11.
Dock är tysta aldrig 100% effektiva och därför måste man vara försiktig när man tolkar resultaten. Ett negativt resultat kan helt enkelt tyda på att den återstående proteinkoncentration var tillräckligt för att utföra sin funktion utan uppenbara fenotypiska konsekvenser. En del konstruktioner är bättre på att tysta än andra så det är alltid tillrådligt att använda minst två olika mRNA regioner för att skapa tysta konstruktioner för varje gen. Dessutom finns alltid möjligheten att off-mål tysta om det finns tillräckligt med homologi av en gen med din tysta konstruera eller om sekundär siRNA, som kan orsaka transitiv tysta, produceras 12. Detta gäller särskilt för gen familjer. Det är därför av yttersta vikt att kvantifiera tysta effektiviteten i din målgrupp och off-mål gener, antingen genom RT-PCR eller norra analyser blot. Om RT-PCR är vald som metod för att uppskatta VIGS effektivitet bör en av primers glödga med den gen utanför regionen riktade för att tysta så att utskriften produceras av viruset inte också förstärks och resultatet verkligen speglar dowregulation av en viss endogen gen.
VIGS effektivitet är alltid större i N. benthamiana än i tomat. Därför måste försiktighet iakttas vid tysta tomat plantor. I tomat är det viktigt att välja rätt växt utvecklingsstadiet och för att bibehålla rätt miljöförhållanden för viral spridning. Dessutom måste genen avskrift överflöd skall genomföras för varje anläggning som studeras. Dessutom, oftast i tomat VIGS, A. tumefaciens stammen GV3101 medan i N. benthamiana antingen GV3101 eller GV2260 används 6,13. Det är möjligt att tysta en gen anställa en heterolog sekvens från en annan art, förutsatt att det finns tillräckligt med homologi mellan de två. Dessutom, när du bygger en pTRV2-målgenen vektor, ska sätta in längderna ligga i intervallet 200 till 1000 bp och de bör inte innehålla homopolymeric regioner (t.ex. poly A svans) 14.
Om kulturer bär pTRV2 med gener av intresse blivit förorenade med PDS, ibland ingen fotoblekning kommer att beaktas. Istället kommer växter har en kortare resning. Därför är det viktigt att minimera alla källor för korskontaminering under experimentet som skulle kunna partiskhet dina resultat.
Subscription Required. Please recommend JoVE to your librarian.
Acknowledgments
Vi tackar Dr Patricia Manosalva för henne värdefulla insikter om manuskriptet. Finansieringen kom från National Science Foundation växt Genome Program, utmärkelse antal DBI-0.605.059.