Summary
Yetişkin, kardiyak miyositler hayvan kalpleri izole edilebilir ve birkaç gün kültüre temel hücrelerdir. Bu kültür süre içinde adenoviral gen transferi, genetik olarak kodlanmış biyosensörler (GEBs) ya da floresan füzyon proteinleri ifade etmek için kullanılır. Her iki yaklaşım konfokal mikroskobi ile hücresel soruşturma izin verir.
Cite this Article
Copy Citation | Download Citations | Reprints and Permissions

Kaestner, L., Scholz, A., Hammer, K., Vecerdea, A., Ruppenthal, S., Lipp, P. Isolation and Genetic Manipulation of Adult Cardiac Myocytes for Confocal Imaging. J. Vis. Exp. (31), e1433, doi:10.3791/1433 (2009).
Abstract
Yetişkin kalpleri izole kardiyak miyositler, yaygın bir model bir yere, bir tarafta, embriyonik ve neonatal kas hücreleri ve diğer çalışan bir kalp arasındaki yarım olarak kabul edilir. Böylece, kardiyomiyositlerde kardiyak hücre fizyolojisi ve patofizyolojisi için iyi bir model olarak hizmet, ilaç gibi araştırmalar için transgenik hayvan modellerinde keşif için. Burada kalp hücreleri izole bir yöntem açıklanmaktadır. Ayrıca kardiyak miyositler bir genetik manipülasyon transgenik hayvan yetiştiriciliği olmadan nasıl yapılabilir: Bu uzun vadeli bir kültür kombinasyonu (1 hafta) ve adenoviral gen transferi. Ikinci bir virüs inşaat hücrelerinin transdüksiyon açıklanmıştır. Bu ifade için genetik olarak kodlanmış biyosensörler (GEBs), floresan füzyon proteinleri kullanılır, ama aynı zamanda ifade üzerinde protein ve düzenleme, örneğin RNAi kullanarak aşağı olabilir. Burada bir füzyon proteinin hücre içi yapısı (Golgi) boyama ifade için bir örnek sağlar. Böyle bir protein ekspresyonu, hücre içi yapıların bir 3D-yeniden inşası için z yığınlarının konfokal görüntüleme ile görüntülenebilir. Protokol, hücre kültürü, moleküler biyoloji ve biyofizik state-of-the-art oluşur ve böylece hücresel kardiyoloji yeni ufuklar keşfetmek için bir yaklaşım sağlar.
Protocol
Dört önemli adımlar içeren protokol tüm tasarım üzerinde Şekil 1'de tasvir edilmiştir. Tüm adımlar tam ayrıntılı olarak açıklanmıştır. Konfokal görüntüleme ile yaklaşık 24 saat takip Hücre izolasyonu, iletimi ve kültür, daha sonra üst üste ve zorunlu bir zaman çizelgesi. Virüs yapımı öncesinde hücre izolasyonu yapılmalı ve daha sonra genetik transdüksiyon için kullanılır.
1. Sıçan kalp yetişkin kardiyak miyositler izolasyonu
Yetişkin erkek Wistar sıçan ağırlığı yaklaşık 250 g (6-12 hafta) 100 g vücut ağırlığı başına 170 ul anestezi çözüm intraperitoneal anesthetised.
Ayrıca, bir sitrat solüsyonu (2 ul / g vücut ağırlığı), ameliyat sırasında kan pıhtılaşmasını önlemek için enjekte edilir.
Langendorff Perfüzyon Set-Up hazırlanmalıdır. Tüm çözümler oksijen ile doymuş olmalıdır.
Sıçan anesthetised olduğunda, hayvan cerrahi gemide sabit ve vücudun üst kısmı% 70 etanol ile dezenfekte edilir.
Hayvan karotis ile keserek öldürdü.
Toraks makas kullanılarak açıldı. Kalp ve aort şimdi erişilebilir olmalıdır. Perikard kaldırılır.
Buz gibi soğuk bir çözüm A + (5 ml), kalp tutuklanması ve kan yıkamak için 26-gauge iğne kullanılarak her iki ventrikülde enjekte edilir.
Aort bir kelepçe ile yakaladı ve aortik ark kesilir ilk dallanma oluşur.
Kalp, göğüs kaldırılır ve aorta retrograd Langendorff-perfüzyon izin forseps ile bir set-up ve bir kelepçe perfüzyon kanülü takılı. Aort kapakları foraminate farkında olun.
Kalp, aort / kanül etrafında lanmas sabit olması gerekiyor. Açık gemi bağlandı gerekir.
Kalp oksijen doymuş çözüm yaklaşık 70 mbar basınç altında 10 dakika oda sıcaklığında (23 ° C) A + retrograd perfüzyon. Hiç hava kabarcığı aort girdiğinizden emin olun.
Perfüzyon çözüm 37 sıcaklıkta bir Liberase çözüm açıldığında ° C peristaltik bir pompa vasıtasıyla 4 ml / dak hızında yaklaşık 25 dk. Perfüzyon sonunda kalp mermer beyaz bakmak gerekir. Sindirim süresi durum / doku durumuna adapte edilmesi gerekebilir.
Kalp perfüzyon set-up alınan ve 37 ° C sıcaklıkta A Petri kabı içeren çözüm yerleştirilir. Kalan damarları ve kulakçıklar kesilir. Gemiler atılır ve kulakçıklar gerekirse (Bu protokolü parçası) farklı şekilde tedavi edilir. Ventriküller yaklaşık 6 adet ayrılır.
Adet, 37 ° C ve 5 dakika boyunca 37 ° C su banyosunda hafifçe çalkalanır. Sıcaklıkta 20 ml solüsyon içeren 100 ml Erlenmeyer şişesinin aktarılır Sonunda Süpernatant atılır.
Yukarıda açıklanan prosedür bir veya iki kez tekrarlanır. Süpernatant hafif opak görünmelidir.
Ekstraselüler kalsiyum konsantrasyonu artış, 37 1 / 2 B çözeltisi 20 ml ekleyerek ° C artık bir çözüm kalan hücre ve doku tarafından başlatılan Erlenmeyer şişesi . Bu ek bir 5 dakika 37 ° C su banyosunda hafifçe sarsıldı. Daha sonra süpernatant atılır.
20 ml solüsyon B 1 / 2 daha ekleyin. (Çözüm / süpernatant canlı hücreler içermelidir.) Hücrelerin bir damla, bir ters hücre kültürü mikroskobu bir petri kabına aktarılır. Hücreleri yüksek spontan aktivite (kasılmaları), hücreleri geri kalanına gelene kadar beklemek bir ihtiyacı göstermektedir.
Bir kez daha süpernatantı atılır ve 20 ml 1 / 2 B çözeltisi eklenir.
Plastik Pasteur pipeti ucu delikten ajite doku parçaları kolayca geçebilir ki böyle bir şekilde kesilir. Alev tedavi ile keskin kenarları yumuşatılmış (eritilmiş).
Şimdi doku parçaları hafifçe ve nazikçe triturated. Doku parçaları hücrelerine "çökmeye" olmalı.
Hücre içeren süpernatant dekante ve deney türüne bağlıdır ve ampirik olarak tespit edilmelidir istenilen hücre yoğunluğu ulaşmak için B çözeltisi ile seyreltilir.
2. Için bir füzyon proteini transdüksiyon adenovirüs İnşaatı
Adenovirüs üretmek için MP Biyomedikal Transpose-Reklam adenoviral Vector Sistemi 1 kullanılır. Bu protokol, floresan füzyon proteini veya GEB s 2 ve test giriş vektörü (pCR259) ile başlar .
100 ul HighQ-1 Transpose-AD ™ 294 yetkili hücreleri ile bir miktar ilgi gen içeren yukarıda bahsedilen ilk pCR259 vektör 10 ng dönüşür.
Bu karışım 42 45 s için bir ısı şoku ° C tarafından takip edilmekte ve ilave 2 dakika süreyle buz üzerinde depolanan buz üzerinde 20 dk inkübe edilir.
900 & muL 4 saat boyunca yavaşça sallanarak unselective LB-orta ve 37 büyümeye ° C.
Plaka 50 ul ul Kloramfenikol (Cm, 20 mg / ml), ampisilin (100 mg / ml), tetrasiklin (15 mg / ml), X-Gal (280 mg / ml LB-orta içeren plakalar üzerinde 100 ve 200 ul ) ve IPTG (40 mg / ml). (Daha yoğun ve hızlı mavi bir boyama 300μg/ml daha pahalı boya Bluo-Gal kullanarak mümkündür. Özellikle kullanılması gerektiğini mavi / beyaz koloniler tanıma ve ayırt edici çok tanıdık değildir)
37 az 24 saat için büyümek ° C. Mavi koloniler iyi tanımlanması mümkündür 4 ° C kadar bırakın. Koloni almak ve bazı kolonilerin çoğaltmak üç antibiyotik içeren başka bir plaka, X-Gal ve IPTG ve bunları 37 gece boyunca büyümesine izin ° gerçekten beyaz karar problemleri olduğunda C.
Not) HighQ 1 Transpose-AD ™ 294 hücre içeren iki önemli plazmid bulunan adenovirüs omurga (Transpose-Reklam ™ 294) ve bir yardımcı hedefine sitelerine ilgi gen ekleme aracılık transposase, ifade plazmid, plazmid Transpose-AD 294 LacZ gen.
Virüs omurga ilgi gen 2,7-2,9 açıklanan koloni-PCR gerçekleştirmek içeren pozitif koloniler belirlemek için. Çoklu klonlama yeri (ileri 5 ters 5 '3 GCGGATAACAATTTCACACAGG', '3 CCCAGTCACGACGTTGTAAAACG') yan primerler vektör kullanın ve eklenen gen olmaksızın% 100 beyaz koloniler ile bir koloni PCR Transpose-AD 294 plazmid için bir denetim yapmak ve bir mavi koloni çıkar. Mavi koloniler kısa bir PCR parçası (~ 200bp), ilgi gen içeren koloniler, büyük bir PCR ürünü (ilgi gen uzunluğuna göre) ve iki parça birden çok hücre kolonileri ile koloniler vermek ve ayrılmış olması daha fazla kullanılır.
Bir ana karışımı aşağıdaki tabloya göre hazırlıklı olmak gerekiyor.
Otoklavlanmış bir kürdan ile% 100 beyaz tek bir koloni seçin ve bu koloninin ilk Cm LB-plaka üzerinde bir çoğaltmak.
Koloni PCR karışımı içine aktarın. PCR-mix PCR karışımı bir sürü emmek önce kürdan kaldırmak daha 3-4 kez Twirl. PCR protokolü ekleme ve kullanılan polimeraz kb bağlıdır. Primer tavlama sıcaklığı 57 ° C ve 35 döngülerinin bir kullanım tavsiye edilir.
Büyümeye pozitif klonların gece kültürleri (Cm LB-orta) ve merkezkaç kuvvetinin büyük bir virüs vektör bozar, çünkü dönüş kolonsuz ticari bir kit ile plazmid izole.
100 ul DH5α yetkili hücreleri izole plazmid 0.5 mg Dönüşümü. 30 dakika buz üzerinde hücre DNA inkübe edin. Isı şoku 45 s 42 ° C ve 2 dakika süreyle buz ayarlanır.
900 ul unselective LB-orta ekleyin ve 1 saat için 37 ° C yavaşça sallanarak büyüyecek.
Plaka 50 Cm, X-Gal ve IPTG LB-orta içeren bir plaka üzerinde ul. 37 ° C'de 24 saat inkübe edin.
Pick up ve ayrı Ampisilin, Tetrasiklin ve Kloramfenikol plakaları IPTG ve X-Gal içeren 20% 100 beyaz koloniler kadar çoğaltmak. Bunları 37 gece boyunca büyümeye ° C % 100 beyaz, kloramfenikol dirençli, ampisilin ve tetrasiklin duyarlı koloniler seçin.
Colony-PCR (isteğe bağlı): pozitif klonların eklemek içerdiğini kontrol etmek için koloni-PCR ile tekrar test edilebilir.
Olumlu bir rekombinant tek bir koloni seçin ve Cm ile 600 ml LB-orta büyümeye.
Plazmid maxi kiti kullanılarak plazmid izole edin.
37 az iki saat boyunca Pac ile plazmid Digest 5 mikrogram °, C ve 65 reaksiyonu durdurmak ° C'de 20 dk.
10 ul son bir hacmi 30 dakika oda sıcaklığında bir SpeedVac tüm sindirimi Konsantre veya fenol-kloroform ekstraksiyon yöntemi kullanabilirsiniz.
Dondurulmuş QBI-HEK 293 hücreleri 37 ° C su banyosunda yavaşça sallanarak bir şişe çözülme. % 70 etanol ile flakonun dışında durulayın ve steril bir kaput aseptik devam.
, Steril 15 ml tüp hücreleri aktarın nazik ajitasyon, damla damla 10 ml DMEM (10% FCS) ve 250xg pelet hücreleri 10 dakika santrifüj.
Süpernatant atın. Hafifçe aşağı yukarı pipetleme ve 10 ml DMEM (10% FCS) pelletini tekrar.
75 cm 2 balonuna Tohum ve hücrelerin% 10 FCS ile 10 ml DMEM ekleyin. 37 gece boyunca inkübe ° C% 5 CO 2 inkübatör.
Ertesi gün hücre yoğunluğu olun. QBI-HEK 293 hücreler bir 1:10 ila 1:20 oranında bölünmüş olmalıdır.
Hücreler orta çıkarın ve 1-3 dakika için 2 ml tripsin ile trypsinize. 10 dakika 250xg hücreleri ve santrifüj 10 ml DMEM verin.
Orta dikkatlice çıkarın ve hücreleri için 10 ml taze orta vermek, tekrar süspansiyon ve hücreleri saymak.
2x10 5 ile altı kuyu, 3x10 5 Levha 5, 5x10 5 ve 6x10 5 hücre. 37 çanak ° C'de bir CO 2-inkübatör.
Ertesi gün% 50 izdiham konsantre Pac I sindirimi ile transfect ile iyi kullanmak. Biz Lipofectamine 2000 transfeksiyon ile iyi bir deneyim var, ama aynı zamanda diğer yöntemleri (kalsiyum fosfat transfeksiyon gibi) uygun olmalıdır.
Üstel büyüme işlemi sırasında hücreler almak için transfeksiyon önce 3-4 saat orta değiştirin.
5 dakika boyunca oda sıcaklığında 5 ul Lipofectamine 250 ul DMEM ve inkübe ile karıştırın.
DNA Lipofectamine-Orta Karışımı verin (Pac I sindirmek) ve reaksiyon tüpü karşı dokunarak karıştırmak pipetleme karıştırılması yok. Karışımı oda sıcaklığında 20 dakika inkübe edin.
Transfeksiyon karışımı hücrelere Kutu ve karıştırmak için plaka kaya. 37 ° ° C'de% 5 CO 2 ile inkübe edin. 4-5 saat sonra orta değiştirin.
İki gün sonra transfeksiyon hücreleri orta ve yeni bir kültür şişesi (75 cm 2) vermek.
5 dakika kadar 500 ul tripsin hücreleri Trypsinize. Hücreleri için 1 ml DMEM verin, kültür balona 17 ml taze orta (FCS ile DMEM) ile birlikte, tüm karışım ve koyun. 37 ° hücreleri Yetiştirmek ° C,% 5 CO 2 ile sitopatik etkiler (CPE) görünür olana kadar. CPE gibi nasıl görünmesi gerektiğini öğrenmek için Şekil 2'ye bakınız.
50 ml tüp orta hücreleri toplayın ve hücrelerin dondurulması -80 ° C Üç donma / çözülme döngüsü (-80 ° C/37 ° C su banyosu) ile hücreleri kırın.
8000xg ve 4 20 dakika Santrifüj ° C 100mm çaplı çanak içine süpernatantı Durusu ve pelet atın. Süzüntü süpernatantı 0.45μm gözenek boyutu ile steril bir filtre kullanın. Bu ilk virüs stoku (geçit 1).
75cm 2 balon QBI-HEK 293 hücreleri% 70 izdiham ile birlikte bir uyum sağlamak bu hisse senedinin 1 / 3 kullanın. 37 ° ° C'de ve% 5 CO 2 CPE s görünür olana kadar.
Hücrelerin CPE onları toplamak ve daha önce yaptığımız gibi virüsleri ayıklamak göstermektedir. Bu virüsün 2 geçit.
2.37 ve 2.38 ile virüs geçişini adımları yineleyin 2 ve olana kadar virüs amplifikasyon yeterli bir virüs stokunun ulaşır. Virüs özel santrifüj tüpleri (Millipore ultracel-100 membran ile Amicon Ultra-15 Santrifüj filtre ünitesi) ile konsantre ve -80 ° C'de birkaç ay saklanabilir Bulaşıcı parçacıkları bir plaket tahlil saymak için kullanırlar.
Hücreleri transduce ve virüsün daha fazla amplifikasyon için 2 ya da daha yüksek virüs geçişini kullanın.
3. Birincil hücre kültürü ve adenoviral transdüksiyon
20 mm çaplı steril yuvarlak kapak fişleri, standart 12-iyi levhalar yerleştirilir.
20 ul ECM çözümü her kapak astar üzerine eşit olarak dağıtılır. Kalıntıları atılır. Kurutma en az 1 saat izin için 37 ° C. Alternatif kaplama oda sıcaklığında (12 saat) gece boyunca kurutulur.
Her iyi antibiyotik ve ITS içeren takviyeleri ile 1 ml Orta M199 ile doludur.
200 ila 400 ul arasında bir hücre süspansiyonu (1.21 adım), her bir kuyunun eklenir. Hücrelerin ekimi gerçekleşir 37 ° C,% 5 CO 2 inkübatör .
Hücreler tortu izin verilir ve 1 saat sonra orta değiştirildi.
Orta hemen değiştirdikten sonra, virüsü içeren solüsyonu (geçit 2 veya daha yüksek) bir yeterli miktarda plaka yavaşça sallanarak karıştırılır.
Uzun vadeli bir kültür ortamı durumda 2 günde bir değiştirilir.
24 saat sonra transfeksiyon GEB ifade saptanabilir.
4. Konfokal 3D hücre içi yapılar için görüntüleme ve Ca 2 + Sinyali
Herhangi bir konfokal mikroskop Konfokal görüntüleme yapılabilir. Ancak, kalsiyum görüntüleme deneyleri video oranı (25-30 Hz) en az bir toplama hızı gerektirir. Bu, çoklu ışın tarayıcıları (örneğin Nipkow disk, alan veya kilo-ışını dizi tarayıcı süpürüldü) ya da çok hızlı tek ışınlı tarayıcı (örneğin rezonans tarayıcı veya acousto optik deflektörü (AOD)-scanner) kullanılabilir teknolojiler kısıtlar. Ref bir bakış için bkz. 3. 3D-hücre içi görüntüleme z-drive gerektirir. Burada bir kilo-ışını dizi tarayıcı (VTinfinity, VisiTech Int, Sunderland, İngiltere) kullanılır.
Mikroskop ve bilgisayar çevre donanımlarının bir çalışma moduna ayarlanması gerekir. Özellikle lazer için istikrarlı bir çıkış gücüne ulaşana kadar bu dönemi bir ısınma gerekebilir.
Hücreler bir deney odası (kapak kayma transferi) transfer edilmesi gerekir. Lamelleri hücreleri ile bir deney odasına aktarılır. 1mL Tyrode solüsyonu (1.8 mM ekstrasellüler kalsiyum içeren) sonra eklenir.
Deney odasına mikroskop sahnede yerleştirilmesi gerekiyor. Uyarım elektrotlar, perfüzyon set-up ve daha fazla peripheral cihazlar, örneğin sıcaklık kontrolü, buna göre düzenlenmiş olması gerekir.
Hücreler odaklı ve beyaz ışık ve / veya epifluorescent aydınlatma ile seçilecektir.
Toplama, lazer gücü, pozlama süresi vs ya da bütün bir deney protokolü gibi parametreleri set-up ihtiyacı var.
Zaman serileri ve / veya Z-kesit görüntüleri elde edilebilir.
Set-up daha gelişmiş çok modlu ölçümlerde elektrofizyoloji (yama-kelepçe) ve / veya floresan photobleach sonra yeniden dağıtılması (sıkı bağlamak) veya iki foton fotoliz gibi maddelerin uncaging gibi optik manipülasyonu kullanarak yapılabilir.
Görüntü analizi, özellikle 3D rekonstrüksiyon Imaris (Bitplane AG, Zürih, İsviçre), hız (Doğaçlama, Coventry, Birleşik Krallık) veya Arivis Tarayıcı (arivis GmbH, Rostock, Almanya) gibi özel analiz yazılımları yapılmaktadır.
5. Temsilcisi Sonuçlar:
Protokolün nihai sonuçlar daha fazla veri elde etmek için kullanılmaktadır olabilir görüntü dizileri.
Bir örnek, hücre içi organel yapısı ve soruşturma. Şekil 3 golgi 3 boyutlu düzenleme örnek gösteriyor. Elektron mikroskobu aksine tüm soruşturmalar canlı hücreler yapılabilir.

Şekil 1: önemli deneysel adımlar Genel akış.

Şekil 2: Sol görüntü transduced% 90-95 confluency kültür Q-HEK hücreleri gösteriyor. Sağ tarafına viral transdüksiyon sonra Cytopatic etkileri gösterilmiştir. Hücreler ve yuvarlak plakanın alt terketmez. Bu hücrelerin çekirdeğini aktif virüs üretimin bir sonucu olarak hücrelerin büyük bir kısmını kaplar.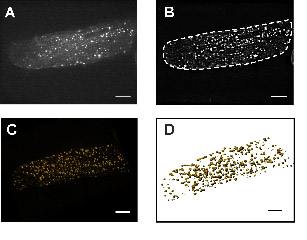 Şekil 3: golgi hedefleyen bir YFP füzyon proteini ile transfekte Yetişkin sıçan kalp miyosit. Adenoviral gen transferi (bir gün kültür) sonra kardiyak miyositler floresan füzyon proteini ifade eder. Panel A z-yığından alınan tek bir konfokal dilim gösteriyor. Panel B'de aynı hücrede bir teorik nokta dağılım fonksiyonu (PSF) kullanarak deconvolution sonra tasvir edilmiştir. Bu de bulanık görüntü yığını, daha sonra hücre render ve panel C veya 3 boyutlu yüzey rekonstrüksiyonu (D) 'de gösterildiği gibi bir 3D ses yeniden yapılanma almak için kullanılır. Bar 10 mm temsil eder.
Subscription Required. Please recommend JoVE to your librarian.
Discussion
Sıçan kardiyomiyositlerinin izolasyonu için açıklanan prosedür, gerekirse diğer türler, örneğin fare 4 adapte edilebilir. Uyarlanması gereken bir parametre sindirim için enzim karışımı (aşağıya bakın) ve aynı zamanda sindirim süresi. Bazı türler (örneğin fare) hücreler, diğerleri (örneğin, sıçan) daha kırılgan olabilir farkında olun.
Kollajenaz seçimi muhtemelen izolasyon prosedürü en önemli adımdır. Hemen hemen hiçbir partiden partiye varyasyonları ile sentetik bir enzim karışımı çünkü Liberase Blendzyme seçin. Geleneksel yöntem kullanımı da geçerli bir yöntemdir Clostridium histolyticum, çıkarılan sözde ham kollajenaz. Ancak her yeni parti, parti-seri varyasyonlar için yeni optimize gerektirir.
Apart floresan füzyon proteinleri ve GEB transdüksiyon adenoviral gen transferi de fonksiyonel proteinler ya da down-regülasyonu (örneğin RNAi 5) aşırı ifade için kullanılır. Transdüksiyon verimliliği yüksek (>% 95) ve tekrarlanabilir olması nedeniyle bu geçerlidir.
Subscription Required. Please recommend JoVE to your librarian.
Acknowledgments
Bu çalışma, Alman Ulusal Bilim Vakfı (DFG) ve Federal Risk Değerlendirme Enstitüsü (BfR Almanya) tarafından desteklenmiştir.
Materials
| | | | |
| --- | --- | --- | --- |
| Name | Company | Catalog Number | Comments |
| Anesthesia solution | Serumwerk Bernburg GmbH (Ursotamin), Bayer Health Care (Rompun) | | Mixture of 1 ml Ursotamin (100 mg/ml Ketaminhydrochlorid) and 240 μl Rompun (2% Xylazinhydrochlorid) |
| Citrate solution | | | 117,64 mg sodium citrate in 10 ml 0.9% NaCl solution |
| Solution A | | | 134 mM NaCl, 4 mM KCl, 11 mM glucose, 1.2 mM MgSO4, 1.2 mM Na2HPO4, 10 mM HEPES, pH adjusted to 7.35 using 10 M NaOH, sterile filtered |
| Solution A+ | | | Content of solution A plus 0.2 mM EGTA, pH adjusted to 7.35 using 10 M NaOH, sterile filtered |
| Liberase solution | F. Hoffmann‐ La Roche Ltd. | 11988476 001 | 500 μl stock solution in 15 ml solution A (stock solution:10 mg/ml Liberase Blendzyme 4 in aqua dest.) |
| Solution B | | | Content of solution A plus 200 μM CaCl2 and 0.1% DNase solution |
| Solution B1/2 | | | 1:1 mixture of solution A and solution B |
| DNase solution | Sigma-Aldrich | D4527 | Deoxyribonuclease I, Type 2 from bovine pancreas, 40 KU (15 mg) are dissolved in 5 ml of 10 mM Tris‐HCl buffer, adjusted to pH=7.35, additional content: 50 mM NaCl, 10 mM MgCl2, 1 mM dithi–rythritol; this solution is mixed with 5 ml glycerol |
| Extracellular matrix protein (ECM) solution | Extracellular matrix protein (ECM) solution | E1270 | 1 ml stock solution as purchased is diluted with 6 mLmedium M199 |
| Culture medium M199 | PAA Laboratories | E15‐834 | Medium M199 supplemented with 1 μl/ml ITS solution and 20 μl/ml penicillin‐streptomycin solution (5000 units/ml) |
| ITS solution | | | 25 mg Insulin, 25 mg Transferrin and 50 μl Selenite stock solution are dissolved in 5 ml aqua dest. (stock solution: 0.5 mg/ml Sodiumselenite in aqua dest.). Add a few drops of 1 M HCl until one should get a clearsolution. Aliquots can be frozen. |
| Tyrode | | | 135 mM NaCl, 5.4 mM KCl, 1.8 mM CaCl2, 2mM MgCl2, 10 mM glucose, 10 mM HEPES, pH adjusted to 7.35 using 10 M NaOH, sterile filtered |
| Master mix | | | 5 μl 10×PCR‐Buffer, 5 μl MgCl2 (25 mM), 2 μl forward primer, 2 μl reverse primer, 1 μl dNTP´s (10 mM each), 33 μl H2O, 1 μl DMSO, 1 μl Taq‐DNA polymerase for each sample |
| LB‐Medium | | | 10 g/l Tryptone, 5 g/l Yeast extract, 5 g/l NaCl (and 15 g/l Agar if used as solid medium), pH 7.0 |
| Pac I | New England Biolabs | R0547L | preparation: 50 μg DNA, 5 μl 10×buffer, 0.5 μl 100×BSA,0.75 μl Pac I, fill with H2O up to final volume of 50μl |
References
Kaestner, L., Ruppenthal, S., S, Molecular Imaging II. Licha, K., Lin, C. P. Vol. 7370, SPIE. Bellingham. 737008-737008 (2009).
Viero, C., Kraushaar, U., Ruppenthal, S. In vivo imaging of Drosophila melanogaster pupae with mesoscopic fluorescence tomography. Cell Calcium. 43, (1), 59-59 (2008).
Shorte, S. L., Frischknecht, F. Imaging Cellular and Molecular Biological Functions. Springer. Berlin Heidelberg. 289-289 (2007).
Kaestner, L., Lipp, P. Optics in Life Science. Popp, J., von Bally, G. Vol. 6633, SPIE. Munich. 66330K-66330K (2007).
Rinne, A., Littwitz, C., Bender, K. Adenovirus-mediated delivery of short hairpin RNA (shRNA) mediates efficient gene silencing in terminally differentiated cardiac myocytes. Methods Mol Biol. 515, 107-107 (2009).