Summary
Intravital mikroskopi pial mikrosirkülasyon zamansal ve mekansal hemodinamik ve inflamatuar olayları takip etmek.
Cite this Article
Copy Citation | Download Citations

Cabrales, P., Carvalho, L. J. Intravital Microscopy of the Mouse Brain Microcirculation using a Closed Cranial Window. J. Vis. Exp. (45), e2184, doi:10.3791/2184 (2010).
Abstract
Bu deneysel model, in vivo floresan mikroskobu kullanarak, akut ve kronik, fizyolojik ve patofizyolojik hemodinamik, inflamatuvar ve metabolik koşullar sırasında fare pial mikrosirkülasyon değerlendirmek için tasarlanmıştır . Kapalı bir kafa penceresi farelerin sol parieto-oksipital kortekste üzerine yerleştirilir. Yerel mikrosirkülasyon epi ve floresan aydınlatma, ve damarların çapları ve kırmızı kan hücre (RBC) hızları yapılan ölçümleri kullanarak pencere üzerinden gerçek zamanlı olarak kaydedilir. RBC hızı gerçek zamanlı çapraz korelasyon ve / veya floresan etiketli eritrositler kullanılarak ölçülür. Perfüzyon ve vasküler sızıntı pial damarları ve değerlendirme Lökosit ve trombosit bağlılık Albumin-FITC ve anti-CD45-TxR antikorları gibi floresan etiketli işaretleyicileri yardımıyla yapılır. Mikrosirkülasyon birkaç gün içinde tekrar tekrar video kayıt olabilir. Biz ilk defa pial mikrosirkülasyon çalışmada farelerde Plasmodium berghei ANKA enfeksiyonu seyri sırasında dinamik değişiklikleri takip edebilecek ve CM ifade kan derin düşüş, vazokonstriksiyon ile karakterize mikrosirkulasyonu işlev bozuklukları ile ilişkili olduğunu göstermek için pencereyi kapat beyin intravital mikroskopi için kullanılan akış ve sonuçta vasküler çöküşü.
Protocol
1. Kraniotomi
8-10-haftalık farelerde kraniotomi titanyum çubuk baş hayvanın yer almamış olması dışında, daha önce açıklanan 1 olarak önceden yapılması gerekir. Kronik kafa penceresi pial mikrosirkülasyon hatta aylar implante edildikten sonra istikrarlı bir hazırlık izin muayene. Genellikle 2-3 hafta kafatası pencere implantasyon sonrası çalışmaları yapmak.
2. Intravital mikroskopi
İki-üç hafta sonra kraniotomi, vücut ısısı kontrol edilmeli ve sonra fare ile hafifçe anestezi izofluran (indüksiyon için% 4, bakım için% 1-2). Hafif anestezi deneysel prosedür sırasında hayvan stres ve rahatsızlık önlemek için kullanılır.
Hayvanlar daha sonra stereotaksik bir çerçeve ve dikkatle kulak bar kullanarak güvenli bir şekilde baş yüzükoyun pozisyonda yerleştirilir. Düzeyi, sağ ve sol kolları kullanılarak ayarlanır. Çekirdek vücut ısısını bir ısıtma yastığı kullanılarak korunur. Serebral sıtma ile fareler hipotermi geliştirmek için, sıcaklık ayarları her bir hayvan için ayarlanması gerekir.
Kafa pencerede kapak kayma, mineral yağ ve pencerenin altında gemiler panoramik bir resim, bir stereomikroskopta ve bir dijital fotoğraf makinesi (Nikon Coolpix 995, Japonya) yardımı ile alınır ile ıslatılmış bir pamuk çubukla hafifçe temizlenir. Resim, basılı, tespit ve tarih ve damar çapı ve kırmızı kan hücre (RBC) hızlarının ölçümleri için bir harita olarak kullanılır.
Fare, sonra bir intravital mikroskop aşaması (Leica-McBain, San Diego, CA özel) aktarılır. Bir damla su, diş akrilik oluşturduğu yararlanarak kafatası pencere üzerine yerleştirilir, odak ayarlanır. Ölçümler bir 20X (LUMPFL-WIR, sayısal diyafram 0.6 Olympus) su altında kalacak amacı ile yapılmaktadır. Aynı damarların bazal düzeylere doğrudan karşılaştırmalar, küçük bir örnek popülasyonları için daha sağlam istatistikler için izin olabilir takip edilmektedir. Görüntüler bir dijital düşük ışık koşullarında yüksek hızlı kamera (Hamamatsu C9300-221, Japonya), veya bir VCR kaset bağlı düşük ışık analog kamera (Cohu 4815, San Diego, CA) (JVC, Japonya), damgalı zaman (MicroImage Video kullanılarak yakalanır Sistemleri, Boyertown, PA) ve renkli monitör (PELCO, Clovis, CA). Bant kayıt başlamadan önce doğru tespit ve zaman damgası, bu tür olaylar recoded olduğu zaman diliminde belgeleyen olayların belirlenmesini sağlar.
Gemilerin ilk onay kan damarlarında akan ise hazırlık kalitesini değerlendirmek için yapılan ve. Sonra, ölçülecek olan gemilerin seçimi yapılır ve değişik çaplarda venüller ve arterioller (fare pial hazırlıkları, en gemiler 20 ve 80μm arasında değişmektedir) ve pencere tarafından maruz kalan alan içinde farklı yerlerde kapsamalıdır. Arteriol ve venüller geminin etkileri kan akışı (dağıtan veya kan toplar olmadığını) yönünü kontrol ederek kolayca ayırt edilebilirler. Çalışmalarda, ölçümleri 12 damarlarında yapılır. Ölçülecek her noktanın tam yerini pial damarsal resim açıklamalı.
Her nokta için, bir görüntü kesme cihazı (Resim Kesme, Vista Electronics, San Diego, CA) 2 damar çapı ile ölçülür. Nokta seçildikten sonra, geminin görüntü dikey konumda uyumlu ve karşı aşırı hizalanır ve okuma belgelenmiştir kadar görüntü makaslanmış. Bu değer, Reticle Kalibrasyon Stage Mikrometre (Edmund Optik A.Ş., Barrington, NJ) kullanarak her bir spesifik büyütme önceki kalibrasyon mikrometre tercüme edilebilir.
Her nokta için en az 30 saniye boyunca eritrosit izleme kaydedilir. Izleme için kan örneği toplanır ve eritrositler floresan ile etiketlenmiş boya Dil (Molecular Probes, Carlsbad, CA) ve kuyruk ven yoluyla aşılanan bir ~ 0,4-0,5% 3 in vivo konsantrasyonu elde etmek için carbocyanine. , Etiketli hiçbir infüzyon; Plasmodium berghei ANKA (PBA) yeşil flüoresan protein (CJ Janse ve AP Waters tarafından yatırılan PBA-GFP, Sıtma Araştırma ve Referans Reaktifi Kaynak Merkezi MR4, Manassas, VA bağış) ifade ile enfekte hayvanların hücre gerekli. Saniyede 150 kare hızında video görüntüleri kaydedilir. Bu oran 8 mm / sn 'ye kadar hızlarının belirlenmesi için bir video çerçeve üzerinde bir hücre 05:59 görüntüler elde etmek için Video görüntüleri Adobe Premier 4.0 yazılımı kullanarak bir kişisel bilgisayar ile sayısallaştırılmış ve her hücre görüntü için xy koordinat verileri SigmaScan Pro 4.0 yazılımı (SPSS, Chicago, IL) 4 kullanılarak elde edilir . Hücre pozisyonları göz eğitimli bir gözlemci, iyi bir tahmin, bir hücrenin merkezinde, yerini vermek gösterildi verilen elle yerine, görüntü analiz yöntemi ile belirlenirh genel olarak çoğu hücre yönelimleri için gözlenen maksimum floresans konuma karşılık gelir. Birden fazla pozisyon ve hız tespitler her hücre için yapılan ve ortalama eritrosit hızı elde etmek için ortalama.
RBC hız ölçümleri çevrimdışı yapıldığında, her bir fare için toplam gözlem süresi 10-15 dakika anestezi cardiodepressive etkilerinin en aza indirilmesi aşmamaktadır.
Damar çapı ve RBC hız ölçümleri sonra, her damarda kan akımının hesaplanmasında aşağıdaki formül kullanılarak yapılabilir: Q = V x π (D / 2) 2, Q = kan akımı, V = RBC hızı ve D = damar çapı.
Bu prosedürler zaman içinde tekrar edilebilir. Örneğin, fare modelinde serebral sıtma, enfeksiyon günde 4 günlük ölçümler gerçekleştirir. Her fare için her gün elde edilen değerler% 100 olarak kabul edilir ile ilgili günlük 0 (pre-enfeksiyon), normalize edilir.
Örneğin gelişmiş perfüzyon pial damarların lökosit ve / veya trombosit haddeleme ve bağlılığın değerlendirmesi ve analizi için, damar çapı ve kan akım ölçümleri yanı sıra, ek değerlendirmeler yapılabilir. Bu ölçümler floresan etiketli işaretleyicileri yardımıyla yapılmaktadır. Sıtma durumda, biz de GFP ifade PBA suşu kullanılarak yoluyla dolaşan veya yapışık parazitleri tespit edebilir.
Perfüzyon değerlendirmesi için bir çözüm FITC etiketli albumin (Sigma, St Louis, MO 50μg/mouse), ve Texas Kırmızı (TxR) etiketli pan-lökosit işaretleyici CD45 karşı antikor pial damarlara lökosit bağlılığı ölçmek için ( Invitrogen, Carlsbad, CA 4μg/mouse). Bunun için, 25μL Albumin-FITC (2mg/mL) ve anti-CD45-PE antikor 20μL (200μg/mL) karıştırılır ve önceden ısıtılmış kuyruk ven enjekte edilir. Daha sonra fare sızıntı ölçümleri albümin-FITC 15 dakika dolaşmasına izin alacağı ancak, hemen görüntülü olabilir. XF100-2 (Omega Optik, Brattleboro, VT) ve anti-CD45-TxR floresan (615nm) çıkıldı ve albümin-FITC ve GFP (GFP pRBC PBA-) tarafından yayılan Yeşil floresan (518nm) kullanarak ve ALPHA Canlı yakalanır XF42: Canlı Standardı ile ele geçirdi.
Floresan etiketli albumin damar ağı, delici damarları dahil olmak üzere gelişmiş görselleştirme sağlar ve non-perfüze veya altında-perfüze damarları kontrol etmek için serebral sıtma gibi hastalık durumlarında yararlıdır. Ayrıca vasküler sızıntı 5 ölçmek için kullanılabilir.
Floresan etiketli anti-CD45 antikorları pial damarlara lökosit yuvarlanma ve yapışma belirlemek ve ölçmek için kolaylaştırır. Nicelleştirmesinde önyargı önlemek için, aynı noktalar kan akışını ölçmek için önceden tanımlanmış bir yuvarlanma ve yapışma ölçmek. Lökosit adezyonu Niceleme 100μm damar uzunluğu lökosit sayısı sayım yapılır. Rolling kan hızı 30 saniye boyunca aynı 100μm uzunluğu göre çok daha yavaş bir hızda seyahat lökosit sayısı sayarak sayısal.
3. Temsilcisi sonuçları


Şekil 1. Kraniyal pencere üzerinden erişilebilir fare pial damar ağı (Adım 2.6) Resimler.

Şekil 2. Fare pial mikrosirkülasyon intravital mikroskopi için set (Steps 3,1-3,5) Şematik gösterilecek. 1: intravital mikroskop, 2: 20X suya daldırma amacı; 3: ışık kaynağı; 4a: dijital düşük ışık yüksek hızlı kamera, 4b: analog kamera, 5: stereotaksik çerçeve fare, 6 bilgisayar monitörü, 7: Analog Shearer görüntü kesme (ok), damar çapı ölçmek için nasıl yapıldığını gösteren izler.

Şekil 3. (Adım 3,6-3,8), yüksek hızda floresan video kayıtları hücre takip ederek Mikrovasküler kırmızı kan hücre hız ölçümleri . F Resimleri bir kamera tarafından mikroskobik bir alan ayrılmış geçiş, tek bir hareket RBC gösteren bir pial damar dizisi görüntüleri. Alanında geçiş öncesi kalibre mesafe ile, 15 veya daha fazla hücre çerçevesi konumlarında kare Manuel belirlenmesi, bir Excel elektronik tablosu yardımı ile her bir geminin ortalama RBC hızının hesaplanması sağlar.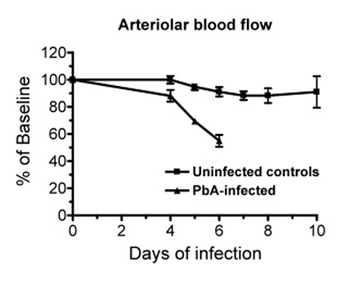 Şekil 4. (Adım 3.9) Veri Plasmodium berghei ANKA (PBA) enfekte olmuş fareler (n = 5) ve bulaşmamış kontrol farelerde zamanla pial kan akışındaki değişiklikleri gösteren bir temsilcisi deney (n = 5). Pial kan akışını kontrol farelerde zaman içinde nispeten sabit olduğunu dikkate alarak, PBA enfekte farelerde kan akışının belirgin bir azalma göstermektedirserebral sıtma geliştirme (Günde 6) zamanında. Veriler ortalama ± SEM.

Şekil 5. Plasmodium berghei ANKA ile enfekte bir fare pial damarlara yapışık lökositlerin (Adım 4.3) büyük bir kısmı, anti-CD45-Texas Kırmızı floresan antikorlar ile boyanarak ortaya koyduğu gibi.
Subscription Required. Please recommend JoVE to your librarian.
Discussion
Burada açıklanan intravital mikroskopi yöntemi fare pial mikrosirkülasyon detaylı gözlem için benzersiz ve güçlü bir araç sağlar. Diğer bireysel arteriyollerin ve venüller singling ve damar çapları, RBC hızları, kan akımı, bağlılık ve lökosit, trombosit ve diğer kan elemanları, vasküler kaçak, doku pH ve pO2 haddeleme gibi parametreleri bir dizi değişiklikler ölçüm sağlar ve potansiyel olarak pek çok uygulamaları. In vivo vasküler yanıt ilaç idaresine gibi müdahaleler üzerine derhal değerlendirilir veya patolojik süreçleri sırasında olabilir. Ayrıca, mikrosirkulasyonu davranış zaman içinde dinamik olarak takip edilebilir. P. neden olduğu serebral sıtma sırasında pial mikrosirkulasyonu değişiklikleri incelemek için bu teknolojiyi kullandık berghei fare ANKA, ve bu modelde mikrosirkulasyonu disfonksiyonu azalmış serebral kan akışı, vazokonstriksiyon, bozulmuş perfüzyon ve sonuçta vasküler çöküşü 6 ile karakterize bir nörolojik sendrom ile ilişkili olduğunu göstermiştir.
Subscription Required. Please recommend JoVE to your librarian.
Disclosures
Çıkar çatışması ilan etti.
Acknowledgements
Bu çalışma Ulusal Sağlık Enstitüleri LJMC için hibe R01-HL87290, R01-HL87290-S1 ve R01-AI082610 tarafından da desteklenmiştir.
Materials
| | | | |
| --- | --- | --- | --- |
| Name | Company | Catalog Number | Comments |
| Isoflurane | Baxter Internationl Inc. | FDG9623 | |
| Carbocyanine dye Dil | Molecular Probes, Life Technologies | D306 | |
| Albumin-FITC | Sigma-Aldrich | A9771 | |
| Anti-CD45-TxR Ab | Invitrogen | MCD4517 | |
| P. berghei ANKA-GFP | MR4 | MRA-865 | |
References
Mostany, R., Portera-Cailliau, C. A craniotomy surgery procedure for chronic brain imaging. J. Vis. Exp. (15), (2008).
Intaglietta, M., Tompkins, W. R. Microvascular measurements by video image shearing and splitting. Microvasc. Res. 5, 309-312 (1973).
Briceno, J. C., Cabrales, P., Tsai, A. G., Intaglietta, M. Radial displacement of red blood cells during hemodilution and the effect on arteriolar oxygen profile. Am. J. Physiol. Heart Circ. Physiol. 286, 1223-1228 (2004).
Bishop, J. J., Nance, P. R., Popel, A. S., Intaglietta, M., Johnson, P. C. Relationship between erythrocyte aggregate size and flow rate in skeletal muscle venules. Am. J. Physiol. Heart Circ. Physiol. 286, H113-120 (2004).
Baldwin, A. L. Modified hemoglobins produce venular interendothelial gaps and albumin leakage in the rat mesentery. Am. J. Physiol. Heart Circ. Physiol. 277, H650-H659 (1999).
Cabrales, P., Zanini, G. M., Meays, D., Frangos, J. A., Carvalho, L. J. Murine cerebral malaria is associated with a vasospasm-like microcirculatory dysfunction, and survival upon rescue treatment is markedly increased by nimodipine. Am. J. Pathol. 176, (3), 1306-1315 (2010).