Summary
L'identification des mécanismes sous-jacents des lésions musculaires est cruciale. Ici, nous présentons la technique histologique pour la préparation de paraffine et congelés des sections de muscles thoraciques chez la drosophile. Cela permet l'analyse de la morphologie des muscles et la localisation des protéines et autres composants de la cellule musculaire.
Cite this Article
Copy Citation | Download Citations | Reprints and Permissions

Kucherenko, M. M., Marrone, A. K., Rishko, V. M., Yatsenko, A. S., Klepzig, A., Shcherbata, H. R. Paraffin-Embedded and Frozen Sections of Drosophila Adult Muscles. J. Vis. Exp. (46), e2438, doi:10.3791/2438 (2010).
Abstract
La caractérisation moléculaire des dystrophies musculaires et myopathies chez les humains a révélé la complexité de la maladie du muscle et de l'analyse génétique de la spécification musculaire, la formation et de fonctionner dans des systèmes modèles a fourni des informations précieuses sur la physiologie musculaire. Par conséquent, identifier et caractériser les mécanismes moléculaires qui sous-tendent les dommages musculaires est essentiel. La structure de l'adulte de drosophile multi-fibres musculaires ressemblent vertébrés muscles striés 1 et la traçabilité génétique de la drosophile a fait un excellent système pour analyser la morphologie des muscles dystrophiques et de caractériser les processus qui affectent la fonction musculaire chez les adultes du vieillissement des mouches 2. Ici, nous présentons la technique histologique pour la préparation de paraffine et congelés des sections de muscles thoraciques chez la drosophile. Ces préparations permettent de tissus à teindre avec des colorants histologiques classiques et étiquetés avec des colorants protéines détecter, et plus précisément cryocoupes sont idéales pour la détection immunohistochimique des protéines dans les muscles intacts. Cela permet l'analyse de la structure des tissus musculaires, l'identification des défauts morphologiques, et la détection du patron d'expression pour le muscle / neurone-spécifique des protéines dans les muscles pour adultes drosophile. Ces techniques peuvent aussi être légèrement modifiée pour la coupe d'autres parties du corps.
Protocol
1. Préparation
Fraîchement préparer fixateur de Carnoy, en combinant l'éthanol absolu, le chloroforme et l'acide acétique glacial en proportion 06:03:01 respectivement. 3 Ceci, ainsi que toutes les solutions pour cols submergeant devraient être conservés dans des bocaux en verre coloration (voir la section des réactifs pour la recommandation).
Préparer une feuille d'aluminium poches de la taille correcte pour les colliers.
Préparer les solutions suivantes dans la coloration des pots: 2 X 40% d'éthanol, 70% d'éthanol, l'éthanol 2 X 100%, méthylbenzoate (Mo), 50/50 v / v Mo et la paraffine, la paraffine X 2. Placez le MB et les conteneurs de paraffine dans un incubateur réglé à 60-65 ° C.
Paraffine chaude pour verser dans les poches aluminium à 60-65 ° C.
2. Fixation mouches dans Colliers
Fixez le collier 4 sous la loupe binoculaire à l'aide de bandes en position verticale où vous pouvez voir le point d'entrée pour le voler.
Anesthetize mouches avec du dioxyde de carbone ou via l'hypothermie en utilisant un bloc de glace. Soyez prudent de ne pas geler les mouches.
En utilisant des pinces, ramasser des mouches individuels en saisissant leurs ailes et les placer dans le col correctement orienté (tête et thorax au-dessus des lames et l'abdomen, sous les lames). 10-20 mouches devraient facilement dans le col.
Remarque: Si vous analysez plusieurs génotypes, n'oubliez pas de faire une note du numéro de collier et le génotype correspondant.
3. Coupes de paraffine de thorax drosophile
Relocaliser le col à la solution du Carnoy et fixer le tissu à 4 ° C pendant la nuit.
Après fixation, déshydrater l'échantillon en utilisant des concentrations croissantes d'éthanol. Pour 10 minutes chacune plonger le col dans 40% (2 fois), 70% et 100% (2 fois) d'éthanol à température ambiante. Suivant cols incuber dans une solution de Mo et Mo de paraffine + (1:1) pendant 30 min dans chaque puis infiltrer le col en deux changements de paraffine pour 60 min chacun à 60-65 ° C. Rapidement déplacer le collier dans la poche d'aluminium et remplir de fondu (60-65 ° C) de paraffine. Placez-le à température ambiante et permettre à la paraffine pour devenir dur (il est préférable de laisser toute la nuit). Notez que le collier peut être placé dans la poche une feuille dans différentes orientations, en fonction de l'orientation des sections dont vous avez besoin (longitudinale ou transversale).
Déballer les blocs de paraffine sèche avec des colliers de la feuille et délicatement séparer le collier de son bloc de paraffine. Avec l'aide d'une lame tranchante ou d'un scalpel découpez soigneusement la paraffine extra-partir autour du tissu volée.
Couper le bloc de paraffine à 7-10 étapes section pm sur un microtome de rotation et de permettre le tissu coupé pour flotter à plat dans un bain à 37 ° C l'eau. Placer le tissu sectionnée sur les lames polaires et laisser sécher pendant la nuit. Ces diapositives peuvent être utilisées pour la coloration avec hématoxyline et l'éosine (figure 1A-D), le bleu de toluidine, le bleu d'aniline ou décède d'autres de visualiser les structures des tissus, ainsi que pour la coloration des anticorps (figure 1E-E ``).
4. Cryocoupes du thorax chez la drosophile
Comme avec des sections de paraffine, de préparer les mouches dans un collier et de la mode d'une poche d'aluminium. Un refroidisseur de gel seront nécessaires pour préparer les échantillons. Assurez-vous que le refroidisseur est autour de -60 ° C, utilisez un peu d'éthanol et de glace sèche pour permettre d'atteindre cette température. Une heure avant de commencer l'expérience mettre la bouteille de milieu cryo-intégration (Tissue-Tek octobre composés) à l'envers dans un réfrigérateur à 4 ° C afin de le refroidir et de minimiser la formation de bulles d'air.
Relocaliser le col avec des mouches à la poche une feuille qui a été pré-refroidi pendant plusieurs minutes à l'intérieur du refroidisseur de congélation et de combler rapidement avec le composé cryo-enrobage. Laissez le gel de l'échantillon pendant 3-10 min. Soigneusement déballer le bloc formé à l'intérieur du refroidisseur, délicatement séparés le col du bloc de l'incorporation et le mettre à -20 ° C pendant au moins un jour.
Coupez les muscles gelés sur un cryo-microtome entre -15 et -18 ° C avec une épaisseur de coupe de 10-15 um. Placer sur des lames polarisée et la garder au -20 ° C jusqu'au moment de faire un traitement ultérieur. Nous vous suggérons de fixer les tissus dans le formol solution à 4% du PBS pendant 10 min à température ambiante avant la coloration des anticorps.
5. Détection des lipides dans les muscles chez la drosophile
Gouttelettes lipidiques peuvent être détectés avec de l'huile rouge O tache sur cryocoupes utilisant un protocole adopté par Sieber et Thummel 5.
Après fixation, laver les lames avec de l'eau deux fois pendant 5 min, équilibrée dans du propylène glycol pendant 10 min et laisser incuber pendant 3 h dans de l'huile rouge O tache à température ambiante. Puis laver les échantillons 2 fois pendant 5 min dans du propylène glycol et 30 min dans du PBS. Mont de glycérol 30%.
6. Les résultats représentatifs:

FigUre 1. Paraffine-incorporés sections
Hématoxyline éosine et colorées transversale (AB) et longitudinale (CD) des sections de muscles de vol indirect. A et C montre normale muscles structurés. Anormale par les muscles taille et la morphologie sont représentés sur B et D, respectivement (flèches noires). Coupe transversale de thorax tachés drosophile avec des anti-LAMC, marqueur de l'enveloppe nucléaire et le DAPI, colorant nucléaire (EF). Vue agrandie de la normale (flèche rouge) et se sont détériorées (flèche jaune) des muscles (F). G représente la section du vitrail drosophile intestinal avec LAMC et DAPI.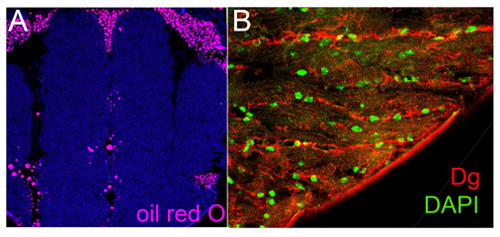 Figure 2. Des sections congelées
A. Les sections transversales congelés de vitraux du thorax chez la drosophile à l'huile rouge O, lipides gouttelettes étiquette.
B. longitudinale des coupes congelées de muscles vol indirect teinté d'anti-Dg, le muscle sarcolemme marqueur et DAPI.
Disclosures
Aucun conflit d'intérêt déclaré.
Acknowledgments
Nous remercions le Professeur Eichele de nous avoir permis d'utiliser la cryo-microtome. Le travail a été financé par Max-Planck-Gesselschaft.
Materials
| | | | |
| --- | --- | --- | --- |
| Name | Company | Catalog Number | Comments |
| Stainless steel collars | Home made | | Specially constructed |
| Forceps | Fine Science Tools | 11295-10 | |
| Aluminum foil | Any Supplier | | |
| Blade or scalpel | Any Supplier | | |
| Wheaton macro staining jar | Wheaton | 900200 | |
| Microtome | Carl Zeiss, Inc. | | Model: Hyrax M25 |
| Cryo-microtome | Leica Microsystems | | Model CM3050S |
| 60-65°C Incubator | Any Supplier | | Large enough to hold at least 4 staining jars |
| Freezing cooler with metal block | Any Supplier | | Store at -80°C |
| Super-frost slides | Thermo Fisher Scientific, Inc. | 9161155 | |
| Cover slips | Any Supplier | | Recommend 24 X 40 mm |
| Chloroform | Sigma-Aldrich | 288306 | Analytical grade |
| Glacial acetic acid | Merck & Co., Inc. | 100063 | Analytical grade |
| Ethanol | Merck & Co., Inc. | 100983 | Analytical grade |
| Methylbenzoate | Sigma-Aldrich | M29908-500G | Analytical grade |
| Paraplast plus | Sigma-Aldrich | 76258 | Paraffin |
| Tissue-Teck O.C.T. compound | Sakura Finetek | 4583 | |
| 16% formaldehyde, methanol free | Polysciences, Inc. | 18814 | |
| Glycerol | Sigma-Aldrich | G5150-1L | |
References
Miller, A. The internal anatomy and histology of the imago of Drosophila melanogaster. CSHL Press. Cold Spring Harbor. (1950).
Shcherbata, H. R. Dissecting muscle and neuronal disorders in a Drosophila model of muscular dystrophy. The EMBO journal. 26, 481-481 (2007).
Kucherenko, M. M. Genetic modifier screens reveal new components that interact with the Drosophila dystroglycan-dystrophin complex. PloS one. 3, e2418-e2418 (2008).
Puchtler, H., Waldrop, F. S., Conner, H. M., Terry, M. S. Carnoy fixation: practical and theoretical considerations. Histochemie. 16, 361-36 (1968).
Ashburner, M. Drosophila - A Laboratory Manual. CSHL Press. (1989).
Sieber, M. H., Thummel, C. S. The DHR96 nuclear receptor controls triacylglycerol homeostasis in Drosophila. Cell metabolism. 10, 481-481 (2009).