Summary
Identifizierung von Mechanismen, die Schädigung der Muskulatur ist von entscheidender Bedeutung. Hier präsentieren wir die histologische Technik zur Herstellung Paraffin eingebetteten und Gefrierschnitten von Drosophila Brustmuskeln. Dies ermöglicht die Analyse von Muskel-Morphologie und Lokalisation von Proteinen und anderen Zellbestandteilen Muskel.
Cite this Article
Copy Citation | Download Citations | Reprints and Permissions

Kucherenko, M. M., Marrone, A. K., Rishko, V. M., Yatsenko, A. S., Klepzig, A., Shcherbata, H. R. Paraffin-Embedded and Frozen Sections of Drosophila Adult Muscles. J. Vis. Exp. (46), e2438, doi:10.3791/2438 (2010).
Abstract
Die molekulare Charakterisierung von Muskeldystrophien und Myopathien beim Menschen hat die Komplexität von Muskelerkrankungen und genetische Analyse von Muskel-Spezifikation ergaben, hat die Bildung und Funktion in Modellsystemen wertvolle Einblicke in die Muskelphysiologie zur Verfügung gestellt. Daher Identifizierung und Charakterisierung molekularer Mechanismen, die Schädigung der Muskulatur zugrunde liegen, ist von entscheidender Bedeutung. Die Struktur des erwachsenen Drosophila Multi-Faser-Muskel ähnlich Wirbeltiere quergestreiften Muskeln 1 und die genetische Lenkbarkeit von Drosophila hat es ein großes System zu dystrophischen Muskel Morphologie zu analysieren und zu charakterisieren, die Prozesse, die muskuläre Funktion bei der Alterung erwachsenen Fliegen 2. Hier präsentieren wir die histologische Technik zur Herstellung Paraffin eingebetteten und Gefrierschnitten von Drosophila Brustmuskeln. Diese Präparate können für das Gewebe mit der klassischen histologischen Färbungen gefärbt und gekennzeichnet sein mit Protein erkennen Farbstoffe, und zwar Kryoschnitten sind ideal für immunhistochemische Nachweis von Proteinen in intakten Muskeln. Dies erlaubt die Analyse von Muskelgewebe Struktur, die Identifizierung von morphologischen Defekte und Nachweis der Expression-Muster für den Muskelaufbau / Neuronen-spezifische Proteine ​​in Drosophila erwachsenen Muskeln. Diese Techniken können auch etwas für das Schneiden von anderen Körperteilen verändert werden.
Protocol
1. Vorbereitung
Frisch vorzubereiten Carnoy Fixativ durch die Kombination von absolutem Ethanol, Chloroform und Eisessig im Verhältnis 06.03.01 jeweils. 3 Diese, sowie alle Lösungen für das Eintauchen Kragen sollte in Glas Küvetten gehalten werden (siehe Abschnitt Reagenzien für die Empfehlung).
Bereiten Sie Aluminiumfolie Taschen die richtige Größe für den Kragen.
Bereiten Sie die folgenden Lösungen in Küvetten: 2 X 40% Ethanol, 70% Ethanol, 2 X 100% Ethanol, Methylbenzoat (MB), 50/50 v / v MB und Paraffin, 2 X Paraffin. Legen Sie die MB und Paraffin-Container in einem Inkubator eingestellt auf 60-65 ° C.
Warm Paraffin in Folie Taschen auf 60-65 ° C pour
2. Fixing Flies in Halsbänder
Befestigen Sie die Manschette 4 unter dem Binokular mit Klebeband in einer vertikalen Position, wo Sie den Einstiegspunkt für die Fliege sehen können.
Anesthetize fliegt mit Kohlendioxid oder per Hypothermie mit einem Eisblock. Achten Sie darauf, um die Fliegen einfrieren.
Mit einer Pinzette, abholen einzelnen fliegt durch Greifen mit den Flügeln und Ort in den Kragen korrekt ausgerichtet (Kopf und Thorax auf der Oberseite der Flügel und des Bauches unterhalb der Klingen). 10-20 fliegt sollte sich leicht in den Kragen passen.
Hinweis: Wenn Sie die Analyse mehrerer Genotypen sind, vergessen Sie nicht, eine Notiz des Kragens Nummer und entsprechende Genotyp zu machen.
3. Paraffinschnitte von Drosophila Brustkörbe
Stellen Sie den Kragen, die Carnoy-Lösung und fix das Gewebe bei 4 ° C über Nacht.
Nach der Fixierung, dehydrieren die Probe mit steigenden Konzentrationen von Ethanol. Für jeweils 10 Minuten tauchen Kragen in 40% (2 mal), 70% und 100% (2 mal) Ethanol bei Raumtemperatur. Next inkubieren Kragen in MB und MB + Paraffin-Lösung (1:1) für 30 min in jedem und dann zu infiltrieren den Kragen in zwei Änderungen von Paraffin für 60 min bei 60-65 ° C. Schnell stellen Sie den Kragen in die Folientasche und füllen mit zerlassener (60-65 ° C) Paraffin. Legen Sie es bei Raumtemperatur und ermöglichen das Paraffin zu hart geworden (es ist am besten zu verlassen über Nacht). Beachten Sie, dass der Bund in die Folientasche kann in verschiedenen Richtungen angebracht werden, abhängig von der Ausrichtung der Abschnitte, die Sie benötigen (längs oder quer).
Unwrap trocken Paraffinblöcken mit Kragen aus der Folie vorsichtig trennen den Kragen aus dem Paraffinblock. Mit Hilfe einer scharfen Klinge oder Skalpell sorgfältig schneiden Sie die extra-Paraffin aus der ganzen fliegen Gewebe.
Schneiden Sie die Paraffinblock mit 7-10 &mgr; Abschnitt Schritte auf einem Rotationsmikrotom und ermöglichen den Schnitt Gewebe zu schweben in einem 37 ° C Wasserbad flach. Legen Sie die geschnittenen Gewebe auf polaren Folien und trocknen über Nacht. Diese Folien können für die Färbung mit Hämatoxylin und Eosin verwendet werden (Abbildung 1A-D), Toluidinblau, Anilinblau oder andere Formen bis zu Gewebestrukturen sichtbar zu machen, sowie für die Antikörper-Färbung (Abb. 1E-E ``).
4. Kryoschnitte von Drosophila Brustkörbe
Wie bei Paraffinschnitten, bereiten die Fliegen in einen Kragen und Mode eine Aluminiumfolie Tasche. Ein Einfrieren Kühler wird benötigt, um die Proben vorzubereiten. Stellen Sie sicher, dass der Kühler um -60 ° C ist, verwenden Sie ein wenig Ethanol und Trockeneis für das Erreichen dieser Temperatur zu ermöglichen. Eine Stunde vor dem Start des Experiments stellte die Flasche der Kryo-Einbettmedium (Tissue-Tek OCT-Verbindung) kopfüber in eine 4 ° C Kühlschrank, um es abzukühlen und um die Bildung von Luftblasen zu minimieren.
Stellen Sie den Kragen mit Fliege auf der Folie der Tasche, wurde für einige Minuten in das Einfrieren Kühler vorgekühlt und schnell zu füllen mit der Kryo-Einbettmasse. Lassen Sie die Probe einfrieren für 3-10 min. Vorsichtig auspacken gebildeten Block im Inneren des Kühlers, sanft separaten Kragen aus der Einbettung Block und legte sie bei -20 ° C für mindestens einen Tag.
Schneiden Sie die gefrorenen Muskeln auf einer Kryo-Mikrotom zwischen -15 und -18 ° C mit einer Schnittdicke von 10-15 um. Legen Sie auf polarisierten Dias und halten bei -20 ° C bis zu seiner weiteren Verarbeitung zu tun. Wir schlagen vor, Fixieren des Gewebes in 4% Formaldehyd PBS-Lösung für 10 min bei Raumtemperatur vor Antikörper-Färbung.
5. Lipids Erkennung in Drosophila Muskeln
Lipid Tröpfchen können mit Öl rot O auf Gefrierschnitten mit einem Protokoll aus Sieber und Thummel 5 angenommen Flecken erkannt werden.
Nach der Fixierung, Waschen Folien mit Wasser zweimal für 5 min, äquilibriert in Propylenglykol für 10 min und Inkubation für 3 h in Öl rot O bei Raumtemperatur Fleck. Dann waschen Proben 2 mal für 5 min in Propylenglykol und 30 min in PBS. Montieren Sie in 30% Glycerin.
6. Repräsentative Ergebnisse:

FeigeAbbildung 1. Petrolofen eingebetteten Schnitten
Hämatoxylin und Eosin angefärbt quer (AB) und längs (CD) Teile der indirekten Flugmuskulatur. A und C zeigt normalen strukturierten Muskeln. Abnormal von Größe und Morphologie Muskeln sind auf B und D (schwarze Pfeile) dargestellt. Querschnitt von Drosophila Thorax gefärbt mit anti-LamC, Kernhülle Marker und DAPI, Kernfärbung (EF). Vergrößerte Ansicht von normal (roter Pfeil) und verschlechtert (gelber Pfeil) Muskeln (F). G steht für Abschnitt Drosophila Darmtrakt gefärbt mit LamC und DAPI.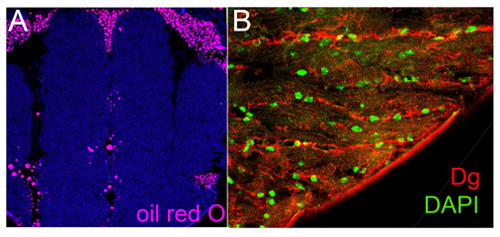 Abbildung 2. Gefrierschnitte
A. Quer Gefrierschnitten von Drosophila Thorax gefärbt mit Oil Red O, Lipidtröpfchen Etikett.
B. Longitudinal Gefrierschnitten der indirekten Flugmuskulatur mit anti-Dg-, Muskel-Sarkolemm Marker und DAPI gefärbt.
Disclosures
Keine Interessenskonflikte erklärt.
Acknowledgments
Wir danken Prof. Eichele für die Erlaubnis, die Kryo-Mikrotom verwenden. Die Arbeit wurde von Max-Planck-Gesselschaft finanziert.
Materials
| | | | |
| --- | --- | --- | --- |
| Name | Company | Catalog Number | Comments |
| Stainless steel collars | Home made | | Specially constructed |
| Forceps | Fine Science Tools | 11295-10 | |
| Aluminum foil | Any Supplier | | |
| Blade or scalpel | Any Supplier | | |
| Wheaton macro staining jar | Wheaton | 900200 | |
| Microtome | Carl Zeiss, Inc. | | Model: Hyrax M25 |
| Cryo-microtome | Leica Microsystems | | Model CM3050S |
| 60-65°C Incubator | Any Supplier | | Large enough to hold at least 4 staining jars |
| Freezing cooler with metal block | Any Supplier | | Store at -80°C |
| Super-frost slides | Thermo Fisher Scientific, Inc. | 9161155 | |
| Cover slips | Any Supplier | | Recommend 24 X 40 mm |
| Chloroform | Sigma-Aldrich | 288306 | Analytical grade |
| Glacial acetic acid | Merck & Co., Inc. | 100063 | Analytical grade |
| Ethanol | Merck & Co., Inc. | 100983 | Analytical grade |
| Methylbenzoate | Sigma-Aldrich | M29908-500G | Analytical grade |
| Paraplast plus | Sigma-Aldrich | 76258 | Paraffin |
| Tissue-Teck O.C.T. compound | Sakura Finetek | 4583 | |
| 16% formaldehyde, methanol free | Polysciences, Inc. | 18814 | |
| Glycerol | Sigma-Aldrich | G5150-1L | |
References
Miller, A. The internal anatomy and histology of the imago of Drosophila melanogaster. CSHL Press. Cold Spring Harbor. (1950).
Shcherbata, H. R. Dissecting muscle and neuronal disorders in a Drosophila model of muscular dystrophy. The EMBO journal. 26, 481-481 (2007).
Kucherenko, M. M. Genetic modifier screens reveal new components that interact with the Drosophila dystroglycan-dystrophin complex. PloS one. 3, e2418-e2418 (2008).
Puchtler, H., Waldrop, F. S., Conner, H. M., Terry, M. S. Carnoy fixation: practical and theoretical considerations. Histochemie. 16, 361-36 (1968).
Ashburner, M. Drosophila - A Laboratory Manual. CSHL Press. (1989).
Sieber, M. H., Thummel, C. S. The DHR96 nuclear receptor controls triacylglycerol homeostasis in Drosophila. Cell metabolism. 10, 481-481 (2009).