Summary
Identifiering av mekanismerna bakom muskelskador är avgörande. Här presenterar vi de histologiska teknik för att förbereda paraffininbäddade och frysta delar av Drosophila bröstkorg muskler. Detta möjliggör analys av muskel morfologi och lokalisering av protein och andra muskel-komponenter cell.
Cite this Article
Copy Citation | Download Citations | Reprints and Permissions

Kucherenko, M. M., Marrone, A. K., Rishko, V. M., Yatsenko, A. S., Klepzig, A., Shcherbata, H. R. Paraffin-Embedded and Frozen Sections of Drosophila Adult Muscles. J. Vis. Exp. (46), e2438, doi:10.3791/2438 (2010).
Abstract
Den molekylära karakterisering av muskeldystrofi och myopatier på människa har visat komplexitet muskelsjukdom och genetisk analys av muskel specifikation, har bildning och funktion i modellsystem gett värdefulla insikter i muskelfysiologi. Därför identifiera och karakterisera molekylära mekanismer som ligger bakom muskelskada är kritisk. Strukturen för vuxna Drosophila flera fibrer muskler likna ryggradsdjur tvärstrimmiga musklerna 1 och den genetiska spårbarhet Drosophila har gjort det ett bra system för att analysera dystrofa muskler morfologi och beskriva de processer som påverkar muskelfunktion i åldrande vuxna flugor 2. Här presenterar vi de histologiska teknik för att förbereda paraffininbäddade och frysta delar av Drosophila bröstkorg muskler. Dessa förberedelser möjliggöra vävnad färgas med klassiska histologiska fläckar och märkta med protein upptäcka färgämnen, och särskilt kryosnitt är idealiska för immunhistokemisk detektion av proteiner i intakta muskler. Detta gör det möjligt för analys av muskelvävnad struktur, identifiering av morfologiska defekter, och detektion av uttrycket mönstret för muskel / neuron-specifika proteiner i Drosophila vuxna muskler. Dessa tekniker kan också vara något modifierad för sektionering av andra kroppsdelar.
Protocol
1. Förberedelser
Färskt förbereda Carnoy är fixativ genom att kombinera absolut etanol, kloroform och isättika i proportion 06:03:01 respektive. 3 Detta, liksom alla lösningar för att sänka ned halsband bör förvaras i glasburkar färgning (se reagenser avsnitt för rekommendation).
Förbered aluminiumfolie fickor rätt storlek för kragar.
Förbered följande lösningar i färgning burkar: 2 x 40% etanol, 70% etanol, 2 x 100% etanol, metylbensoat (MB), 50/50 v / v MB och paraffin, 2 X paraffin. Placera MB och behållare paraffin i en inkubator inställd på 60-65 ° C.
Varmt paraffin att hälla i folie fickor 60-65 ° C.
2. Fastställande Flugor i Halsband
Fäst kragen 4 under kikare med tejp i en vertikal position där du kan se ingångspunkt för flugan.
Bedöva flyger med hjälp av koldioxid eller via hypotermi med ett isblock. Var noga med att inte frysa flugor.
Använd pincett, plocka upp enskilda flugor genom att ta tag sina vingar och placera in i kragen orienterade ordentligt (huvud och bröstkorg på toppen av bladen och buken nedanför bladen). 10-20 flugor bör lätt passa in i kragen.
Obs: Om du analyserar flera genotyper, glöm inte att anteckna kragen numret och motsvarande genotyp.
3. Paraffin av Drosophila Thoraxes
Flytta kragen till Carnoy lösning och fixa vävnaden vid 4 ° C över natten.
Efter fixering, torkar provet med ökande koncentrationer av etanol. För 10 minuter varje dränka kragen till 40% (2 gånger), 70% och 100% (2 gånger) etanol vid rumstemperatur. Nästa inkubera krage i MB och MB + paraffin-lösning (1:1) i 30 min i varje och sedan infiltrera kragen i två förändringar av paraffin i 60 min vardera vid 60-65 ° C. Snabbt flytta kragen in i folie fickan och fyll med smält (60-65 ° C) paraffin. Placera den i rumstemperatur och låt paraffin bli hårt (det är bäst att lämna över natten). Notera att kragen kan placeras i folien fickan i olika inriktningar, beroende på inriktningen på de avsnitt du behöver (längsgående eller tvärgående).
Packa torrt paraffinblock med kragar från folien och försiktigt separera kragen från paraffin blocket. Med hjälp av en vass kniv eller skalpell Skär försiktigt ut den extra-paraffin från hela flugan vävnad.
Skär paraffin block med 7-10 steg ìm avsnitt på ett rotationsschema mikrotomen och låta skära vävnaden flyta lägenhet i ett 37 ° C vattenbad. Placera delad vävnad polära diabilder och låt torka över natten. Dessa bilder kan användas för färgning med hematoxyline och eosin (Figur 1A-D), toluidinblått, anilin blå eller annan dör för att visualisera vävnader, samt för antikroppar färgning (Figur 1E-E ``).
4. Kryosnitt av Drosophila Thoraxes
Som med paraffin, förbereda flugor i en krage och mode en aluminiumfolie ficka. En frysning kylare kommer att behövas för att förbereda prover. Se till att kylaren är runt -60 ° C, använd lite etanol och torris för att för att nå denna temperatur. En timme innan försöket satte flaskan med Cryo-inbäddning medium (Tissue-Tek oktober förening) upp och ner i en 4 ° C kylskåp för att kyla ner det och för att minimera bildandet av luftbubblor.
Flytta krage med flyger till folien fickan som har nedkylda i flera minuter inne i frysning svalare och snabbt fylla med Cryo-inbäddning förening. Låt provet frysa i 3-10 min. Försiktigt packa upp bildade blocket inne i svalare, försiktigt separera kragen från inbäddning blocket och satte den vid -20 ° C under minst en dag.
Skär den frusna musklerna på ett Cryo-mikrotom mellan -15 och -18 ° C med ett avsnitt tjocklek på 10-15 ìm. Placera på polariserade diabilder och hålla vid -20 ° C tills den ska göra vidare bearbetning. Vi föreslår fastställande av vävnad i 4% formaldehyd PBS-lösning för 10 minuter i rumstemperatur före antikroppar färgning.
5. Lipider Påvisande i Drosophila Muskler
Lipiddropparna kan upptäckas med olja röda O fläck på kryosnitt hjälp av ett protokoll som antogs av Sieber och Thummel 5.
Efter fixering, tvätta objektglasen med vatten två gånger i 5 minuter till jämvikt i propylenglykol i 10 min och inkubera i 3 timmar i olja rött O fläck vid rumstemperatur. Tvätta sedan prover 2 ggr i 5 min i propylenglykol och 30 minuter i PBS. Montera i 30% glycerol.
6. Representativa resultat:

Figure 1. Parrafin-inbäddade profiler
Hematoxyline och eosine färgade tvärgående (AB) och longitudinella (CD) avsnitt av indirekta flyg muskler. A och C visar normal strukturerad muskler. Onormal efter storlek och morfologi muskler är representerade på B respektive D. (svarta pilar). Tvärsnitt af Drosophila bröstkorgen färgade med anti-LamC, kärnhöljet markör och DAPI, kärn-bets (EF). Förstorad bild av normal (röd pil) och försämrades (gul pil) muskler (F). G står för del av Drosophila tarmkanalen färgas med LamC och DAPI.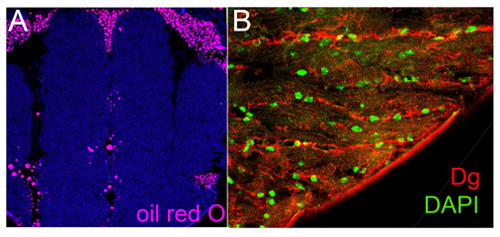 Figur 2. Frysta snitt
A. Tvärgående frysta snitt av Drosophila bröstkorgen målat med olja röd O, lipiddropparna etikett.
B. Längsgående frysta snitt av indirekta flygmuskler färgade med anti-Dg, muskel sarcolemma markör och DAPI.
Disclosures
Inga intressekonflikter deklareras.
Acknowledgments
Vi tackar Prof. Eichele för att tillåta oss att använda Cryo-mikrotomen. Arbetet har finansierats av Max-Planck-Gesselschaft.
Materials
| | | | |
| --- | --- | --- | --- |
| Name | Company | Catalog Number | Comments |
| Stainless steel collars | Home made | | Specially constructed |
| Forceps | Fine Science Tools | 11295-10 | |
| Aluminum foil | Any Supplier | | |
| Blade or scalpel | Any Supplier | | |
| Wheaton macro staining jar | Wheaton | 900200 | |
| Microtome | Carl Zeiss, Inc. | | Model: Hyrax M25 |
| Cryo-microtome | Leica Microsystems | | Model CM3050S |
| 60-65°C Incubator | Any Supplier | | Large enough to hold at least 4 staining jars |
| Freezing cooler with metal block | Any Supplier | | Store at -80°C |
| Super-frost slides | Thermo Fisher Scientific, Inc. | 9161155 | |
| Cover slips | Any Supplier | | Recommend 24 X 40 mm |
| Chloroform | Sigma-Aldrich | 288306 | Analytical grade |
| Glacial acetic acid | Merck & Co., Inc. | 100063 | Analytical grade |
| Ethanol | Merck & Co., Inc. | 100983 | Analytical grade |
| Methylbenzoate | Sigma-Aldrich | M29908-500G | Analytical grade |
| Paraplast plus | Sigma-Aldrich | 76258 | Paraffin |
| Tissue-Teck O.C.T. compound | Sakura Finetek | 4583 | |
| 16% formaldehyde, methanol free | Polysciences, Inc. | 18814 | |
| Glycerol | Sigma-Aldrich | G5150-1L | |
References
Miller, A. The internal anatomy and histology of the imago of Drosophila melanogaster. CSHL Press. Cold Spring Harbor. (1950).
Shcherbata, H. R. Dissecting muscle and neuronal disorders in a Drosophila model of muscular dystrophy. The EMBO journal. 26, 481-481 (2007).
Kucherenko, M. M. Genetic modifier screens reveal new components that interact with the Drosophila dystroglycan-dystrophin complex. PloS one. 3, e2418-e2418 (2008).
Puchtler, H., Waldrop, F. S., Conner, H. M., Terry, M. S. Carnoy fixation: practical and theoretical considerations. Histochemie. 16, 361-36 (1968).
Ashburner, M. Drosophila - A Laboratory Manual. CSHL Press. (1989).
Sieber, M. H., Thummel, C. S. The DHR96 nuclear receptor controls triacylglycerol homeostasis in Drosophila. Cell metabolism. 10, 481-481 (2009).