Summary
Kas hasarı altta yatan mekanizmaların belirlenmesi çok önemlidir. Burada parafine gömülü ve Drosophila torasik kasları bölümleri dondurulmuş hazırlamak için histolojik teknik sunuyoruz. Bu kas morfoloji ve protein ve diğer kas hücre bileşenleri lokalizasyonu analizi sağlar.
Cite this Article
Copy Citation | Download Citations

Kucherenko, M. M., Marrone, A. K., Rishko, V. M., Yatsenko, A. S., Klepzig, A., Shcherbata, H. R. Paraffin-Embedded and Frozen Sections of Drosophila Adult Muscles. J. Vis. Exp. (46), e2438, doi:10.3791/2438 (2010).
Abstract
Insanlarda kas distrofiler ve miyopatiler moleküler karakterizasyonu, kas hastalığı ve kas belirtimi genetik analiz karmaşıklığını ortaya koymuştur model sistemler oluşumu ve işlevi kas fizyolojisi değerli bilgiler sağladı. Bu nedenle, kas hasarı altında yatan moleküler mekanizmaları karakterize belirlenmesi ve kritik öneme sahiptir. Yetişkin Drosophila çok lifli kas yapısı, omurgalı çizgili kaslar 1 ve Drosophila, genetik tractability distrofik kas morfolojisi analiz ve yaşlanma yetişkin kas fonksiyonunu etkileyen süreçler 2 uçar karakterize etmek için büyük bir sistem yaptı benzerler . Burada parafine gömülü ve Drosophila torasik kasları bölümleri dondurulmuş hazırlamak için histolojik teknik sunuyoruz. Bu hazırlıklar, klasik histolojik lekeleri ile protein tespit boya ile boyanmış ve etiketlenmesine doku için izin ve özellikle cryosections sağlam kaslarda protein immünohistokimyasal tespiti için idealdir. Bu kas dokusunun yapısı, morfolojik kusurların belirlenmesi, ve kas / Drosophila yetişkin kaslarda nöron-spesifik proteinlerin ifade deseninin tespit analizi sağlar. Bu teknikler, aynı zamanda diğer vücut parçaları kesit için biraz değiştirilmiş olabilir.
Protocol
1. Hazırlık
Taze 3 Bu oran 06:03:01 sırasıyla mutlak etanol, kloroform ve buzul asetik asit birleştirerek Carnoy Kullanıcı fiksatif hazırlamak yanı sıra daldırarak yaka için tüm çözümleri (öneri için reaktifler bölümüne bakınız) cam boyama kavanoz içinde muhafaza edilmelidir.
Alüminyum folyo hazırlayın yaka için doğru boyutu cebe.
2 X% 40 etanol,% 70 etanol, 2 X% 100 etanol, methylbenzoate (MB), 50/50 v / v MB ve parafin, 2 X parafin: kavanoz boyama aşağıdaki çözümleri hazırlayın. 60-65 ° C için bir kuluçka set MB ve parafin kapları koyun.
60-65 ° C folyo ceplerine dökmek Sıcak parafin
2. Sinekler yaka içinde Tespit
Binoküler altında dikey konumda sinek için giriş noktası görebileceğiniz bir bant kullanarak yaka 4 takın.
Anestezisi bir buz bloğu kullanarak karbon dioksit veya hipotermi ile uçar. Sineklerin dondurmak için dikkatli olun.
Forseps kullanarak, doğru yönde (bıçakları ve bıçaklar altında karnın üst baş ve göğüs) yaka içine kanatları ve yer kapma bireysel sinekler pick up. 10-20 sinekler yaka kolayca sığacak gerekir.
Not: Birden fazla genotipleri analiz yapıyorsanız, yaka numarasını ve ilgili genotip bir yere not etmeyi unutmayın.
3. Drosophila Thoraxes Parafin Bölüm
Carnoy çözümü için yaka yerini değiştirin ve doku düzeltmek 4 ° C, gece boyunca.
Fiksasyon sonra, etanol artan konsantrasyonlarda kullanarak örnek kurutmak. 10 dakika her biri% 40 (2 kez),% 70 ve% 100 oda sıcaklığında (2 kez) etanol içine daldırın yaka için. Sonraki inkübe MB ve MB + parafin çözüm (1:1) yaka ve her 30 dakika için 60-65, her biri için 60 dk iki değişiklik parafin ° C yaka sızmak Hızla folyo cebine yaka taşınmaya ve erimiş (60-65 ° C) parafin ile doldurun. Oda sıcaklığında yerleştirin ve parafin (o gecede terk etmek en iyisidir) sabit hale izin. Yaka (boyuna veya enine) bölümleri yönünü bağlı olarak, farklı yönelimleri folyo cebe yerleştirilir olduğunu unutmayın.
Folyo yaka kuru parafin blokları Unwrap ve parafin blok hafifçe yaka ayrı. Sinek doku etrafında ekstra parafin, keskin bir bıçak ya da neşter yardımıyla dikkatlice kesip.
Kes bir dönme mikrotom 7-10 mikron bölüm adımlarla parafin blok ve 37 ° C su banyosunda kesilen doku düz float izin. Kutup slaytlar kesitli doku yerleştirin ve gece boyunca kurumasını bekleyin. Bu slaytlar Hematoksilen ve eozin ile boyanması için kullanılabilir (Şekil 1A-B), toluidin mavi, anilin mavisi veya diğer ölür doku yapıları görselleştirmek için, hem antikor boyama gibi (Şekil 1E-E ``).
4. Drosophila Thoraxes, Cryosections
Parafin bölümlerde olduğu gibi, bir yaka ve moda bir alüminyum folyo cep sinek hazırlamak. Dondurma soğutucusu örnekleri hazırlamak için gerekli olacaktır. Soğutucu -60 civarında olduğundan emin olun ° C, bu sıcaklık ulaşmak için izin vermek için küçük bir etanol ve kuru buz kullanın. Deney başlamadan önce bir saat soğumasını ve hava kabarcıklarının oluşumunu en aza indirmek için 4 ° C buzdolabı ters cryo gömme orta şişe (Doku Tek Ekim bileşik) koymak.
Dondurucu soğutucu içinde birkaç dakika için ön soğutmalı ve hızla cryo gömme bileşik ile doldurun olmuştur folyo cebe sinekler yaka yerini değiştirin. 3-10 dakika için örnek donmasına izin. Dikkatle, soğutucu içinde oluşan blok unwrap yavaşça gömme blok yaka ayrı ve en az bir gün için -20 ° C'de koydu.
-15 Ve -18 ° C arasında bir mikrotom cryo bir bölümü 10-15 mikron kalınlığında donmuş kasları kesin. Polarize slaytlar yerleştirin ve daha fazla işlem yapmak için hazır olana kadar -20 ° C'de tutmak. Antikor boyama önce oda sıcaklığında 10 dakika için% 4 formaldehit PBS çözüm doku sabitleme öneririz.
5. Drosophila Kaslar Lipidler Algılama
Lipid damlacıkları yağı kırmızı O Sieber ve Thummel 5 kabul edilen bir protokol kullanarak cryosections leke ile tespit edilebilir .
Fiksasyon sonra, 5 dk, 10 dk inkübe 3 yağ kırmızı O saat oda sıcaklığında leke için propilen glikol dengelenmiş slaytlar için iki kez su ile yıkayın. Ardından, propilen glikol ve PBS içinde 30 dakika 5 dakika örnekleri 2 kez yıkayın. % 30 gliserol Dağı.
6. Temsilcisi Sonuçlar:

Incirure 1. Parrafin-gömülü bölümleri
Dolaylı uçuş kaslarına Hematoksilen ve eozin boyanmış enine (AB) ve boyuna (CD) bölümleri. A ve C normal yapılandırılmış kasları gösterir. Anormal boyutu ve morfolojisi kasları sırasıyla B ve D (siyah ok) temsil edilmektedir. Anti-LamC leke nükleer (EF), çekirdek zarı marker ve DAPI, Drosophila toraks boyanmış enine bölümü. Normal büyütülmüş görünümü (kırmızı ok) ve bozulmuş (sarı ok) kasları (F). G LamC ve DAPI Drosophila bağırsak boyanan bölümünde temsil eder.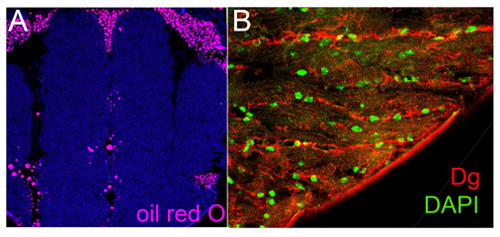 Şekil 2. Frozen
Drosophila toraks yağı kırmızı O, lipid damlacıkları etiket ile boyanmış A. Transvers frozen.
B. dolaylı uçuş kaslarına Boyuna frozen anti-Dg, kas sarcolemma işaretleyici ve DAPI ile boyandı.
Disclosures
Çıkar çatışması ilan etti.
Acknowledgements
Biz bize cryo-mikrotom kullanmak için izin verdiği için Prof. Eichele teşekkür ederim. İş Max-Planck-Gesselschaft tarafından finanse edildi.
Materials
| | | | |
| --- | --- | --- | --- |
| Name | Company | Catalog Number | Comments |
| Stainless steel collars | Home made | | Specially constructed |
| Forceps | Fine Science Tools | 11295-10 | |
| Aluminum foil | Any Supplier | | |
| Blade or scalpel | Any Supplier | | |
| Wheaton macro staining jar | Wheaton | 900200 | |
| Microtome | Carl Zeiss, Inc. | | Model: Hyrax M25 |
| Cryo-microtome | Leica Microsystems | | Model CM3050S |
| 60-65°C Incubator | Any Supplier | | Large enough to hold at least 4 staining jars |
| Freezing cooler with metal block | Any Supplier | | Store at -80°C |
| Super-frost slides | Thermo Fisher Scientific, Inc. | 9161155 | |
| Cover slips | Any Supplier | | Recommend 24 X 40 mm |
| Chloroform | Sigma-Aldrich | 288306 | Analytical grade |
| Glacial acetic acid | Merck & Co., Inc. | 100063 | Analytical grade |
| Ethanol | Merck & Co., Inc. | 100983 | Analytical grade |
| Methylbenzoate | Sigma-Aldrich | M29908-500G | Analytical grade |
| Paraplast plus | Sigma-Aldrich | 76258 | Paraffin |
| Tissue-Teck O.C.T. compound | Sakura Finetek | 4583 | |
| 16% formaldehyde, methanol free | Polysciences, Inc. | 18814 | |
| Glycerol | Sigma-Aldrich | G5150-1L | |
References
Miller, A. The internal anatomy and histology of the imago of Drosophila melanogaster. CSHL Press. Cold Spring Harbor. (1950).
Shcherbata, H. R. Dissecting muscle and neuronal disorders in a Drosophila model of muscular dystrophy. The EMBO journal. 26, 481-481 (2007).
Kucherenko, M. M. Genetic modifier screens reveal new components that interact with the Drosophila dystroglycan-dystrophin complex. PloS one. 3, e2418-e2418 (2008).
Puchtler, H., Waldrop, F. S., Conner, H. M., Terry, M. S. Carnoy fixation: practical and theoretical considerations. Histochemie. 16, 361-36 (1968).
Ashburner, M. Drosophila - A Laboratory Manual. CSHL Press. (1989).
Sieber, M. H., Thummel, C. S. The DHR96 nuclear receptor controls triacylglycerol homeostasis in Drosophila. Cell metabolism. 10, 481-481 (2009).