Summary
Lyme hastalığı araştırma çalışmaları, genellikle bir süreç genellikle birkaç hafta sürer patojen Borrelia burgdorferi ile enfekte kenelerin nesil gerektirir. Burada saat içinde yapılabilir mikroenjeksiyon tabanlı bir kene enfeksiyonu prosedürü göstermektedir. Ayrıca keneler içinde B. burgdorferi in situ lokalizasyonu için immünofloresan yöntemi göstermektedir.
Cite this Article
Copy Citation | Download Citations

Kariu, T., Coleman, A. S., Anderson, J. F., Pal, U. Methods for Rapid Transfer and Localization of Lyme Disease Pathogens Within the Tick Gut. J. Vis. Exp. (48), e2544, doi:10.3791/2544 (2011).
Abstract
Lyme hastalığı kene kemirgen enfeksiyon döngüsü 1 doğa korunur spirochete patojen Borrelia burgdorferi ile enfeksiyona neden olur. Kene kaynaklı bir fare modelinde 2 laboratuvar Lyme hastalığı araştırmak için geliştirilmiştir . Naif keneler B ile enfekte olabilir burgdorferi enfekte fareler üzerinde onları beslemek, döküm işlemi tamamlamak için ay birkaç hafta sürer. Bu nedenle, mikroenjeksiyon tabanlı bir prosedür olarak daha hızlı ve verimli bir kene enfeksiyonu teknikleri, geliştirme, Lyme hastalığı 3,4 çalışması için önemli bir araçtır. Bu prosedür, sadece saat keneler üretmek için gerektirir ve bir kohort keneler spiroketlerine eşit miktarlarda teslim üzerinde kontrol sağlar. Bu nesil olarak B. özellikle önemlidir fareler kullanarak doğal beslenme süreci burgdorferi keneler beslenen keneler arasında patojen yükünün değişimi% 100 enfeksiyon oranı ve potansiyel sonuçları sağlamak için başarısız olur. Ayrıca, mikroenjeksiyon, B ile keneler enfekte için kullanılabilir burgdorferi bir zayıflatılmış gerginlik farelerde enfeksiyon kuramadı ve böylece doğal keneler 5 tarafından elde edilemez durumlarda izole eder. Bu teknik aynı zamanda kenelerin diğer biyolojik malzemelerin çeşitli sunmak için kullanılabilir, örneğin, spesifik antikorlar veya çift RNA 6 telli . Bu makalede, B. in vitro yetiştirilen nymphal keneler mikroenjeksiyon gösterecektir burgdorferi. Biz de, Lyme hastalığı kene gut konfokal immünofloresan mikroskopi kullanılarak patojenlerin lokalizasyonu için bir yöntem anlatacağım.
Protocol
1. Nymphal Ixodes scapularis Keneler, Mikroenjeksiyon
1. Hazırlanması iğneler
Isıtma ve bir cam mikropipet çektirmesi cihazı (Narishige) 1 mm cam kapiller tüplerin (Dünya Hassas Aletler) çekerek birkaç mikroenjeksiyon iğneler üretmektedirler. Kırılgan kılcal tüpler dikkatlice çıkarın.
Mağaza bir Petri kabındaki, iğne ucu yukarı bakacak şekilde yapışkan bant çekti.
2. B. hazırlanması burgdorferi
B. büyütün BSK kültür ortamı 7 ml başına yaklaşık 7 10 hücrelerinin bir konsantrasyon kadar burgdorferi. Spiroketler Petroff-Hausser sayma kamara (Hausser bilimsel) bir karanlık alan mikroskobu altında sayılır.
Pelet B. oda sıcaklığında 10 dakika için 3000 xg'de santrifüj burgdorferi.
Süpernatantı ve tamamen BSK medya pelet hafifçe ml başına 10 9 hücrelerinin nihai konsantrasyonu 200 mcL steril mikrotip geçerek tekrar süspansiyon haline getirin. Yüksek hücre yoğunluğu hücrelerinin yeniden süspanse hücre süspansiyonu, mikroenjeksiyon için hemen bir araya gelme olmalıdır olabilir göre.
3. Hazırlanması keneler
Bir bardak slayt açık, çift taraflı yapışkan bant yerleştirin.
Yapışkan bir minder üzerinde çalışarak, küçük bir fırça kullanarak kapsayıcı nymphal keneler dikkatlice çıkarın.
Aynı yöne bakacak şekilde, yapışkan bant, ventral tarafta enjekte edilmek üzere gerekli sayıda kene yerleştirin.
4. Enjekte keneler
Yük B. 5 mcL 20 mcL Microloader pipet (Eppendorf) kullanılarak çekilmiş kılcal iğne içine burgdorferi kültür. Hava kabarcığı için iğne kontrol edin ve gerekirse iğne, bakteri kültürü ile yeniden.
Diseksiyon mikroskop altında kene ve kene anal açıklık alanı odaklanmak. Kılcal bir iğne ucu çapı mikroenjeksiyon iğne oluşturarak, kene anal diyafram biraz daha küçük tüp kırmak için hafifçe dokunun. Bu adım, uygun olmayan bir iğne ucu ile kene enjekte etmek için herhangi bir girişimde enjekte kene olası yaralanma ve ölüm nedenleri olarak kritik öneme sahiptir.
Diseksiyon binoküler mikroskop altında immobilize keneler yerleştirin ve iki hareketli anal plakalar ile kaplıdır anal diyafram, odaklanmak. Ince forseps kullanarak, hafifçe dokunmak ve anal diyafram yakınında herhangi bir yerde çok hafif basınç uygulayın. Bu anal plakalar ve gut bağlanan anal gözenek açılması ayrılması sağlayacaktır. Zorla anal plakalar açıklıktan anal boşluğuna iğne ucu biraz dikkatlice yerleştirin. İğne ekleme cam ucu rektum bağlayan yarı saydam hindgut zarar verebilir minimum düzeyde tutulmalıdır. Otomatik ayak kontrolü (Eppendorf) ile donatılmış bir mikroenjektör kullanarak, B. enjekte 1,000 hectopascals (hPa) enjeksiyon basıncı, 0.2 saniye enjeksiyon süresi ve 8 inç tazminat basıncı: aşağıdaki parametreleri kullanarak burgdorferi çözüm. Her kene, tek bir enjeksiyon alır.
Mikroenjeksiyon, keneler enjeksiyon öncesi durumuna benzer davranmalıdır. Örneğin, kene uyaranlara yanıt olarak tarama gerekir.
Biz genellikle, keneler 24 yaşında bir çevre odasında 48 saat boyunca kurtarmak için izin ° C 16 saat / 8 saat aydınlık / karanlık fotoperiyodun rejimi ve% 95 nem. Bir oda mevcut değilse, enjekte keneler nemli koşullar, düzenli bir desikatöre odası gibi bir hava geçirmez bir kap içinde oda sıcaklığında saklanabilir. Gerekirse önce fareler üzerinde beslemek için kullanılır, keneler iyileşme süresi de bir kaç saat kısaltılmış olabilir.
2. B. Konfokal İmmünofloresan Mikroskopi burgdorferi Yerelleştirme
1. Diseksiyon keneler
Damlacık fosfat tamponlu salin (PBS) mikroskopi için bir poli-L-lisin kaplı slayt (Sigma), diseksiyon ve başka bir temiz bir cam slayt . Çift taraflı yapışkan bant ile başka bir cam slayt hazırlayın.
Kene küçük bir fırça kullanarak, çift taraflı yapışkan bant konteyner ve yerden çıkarın.
Diseksiyon mikroskobu kene bakın ve odaklanın. Bacak birinci ve ikinci çiftleri arasındaki kene keskin bir jilet yerleştirin. Karın erişim sağlayan iki adet kesme kene sıkıca aşağı doğru bastırın. Hemen batığın PBS bir damlacık karın.
Çok ince forseps kullanarak, kesme site çevresinde dorsal ve ventral Exoskeleton kapmak. Dorsal kalkan kahverengi renkli bağırsakta divertikül açığa kene dikkatlice yukarı çekin ve uzak. PBS kapsamında diseksiyon keneler her zaman tutmak için dikkatli olun.
Yarı-saydam bir tükürük bezi topuzdles gut ön bölgenin her iki tarafında bulunmaktadır, ve eğer istenirse, bu noktada kaldırılabilir. Forseps ile yerde kalan dış iskelet Holding, bağırsak karın dikkatlice dışarı çekin.
(Örneğin, trakea) sıkışan dokuları kaldırarak gut yavaşça temizleyin.
Ucu ince forseps kullanarak, hızlı bir poli-L-lisin cam slayt PBS bir damlacık kene gut aktarın. Ince bıçakları kullanarak küçük parçalar halinde ayrı ayrı veya bağırsak, ince forseps ucu ile hafifçe basılarak. Dikkatlice bağırsak dokuların etrafında aşırı PBS aspirat.
Bağırsak dokularında, oda sıcaklığında kurumaya bırakın.
10 dakika aseton daldırarak kene gut sabitleyin. Oda sıcaklığında kurumaya bırakın. Slaytlar ay boyunca hava geçirmez bir kap içinde -20 ° C'de bu aşamada depolanmış olabilir.
2. Boyanma
Kağıt mendil kullanarak, doku çevresindeki aşırı neme kaldırın ve bir pap-kalem veya herhangi bir hidrofobik bariyer astar cihazı kuru kene bağırsak etrafında bir daire çizin. Bu sonraki İnkübasyon sırasında boyama çözümler korumak için yardımcı olacaktır.
Oda sıcaklığında 30 dakika boyunca bir ya da birkaç damla engelleme tampon (PBS içinde Tween-20,% 5 keçi serumu% 0.05) ile kene gut örtün. Engellemek için kullanılan serum antikor konak hayvanın kaynağına bağlıdır. Slayt bu noktadan itibaren kurumasına izin vermeyin.
Yavaş yavaş engelleme tampon aspirat. Bağırsak uygun birincil ve / veya sekonder antikor çözümleri ile inkübe edin. - Floresein izotiyosiyanat (FITC) anti-B etiketli burgdorferi antikor (Kirkegaard & Perry Laboratories), oda sıcaklığında 1 saat süreyle tampon engelleme 1:100 dilüsyon . Konteyner ışığa maruz kalma sınırı için alüminyum folyo ile örtün.
Nazik aspirasyonu ile antikor çözüm çıkarın. 4 gibi etiket kene dokular, floresan boya ',6-diamidino-2-phenylindole (DAPI) veya propidium iyodür gut inkübe edin. Biz normalde 5 dakika süreyle PBS içinde 20 mcg / mL propidium iyodür (Sigma) kullanın. oda sıcaklığında.
% 0.05 Tween-20 PBS içinde 3 kere yıkayın.
Mount Slowfade (Invitrogen) gibi bir antifade reaktif içeren tamponlu gliserol slayt ve bir cam lamel dikkatlice ile kaplayın. Slaytlar hava geçirmez bir kap içinde, birkaç ay boyunca, 4 ° C bu adımı saklanabilir. Görüntü ve B. lokalize konfokal mikroskop altında burgdorferi.
3. Temsilcisi Sonuçlar
Pozisyon ve mikroenjeksiyon için nymphal kene B. temsil eden bir görüntü kene bağırsaktaki burgdorferi yerelleştirme Şekil 1'de sunulmaktadır.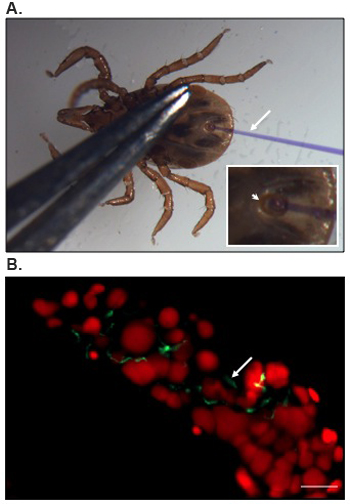 Şekil 1. B. Mikroenjeksiyon ve lokalizasyonu kene bağırsak içine burgdorferi.
Nymphal I. (A) Ventral scapularis kene mikroenjeksiyon için konumlandırılmış. Anal diyafram takılı mikroenjeksiyon iğnesi (ok) (ok ucu) içerlek büyütme altında gösterilir. Ince forsepsle anal plakalar ve mikroenjeksiyon için anal gözenek açılması ayrılması izin verilen gövde, hafif bir basınç uygulamak için kullanılır. (B) görünürlüğünü arttırmak Coomassie parlak mavi bir çözüm iğne ile doldurulur., B. konfokal immünofloresan görüntüleme Temsilcisi sonuçları kene bağırsak içinde burgdorferi. Bağırsak divertikülü ön bölge gösterilmiştir. Gut çekirdekleri ve spiroketlerine propidium iyodür (kırmızı) veya FITC-konjuge anti-B ile etiketlenir (ok) sırasıyla burgdorferi (yeşil renkli). Bar = 20 mikron.
Subscription Required. Please recommend JoVE to your librarian.
Discussion
Burada bakteriyel patojen B. nymphal Ixodes keneler hızlı ve etkin enfeksiyon mikroenjeksiyon tabanlı bir prosedür göstermek burgdorferi. Ayrıca B. tespiti için bir konfokal immünofloresan prosedürü tarif in situ kene gut burgdorferi. Bizim gösteri nymphal gut ibaret olmasına rağmen, benzer prosedürler, larva veya yetişkin 8,9 olarak keneler diğer gelişim evreleri için de geçerlidir . Ancak, küçük boyutu nedeniyle, teknik larvaları kullanmak için nispeten zor olabilir, ancak erişkin keneler için de geçerli olmalıdır. B. keneler yapay enfeksiyon diğer yöntemler burgdorferi cam kapiller tüplerin 10 beslemek veya kültür ortamı 11 daldırma tarafından geliştirilmiştir. Bu yöntemler, verimli, kolay ve nispeten ucuz. Ancak, bu işlemler B. nispeten kontrolsüz transfer güveniyor bireysel keneler içine burgdorferi ve böylece potansiyel patojen eşit yükleri ile musallat keneler kohortlarında üreten sınırlıdır. Ikinci eksiklik gibi mikroenjeksiyon gibi daha kontrollü teslimat işlemleri, önemli ölçüde aşılabilir. Laboratuvarımızda, rutin transferi B. için bu yordamı istihdam enfeksiyon oranları% 100'e yakın kene ve en keneler içine burgdorferi prosedürü hayatta. Enjekte kenelerin birkaç hafta için laboratuvara ay tutulur, ya da hemen fareler üzerinde tıkamak ve B. iletmek için izin olabilir burgdorferi enfeksiyonu. B. verimlilik ve kinetik burgdorferi iletim microinjected keneler doğal keneler benzer, ve bu nedenle de yapay kene enfeksiyonu prosedürleri kene kaynaklı Lyme borreliyozu çalışma çabalarımızı yardımcı olmak için muhtemeldir. Ayrıca, benzer mikroenjeksiyon teknikleri de, örneğin, ilgili deneysel amaçlı uygulanan kene 6,9,12 girişim aracılı RNA genetik manipülasyon olmuştur.
Mikroenjeksiyon keneler olgunlaşmamış aşamalarında nispeten hassas bir işlemdir. Keneler B. enjekte doğrulamak için bu nedenle önemlidir. burgdorferi sonraki deney seti geçmeden önce sağlıklı. Post-enjekte keneler bacaklar geri çekilir ve nefes veya bir fırça ile dokunmadan ekshale gibi uyaranlara yanıt vermeyen, daha fazla deneyler için kullanılan olmamalıdır. Bunlar en muhtemel ölü ya da enjeksiyon travma ölme eşiğinde. Biz iğne ucu ve enjeksiyon parametreleri boyutu büyük iğne uçları ve enjeksiyon hacimleri gibi prosedürü iki kritik faktörler olduğunu bulduk potansiyel yüksek kene ölüm ile sonuçlanan bağırsak duvar rüptürü olabilir. Burada açıklanan mikroenjeksiyon ayarlarını öncelikle B. enjekte için optimize edilmiş olduğunu dikkate almak da önemlidir burgdorferi BSK medya askıya aldı. Antikor veya konsantre RNA çözümler gibi diğer biyolojik maddeler, viskozitesi farklı olabilir. Diğer malzemeler için, en iyi mikroenjeksiyon ayarları, öncelikle enjeksiyon basıncı ve enjeksiyon süresi, ampirik olarak tespit edilmesi gerekmektedir.
Subscription Required. Please recommend JoVE to your librarian.
Disclosures
Çıkar çatışması ilan etti.
Acknowledgements
Biz içtenlikle Pal laboratuvar üyeleri bu gösteri hazırlığı ile ilgili yardım için teşekkür ederim. Bu çalışma NIH / NIAID PHS hibe AI076684 ve AI080615 tarafından desteklenmiştir.
Materials
| | | | |
| --- | --- | --- | --- |
| Name | Company | Catalog Number | Comments |
| Glass capillary tubes | World Precision Instruments, Inc. | TW100F-4 | |
| Vertical glass puller | Narishige International | PC-10 | |
| Petroff-Hausser counting chamber | Hausser Scientific | 3900 | |
| Microloader pipette tips | Eppendorf | 930001007 | |
| Femtojet microinjector | Eppendorf | 920010504 | |
| Foot control FemtJet | Eppendorf | 920005098 | |
| Phosphate buffered saline | Fisher Scientific | BP665-1 | Filter-sterilized |