Summary
De ziekte van Lyme studies vereisen vaak generatie van de teken besmet met de ziekteverwekker Borrelia burgdorferi, een proces dat normaal gesproken duurt enkele weken. Hier laten we zien een micro-injectie-based tick infectie procedure die kan worden bereikt binnen enkele uren. We tonen ook aan een immunofluorescentie methode voor het in situ lokalisatie van B. burgdorferi in teken.
Cite this Article
Copy Citation | Download Citations

Kariu, T., Coleman, A. S., Anderson, J. F., Pal, U. Methods for Rapid Transfer and Localization of Lyme Disease Pathogens Within the Tick Gut. J. Vis. Exp. (48), e2544, doi:10.3791/2544 (2011).
Abstract
Ziekte van Lyme wordt veroorzaakt door infectie met de spirocheet ziekteverwekker Borrelia burgdorferi, die in de natuur onderhouden door een tick-knaagdier infectie cyclus 1. Een teek overgedragen murine model 2 is ontwikkeld om de ziekte van Lyme studie in het laboratorium. Terwijl de naïeve teken kunnen besmet worden met B. burgdorferi door ze te voeren op geïnfecteerde muizen, het rui proces duurt enkele weken tot maanden in beslag. Daarom is de ontwikkeling van meer snelle en efficiënte vink infectie technieken, zoals een micro-injectie-gebaseerde procedure, is een belangrijk instrument voor de studie van de ziekte van Lyme 3,4. De procedure vereist slechts uren voor het genereren van besmette teken en laat de controle over de levering van gelijke hoeveelheden van spirocheten in een cohort van teken. Dit is vooral belangrijk als de generatie van B. burgdorferi besmette teken door de natuurlijke voeding proces met behulp van muizen niet 100% besmettingsgraad en mogelijk resulteert in een variatie van een ziekteverwekker lasten te waarborgen onder gevoed teken. Daarnaast kunnen micro-injectie gebruikt worden om teken te infecteren met B. burgdorferi isolaten in gevallen waarin een verzwakte stam niet in staat is om infectie te vestigen in muizen en kan dus niet op natuurlijke wijze worden verkregen door teken 5. Deze techniek kan ook worden gebruikt om een verscheidenheid van andere biologische materialen te leveren in het teken, bijvoorbeeld specifieke antilichamen of dubbelstrengs RNA 6. In dit artikel zullen we de micro-injectie van nimfen teken te tonen in vitro gekweekte B. burgdorferi. We zullen ook beschrijven een methode voor het lokaliseren van de ziekte van Lyme pathogenen in de teek darm met behulp van confocale microscopie immunofluorescentie.
Protocol
1. Micro-injectie van de nimfen Ixodes scapularis Ticks
1. Voorbereiden naalden
Fabriceren verschillende micro-injectie naalden door te verwarmen en te trekken 1 mm glazen capillaire buisjes (World precisie-instrumenten) in een glas micropipet trekker apparaat (Narishige). Verwijder voorzichtig de fragiele capillaire buizen.
Store naalden (met tip naar boven gericht) trok plakband in een petrischaal.
2. Voorbereiden B. burgdorferi
Grow B. burgdorferi in BSK cultuur media 7 tot bij een concentratie van ongeveer 10 7 cellen per ml. Spirocheten worden geteld onder een donkere-veld microscoop met behulp van een Petroff-Hausser telkamer (Hausser wetenschappelijke).
Pellet B. burgdorferi door centrifugeren bij 3000 xg gedurende 10 minuten bij kamertemperatuur.
Verwijder supernatant en volledig de pellet in BSK media mengen door voorzichtig passeren een 200 pi steriel microtip tot een uiteindelijke concentratie van 10 9 cellen per ml. Omdat de cellen geresuspendeerd bij hoge celdichtheid, en kunnen klonteren samen, de celsuspensie moet worden gebruikt voor micro-injectie onmiddellijk.
3. Voorbereiden teken
Plaats heldere, dubbelzijdige kleefband op een glasplaatje.
Werken aan een kleverige mat, verwijder voorzichtig nimfen teken uit de container met behulp van een kleine borstel.
Plaats het gewenste aantal van teken te injecteren op het plakband, ventrale zijde omhoog, in dezelfde richting.
4. Injecteren teken
Belasting 5 pi van de B. burgdorferi cultuur in de capillaire naald getrokken met behulp van een 20 il microloader pipetpunt (Eppendorf). Inspecteer de naald voor luchtbellen en herlaad de naald met bacteriële cultuur, indien nodig.
Bekijk de teek onder de binoculaire microscoop ontleden en zich richten op anale van de teek het diafragma gebied. Zachtjes aanraken het uiteinde van de capillaire naald om de buis waar de diameter is iets kleiner dan die van anale de teek het diafragma, de vorming van de micro-injectie naald breken. Deze stap is essentieel als elke poging om teken te injecteren met een niet-geschikte naald veroorzaakt letsel en mogelijke dood van de geïnjecteerde teek.
Plaats de geïmmobiliseerde teken onder het ontleden binoculaire microscoop en richten zich op de anale opening, die wordt bestreken door twee beweegbare anale platen. Met behulp van fijne tang, zachtjes aanraken en passen zeer milde druk uit op elk gebied in de buurt van anale opening. Dit zal toelaten de scheiding van de anale platen en de opening van anale porie die wordt aangesloten op de darmen. Voorzichtig iets Steek de punt van de naald in de anale opening is de gedwongen opening van de anale platen. Naald inbrengen moet tot een minimum beperkt als het glas tip kon de semi-transparante einddarm die aansluit op de endeldarm schade. Met behulp van een microinjector uitgerust met automatische voetbediening (Eppendorf), injecteren B. burgdorferi oplossing met behulp van de volgende parameters: 1000 hectopascal (hPa) injectiedruk, 0,2 seconden injectie tijd en 8 hPa schadevergoeding druk. Elke tik krijgt een enkele injectie.
Naar aanleiding van micro-injectie, moet de teken zich vergelijkbaar met de pre-injectie staat. Bijvoorbeeld, moet de teek kruipen in reactie op prikkels.
We meestal kan de teken om voor 48 uur terug in een klimaatkamer ingesteld op 24 ° C met 16 uur / 8 uur licht / donker fotoperiode regime en 95% luchtvochtigheid. Indien een kamer niet beschikbaar is, kan geïnjecteerd teken worden bewaard bij kamertemperatuur in vochtige omstandigheden in een luchtdichte verpakking, zoals een gewone exsiccator kamer. Indien nodig, kan de hersteltijd van de teken ook ingekort worden tot een paar uur voordat gebruikt voor het voederen op muizen.
2. B. burgdorferi lokalisatie door Confocale immunofluorescentie microscopie
1. Ontleden teken
Plaats een druppel van fosfaat gebufferde zoutoplossing (PBS) op een schoon glasplaatje voor dissectie en een andere op een poly-L-lysine gecoat slide (Sigma) voor microscopie. Bereid een glasplaatje met dubbelzijdig plakband.
Verwijder de teek uit de container en plaats deze op dubbelzijdige plakband met een kleine borstel.
Bekijk en focus van de teek in de dissectie microscoop. Plaats een scherp scheermes op de teek tussen het eerste en het tweede paar poten. Druk stevig snijden van de teek in twee stukken zodat de toegang tot de buik. Onmiddellijk, dompel de buik in een druppel PBS.
Met behulp van zeer fijne pincet, pak de dorsale en ventrale exoskelet rond de site van de snede. Trek de rug-schild omhoog en weg van de teek het blootstellen van de bruin gekleurde darm divertikels. Wees voorzichtig met het ontleden teken onder de PBS te houden te allen tijde.
De semi-doorzichtige speekselklieren broodjedles bevinden zich aan weerszijden van de voorste deel van de darmen, en kan worden verwijderd op dit moment, indien gewenst. Die de resterende exoskelet op zijn plaats met een pincet, trek de darm uit de buik.
Reinig de darm door het verwijderen van alle gevangen weefsels (bijvoorbeeld, de luchtpijp).
Met behulp van de punt van fijne tang, snel overbrengen de teek darm in een druppel PBS op een poly-L-lysine glasplaatje. Scheid de darm in kleinere stukjes met fijne messen of zachtjes met de punt van fijne pincet. Zorgvuldig aspireren overtollige PBS rond de darm weefsels.
Laat de darm weefsels te droge lucht op kamertemperatuur.
Bevestig de teek darm door onderdompeling in aceton gedurende 10 minuten. Laat de droge lucht op kamertemperatuur. Dia's kunnen worden opgeslagen op deze stap voor maanden bij -20 ° C in een luchtdichte container.
2. Vlekken
Met behulp van zijdepapier, verwijdert u overtollig vocht rond het weefsel en teken een cirkel rond de gedroogde teek darmen via een pap-pen of een hydrofobe barrière voering apparaat. Dit zal helpen om de vlekken oplossingen tijdens de daaropvolgende incubatie stappen te behouden.
Bedek de teek darm met een of een paar druppels van het blokkeren van buffer (0,05% Tween-20, 5% geit serum in PBS) gedurende 30 minuten bij kamertemperatuur. Het serum wordt gebruikt voor het blokkeren is afhankelijk van de bron van de gastheer dier voor het antilichaam. Sta niet toe dat de schuif naar voren te drogen vanaf dit punt.
Langzaam zuigen de blokkering buffer. Incubeer de darm met de juiste primaire en / of secundaire antilichaam-oplossingen. We maken gebruik van fluoresceïne isothiocyanaat (FITC) - voorzien van etiket anti-B. burgdorferi antilichaam (Kirkegaard & Perry Laboratories) bij een 1:100 verdunning in het blokkeren van buffer gedurende 1 uur bij kamertemperatuur. Bedek de container met aluminium folie om de blootstelling aan het licht te beperken.
Verwijder het antilichaam oplossing door behoedzame aspiratie. Incubeer de darm met een fluorescerende kleurstof om label teek weefsels, zoals 4 ',6-diamidino-2-phenylindole (DAPI) of propidiumjodide. We normaal gesproken gebruik van 20 ug / ml propidiumiodide (Sigma) in PBS gedurende 5 minuten. bij kamertemperatuur.
Was drie keer met 0,05% Tween-20 in PBS.
Monteer de dia in gebufferde glycerol met een antifade reagens zoals Slowfade (Invitrogen) en zorgvuldig te dekken met een glazen dekglaasje aan. Dia's kunnen worden opgeslagen op deze stap voor een paar maanden bij 4 ° C in een luchtdichte verpakking. Beeld en lokaliseren B. burgdorferi onder een confocale microscoop.
3. Representatieve resultaten
Positie van een teek nimfen voor micro-injectie en een afbeelding van B. burgdorferi lokalisatie in de teek darm is weergegeven in figuur 1.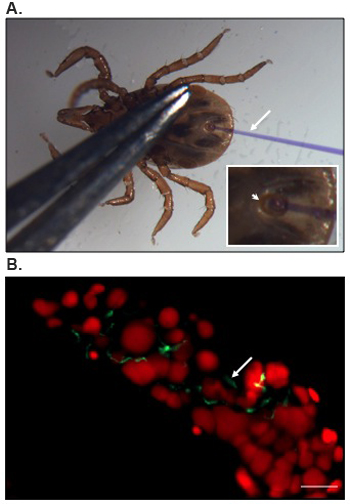 Figuur 1. Micro-injectie en lokalisatie van B. burgdorferi in de teek darm.
(A) Ventraal weergave van een nymphal I. scapularis vink gepositioneerd voor micro-injectie. Anale opening (pijlpunt) met ingevoegde micro-injectie naald (pijl) is opgenomen onder vergroting in de inzet. Een fijne pincet wordt gebruikt om de zachte druk uit te oefenen op het lichaam, waarin de scheiding van de anale platen en opening van de anale poriën voor micro-injectie toegestaan. De naald is gevuld met een oplossing van Coomassie briljant blauw om de zichtbaarheid te verbeteren. (B) Representatieve resultaten van confocale immunofluorescentie beeldvorming van B. burgdorferi in teken darm. Voorste deel van een darm divertikel wordt weergegeven. Gut kernen en spirocheten (pijl) zijn gelabeld met propidiumjodide (rode kleur) of FITC-geconjugeerd anti-B. burgdorferi (groene kleur), respectievelijk. Bar = 20 urn.
Subscription Required. Please recommend JoVE to your librarian.
Discussion
Hier laten we zien een micro-injectie op basis van de procedure voor een snelle en efficiënte infectie van nimfen Ixodes teken met de bacteriële ziekteverwekker B. burgdorferi. We beschrijven ook een confocale immunofluorescentie procedure voor de detectie van B. burgdorferi in de teek darm in situ. Hoewel onze demonstratie gaat nimfen gut, soortgelijke procedures zijn ook van toepassing voor de andere ontwikkelingsfasen van teken, zoals de larve of volwassenen 8,9. Echter, vanwege hun kleinere omvang, kan de techniek worden relatief uitdagend zijn voor gebruik in de larven, maar moet goed toepasbaar voor gebruik in volwassen teken. Andere methoden van kunstmatige besmetting van teken met B. burgdorferi zijn ontwikkeld, zoals het voeden door middel van glazen capillaire buizen 10 of door onderdompeling in het kweekmedium 11. Deze methodes zijn efficiënt, eenvoudiger en relatief goedkoop. Echter, deze procedures rekenen op relatief ongecontroleerde overdracht van B. burgdorferi in individuele teken en dus potentieel beperkt zijn in het genereren van cohorten van besmette teken met gelijke ziekteverwekker lasten. De laatste tekortkoming aanzienlijk zou kunnen worden ondervangen door meer gecontroleerde aflevering procedures, zoals micro-injectie. In ons laboratorium hebben we regelmatig gebruiken deze procedure over te dragen B. burgdorferi in teken met een infectie tarieven van bijna 100%, en de meeste teken te overleven van de procedure. Geïnjecteerd teken kunnen worden bewaard in het laboratorium voor enkele weken tot maanden, of onmiddellijk toegestaan ​​om snel te vullen met muizen en B. overbrengen burgdorferi infectie. De efficiëntie en de kinetiek van B. burgdorferi transmissie van gemicroinjecteerd teken zijn vergelijkbaar met die van natuurlijk besmette teken, en daarom, kunstmatige vink infectie procedures waarschijnlijk om te helpen bij onze inspanningen om de door teken overgedragen ziekte van Lyme te bestuderen. Bovendien, hebben soortgelijke micro-injectie technieken ook toegepast voor verwante experimentele doeleinden, bijvoorbeeld, RNA interferentie-gemedieerde genetische manipulatie van teken 6,9,12.
Micro-injectie van de onvolwassen stadia van de teken is een relatief delicate procedure. Het is dus belangrijk om te controleren of de teken geïnjecteerd met B. burgdorferi zijn gezond voordat u verder gaat naar de volgende reeks van experimenten. Post-geïnjecteerde teken die zijn ingetrokken benen en niet reageren op stimuli, zoals uitgeademde lucht of het aanraken met een borstel, mag niet worden gebruikt voor verdere experimenten. Dit zijn waarschijnlijk dood of op het punt staan ​​te sterven van de injectie trauma. We hebben gevonden dat de grootte van de naald en injectie parameters zijn de twee kritische factoren in de procedure, als grotere naald tips en injectie volumes zou kunnen scheuren de darmwand resulteert in een hoge mortaliteit aanvinken. Het is ook belangrijk op te merken dat de micro-injectie instellingen hier beschreven in de eerste plaats zijn geoptimaliseerd voor het injecteren van B. burgdorferi gesuspendeerd in BSK media. Andere biologische materialen, zoals antilichamen of RNA geconcentreerde oplossingen, kunnen verschillen in viscositeit van de vloeistof. Voor andere materialen, de optimale instellingen voor micro-injectie, vooral de inspuitdruk en injectie-tijd, moet empirisch worden bepaald.
Subscription Required. Please recommend JoVE to your librarian.
Disclosures
Geen belangenconflicten verklaard.
Acknowledgements
Onze oprechte dank de leden van de Pal laboratorium voor hulp bij de voorbereiding van deze demonstratie. Dit onderzoek werd ondersteund door PHS beurzen AI076684 en AI080615 van NIH / NIAID.
Materials
| | | | |
| --- | --- | --- | --- |
| Name | Company | Catalog Number | Comments |
| Glass capillary tubes | World Precision Instruments, Inc. | TW100F-4 | |
| Vertical glass puller | Narishige International | PC-10 | |
| Petroff-Hausser counting chamber | Hausser Scientific | 3900 | |
| Microloader pipette tips | Eppendorf | 930001007 | |
| Femtojet microinjector | Eppendorf | 920010504 | |
| Foot control FemtJet | Eppendorf | 920005098 | |
| Phosphate buffered saline | Fisher Scientific | BP665-1 | Filter-sterilized |