Summary
Borrelia studier kräver ofta generering av fästingar infekterade med patogenen Borrelia burgdorferi, en process som normalt tar flera veckor. Här visar vi ett mikroinjektion-baserat förfarande kryssa infektion som kan uppnås inom några timmar. Vi visar också en immunofluorescens metod för in situ lokalisering av B. burgdorferi inom fästingar.
Cite this Article
Copy Citation | Download Citations

Kariu, T., Coleman, A. S., Anderson, J. F., Pal, U. Methods for Rapid Transfer and Localization of Lyme Disease Pathogens Within the Tick Gut. J. Vis. Exp. (48), e2544, doi:10.3791/2544 (2011).
Abstract
Borrelia orsakas av infektion med spirochete patogenen Borrelia burgdorferi, som upprätthålls i naturen av en fästing-gnagare infektion cykel 1. En fästingburna murin modell 2 har utvecklats för att studera borrelia i laboratoriet. Medan naiva fästingar kan vara infekterade med B. burgdorferi genom att utfodra dem på infekterade möss tar ömsat processen flera veckor till månader att slutföra. Därför är utveckling av snabbare och effektivare metoder fästing infektion, till exempel en mikroinjektion-baserat förfarande, ett viktigt verktyg för studiet av borrelia 3,4. Förfarandet kräver bara timmar för att generera infekterade fästingar och tillåter kontroll över leverans av lika mängder av spiroketer i en kohort av fästingar. Detta är särskilt viktigt eftersom den generation av B. burgdorferi infekterade fästingar av naturliga utfodring processen med hjälp av möss som underlåter att garantera 100% smittade och eventuellt resulterar i variation av sjukdomsalstrande bördan mellan matas fästingar. Dessutom kan mikroinjektion användas för att infektera fästingar med B. burgdorferi isolat i de fall då en försvagad stam är oförmögen att etablera infektion hos möss och kan därför inte vara naturligt förvärvas av fästingar 5. Denna teknik kan också användas för att leverera en mängd andra biologiska material till fästingar, till exempel specifika antikroppar eller dubbelsträngat RNA 6. I denna artikel kommer vi att visa mikroinjektion av nymphal fästingar med in vitro-odlade B. burgdorferi. Vi kommer också att beskriva en metod för lokalisering av borrelia patogener i fästingen tarmen med hjälp av konfokal immunofluorescens mikroskopi.
Protocol
1. Mikroinjektion av Nymphal Ixodes scapularis Fästingar
1. Förbereda nålar
Tillverka flera mikroinjektion nålar genom uppvärmning och dra 1 mm glas kapillärrör (World precisionsinstrument) i ett glas mikropipett avdragare enhet (Narishige). Ta försiktigt bort den bräckliga kapillärrör.
Store drog nålar (med spetsen uppåt) på tejp i en petriskål.
2. Förbereda B. burgdorferi
Väx B. burgdorferi i BSK kultur media 7 tills vid en koncentration på cirka 10 7 celler per ml. Spiroketer räknas i ett mörkt fält mikroskop med hjälp av ett Petroff-Hausser räknekammare (Hausser vetenskapliga).
Pellets B. burgdorferi genom centrifugering vid 3000 xgi 10 minuter vid rumstemperatur.
Avlägsna supernatanten och helt suspendera pelleten i BSK medier genom att försiktigt passera genom en 200 mikroliter steril microtip till en slutlig koncentration av 10 9 celler per ml. Eftersom cellerna är återsuspenderade hög celltäthet, och kunde klumpa ihop sig, bör cellsuspension användas för mikroinjektion omedelbart.
3. Förbereda fästingar
Placera klar, dubbelhäftande tejp på en glasplatta.
Arbete på en klibbig matta, försiktigt bort nymphal fästingar från behållaren med hjälp av en liten borste.
Placera det nödvändiga antalet fästingar som ska injiceras på tejp, ventrala sidan uppåt, åt samma håll.
4. Injektion av fästingar
Belastning 5 mikroliter av B. burgdorferi kultur i drog kapillär nålen med hjälp av en 20 mikroliter microloader pipettspetsen (Eppendorf). Inspektera nålen för luftbubblor och ladda nålen med bakteriekultur, om det behövs.
Visa fästingen under dissekera binokulärt mikroskop och fokusera på fästingens anala bländare område. Rör försiktigt spetsen av kapillär nål för att bryta röret där diameter är något mindre än den fästingens anal öppning, som bildar mikroinjektion nålen. Detta steg är viktigt eftersom varje försök att injicera fästingar med en icke-lämplig nålspetsen vållar skada och möjlig död injicerade fästingen.
Placera den immobiliserade fästingar under dissekera binokulärt mikroskop och fokusera på anal öppning, som omfattas av två rörliga anal plattor. Med fin pincett, försiktigt röra och använda mycket milda påtryckningar för att ett område nära anal öppning. Detta gör att separationen av anala tallrikar och öppnandet av anal pore som ansluts till tarmen. Försiktigt in nålspetsen något i den anala öppningen genom tvingade öppnandet av anala plattorna. Nål insättning bör hållas till ett minimum som glaset spets kan skada halvtransparenta hindgut som ansluter till rektum. Med hjälp av en microinjector utrustad med automatisk fotkontroll (Eppendorf), injicera B. burgdorferi lösning med hjälp av följande parametrar: 1000 hPa (hPa) insprutningstryck, 0,2 sekunder injektion tid och 8 hPa ersättning tryck. Varje kryssa får en enda injektion.
Efter mikroinjektion bör fästingar uppträda liknande före injektion tillstånd. Till exempel bör fästingen krypa som svar på stimuli.
Vi låter oftast fästingar att återhämta sig under 48 timmar i en klimatkammare inställd på 24 ° C med 16 timmar / 8 timmar ljus / mörker fotoperiod regimen och 95% luftfuktighet. Om en kammare inte är tillgänglig, kan injiceras fästingar förvaras i rumstemperatur under fuktiga förhållanden i en lufttät behållare, t.ex. en vanlig exsickator kammare. Vid behov kan återhämtningstiden för fästingar också kortas till ett par timmar innan de används för matning på möss.
2. B. burgdorferi Lokalisering av Confocal immunofluorescensmikroskopi
1. Analysera fästingar
Placera en droppe av fosfat saltlösning (PBS) på en ren glasskiva för dissekering och en annan på ett poly-L-lysin belagda slide (Sigma) för mikroskopi. Förbered en glasskiva med dubbelhäftande tejp.
Ta bort fästingen från behållaren och lägg på dubbelhäftande tejp med en liten borste.
Visa och fokusera kryssa i dissekering mikroskop. Placera ett vasst rakblad på fästingen mellan första och andra par ben. Tryck ordentligt skär kryssa i två delar som ger tillgång till buken. Omedelbart dränka buken i en droppe PBS.
Använda mycket fin pincett, ta tag i rygg-och ventrala exoskelett runt platsen för cut. Dra försiktigt rygg-skölden upp och bort från fästingen utsätta brunaktig färgade tarmen diverticula. Var noga med att hålla dissekera fästingar under PBS vid alla tillfällen.
Den semi-genomskinliga spottkörteln bulledles är placerade på vardera sidan av den främre delen av tarmen, och kan tas bort på denna punkt, om så önskas. Innehar resterande exoskelett på plats med pincett, försiktigt dra ut tarmen ut från buken.
Försiktigt rengöra tarmen genom att ta bort alla instängda vävnader (till exempel, luftstrupe).
Hjälp av spetsen på fina tång, snabbt överföra fästingen tarmen i en droppe PBS på en poly-L-lysin objektglas. Separata tarmen i mindre bitar med hjälp av fina blad eller att försiktigt trycka med spetsen av fina tång. Försiktigt aspirera överskott PBS runt tarmen vävnader.
Låt tarmen vävnader lufttorka i rumstemperatur.
Fix fästingen tarmen genom att sänka i aceton i 10 minuter. Låt lufttorka i rumstemperatur. Diabilder kan lagras i detta steg i månader vid -20 ° C i en lufttät behållare.
2. Färgning
Använda mjukpapper, ta bort överflödig vätska runt vävnad och rita en cirkel runt den torkade fästingen tarmen genom en pap-penna eller något hydrofob barriär foder enhet. Detta bidrar till att behålla färgning lösningar under efterföljande inkubation steg.
Täck fästingen tarmen med en eller ett par droppar blockerande buffert (0,05% Tween-20, 5% get serum i PBS) i 30 minuter vid rumstemperatur. Det serum som används för att blockera beror på källan till värddjuret för antikroppen. Låt inte bilden att torka från denna punkt framåt.
Sakta aspirera blockerande buffert. Inkubera tarmen med lämplig primär och / eller sekundära lösningar antikropp. Vi använder fluorescein (FITC) - märkta anti-B burgdorferi antikroppar (Kirkegaard & Perry Laboratories) vid en 1:100 spädning med blockerande buffert i 1 timme i rumstemperatur. Täck behållaren med aluminiumfolie för att begränsa exponering för ljus.
Ta bort antikroppar lösningen genom försiktig uppsugning. Inkubera tarmen med en fluorescerande färg till vävnader etiketten fästing, såsom 4 ',6-diamidino-2-phenylindole (DAPI) eller propidiumjodid. Vi använder normalt 20 mikrogram / ml propidiumjodid (Sigma) i PBS i 5 min. vid rumstemperatur.
Tvätta tre gånger med 0,05% Tween-20 i PBS.
Montera bilden i buffrad glycerol innehåller en antifade reagens som Slowfade (Invitrogen) och försiktigt täck med ett glas täckglas. Diabilder kan lagras i detta steg under några månader vid 4 ° C inom en lufttät behållare. Bild och lokalisera B. burgdorferi under ett konfokalmikroskop.
3. Representativa resultat
Placering av en nymphal kryssa för mikroinjektion och en bild som representerar B. burgdorferi lokalisering i fästingen tarmen visas i Figur 1.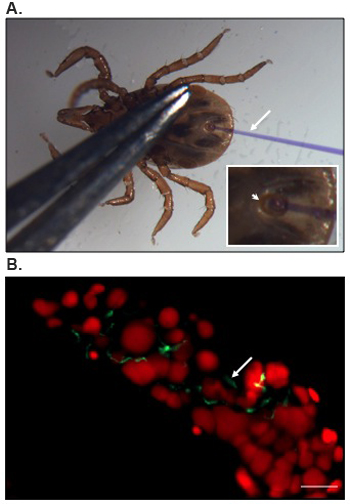 Figur 1. Mikroinjektion och lokalisering av B. burgdorferi in fästingen tarmen.
(A) ventralsidan en nymphal I. scapularis kryssa positionerat för mikroinjektion. Anal bländare (pilspets) med isatt mikroinjektion nål (pilen) visas under förstoring i infällda. En fin forcep används för att försiktigt tryck mot kroppen, vilket möjliggjorde separationen av anala tallrikar och öppnandet av anala pore för mikroinjektion. Nålen är fylld med en lösning av Coomassie lysande blå för att öka synligheten. (B) Representativa resultat från konfokala immunofluorescens avbildning av B. burgdorferi inom fästing tarmen. Främre delen av en tarm divertikel visas. Gut kärnor och spiroketer (pil) är märkta med propidiumjodid (röd färg) eller FITC-konjugerat anti-B burgdorferi (grön färg), respektive. Bar = 20 mikrometer.
Subscription Required. Please recommend JoVE to your librarian.
Discussion
Här visar vi ett mikroinjektion-baserat förfarande för snabb och effektiv infektion av nymphal Ixodes fästingar med bakteriell patogen B. burgdorferi. Vi beskriver också en konfokala immunofluorescens förfarande för detektion av B. burgdorferi i fästingen tarmen på plats. Trots att vår demonstration innebär nymphal tarmen, liknande förfaranden gäller också för andra utvecklingsstadier av fästingar, som larv eller vuxna 8,9. Men på grund av sin storlek kan tekniken vara relativt utmanande för användning i larver, men bör väl gälla för användning hos vuxna fästingar. Andra metoder för artificiell infektion av fästingar med B. burgdorferi har utvecklats, såsom utfodring genom glas kapillärrör 10 eller genom nedsänkning i odlingsmediet 11. Dessa metoder är effektiva, enklare och relativt billiga. Men dessa förfaranden är beroende av relativt okontrollerad överföring av B. burgdorferi i enskilda fästingar och därmed potentiellt begränsade generera kohorter av angripet fästingar med samma patogen bördor. Det sistnämnda bristen kan vara betydligt övervinnas genom mer kontrollerad leverans förfaranden, såsom mikroinjektion. I vårt laboratorium använder vi rutinmässigt denna procedur för att överföra B. burgdorferi in fästingar med infektioner på nästan 100%, och de flesta fästingar överlever förfarandet. Injiceras fästingar kan hållas i laboratoriet i flera veckor till månader, eller omedelbart får uppsluka på möss och sända B. burgdorferi infektion. Effektiviteten och kinetik B. burgdorferi överföring från idag injiceras fästingar är liknande den i naturligt infekterade fästingar, och därför, konstgjorda fästing infektion förfaranden kommer troligen att hjälpa till i våra ansträngningar att studera fästingburna Lyme borrelios. Dessutom har liknande mikroinjektion tekniker också tillämpats för relaterade experimentsyfte, till exempel, RNA-interferens-medierad genetisk manipulation av fästingar 6,9,12.
Mikroinjektion av omogna stadier av fästingar är en relativt känslig procedur. Det är därför viktigt att kontrollera att fästingar injicerade med B. burgdorferi är friska innan man går vidare till nästa experiment. Post-injicerade fästingar som har indragna ben och svarar inte på stimuli, exempelvis utandningsluften eller beröring med pensel, bör inte användas för ytterligare experiment. Dessa är troligen döda eller på gränsen att dö av injektionen trauma. Vi har funnit att storleken på nålspetsen och parametrar injektion är de två kritiska faktorer i förfarandet, som större nål tips och volymer injektion skulle kunna spricka tarmväggen vilket resulterar i hög fästing dödlighet. Det är också viktigt att notera att mikroinjektion inställningar som beskrivs här i första hand är optimerade för injicering B. burgdorferi upphängd i BSK medier. Andra biologiska material, till exempel antikroppar eller koncentrerade RNA lösningar, kan skilja på vätskans viskositet. För andra material, de optimala mikroinjektion inställningar, främst insprutningstryck och injektionen tid, måste bestämmas empiriskt.
Subscription Required. Please recommend JoVE to your librarian.
Disclosures
Inga intressekonflikter deklareras.
Acknowledgements
Vi tackar uppriktigt medlemmar i Pal laboratorium för hjälp med utarbetandet av denna demonstration. Denna studie stöddes av PHS bidrag AI076684 och AI080615 från NIH / NIAID.
Materials
| | | | |
| --- | --- | --- | --- |
| Name | Company | Catalog Number | Comments |
| Glass capillary tubes | World Precision Instruments, Inc. | TW100F-4 | |
| Vertical glass puller | Narishige International | PC-10 | |
| Petroff-Hausser counting chamber | Hausser Scientific | 3900 | |
| Microloader pipette tips | Eppendorf | 930001007 | |
| Femtojet microinjector | Eppendorf | 920010504 | |
| Foot control FemtJet | Eppendorf | 920005098 | |
| Phosphate buffered saline | Fisher Scientific | BP665-1 | Filter-sterilized |