Summary
EpiMark 5-HMC ve 5-mC Analiz Kiti, analiz etmek ve SPE larındaki lokus içinde 5-methylcytosine ve 5-hydroxymethylcytosine ölçmek için kullanılabilir. Kiti, 5-HMC hidroksil grubu β-glukoziltransferaz (T4-BGT) kullanan bir enzimatik reaksiyon ile glikoz eklenmesiyle 5-5-HMC mC ayırır. 5-HMC CCGG bağlamında oluştuğunda, bu değişikliği olmayan bir cleavable sitesine cleavable MspI sitesi dönüştürür.
Abstract
DNA hydroxymethylation DNA bilinen uzun bir değişiklik, ancak son zamanlarda bir epigenetik araştırma odağı haline gelmiştir. Memeli DNA enzimatik CpG dinükleotidleri bağlamda ağırlıklı olarak, 5-mC sitozin (C) kalıntılarının 5. karbon pozisyonunda değiştirilmiş. 5-mC, geliştirme ve hastalık yer olduğuna inanılan enzimlerin Tet aile, 5-HMC enzimatik oksidasyon için uygun. Şu anda, 5-HMC biyolojik rolü tam olarak anlaşılmış değildir, fakat bir biyolojik belirteç olarak potansiyeli nedeniyle ilgi bir sürü oluşturuyor. Bu fare embriyonik kök (ES) ve nöronal hücrelerin 5-hydroxymethylcytosine tespit birçok çığır açan çalışmaları nedeniyle.
Bisülfit sıralama yöntemleri de dahil olmak üzere, Araştırma Teknikleri, 5-mC ve 5-HMC kolayca ayırt etmek mümkün değildir. Birkaç protokoller sıvı kromatografisi kütle spektrometresi analizi veya genomik DNA sindirilmiş tek nükleosidlerin ince tabaka kromatografisi ile birleştiğinde de dahil olmak üzere, genom küresel miktarda 5-hydroxymethylcytosine ölçebilirsiniz var. Dot blot analizi, immünofloresan, ya da hydroxymethylated DNA yağış için kullanılabilir, ancak bu antikorlar tek baz resolution.In Ayrıca zorunda değilsiniz Antikorlar, hedef 5-hydroxymethylcytosine de var olduğunu, çözünürlük immunoprecipitated DNA ve büyüklüğüne göre değişir mikroarray deneyler, prob tasarımı bağlıdır. 5-hydroxymethylcytosine epigenetik düzenleme genom ya da rolünü tam olarak nerede var bilinmediğinden, bu yeni teknikler, lokus spesifik hydroxymethylation belirlemek için gereklidir. EpiMark 5-HMC ve 5-mC Analiz Kiti, bu iki özel lokusların değişiklikler arasında ayrım için bir çözüm sağlar.
EpiMark 5-HMC ve 5-mC Analiz Kiti, 5-methylcytosine ve belirli bir DNA lokus içinde 5-hydroxymethylcytosine tanımlanması ve kantitatif için basit ve sağlam bir yöntem. Bu enzimatik yaklaşım, basit 3 adım protokol isoschizomers MspI ve HpaII diferansiyel metilasyon duyarlılığı kullanır.
5-hydroxymethylcytosine glukoz moeity ekleyerek, ilgi Genomik DNA T4 BGT ile tedavi edilir. Bu reaksiyon dizisi bağımsız, bu nedenle 5-HMC glucosylated olacak; değiştirilmemiş veya 5-mC içeren DNA etkilenmeyecektir.
Bu glucosylation sonra kısıtlama endonükleaz sindirim tarafından takip edilmektedir. MspI ve HpaII aynı sıra (CCGG) farkındayız ama farklı metilasyon devletlere duyarlıdır. Sitozin blokları bölünme ya da herhangi bir değişiklik (5-mC, 5-HMC veya 5-ghmC): HpaII sadece bir sitenin tamamen değiştirilmemiş parçalayarak. MspI 5-mC ve 5-HMC, ama 5-ghmC tanır ve keser.
Protokol üçüncü bölümü PCR ile odağı sorgulama. Giriş DNA az 20 ng kullanılabilir. Deneysel (glucosylated ve sindirilmiş) ve kontrol (alay glucosylated ve sindirilmiş) bir ilgi CCGG sitesi (100-200 bp) yan primerler ile hedef DNA amplifikasyonu yapılır. CpG sitesi 5-hydroxymethylcytosine içeriyorsa, bir grup glucosylation ve sindirim sonra tespit, ancak olmayan glucosylated bir tepki olarak değil. Gerçek zamanlı PCR hydroxymethylcytosine bu özel site ne kadar bir yaklaşım verecektir.
Bu deneyde, bir fare Babl / C beyin örnek 5-hydroxymethylcytosine miktarı bitiş noktası PCR ile analiz eder.
Protocol
1. DNA Glucosylation ve Kontrol Reaksiyonları
Buz üzerinde 1.5 mililitre reaksiyon tüpü, genomik DNA 5-10 mikrogram (son bir konsantrasyon için 30 mikrogram / mililitre), UDP-Glukoz 12.4 mikrolitre (80 mikromolar son bir konsantrasyon için), NEBuffer 4 31 mikrolitre karıştırmak nükleaz içermeyen su ile 310 mikrolitre toplam hacmi 310 mikrolitre getirmek.
155 mikrolitre her iki tüp içine Split bu reaksiyon karışımı.
Sonra bir tüp 30 adet, T4-β-glukoziltransferaz veya 3 mikrolitre, ekleyin. Hafifçe yukarı ve aşağı pipetleme iyi karıştırın. Ikinci tüp kontrol reaksiyon, bu nedenle T4 BGT yerine, 3 mikrolitre su ekleyin.
T4-BGT örnek bölgesindeki 5-hydroxymethylcytosine grupların hidroksil grubu şekeri ekleyin ve bu süre boyunca, her iki tüpte 12 ila 18 saat boyunca 37 derece santigrat inkübe edin.
2. Kısıtlama Enzim Sindirim
Etiket üç 0.2 mililitre PCR-strip tüpleri numaraları 1'den 3'e kadar. Her birine reaksiyon karışımının kısım 50 ul.
Etiket üç 0.2 mililitre PCR-strip tüpleri numaraları ile 4 (6). Her kontrol karışımı kısım 50 ul.
MspI 100 birim, ya da 1 mikrolitrelik, 1 ve 4 tüpler içine ekleyin. Hafifçe yukarı ve aşağı pipetleme iyi karıştırın.
HpaII 50 ünite, ya da 1 mikrolitrelik, 2 ve 5 tüpler içine ekleyin. Hafifçe yukarı ve aşağı pipetleme iyi karıştırın.
Denetimleri gibi, 3 ve 6 tüpler bir şey eklemek değil.
37 santigrat derece sıcaklıkta 6 tüpleri en az 4 saat süreyle inkübe edin.
Her tüpe 1 mikrolitrelik Proteinaz K ekleyin ve 30 dakika boyunca 40 dereceye inkübe.
10 dakika boyunca 95 santigrat derece az kuluçka Proteinaz K inaktive.
3. PCR / qPCR DNA analiz
Bu protokol son nokta iyi bir performans gösterilmiştir PCR NEB LongAmp Taq kullanır. Diğer PCR protokolleri ikame edilebilir.
5X LongAmp Taq Reaksiyon Tamponu, 10 millimolar dNTP, 10 mikromolar İleri Primer 1 mikrolitrelik, 10 mikromolar Ters Primer 1 mikrolitrelik, 3 mikrolitre şablon 1.5 mikrolitre 10 mikrolitre: buz üzerinde 0.2 mililitre PCR reaksiyonu tüp için aşağıdaki bileşenleri ekleme önceki adımları LongAmp Taq DNA Polimeraz 1 mikrolitrelik, ve nükleaz içermeyen su 50 mikrolitre DNA. Bu birimler kullanılan PCR protokolü göre değişebilir.
Yavaşça reaksiyon karışımı. Gerekirse, hızlı bir dönüş tüpün dibine tüm sıvı toplamak.
Isıtmalı bir kapaksız bir PCR kullanarak, mineral yağ ile örnek Yerleşimi.
Celsius 94 derece önceden ısıtılmış blok buz bir PCR PCR tüpleri transferi ve bisiklet programını başlatmak. 3-adım PCR rutin bir, 30 saniye, 15 saniye boyunca 94 derece santigrat denatürasyon 30 döngüleri,, 30 saniye için tavlama santigrat 55 ila 65 derece ve 65 derece santigrat uzantısı takip için 94 santigrat derece bir ilk denatürasyon adım olmalıdır 20 saniye, ya da kb ortalama 50 saniye. Bu 5 dakika boyunca 65 santigrat derece bir final uzantısı tarafından takip edilmelidir. Real-time PCR de 5-methylcytosine ve 5-hydroxymethylcytosine miktarları ölçmek için yapılabilir. Lütfen özel bilgiler için neb.com bulunan ürün kılavuzu, bakınız.
4. Temsilcisi Sonuçlar: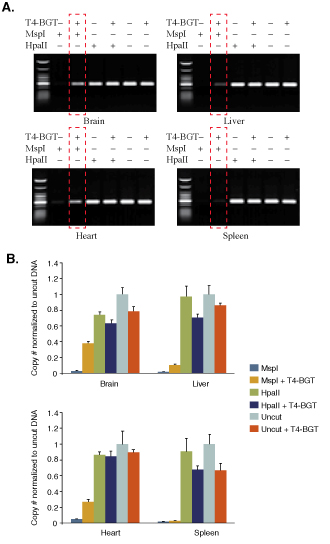 Şekil 1 farklı fare Balb / C doku örnekleri lokus 12 5-hydroxymethylcytosine miktarların karşılaştırılması. (A), End-point PCR. (B) Gerçek zamanlı PCR.
Dört fare dokulardan DNA analiz edildi. Karşılaştırmalı amaçlar için, gerçek zamanlı PCR veri kesilmemiş DNA normalize edildi. Standart eğri kopya sayısını belirlemek için kullanılmıştır. Örnekleri sindirilmemiş kontrol kopya sayısı (No 5), 1-6 örnekleri kopya sayısı bölerek normalize olabilir. Kutulu jel şeritli 5-HMC mevcut değişim gösterir.
Discussion
Bu deneyde kurarken pek çok kritik şeyler var. İlk olarak, genomik DNA glucosylation tamamlanması için devam eder önemlidir. T4 BGT dizisi özgüllüğü bilinen ve substrat dizisi için başka seçeneğimiz yok gibi görünüyor. Bu nedenle, bazı durumlarda, daha uzun inkübasyon sürelerinde gerekli olabilir. İkincisi, MspI ve HpaII sindirim arka plan sinyal önlemek için tam olmalıdır. Bu kısıtlama enzimler için, 4 saatlik bir inkübasyon süresi tavsiye, ama eksik bölünme görülmektedir uzun inkubasyon yapılabilir. Üçüncü, giriş DNA miktarı 20 NGS DNA son nokta PCR için kullanılan bu yana, yer olup olmamasına bağlı olarak ayarlanabilir. Son olarak, 5-mC ve 5-HMC kantifikasyon genomik DNA ile paralel olarak çalıştırmak olabilir sağlanan kontrol DNA kullanmanızı öneririz.
Disclosures
Ted ve Romanlar her ikisi de, bu makalenin yazarları, NEB çalışanları; Ted bu kit geliştirme nezaret Uygulamalar & Geliştirme Bölümü Direktörü olan, Romanlar kiti ana geliştiricisi.
Acknowledgments
Sriharsa Pradhan, Shannon Morey Kinney, Hang Gyeong Chin, Jurate Bitinaite, Yu Zheng, Pierre Olivier Esteve, Romualdas Vaisvila, Steven E. Jacobsen s laboratuar, UCLA. Bu çalışma kısmen NIH 1R44GM095209-01 tarafından desteklenmiştir.
Materials
| | | | |
| --- | --- | --- | --- |
| Name | Company | Catalog Number | Comments |
| EpiMark™ 5-hmC and 5-mC Analysis Kit | New England Biolabs | E3317 | |
| Locus specific primers, flanking a CCGG site of interest | | | Custom per experiment; provided by user |
| LongAmp® Taq DNA Polymerase | New England Biolabs | M0323 | |
| dNTPs | New England Biolabs | N0447 | |
| molecular biology grade water | | | |
References
Sadri, R. Nucleic Acids Res. 24, 4987-4989 (1996).
Mathur, E. J. Gene. 108, 1-6 (1991).
Butkus, V., Petrauskiene, L., Maneliene, Z., Klimasaukas, S., Laucys, V., Janulaitis, A. Nucleic Acids Res. 15, 7091-7102 (1987).
Kriaucionis, S., Heintz, N. Science. 324, 929-930 (2009).
Tahiliani, M., Koh, K. P., Shen, Y., Pastor, W. A., Bandukwala, H., Brudno, Y., Agarwal, S., Lyer, L. M., Liu, D. R. Science. 324, 930-935 (2009).
Huang, Y., Pastor, W. A., Shen, Y., Tahiliani, M., Liu, D. R., Rao, A. PLoS One. 5, (1), e8888-e8888 (2010).