Summary
En ny metod för äggblåsa inkapsling i en 3D fibrin-alginat genomträngande nätverk beskrivs. Detta system kombinerar strukturellt stöd med proteolytisk nedbrytning för att stödja utvecklingen av omogna folliklar att producera mogna ägg. Denna metod kan tillämpas på aggregaten kultur cellen att upprätthålla cell-cell kontakter utan att begränsa expansionen.
Cite this Article
Copy Citation | Download Citations | Reprints and Permissions

Shikanov, A., Xu, M., Woodruff, T. K., Shea, L. D. A Method for Ovarian Follicle Encapsulation and Culture in a Proteolytically Degradable 3 Dimensional System. J. Vis. Exp. (49), e2695, doi:10.3791/2695 (2011).
Abstract
Äggstocksfollikeln är funktionell enhet av äggstocken utsöndrar könshormoner och stöder äggcellen mognad. I tekniker vitro follikelstimulerande ett verktyg för att modellera follikelutveckling för att undersöka grundläggande biologi, och ytterligare utvecklas som en teknik för att bevara fertiliteten i klinik 1-4. Vår in vitro-kultur-systemet använder hydrogeler för att efterlikna den infödda äggstockarna miljön genom att bevara 3D follikulära arkitektur, cell-cell interaktioner och parakrina signalerar att direkt follikelutveckling 5. Tidigare var folliklar med framgång odlas i alginat, ett inert alger-derived polysackarid som genomgår gelation med kalciumjoner 6-8. Alginat hydrogeler bildas vid en koncentration av 0,25% w / v var de mest tillåtande för follikelstimulerande kultur och behöll den högsta utvecklande kompetens 9. Alginat hydrogel är inte nedbrytbara, alltså en ökning av resultatet follikeln diametern i en tryckkraft på follikeln som kan påverka tillväxten av folliklar 10. Vi utvecklade därefter en kultur som bygger på en fibrin-alginat genomträngande nätverk (FA-IPN), där en blandning av fibrin och alginat är geléartad samtidigt. Denna kombination ger en dynamisk mekanisk miljö eftersom båda komponenterna bidrar till matrisen styvhet initialt, men proteaser som utsöndras av den växande follikeln bryts fibrin i matrisen lämnar endast alginat att ge stöd. Med IPN, kan alginat halten vara mindre än 0,25%, vilket inte är möjligt med alginat ensam 5. Således, eftersom follikeln växer, kommer det att uppleva en reducerad tryckkraft på grund av minskad halt. Häri beskriver vi en inkapsling metod och en in vitro-kultur för folliklar i en FA-IPN. Den dynamiska mekaniska miljö efterliknar naturliga äggstockarna miljö där små folliklar bor i en stel cortex och flytta till en mer tillåtande medulla som de ökar i storlek 11. Den nedbrytbara delen kan vara särskilt kritiskt för klinisk översättning i syfte att stödja mer än 10 6-faldig ökning i volym att de mänskliga folliklar normalt genomgå in vivo.
Protocol
1. Follikelstimulerande Isolering
Försök på djur har utförts i enlighet med de riktlinjer och regler som anges av National Institutes of Health Guide för skötsel och användning av försöksdjur och den etablerade institutionella Animal Användning och skötsel protokoll vid Northwestern University.
För bästa resultat är alla dissektioner utförs i L15 media för pH-kontroll i omgivande nivåer av CO 2, på 37 ° C värms upp steg för temperaturkontroll, och på en ren bänk för att minimera bakteriell kontamination. Den dissektion medier (DM) är beredd med L15 media kompletteras med 50 IU / ml penicillin och 50 mikroliter / ml streptomycin och 1% FBS. Underhållet media (MM) är beredd med αMEM media kompletteras med 50 IU / ml penicillin och 50 mikroliter / ml streptomycin och 1% FBS.
Överför nyligen dissekerade äggstockar från 16 dagar gamla mus till en ny 35 mm petriskål med 1-2 mL MM innehållande 0,1% kollagenas och 0,1% DNas. Inkubera i 15 minuter inne i en inkubator vid 37 ° C och 5% CO 2.
Efter inkubation, utföra flera tvättsteg i DM för att ta bort kollagenas, och sedan överföra till en 35 mm petriskål med färska DM. Isolera folliklar från äggstocken genom att försiktigt vicka (eller skär) folliklar från hela äggstocken med hjälp av två 28 5 / 8 gauge nålar bifogas engångssprutor. Ta bort så mycket stroma som möjligt utan att skada integriteten i hårsäcken. Dissekera ut 20-40 sekundära folliklar per äggstocken (130-150mm). Dessa folliklar brukar ha 2-3 lager av somatiska celler.
Tillsätt 1 mL mm till den centrala väl av en 60 mm IVF (in vitro fertilisering) petriskål, och 3 ml mm till den yttre ringen. Överför intakt folliklar med en pipett till den yttre ringen av IVF skålen kort skölja och sedan selektivt överföra dem till den centrala väl (se 1,4). Förvara denna IVF skålen i inkubatorn.
När alla folliklar samlas, är valet steget utförs under en dissekera mikroskop med en 5-8x förstoring. Friska folliklar har följande morfologiska egenskaper:

2-3 somatisk lager
130-150 mm
Ingen separation mellan äggcellen och somatiska celler
Intakt och rund oocyter
Överför friska folliklar i mitten av IVF rätter för inkapsling.
2. Follikelstimulerande Inkapsling, Metod 1 - "The släpp-metoden"
Tillsätt 1 ml 50 IU / mL trombin i TBS med 40 mM CaCl 2 i mitten och på IVF skålen. Tina och hålla fibrinogen lager (50 mg / ml i TBS) på is. Ta med fibrinogen till rumstemperatur höger före användning.
Förbered fibrinogen / alginat lösning genom att blanda 1x PBS, 0,5% alginat i PBS-lösning och 50 mg / ml fibrinogen lösning vid ett 2:01:01 förhållandet i ett 1,7 ml sterilt mikrocentrifugrör. Undvika att införa bubblor i lösningen. Vortexa försiktigt och spin-ner. Lösningen verkar en del moln och bör beredas omedelbart före användning.
Placera två droppar av fibrinogen / alginat lösning i den yttre ringen av en IVF maträtt: en 90 mikroliter droppe för inkapsling och en 10 mikroliter droppe för tvätt. För att minska avdunstningen, stäng av värmen stadiet på dissekera mikroskop. Överför 10-15 folliklar i 10 mikroliter droppen med en minimal mängd av kultur medier (<5 mikroliter) med en 200 tips ìm mikropipett, och snabbt blanda. Överför alla folliklar i 90 mikroliter droppen med en minimal mängd av lösningen (<5 mikroliter) från den första droppen, och blanda.
Samtidigt aspirera ett follikelstimulerande och 5 mikroliter av fibrinogen / alginat lösningen med en 10 mikroliter pipettspets och utsättning i trombin / Ca 2 +-lösning i IVF-skålen. Upprepa detta steg tills alla folliklar är inkapslade.
Cross-link pärlorna i 5-7 minuter i trombin / Ca 2 +-lösning. Kulorna kommer att bli mörkare så fibrin geler. Överför pärlorna i en petriskål med MM, som börjar med mörkare pärlor först. Inkubera skålen i 15-30 minuter inthe inkubator för att skölja av de resterande trombin.
Överför pärlorna i ett 96 och kultur skylt som innehåller 100 mikroliter av media tillväxten av folliklar och bild direkt. Tillväxten media (GM) är beredd med αMEM media kompletteras med 10 mIU / ml rekombinant FSH, 3 mg / mL BSA, 1 mg / ml bovint fetuin, 5 mikrogram / ml insulin, 5 mikrogram / ml av transferrin, och 5 ng / ml av selen.
3. Follikelstimulerande Inkapsling, Metod 2 - "The Parafilm Method"
Förbered fibrinogen / alginat lösning genom att blanda 0,5% alginat lösning och 50 mg / ml fibrinogen-lösning i förhållandet 1:1 i ett 1,7 ml sterilt mikrocentrifugrör.
Pipettera 7,5 mikroliter droppar av fibrinogen / alginat blandningen på en parafilm belagd glasskiva med 3 mm distanser. Överför en follikel i varje droppe med en minimaL mängd medier.
Tillsätt 7,5 mikroliter av trombin / Ca 2 +-lösning till varje droppe. Blandning är nödvändiga, eftersom gelen bildar nästan omedelbart.
Täck geler med andra parafilm belagd glasskiva lade glider upp och ner i en 100 mm petriskål, och transport till inkubatorn i 5 minuter.
Överför pärlorna i en petriskål med MM, och sedan in i kulturen och som tidigare beskrivits. Om pärlor håller ihop, vilket beror på tvärbindning mellan kulorna, de kan lätt separeras med pincett.
4. Follikelstimulerande Imaging och media Ändra
Varje 2 dagar, är de odlade folliklar avbildas med ett ljusmikroskop och follikeln diametern mäts med programmet ImageJ.
Var 2 dagar, är hälften av tillväxten media (50 mikroliter) ersatts av nya, pre-jämvikt tillväxt media.
5. Follikelstimulerande Återhämtning från 3D Matrix och in vitro Oocyte Mognad (IVM)
Efter åtta dagar av kultur, hydrogeler vara klar grund för att slutföra nedbrytning av fibrin komponent, och folliklar växa till en diameter på 300-400 ìm. Resterande alginat bryts ned av alginat-lyase, en vegetabiliska enzym som specifikt degraderar alginat och påverkar inte djurceller.
Ta tillväxt media från brunnar innehåller pärlor och tillsätt 100 ml 10 IU / ml alginat lyase i αMEM. Låt plattan i inkubatorn i 25-30 minuter.
Ta bort hårsäckarna från den upplösta pärlor med en trubbiga änden spets. Överför först den yttre ringen ett IVF maträtt som innehåller DM, och sedan in till centrum också, som också innehåller DM att tvätta.
Efter tvättning, överföra folliklar till den yttre och sedan inre ring med en IVF-maträtt som innehåller mognad medier. I media vitro-mognad (IVM) består av αMEM, 10% FCS, 1,5 IU / mL hCG, och 5 ng / ml av epidermal tillväxtfaktor (EGF)
Överföring till CO 2 inkubator för 15-16 timmar.
Undersök folliklar för Cumulus celler expansion. För att ta bort cumulus celler från äggcellen, lägga hyaluronidas lösning till slutlig koncentration 0,1 mg / ml och inkubera i inkubatorn i 2-3 minuter. Använd ett 75 tips mm mikropipett för att klippa Cumulus celler från ägget genom att pipettera upp och ned flera gånger. Bestäm mognad skede av äggcellen under ett ljus eller en dissekera mikroskop. De möjliga stadier, från minst till mest mogna, är:

Degenererade. Äggcellen är splittrad i två eller flera stycken.
Germinal vesikler (GV) stadium. Äggcellen fortsatte inte meios som svar på hCG exponering, vilket märks av den fortsatta närvaron av kärnan i äggcellen (GV).
Germinal vesikler uppdelning (GVBD). Den nukleära membranet är frånvarande från äggcellen, men det finns ingen polär kroppen närvarande. Därför är ägget fortfarande i meios-I.
Metafas-II greps äggcell (MII). Äggcellen återupptas meios, och är nu gripna vid metafas-II. En polär kropp ska vara synliga på ett ljus eller en dissekera mikroskop. Ägget ligger kvar på MII inte befruktas i senare experiment.
6. Representativa resultat:
Vi beskrev en roman inkapsling metod äggblåsor i en FA-IPN för in vitro-kultur (Figur 1). Folliklar består av en äggcell omgiven av flera lager av somatiska celler. Kommunikationen mellan flera cellulära fack är avgörande för friska follikelutveckling och äggcellen mognad. Follikelstimulerande inkapsling i en 3D-hydrogel stöder follikeln expansionen med bibehållen arkitektur follikeln 9,11,12. Som folliklar utvecklas, expanderar sin volym exponentiellt och kapsla in biomaterial bör göra en sådan expansion utan utveckling av en hämmande tryckkraft. FA-IPN är ett nätverk byggt av två naturmaterial, där fibrin proteolytically nedbrytbara plasmin aktiveras av follikeln och alginat är biologiskt inert 13 (Figur 2). Under tillväxten av folliklar, börjar fibrinnedbrytningsprodukter lokalt nära follikeln, och fortsätter tills fibrin rensas från hydrogel. De icke-nedbrytbara alginat komponent, som förblir intakt under hela kulturen perioden, stöder 3D-strukturen i hydrogel.
Folliklar var isolerade på sekundär utvecklingsstadium (150-180 ìm diameter) och utökas till 400 ìm vid antral utvecklingsstadium i FA-IPN geler. Med hCG stimulering kan odlas folliklar genomgå expansionen cumulus cell och oocyter kan återupptas meios och framsteg för att metafas II för befruktning. Dessa resultat tyder på att inkapsling metoden och kapsla in materialet får follikeln kultur och framgångsrika mognad in vitro (Figur 3).
Fibrinnedbrytningsprodukter runt encapsulated folliklar startar den första dagen av kultur och avslutas med dag 6. Aprotinin, en löslig plasmin-hämmare, kan användas för att förändra fibrinnedbrytningsprodukter och att förlänga mekaniska gradient i kapsla in materialet (Figur 4). Om folliklar är odlade med 0,01 TIU / mL aprotinin är fibrin försämras långsammare under de första 4 dagarna. Kan dock folliklar fortfarande utveckla till antral scenen och oocyter förblir behöriga att återuppta meios till metafas II efter aprotinin är removed.A hög koncentration av aprotinin (0,1 TIU / ml) signifikant hämmar fibrinnedbrytningsprodukter förhindrar matris stelhet follikelstimulerande expansion och somatiska celler invasion i matrisen har observerats.

Figur 1. Flödesschema av utvecklingen av folliklar. Äggstocksfollikeln består av ett centralt beläget äggcellen omgiven av ett eller flera lager av somatiska celler, som stöder oocyte utveckling. Eftersom folliklar utvecklas från sekundär till preovulatory antral scenen, somatiska celler som omger ägget föröka sig och differentiera och äggcellen ökar i storlek. In vitro-mognad (IVM) är det sista steget för follikeln kulturen, när den somatiska celler i anslutning till äggcellen, kallas cumulus celler, expandera efter hCG-stimulering och äggcellen återupptar meios och utvecklas till en metafas II (MII) stadium.

Figur 2a. Alginat och fibrin-alginat för 3D follikeln kultur in vitro. (A) Alginat är ett naturligt biomaterial som är lämplig för in vitro-follicle kulturen på grund av dess mjuka gelation och biokemiska egenskaper, som t.ex. maskstorlek, kontrollerbar styvhet och biologiska tröghet. Alginat är en linjär polysackarid sampolymer av α-L-guluronic syra (G) och β-D-mannuronic syra (M). Områden med att upprepa G monomerer, kallas "G-block", är tvärbunden att bilda en hydrogel i närvaro av tvåvärt kalciumjoner.

Figur 2b. (BI) Små inkapslade folliklarna erfarenhet låg tryckkraft i alginat i början av kulturen. Men är som follikeln expanderar fördrivna volymen i pärlan ökar, vilket resulterar i större tryckkraft i motsatt riktning av follikelstimulerande expansion (B-II).

Figur 2c. Kedjorna av enskilda polymerer är helt intrasslad i fibrin-alginat lösning innan förnätning. Båda komponenterna i FA-IPN börjar att länka direkt då de utsätts för en blandning av trombin och kalcium.

Figur 3a. Flödesschema för follikelstimulerande isolering och inkapsling i en FA-IPN. Sekundära folliklar är isolerade från en 16-dagars gamla mus (AI). Fortplantningsorganen är dissekeras (A-II), och isolerade folliklar överförs till en maträtt med underhåll media (A-III).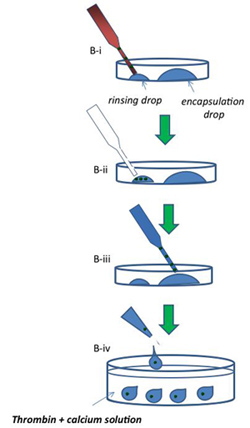 Figur 3b släpp-metoden för follikelstimulerande inkapsling i fibrinogen alginat lösning (B: I-IV).. Två droppar av fibrinogen-alginat lösning, är att skölja droppe (10 mikroliter) och inkapsling droppe (90 mikroliter) pipetteras i skålen (BI). Nästa 3-5 folliklar överförs till en sköljning droppe (B-II). Efter sköljning och media avlägsnande, är folliklar överförs till inkapsling droppe (B-III). Varje follikel sugs med 5 mikroliter fibrinogen-alginat lösning med en 10 mikroliter pipettspets och sedan utvisades till trombin / kalcium (B-IV).

Figur 3c. Vulsten antipyridinantikropp i 5 minuter. Den parafilm metod för follikelstimulerande inkapsling i fibrinogen alginat lösning (C: I-III). Fibrinogen-alginat-lösning (7,5 mikroliter) är pipetteras på parafilm belagda glasplatta och folliklar överförs individuellt för varje droppe efter sköljning (Ci, ii). Trombin-lösning (7,5 mikroliter) läggs till varje droppe (C-III).

Figur 3d - e. droppar är täckta med en andra parafilm belagt glas skjut och FA-IPN är tvärbundet i inkubatorn i 5 minuter. (D) inkapslade folliklarna överförs till tillväxt media i en 96-brunnar. (E) En bild av en inkapslad follikeln i FA-IPN (vit pil).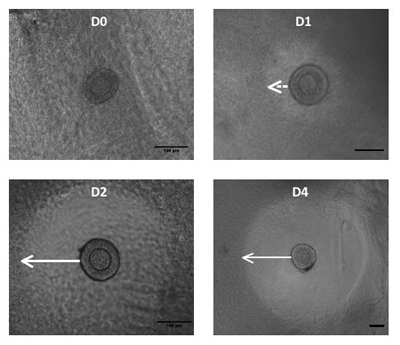 Figur 4. Fibrinnedbrytningsprodukter av den växande FolliCLE. Folliklar försämra fibrinkomponenten i FA-IPN under kultur perioden, vilket framgår av en tydlig cirkel runt hårsäcken. Follikeln 3D-arkitektur stöds av den återstående alginat. På dag 0 (D0) fibrinet är fortfarande intakt och den matris runt follikeln är grumlig, efter en dag i kulturen (D1) den klara ring runt follikeln visas (vit pil) och fibrinnedbrytningsprodukter fronten fortsätter att radiellt expandera på dagen 2 (D2) och dag 4 (D4) av kultur.

Figur 5. Bilder av tillväxten av folliklar. Representant bilder ofsecondary tillväxten av folliklar i FA-IPN dag 0 (A), 4 (B), 6 (C) och 8 (D) av kultur. Efter åtta dagar var antral folliklar mognat in vitro, och den resulterande MII scenen oocyter visas (E, Polar kroppen visas med svart pil).

Figur 6. Fibrinnedbrytningsprodukter hämmades av aprotinin. Folliklarna på dag 2, 4, 10 och 12 visas i den första raden. Aprotinin vid koncentrationer 0,01 TIU / mL (andra raden) och 0,1 TIU / ml lades till den kultur media dag 0, 2 och 4. Endast follikelstimulerande kulturer med 0,01 TIU / mL aprotinin försämrad fibrinet efter aprotinin borttagning och nådde antral skede. Folliklar odlas i 0,1 TIU / ml aprotinin inte växa i FA-IPN.
| | |
| --- | --- |
| Förkortning | Fullständigt namn |
| CO 2 inkubator | 37 ° C inkubator med 5% CO 2 |
| COC | Cumulus äggcellen komplexa |
| 3D | 3 dimensionella |
| DM | Dissection medier |
| EGF | Epidermal tillväxtfaktor |
| FA-IPN | Fibrin-alginat genomträngande nätverk |
| FBS | Fetalt bovinserum |
| GM | Tillväxt medier |
| GV | Germinal vesikler |
| hCG | Humant koriongonadotropin |
| DESS | Insulin Transferrin Selen tillägg |
| IVF maträtt | Center och 60 mm provrörsbefruktning maträtt |
| MM | Underhåll medier |
| MII skede äggcellen | Metafas II skedet äggcellen |
| rFSH | Rekombinant Follikulärt hormon |
| TBS | Tris saltlösning |
| TIU | Trypsin hämmande enheter |
Tabell 1. Förkortningar
Subscription Required. Please recommend JoVE to your librarian.
Discussion
De presenterade äggblåsa inkapsling metod i en FA-IPN gör follikeln kultur i en 3D-miljö in vitro. En FA-IPN är en dynamisk, cell-lyhörd matris där den första mekaniska egenskaper bestäms av en kombination av både fibrin och alginat. Under kultur, aktiverar inkapslade follikeln proteaser att försämra bara en del av IPN, det fibrin, vilket resulterar i ett gradvis minskande gel styvhet som bidrog endast av den återstående alginat i slutet av kulturen. Den dynamiska mekaniska egenskaper uppnås med en FA-IPN har föreslagits för att stämma överens med den naturliga miljön för att utveckla folliklar och bidrog till det förbättrade graden av äggcellen meiotiska mognad jämföra med alginat ensam.
FA-IPN visar mild och snabbt gelation, där varje komponent i systemet bryggbindningen av en oberoende mekanism. Vi har beskrivit på andra ställen 5 att hastigheten på gelbildningen kan styras av fibrinogen och koncentrationer trombin. Den nedbrytningshastigheten kan justeras med aprotinin hämning av fibrin proteolys. Murina sekundära folliklar brukar odlas under 8-12 dagar och hårsäckar från andra arter kräver längre kultur perioder. Således kunde försenas fibrinnedbrytningsprodukter av aprotinin ger potentiellt en utökad dynamisk miljö för längre kulturer.
De beskrivna inkapsling metoder som kan tillämpas på andra system, såsom inkapsling och kulturen i mikro-vävnader eller embryoid organ, i vilken cell-cell kontakt kan behållas men den sammanlagda delvis kan försämra matrisen och skapa ett utrymme för expansion. Avslutningsvis presenterar FA-IPN inkapsling metoden en steril systemet hydrogel kultur med dynamiska, cell-lyhörd mekaniska egenskaper och en kontrollerbar nedbrytningshastigheten.
Subscription Required. Please recommend JoVE to your librarian.
Disclosures
Inga intressekonflikter deklareras.
Acknowledgments
Detta arbete har finansierats av NIH (U54HD41857 och PL1EB008542, ett P30 Biomaterial kärnor inom Oncofertility Consortium färdplanen bidrag).
Materials
| | | | |
| --- | --- | --- | --- |
| Name | Company | Catalog Number | Comments |
| Fetuin | Sigma-Aldrich | F3385 | |
| FBS | Invitrogen | 10082-139 | |
| Aprotinin | Roche Group | 10236624001 | |
| CaCl2 | Wako Pure Chemical Industries, Ltd. | 039-00475 | 40 mM |
| EGF | Sigma-Aldrich | A412 | |
| rFSH | National Institute of Diabetes and Digestive and Kidney Diseases | | |
| hCG | Sigma-Aldrich | CG-5 | |
| Hyaluronidase | Sigma-Aldrich | A1603 | |
| ITS | Sigma-Aldrich | I1884-1VL | |
| L-15 | GIBCO, by Life Technologies | 11415 | |
| αMEM+Gluta MAX | GIBCO, by Life Technologies | 32561 | |
| Pen-Strep | Cellgro | 30-002-CI | |
| TBS | Pierce, Thermo Scientific | 28379 | |
| Tisseel Fibrin kit | Baxter Internationl Inc. | 921030 | |
| Sodium Alginate | FMC BioPolymers | LF200DL | Mw 418kDa |