Summary
Een efficiënte procedure om de oligomerisatie neiging van single-pass transmembraan-domeinen (TMDs) te beoordelen wordt beschreven. Chimère eiwitten bestaande uit de TMD gefuseerd aan ToxR worden uitgedrukt in een E. coli stam verslaggever. TMD-geïnduceerde oligomerisatie oorzaken dimerisatie van ToxR, activatie van transcriptie en de productie van de reporter eiwit-galactosidase.
Cite this Article
Copy Citation | Download Citations

Joce, C., Wiener, A., Yin, H. Transmembrane Domain Oligomerization Propensity determined by ToxR Assay. J. Vis. Exp. (51), e2721, doi:10.3791/2721 (2011).
Abstract
De ongenuanceerde weergave van eiwitten transmembraan-domeinen als slechts ankers in fosfolipide is allang weerlegd. In veel gevallen membraan-spanning eiwitten geëvolueerd zeer geavanceerde werkingsmechanismen. 1-3 Een van de manieren waarop membraaneiwitten kunnen moduleren hun structuren en functies is door direct contact en specifiek van hydrofobe helices, de vorming van gestructureerde transmembraan oligomeren. 4,5 veel recente werk is gericht op de verdeling van aminozuren bij voorkeur gevonden in het membraan milieu in vergelijking met waterige oplossing en de verschillende intermoleculaire krachten die rijden eiwit vereniging. niettemin 6,7, studies van moleculaire herkenning bij het ​​transmembraan domein van eiwitten nog steeds achterblijft bij die van de water-oplosbare regio's. Een belangrijk struikelblok blijft: ondanks de opmerkelijke specificiteit en affiniteit die transmembraan oligomerisatie kan bereiken, 8 directe meting van hun vereniging is een uitdaging. Traditionele methoden toegepast op de studie van integrale membraaneiwit functie kan worden bemoeilijkt door de inherente onoplosbaarheid van de sequenties in onderzoek. Biofysische inzichten uit het bestuderen van synthetische peptiden die transmembraan-domeinen kan nuttige structureel inzicht. Echter, de biologische relevantie van het detergens micellaire of liposoom systemen die worden gebruikt in deze studies aan de celmembranen na te bootsen vaak in twijfel getrokken; peptiden hebben een native-achtige structuur vast te stellen onder deze omstandigheden en die hun functionele gedrag een reële afspiegeling van de wijze van actie binnen een native membraan ? Om de interacties van transmembraan-sequenties in natuurlijke fosfolipide studie, de Langosch lab ontwikkelde ToxR transcriptionele reporter assays. 9 De transmembraan domein van belang is uitgedrukt als een chimeer eiwit met maltose-bindend eiwit voor de locatie aan de periplasma en ToxR om een verslag op te stellen van het niveau van de oligomerisatie (figuur 1).
In het laatste decennium, verschillende andere groepen (bijvoorbeeld Engelman, DeGrado, Shai) verder geoptimaliseerd en paste deze ToxR reporter assay. 10-13 De verschillende ToxR assays zijn uitgegroeid tot een gouden standaard voor eiwit-eiwit interacties test in celmembranen. We laten zien hierin een typisch experimentele operatie uitgevoerd in ons laboratorium, dat in de eerste plaats volgt protocollen ontwikkeld door Langosch. Deze algemeen toepasbare methode is bruikbaar voor de analyse van transmembraandomein zelfassociatie in E. coli, waar de β-galactosidase productie wordt gebruikt om de TMD oligomerisatie neiging te beoordelen. Bij TMD-geïnduceerde dimerisatie, ToxR bindt zich aan de ctx promotor veroorzaakt up-regulatie van het lacZ-gen voor β-galactosidase. Een colorimetrische uitlezing wordt verkregen door toevoeging van ONPG aan lyzed cellen. Hydrolytische splitsing van ONPG door β-galactosidase resulteert in de productie van het licht absorberende soort o-nitrofenolaat (ONP) (figuur 2).
Protocol
1. Klonen Overwegingen
Commercieel bereide oligonucleotiden die de TMD van belang geflankeerd door Nhel en BamHI restrictie sites en 5'-gefosforyleerd kunnen worden geligeerd in pTox7 (gewijzigd in ons laboratorium door het inbrengen van een basepaar direct na de BamHI restrictieplaats 14) (Figuur 3) sequentieel verteerd met BamHI en Nhel. Een voorbeeld oligonucleotide wordt hieronder weergegeven:
5'ctagcTMDSEQUENCEg3 '
3 'gTMDSEQUENCEcctag5'
De TMD volgorde moet worden 12-24 residuen (kortere reeksen zal vermoedelijk worden verlengd door de vector gecodeerde hydrofobe residuen). Om de interface te onderzoeken, moet vier varianten van de TMD ontwerp worden gecreëerd waar sequentieel residu inserties en gelijktijdig residu verwijderingen resulteren in rotatie van de TMD ten opzichte van ToxR. 15,16 Tot slot heeft de arabinose concentratie dient te worden gevarieerd tussen 0,001 en 0,01% (w / v) om de concentratie waar de maximale verschillen in de β-galactosidase signalen tussen de verschillende TMD sequenties zijn waargenomen te identificeren; het testen van verschillende expressie niveaus wordt aanbevolen om onder welke voorwaarden verschillende affiniteiten het beste kan worden onderscheiden identificeren. In aanvulling op arabinose en antibiotica, kan 0,4 mM IPTG worden gebruikt om de verschillen van de affiniteiten tussen de verschillende TMDs te verbeteren. De ToxR meting moet worden uitgevoerd op zijn minst in viervoud. De hele procedure moet worden herhaald op zijn minst drie keer met verschillende plasmide transformaties.
2. Groei van bacteriële culturen
Voorzichtig dooi FHK12 competente cellen (200 ul) op ijs en over in een 15 ml cultuur buis. Voeg plasmide DNA (200 ng) en incubeer de cellen op ijs gedurende 30 minuten.
Heat-shock cellen door incubatie gedurende 90 s bij 42 ° C, gevolgd door incubatie op ijs gedurende 2 minuten.
Voeg SOC media (800 ul) en incubeer de monsters bij 37 ° C met schudden (300 rpm) voor een uur
Inoculeer 5 ml LB medium met chlooramfenicol (30 ug / ml) en arabinose (0,0025% w / v) met 50 ul van de transformatie mengsel in 15 ml cultuur buizen in drievoud. Incubeer monsters bij 37 ° C met schudden (300 rpm) voor 20 uur (Alternatief 5 ul van cultuur kan worden gebruikt om de 100 ul medium enten in een 96-well plaat. Deze methode is handig als het gaat om grote aantallen monsters, maar fouten zullen worden iets hoger. Om verdamping, wat zou leiden te voorkomen voor fouten, vul de buitenste putten met media, maar ze niet gebruiken voor monsters. slot heeft de gezamenlijke double-wrap tussen het deksel en de plaat met parafilm).
3. Meting van de β-galactosidase-activiteit
Verwarm de plaat-lezer tot 28 ° C.
Breng de Z-buffer in een reservoir met een grote pipet tip, zorg ervoor dat alleen de bovenste (waterige) laag. Breng 100 ul vers bereide Z-buffer/chloroform aan de putjes van een 96-wells plaat. Overdracht 5 ul van elke cultuur in de putjes van de plaat in viervoud. Weglaten van de cultuur van de vier putten die zal dienen als de blanco.
Meet de OD 595 van de plaat naar cel dichtheid te bepalen.
Voeg 50 ul van Z-buffer/SDS aan alle putjes van de plaat. Schud de plaat in de plaat-reader voor de 10 minuten naar de cellen Lyze. Zorg ervoor dat de celsuspensies duidelijk zijn na lysis en herhaal het schudden stap indien nodig. Onvolledige lysis suggereert dat de Z-buffer/chloroform was vers niet op voorbereid.
Voeg 50 ul vers bereid Z-buffer/ONPG aan alle putjes en terug te keren naar de plaat de plaat lezer en meet OD 405 elke 30 s voor 20 minuten.
Bereken β-galactosidase-activiteit met behulp van de volgende vergelijking (herinneren naar de lege af te trekken). De verhouding van OD 405 / min dient te worden berekend met behulp van alle data punten in het OD 405 range 0,0 tot 1,0 met behulp van een lineair model fit.

Miller units verschillen soms, als opgenomen op verschillende dagen. Daarom moet een referentie-constructie als GPA gemeten worden in elke test. De waarden kunnen worden gebruikt voor normalisering van de ToxR waarden.
4. Control voor eiwitexpressie
Voer Western blotting om zelfs eiwitexpressie tussen constructen te controleren. Combineer 50 ul van het drievoud culturen en centrifuge (2000 tpm, 4 min) in een microcentrifuge. Verwijder de bovenstaande vloeistof door pipetteren en resuspendeer de resterende pellet in 2 x monster laadbuffer.
Belasting 7,5 ul op een standaard 8% gel en uit te voeren electrophoreses op 125 V gedurende 1 uur 5 minuten. Na de overdracht, incubeer met anti-MBP HRP-geconjugeerd antilichaam en visualiseren, de chimère eiwit wordt waargenomen bij ongeveer 70 kDa met een aantal afbraakproducten soms gezien ongeveer 48 kDa. Endogene MBP is ook waargenomen bij 45 kDa (zie figuur 5).
5. Controle voor juiste Membrane invoegen
Een cellijn een tekort aan maltose bindend eiwit wordt gebruikt om de juiste membraan insertie van het chimère TMD bouwen te beoordelen. Wanneer gekweekt op minimale media met maltose als enige koolstofbron, maar cellen die een membraan-integraal expressie product met maltose-bindend eiwit correct gelegen aan het periplasma zijn in staat om te groeien.
Transformeren PD28 cellen (zoals beschreven bij FHK12 cellen) en enten 2 ml LB-medium. Groeien de cellen bij 37 ° C met schudden (300 rpm) gedurende de nacht.
Pellet de cellen door centrifugeren bij 3500 rpm, 10 min, 4 ° C en was door resuspensie in PBS (2 ml) met zachte pipetteren met een grote tip of zacht vortexen. Pellet de cellen (zoals hierboven), wassen met PBS voor een tweede keer, pellet en tenslotte opnieuw in suspensie in PBS (1 ml).
Gebruik 25 ul van de geresuspendeerde cellen tot 5 ml minimale media in drievoud en incubeer enten bij 37 ° C met schudden (300 rpm). Neem OD 595 lezingen tussen 15-25 uur, ongeveer elke 2 uur door de overdracht van 200 ul van elk monster in een 96-well plaat en het lezen van het gebruik van de plaat-lezer.
6. Representatieve resultaten:
Een voorbeeld van het gebruik van de ToxR transcriptionele reporter test om de oligomerisatie neiging van transmembraan-domeinen weergegeven in figuur 4 te analyseren. Eerder hebben we onderzoek gedaan naar de oligomerisatie van transmembraan-domeinen uit de multispanning membraan-integrale eiwit latent membraaneiwit-1 (LMP-1) door diverse technieken, waaronder ToxR 14 transmembraandomein vijf (TM5) werd aangetoond dat een sterke neiging tot oligomerize tentoon te stellen.; Dit wordt aangetoond door een hoge Miller Units, vergelijkbaar met de positieve controle, GPA, een gevestigde dimerizing volgorde. Een schadelijke mutatie in TM5, D150A, vermindert het vermogen van de sequentie oligomerize. LMP-1 TM1 niet significant oligomerize en vertoont een zeer lage Miller Unit signaal, net boven het signaal voor lege, niet-getransformeerde FHK12 cellen.

Figuur 1. Spotprent van de ToxR reporter test. Transmembraan domein (TMD) gereden oligomerisatie resulteert in een dimerisatie van ToxR en activering van LacZ transcriptie. Het gen product van LacZ, kunnen β-galactosidase worden gekwantificeerd als een maat voor de neiging van een TMD aan oligomerize.

Figuur 2. De hydrolytische splitsing van ONPG door β-galactosidase resulteert in de productie van het licht absorberende soort o-nitrofenolaat (ONP).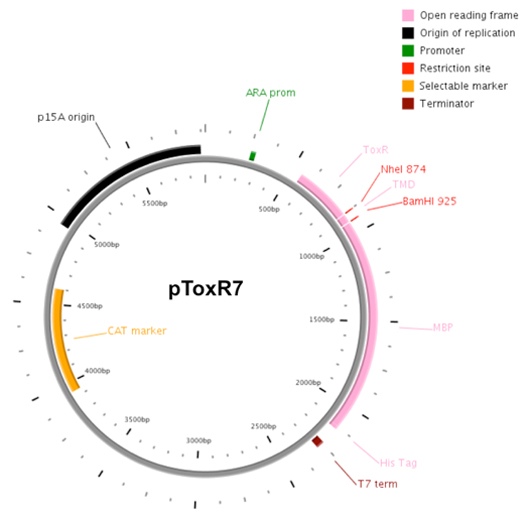 Figuur 3. Plasmide kaart van pToxR7.

Figuur 4. Vertegenwoordiger ToxR transcriptionele reporter test het analyseren van de oligomerisatie neiging van latente membraaneiwit-een transmembraan-domeinen. Transmembraan domein 5 (TM5) oligomerizes sterk, terwijl de transmembraan domein 1 (TM1) vertoont slechts een zwakke interactie. Mutatie D150A in TM5 vermindert het vermogen om oligomerize. GPA is opgenomen als een positieve controle volgorde voor sterke dimerisatie. Blank staat voor niet-getransformeerde FHK12 cellen.

Figuur 5. Western blot voor eiwitexpressie.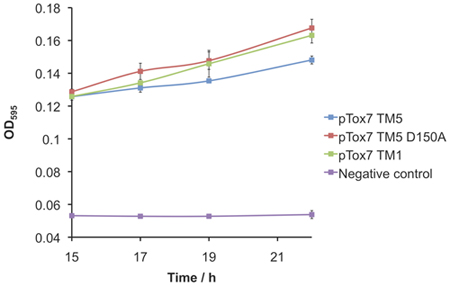 Figuur 6. PD28 invulling test om te controleren voor de juiste membraan inbrengen bij het ​​periplasma. Negatieve controle is een constructie een tekort aan maltose-bindend eiwit.
Subscription Required. Please recommend JoVE to your librarian.
Discussion
De ToxR transcriptionele reporter assay is een gemakkelijke manier om transmembraan sequenties te identificeren met de potentie om oligomerize. Omdat de interacties die zich in de bacteriële binnenste membraan, deze test omzeilt de kwesties in verband met de geldigheid van het bestuderen van systemen in membraan-mimetische omgevingen. Gezien het feit dat het klonen van meerdere TMDs in een plasmide gemakkelijk kan parallel worden uitgevoerd en de gehele test kan worden uitgevoerd in 96-well plaat formaat, kan deze test gebruikt worden voor high throughput analyse van grote aantallen van eiwit-sequenties. 17 Zodra een interactie is geconstateerd, kan de sleutel functionele residuen worden ondervraagd door mutatie-analyse, zodat in kaart brengen van de betrokken structurele kenmerken. In veel gevallen, kristallografische analyse van transmembraan eiwitten is problematisch, waarvoor alternatieve instrumenten, zoals de ToxR test om de moleculaire basis van de functie vast te stellen.
Subscription Required. Please recommend JoVE to your librarian.
Disclosures
Geen belangenconflicten verklaard.
Acknowledgments
We bedanken de National Institutes of Health (1R21CA138373 en Stand Up naar Kanker (SU2C) voor financiële ondersteuning van dit werk. HY is dankbaar voor de 2009 Elion Award van de American Association of Cancer Research, een Kimmel Scholar Award van het Sidney Kimmel Stichting voor Cancer Research (SKF-08-101), en de National Science Foundation Faculteit Early Career Award (NSF0954819).
Materials
Name
Company
Catalog Number
Comments
BamHI restriction enzyme
Invitrogen
15201023
Invitrogen enzymes were found to be more efficient than alternative suppliers
NheI restriction enzyme
Invitrogen
15444011
Invitrogen enzymes were found to be more efficient than alternative suppliers
15 mL culture tubes
Fisher Scientific
14-956-1J
SOC media
TEKnova, Inc.
S0225
Made up to the appropriate volume and sterilized by autoclaving.
LB media
Sigma-Aldrich
L7275
Made up to the appropriate volume and sterilized by autoclaving.
Chloramphenicol
Sigma-Aldrich
CO378
Stock solution of 30 mg/ mL in ethanol stored in freezer
Arabinose
Fluka
10839
Stock solution of 2.5% (w/v) in water stored in freezer
Na2HPO4
Sigma-Aldrich
S9390
NaH2PO4
Sigma-Aldrich
S9638
KCl
Mallinckrodt Baker Inc.
6858-06
MgSO4.7H2O
Sigma-Aldrich
63138
Sodium dodecylsulfate (SDS)
Sigma-Aldrich
L6026
2-Nitrophenyl β-D-galactopyranoside (ONPG)
Sigma-Aldrich
73660
Z-buffer
16.1 g Na2HPO4
5.5g NaH2PO4
0.75g KCl
0.246g MgSO4
Make up to 1 l, pH 7.0
Z-buffer/chloroform
200 mL β-mercapt–thanol, 2 mL chloroform, make up to 20 mL with Z-buffer. Vortex for 1 min, centrifuge for 1 min at 800 rpm. Make fresh for each plate.
Z-buffer/SDS
160 mg SDS dissolved in 10 mL Z-buffer
Z-buffer/ONPG
40 mg ONPG in 10 mL Z-buffer. Make fresh for each plate
β-mercapt–thanol
Calbiochem
444203
Anti-MBP monoclonal antibody (HRP conjugated)
New England Biolabs
E8038S
Minimal media with maltose
1 x M9 salts, 0.4% maltose, 1 mg/ mL thiamin, 2 mM MgSO4
96-well flat bottom plate
Sarstedt Ltd
83.1835.300
Plate-reader
Beckman Coulter Inc.
DTX880 Multimode Detector
Water bath
VWR international
89032-204
Shaking incubator
Forma Scientific