Summary
We presenteren de gedetailleerde protocol voor Agrobacterium-gemedieerde virus-geïnduceerde gen silencing (VIGS) test in katoen. De tabak rammelaar virus (TRV)-afgeleide VIGS vectoren werden ingezet om RNA-silencing van katoen GrCLA1, Cloroplastos alterados 1 gen induceren. De albino fenotype veroorzaakt door zwijgen op te leggen GrCLA1 ​​werd waargenomen bij de zaailing fase binnen 2 weken na inoculatie.
Abstract
Katoen (Gossypium hirsutum) is een van de belangrijkste gewassen ter wereld. Aanzienlijke inspanningen geleverd op moleculaire veredeling van nieuwe rassen. De grootschalige gen functionele analyse in katoen is achtergebleven bij de meeste van de moderne plantensoorten, waarschijnlijk vanwege de grote omvang van het genoom, gen duplicatie en polyploïdie, lange groeicyclus en weerspannigheid aan genetische transformatie 1. Ter bevordering van high-throughput functionele genetische / genomische studie in katoen, proberen we een snelle en efficiënte voorbijgaande assays te ontwikkelen om katoen genfuncties te beoordelen.
Virus-Induced gen silencing (VIGS) is een krachtige techniek die werd ontwikkeld op basis van de host Post-transcriptionele gene silencing (PTGS) van virale proliferatie 2,3 onderdrukken. Agrobacterium-gemedieerde VIGS is met succes toegepast in een breed scala van tweezaadlobbigen soorten zoals Solanaceae, Arabidopsis en peulvruchten soorten, en eenzaadlobbigen soorten, waaronder gerst, tarwe en maïs, voor de verschillende functionele genomische studies 3,4. Aangezien dit een snelle en efficiënte aanpak voorkomt plant transformatie en overwint functionele redundantie, is het bijzonder aantrekkelijk en geschikt voor functionele genomische studie bij de teelt van soorten, zoals katoen niet vatbaar voor transformatie.
In deze studie hebben we het verslag van de gedetailleerd protocol van Agrobacterium-gemedieerde VIGS systeem in katoen. Onder de verschillende virale vectoren VIGS, de tabak rammelaar virus (TRV) binnenvalt een breed scala van hosts en is in staat om krachtig verspreid over de gehele plant nog te produceren milde symptomen op de hosts5. Om het zwijgen op te leggen efficiëntie, GrCLA1, een homoloog gen van Arabidopsis Cloroplastos alterados een gen (AtCLA1) in katoen, is gekloond en ingevoegd in de VIGS binaire vector pYL156. CLA1 gen is betrokken bij de ontwikkeling chloroplast 6, en eerdere studies hebben aangetoond dat de te controleren verlies-van-functie van de AtCLA1 resulteerde in een albino fenotype op echte bladeren 7, biedt een uitstekende visuele marker voor zwijgen efficiency. Op ongeveer twee weken na Agrobacterium infiltratie, de albino fenotype begonnen te verschijnen op de echte bladeren, met 100% silencing-efficiëntie in alle gerepliceerde experimenten. Het zwijgen van endogene genexpressie werd ook bevestigd door de RT-PCR-analyse. Aanzienlijk, kon zwijgen krachtig optreden in alle cultivars die we hebben getest, waaronder verschillende commercieel geteelde rassen in Texas. Deze snelle en efficiënte Agrobacterium-gemedieerde VIGS test levert een zeer krachtige tool voor het snel op grote schaal analyse van gen-functies op genoom-brede niveau in katoen.
Protocol
1. Grow katoen zaailingen
Zaai de zaden van de hoger gelegen katoen (Gossypium hirsutum) variëteit Fibermax 832, Phytogen 425RF, Phytogen 480WR en Deltapine 90 in pot (7 cm in diameter) met Metro Mix 700 (SunGR, Beavile, WA).
Bewaar de potten in een bak bedekt met een plastic koepel bij 23 ° C, 120 μE m -2 s -1 licht, met een 12 uur light/12 uur donker fotoperiode in een groei kamer.
Verwijder de koepel als twee zaadlobben naar voren zijn gekomen.
Ongeveer twee weken later, gebruik maken van de planten met twee volledig ontwikkelde zaadlobben voor VIGS test. In dit stadium zijn de echte bladeren nog niet naar voren (figuur 1).
2. Construct VIGS vector die GrCLA1 ​​gen
Versterken de Cloroplastos alterados 1-gen van katoen (GrCLA1) door middel van PCR met primers GrCLA1-F, 5'-GCCCTTTGTGCATCTTC-3 'en GrCLA1-R, 5'-CTCTAGGGGCATTGAAG-3' van een cDNA-bibliotheek van G. raimondii blad weefsels.
Digest de PCR-producten van GrCLA1 ​​met EcoRI en Kpnl en invoegen in pYL156 (pTRV-RNA2) vector door ligatie.
Het scherm van de klonen op LB agar platen met 50 ug / ml kanamycine. Controleer of de constructies door restrictie-enzym digestie en sequencing.
Transformeren de plasmide in Agrobacterium tumefaciens GV3101 door elektroporatie en herstellen in LB vloeibaar medium bij 28 ° C. Selecteer de transformanten op de platen met LB + Kanamycine (50 ug / ml) + Gentamycine (25 ug / ml). De bacteriën kunnen worden opgeslagen in 25% glycerol bij -80 ° C voor de lange termijn gebruik.
3. Uit te voeren VIGS inoculatie
Drie dagen voor inoculatie, streep bevroren glycerol voorraden van Agrobacterium tumefaciens dragen pYL192 (TRV): RNA1, pYL156 (TRV): RNA2 (vector alleen) en pYL156 (TRV): RNA2-GrCLA1 ​​op LB agar platen met 50 ug / ml Kanamycine en 25 ug / ml gentamycine. Incubeer de platen bij 28 ° C gedurende 24 uur.
Twee dagen voorafgaand aan de VIGS infiltratie, kies een kolonie voor elk construct van de bovengenoemde platen en inoculeren het in 5 ml LB-medium aangevuld met 50 ug / ml kanamycine en 25 ug / ml van Gentamycine; Grow de bacteriële cultuur bij 28 ° C voor overnachting in een roller trommel met een snelheid van 50 rpm.
Breng de bovenstaande cultuur een fles met 50 ml LB-medium aangevuld met 50 ug / ml kanamycine en 25 ug / ml gentamycine, plus 10 mM MES (2 - (4 morfolino)-ethaan sulfonzuur) en 20 urn acetosyringone. Groeien de cultuur bij 28 ° C voor de overnachting in een shaker met een snelheid van 50 rpm.
Op de volgende dagen, spin down van de agro-bacteriële cellen bij 4000 rpm gedurende 5 minuten, de cultuur opnieuw te schorten in de infiltratie buffer met 10 mM MgCl2, 10 mM MES en 200 uM acetosyringone. Pas de OD 600 van de cultuur tot 1,5.
Laat de cultuur op de bank bij kamertemperatuur gedurende 3 uur.
Voorafgaand aan Agrobacterial infiltratie, punch de onderkant van de zaadlobben van katoen planten met een 25 G naald zonder piercing door de zaadlobben. Een of twee gaten (afhankelijk van de zachtheid van weefsel) zijn gestanst op elk onderdeel van de zaadlob (figuur 2).
Mix Agrobacterial cultuur opschorting van pYL192 (TRV): RNA1 en pYL156 (TRV): RNA2 of pYL156 (TRV): RNA2-GrCLA1 ​​in een 1:1 verhouding, de hand van het mengsel infiltreren van de onderkant van zaadlobben door de verwonding sites met een 1 mL naaldloze spuit (figuur 3).
Dek de planten met een plastic koepel en laat de geïnfiltreerd planten bij kamertemperatuur onder gedimd licht voorwaarde voor overnachting.
Overdracht planten om een groei kamer met de temperatuur van 23 ° C, 120 μE m -2 s -1 licht met een 12 uur licht / twaalf uur donker cyclus.
Let op: VIGS werkt als planten uit hoofde van hetzij 23 ° C of in kassen (25-28 ° C). Wanneer de temperatuur relatief laag (23 tot 25 ° C), is het gemakkelijker voor de inenting en het fenotype is meer uniform in vergelijking met een hogere (28-30 ° C) of schommelde de temperatuur. Afdekken van de planten met een koepel maakt VIGS efficiënter.
Onderzoek het zwijgen op te leggen fenotype op 7 ~ 8 dagen na de infiltratie. De echte bladeren van planten door zwijgen pYL156 (TRV): RNA2-GrCLA1 ​​begonnen met het albino fenotype (figuur 4) weer te geven. De planten geïnfiltreerd met agrobacteriën dragen pYL156 (TRV): RNA2 dienen als een controle.
Controleer of het gen silencing efficiëntie door het onderzoeken van de expressie van endogene genen met behulp van reverse transcriptie polymerase chain reaction (RT-PCR) met RNA geïsoleerd van controle en zwijgen katoen planten.
Opmerking: De VIGS-ed planten moeten worden bewaard in een gesloten quarantaine voorwaarden en planten moeten goed worden geautoclaveerd en afgevoerd na de testen als TRV heeft een breed assortiment en gastheer is een pathogeen worden aangemeld.
4.Representatieve resultaten:
Ongeveer twee weken na de hand-infiltratie met Agrobacterial mengsel, was de albino fenotype veroorzaakt door GrCLA1 ​​zwijgen duidelijk waargenomen op de echte bladeren. Het zwijgen efficiency bereikt bijna 100% in meerdere experimenten met meer dan 50 planten. Het zwijgen planten vertonen een gelijkmatig verdeelde en zeer sterke albino fenotype op nieuw te ontwikkelen bladeren met een mozaïek op de oudere bladeren (figuur 4).

Figuur 1. Een katoenen zaailing op ongeveer twee weken oud podium met twee volledig ontwikkelde zaadlobben gebruikt voor Agrobacterial infiltratie.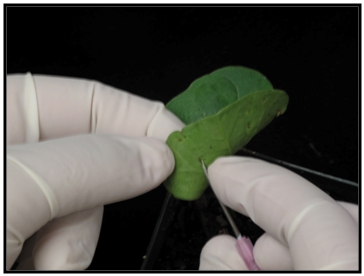 Figuur 2. Punching kleine gaatjes aan de onderkant van de zaadlobben van katoen planten met behulp van een 25 G naald Agrobacterial infiltratie te vergemakkelijken.

Figuur 3. Hand infiltratie van Agrobacterial mengsel in de zaadlobben van katoen door de verwonding sites met een injectiespuit zonder naald

Figuur 4. Albino fenotype verscheen op VIGS zwijgen katoen planten. Vier cultivars worden weergegeven. A) Fibermax 832, B) Phytogen 480WR; C) Phytogen 425RF; D) Deltapine 90.
Subscription Required. Please recommend JoVE to your librarian.
Discussion
VIGS is bewezen een krachtig instrument in functional genomics analyse worden door tijdelijk kloppen beneden de expressie van endogene genen. In deze studie hebben we een Agrobacterium-gemedieerde VIGS ontwikkeld door gebruik te maken van een TRV-op basis van binaire vector. De katoenen CLA1 (GrCLA1) gen werd ontwikkeld als een visuele marker om het zwijgen efficiëntie te monitoren. We hebben consequent verkregen 100% van gene silencing efficiëntie, blijkt uit het albino fenotype die op de echte bladeren in alle variëteiten getest, vanaf ongeveer twee weken na de infiltratie. Echter, CLA1-zwijgen katoen planten nauwelijks ontwikkeld tot de vezel of beginfase, die waarschijnlijk te wijten is aan een sterke afwijkingen op chloroplast ontwikkeling. De succesvolle ontwikkeling van katoen VIGS biedt een alternatief voor gemakkelijk zwijgen van de genen van belang voor verlies-van-functie testen en legt basis voor katoen functionele genetica / genomics in de snel naderende post-genoom tijdperk 8.
Subscription Required. Please recommend JoVE to your librarian.
Disclosures
Geen belangenconflicten verklaard.
Acknowledgments
We zijn dankbaar voor Drs. SP-Dinesh Kumar en Yule Liu voor TRV-VIGS vectoren, en Drs. Chuck Kenerley, Terry Wheeler, Jim Starr en Bayer CropScience voor het leveren van katoenzaad. Dit werk werd gefinancierd door NSF te LS en NIH naar PH
Materials
| | | | |
| --- | --- | --- | --- |
| Name | Company | Catalog Number | Comments |
| Roller drum | Glas-Col | 099A TC108 | Agro-bacterium culture |
| Incubator | Sheldon Manufacturing, Inc. | 01046209 | Agro-bacterium culture |
| UV/Vis spectrophotometer | Beckman Coulter Inc. | Model: DU530 | Measuring OD |
| Gene Pulser | Bio-Rad | Model: 1652076; Serial: 154BR3880 | Electroporation |
| Pulser Controller | Bio-Rad | Model: 1652098; Serial: 232BR4833 | Electroporation |
| Micropulser Electroporation cuvette | Bio-Rad | 165-2081 | Electroporation |
| 1 ml Syringe | BD Biosciences | 30962 | Inoculation of agro-bacterium |
| Metro Mix 700 | SUNGR | SKU# 553001 | Growing seedling |
| Terra Cotta pot | T.O.Plastics | GPS 3001B2 | Growing seedling |
| MES monohydrate | USB Corp., Affymetrix | 18886 | Infiltration buffer |
| Acetosyringone | Sigma-Aldrich | D134406 | Infiltration buffer |