Summary
Bioluminescentie beeldvorming van hypoxie induceerbare factor-1α-activiteit wordt toegepast op intracraniale tumor hypoxie ontwikkeling in een borstkanker hersenmetastasen muismodel te controleren.
Cite this Article
Copy Citation | Download Citations

Saha, D., Dunn, H., Zhou, H., Harada, H., Hiraoka, M., Mason, R. P., Zhao, D. In vivo Bioluminescence Imaging of Tumor Hypoxia Dynamics of Breast Cancer Brain Metastasis in a Mouse Model. J. Vis. Exp. (56), e3175, doi:10.3791/3175 (2011).
Abstract
Het is algemeen bekend dat de tumor hypoxie een belangrijke rol bij het bevorderen van kwaadaardige progressie en die van invloed therapeutische respons negatief speelt. Er is weinig kennis over in situ, in vivo, tumor hypoxie tijdens de intracraniële ontwikkeling van kwaadaardige hersentumoren wegens gebrek aan efficiënte middelen om het te controleren in deze diepgewortelde orthotope tumoren. Bioluminescentie imaging (BLI), gebaseerd op de detectie van het uitgestraalde licht door het leven cellen die een luciferase-gen, is snel goedgekeurd voor onderzoek naar kanker, met name om tumorgroei of tumorgrootte veranderingen in de respons op de behandeling in preklinische dierproeven te evalueren. Bovendien, met het uitdrukken van een reporter-gen onder de controle van een promotor-sequentie, kan de specifieke genexpressie non-invasief worden gecontroleerd door BLI. Onder hypoxische stress, zijn signalisatie reacties gemedieerd voornamelijk via de hypoxie induceerbare factor-1α (HIF-1α) om transcriptie van verschillende genen rijden. Daarom hebben we gebruik gemaakt van een HIF-1α reporter construct, 5HRE-ODD-luc, stabiel getransfecteerd in menselijke borstkanker MDA-MB231 cellen (MDA-MB231/5HRE-ODD-luc). In vitro HIF-1α bioluminescentie test wordt uitgevoerd door het incuberen van de getransfecteerde cellen in een hypoxische kamer (0,1% O 2) voor 24 uur voor BLI, terwijl de cellen in normoxia (21% O 2) fungeren als een controle. Significant hogere foton flux waargenomen voor de cellen onder hypoxie suggereert een verhoogde HIF-1α binding aan de promotor (HRE elementen), in vergelijking met die in normoxia. Cellen zijn direct ingespoten in de hersenen van muizen met een borstkanker hersenmetastasen model vast te stellen. In vivo bioluminescentie beeldvorming van tumor hypoxie dynamiek is gestart 2 wkn na implantatie en herhaalde een keer per week. BLI onthult steeds meer licht signalen van de hersenen als de tumor vordert, geeft verhoogde intracraniale tumor hypoxie. Histologische en immunohistochemische studies worden gebruikt om de in vivo beeldvorming resultaten te bevestigen. Hier zullen we introduceren benaderingen van in vitro HIF-1α bioluminescentie test, chirurgische oprichting van een borstkanker hersenmetastasen in een naakt muis en toepassing van de in vivo bioluminescentie beeldvorming intracraniale tumor hypoxie te controleren.
Protocol
Alle dierlijke procedures werden goedgekeurd door de Institutional Animal Care en gebruik Comite van de Universiteit van Texas Southwestern Medical Center.
1. In vitro HIF-1α bioluminescentie assay
Materialen en methoden:

Human gemetastaseerde borstkanker cellijn MDA-MB231 getransfecteerd met een nieuwe HIF-1-afhankelijke reportergen, was 5HRE-ODD-luc gegenereerd door Dr Harada.
In hypoxische toestand, is de verhoogde expressie van zuurstof-afhankelijke degradatie domein (ODD)-Luciferase fusie-eiwit gedreven door vijf exemplaren van hypoxie-respons element (5HRE). De aanwezigheid van ODD zorgt ervoor dat de afbraak van ODD-Luc eiwit wat resulteert in extreem lage achtergrond luciferase-activiteit in normoxische omstandigheden. Daarom kan deze nieuwe systeem worden gebruikt om de hypoxische regio's in een tumor te detecteren door real-time beeldvorming. De bouw van deze 5HRE-ODD-luc expressievector werd gerapporteerd door Harada et al. 1,2.

Cultuur cellen onder normoxia of hypoxie:

Handhaaf de recombinante MDA-MB231 cellen in 10% foetaal bovine serum (FBS)-DMEM medium met 1% glutamine, antibiotica van 400 ug / ml G418 en 1% penicilline / streptomycine.
Voor de in vitro HIF-1α bioluminescentie test, plaat 3 x 10 5 MDA-MB231 cellen die 5HRE-ODD-luc vector in elke well van de twee zes goed gerecht.
Laat cellen om de schotel muur bevestigen na een nacht incubatie en daarna een schotel te zetten in een hypoxie kamer (Billups-Rothenberg, Inc Del Mar, CA) voor hypoxie studies, terwijl de andere schotel te houden onder normoxische conditie (21% O 2).
Zet de kamer en gas de kamer met 0,1% O 2 door het aansluiten van de inlaat-poort buis met een gasfles.
Opmerking: Zowel inlaat-en uitlaatpoort klemmen moeten open zijn tijdens deze procedure.
Ontkoppel gasbron na de kamer is gereinigd en afdichtingskamer door het sluiten van plastic klemmen.
Plaats de kamer in een 37 ° C incubator met 5% CO 2.
Opmerking: De kamer moet worden bevochtigd te veel verdamping van culturen te voorkomen. Dit kan worden bereikt door het plaatsen van 10 tot 20 ml steriel water in de kamer.

Bioluminescentie test:

Na 24 uur incubatie, verwijder het medium en snel was de cellen met ijskoude PBS (2X).
Voeg 1 ml koude PBS met 100 ul van Luciferine (Gold Biotechnology, St Louis, MO).
Acquire BL beeldvorming (IVIS Spectrum systeem, Caliper Life Sciences, Hopkinton, MA) met verschillende belichtingstijden (1, 30, 60, 180 s).
Meet de lichtintensiteit in elk putje met behulp van de Living Image software (Remklauw Life Sciences).
2. Oprichting van een borstkanker hersenmetastasen model
Voorbereiding van de MDA-MB231/5HRE-ODD-luc cellen

Ophalen en cultuur van de MDA-MB231/5HRE-ODD-luc cellen in DEME medium met 10% FBS, 1% glutamine en 1% penicilline / streptomycine.
Vervang medium om de 2-3 dagen. Tripsinize en was de cellen bij het bereiken van 80% confluentie.
Tel juiste aantal cellen en resuspendeer ze in serumvrij DEME medium met 25% Matrigel (BD Biosciences, San Jose, CA) met een concentratie van 10 5 cellen in 4 ul volume.
Plaats cellen op ijs voorafgaand aan de intracraniële injectie.

Chirurgische implantatie

Vrouwelijk naakt muizen (BALB / c nu / nu; National Cancer Institute, Bethesda, MD) op 4-6 weken oud zijn gebruikt in deze studie.
Verdoven (3% isofluraan / O2 in een inductie-kamer; isofluraan van Baxter International Inc, Deerfield, IL, USA) en onderhouden van de dieren met isofluraan (1%) in zuurstof (1 dm 3 / min) tijdens de chirurgische procedure 3.
De juiste pariëtale huid moet worden klaargestoomd met betadine en dan 70% alcohol voorafgaand aan de incisie.
Met behulp van een high-speed boor, braam een ​​1 mm gat in de rechter hersenhelft van de schedel, 1mm juist voor de coronale hechtdraad en 2 mm lateraal van saggital hechtdraad.
Teken 4 pl cell-mengsel (10 5 cellen) met behulp van een 10 ul Hamilton injectiespuit (Hamilton Company, Reno, NV). Injecteer de cellen direct in recht caudale diencephalon, 1,5 mm onder de dura mater met behulp van een custom-made 32G Hamilton naald. Houd de naald op zijn plaats voor ongeveer 30 s voor de terugtrekking. Gebruik van een fijne naald 32G minimaliseert beschadiging van het weefsel.
Vul de braam gat met been was en sluit de hoofdhuid met resorbeerbare hechtingen.
Bereid de incisie regio met 70% alcohol.
Van toepassing zijn buprenorfine analgesie elke 12 uur gedurende twee dagen.
3. In vivo bioluminescentie beeldvorming van tumor hypoxie dynamiek bij borstkanker hersenmetastasen
Initiëren longitudinale bioluminescentie imaging (IVIS Spectrum systeem) twee weken na de intracraniële implantatie en herhaal een keer per week voor 8-10 Weken.
Verdoven drie muizen per keer (3% isofluraan / O-2 in een inductie kamer)
Subcutaan in de nek regio van elke muis zoals in detail beschreven voorheen 4; Dien een oplossing van D-luciferine (Gold Biotechnologie 120 mg / kg in PBS in een totaal volume van 80 ul).
D-luciferine is niet giftig en het is aangetoond in staat te zijn te penetreren intacte bloed-hersenbarrière (BBB) ​​en celmembranen 3,5.
Plaats de drie muizen in de beeldvorming kamer en onderhouden met isofluraan (1%) in zuurstof (1 dm 3 / min) tijdens de beeldvorming.
Vijf minuten na de injectie luciferine, verwerven BL beeldvorming met een scala aan verschillende belichtingstijd (1, 30, 60, 180 s).
Onze observaties blijkt dat de piek emissie van licht is ongeveer 5 minuten na de subcutane toediening van luciferine in de nek regio 3,4.
Analyseren van gegevens met de Living Imaging software (Remklauw Life Sciences) met behulp van absolute foton tellingen (fotonen / s) in een regio van belang (ROI), handmatig gevestigd op de BLI-signaal van de hersenen te schetsen.
Plot tijdsverloop curve van foton tellingen van de tumor hypoxie dynamiek te geven.
Direct na de laatste BLI, beheren pimonidazole, de hypoxie marker en een uur later, het offer van de muizen en ontleden van de hersenen. Embed de hele hersenen in Optimal Cutting Temperatuur (LGO) medium en bevriezen in -80 ° C vriezer. Latere histologische cresyl violette kleuren en immunohistochemische kleuring tegen luciferase, hypoxie merker pimonidazole, en HIF-1α uitgevoerd om beeldvorming waarnemingen te valideren.
4. Representatieve resultaten:
Zoals weergegeven in figuur 1, was significant hoger BLI-signaal waargenomen na de getransfecteerde cellen geïncubeerd in de hypoxische kamer (1% O 2) voor 24 uur. Zwak lichtemissie werd waargenomen van de controle cellen onder normoxia. Dit kan het gevolg zijn van de overvolle celpopulatie na 24 uur de cultuur van 3 x 10 5 cellen, die een stress-geïnduceerde signaal naar de cellen te HIF-1α overexpressie. Toch werden in vivo BLI resultaten bevestigd door immunohistochemische kleuring laten zien colocalization tussen tumor hypoxie en luciferase expressie.
Een geautomatiseerde reeks van blootstelling keer maakt continue overnames van een reeks beelden, die vastleggen van een zwak signaal maakt met een langere belichtingstijd, en sterke signalen met behulp van een kortere tijd zonder verzadiging van de CCD.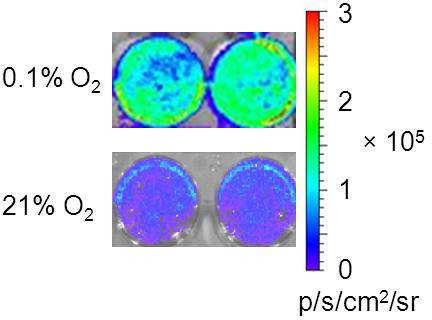 Figuur 1 In vitro HIF-1α bioluminescentie test Bovenste rij:. 3 x 10 5 MDA-MB231/5HRE-ODD-luc cellen geïncubeerd in elke well van een 6-well-schotel in een hypoxie kamer (0,1% O 2) voor 24 uur voordat het medium werd verwijderd, gewassen en vervangen door 1 ml PBS. Onmiddellijk na 100 ul luciferine werd toegevoegd aan elk putje, werd BLI verworven met een serie van belichtingstijden (1, 30, 60, 180 s). Sterke luminescentie werd waargenomen van de vertegenwoordiger van Wells Onderste rij:. Als een controle, 3 x 10 5 cellen geïncubeerd onder normoxia (21% O 2) uitgezonden zwak licht.

Figuur 2 In vivo bioluminescentie beeldvorming van tumor hypoxie dynamiek. A) Een zwak licht signaal van rechterkant van de hersenen van muizen werd voor het eerst gevisualiseerd 5 weken na intracraniële implantatie van MDA-MB231/5HRE-ODD-luc borstkankercellen. Verhoogde optisch signaal werd waargenomen boven bijkomende 6 weken, waarmee een grotere tumor hypoxie. B) Het perceel het tijdsverloop curve van kwantitatieve foton tellingen van lichtsignaal toonde.

Figuur 3 Colocaliztion van luciferase en hypoxie gedetecteerd door immunohisto-chemische kleuring. Een bevroren hersenen van muizen met een uitzaaiing van borstkanker MDA-MB231/5HRE-ODD-luc ingebed in oktober was coupes. Een 10 urn sectie immunostained met hypoxische marker, pimonidazole, onthulde intratumorale heterogeniteit van hypoxie, die werd gevonden aan ruimtelijk correleren met luciferase expressie gedetecteerd door anti-luciferase vlekken. Schaal bar, 100 urn.
Subscription Required. Please recommend JoVE to your librarian.
Discussion
Borstkanker hersenmetastasen komt voor bij 30% van de patiënten met borstkanker in stadium IV. Het wordt geassocieerd met een hoge morbiditeit en mortaliteit en heeft een mediane overleving van 13 maanden 6. Er is een noodzaak om adequate diermodellen moeten dit klinisch verwoestende ziekte na te bootsen om ons begrip van de intracraniële initiatie en progressie als pathofysiologische profielen te vergemakkelijken. Hier hebben we een orthotoop borstkanker hersenmetastasen model door het injecteren van menselijke borstkankercellen, direct in hersenen van muizen. Onze eerdere ervaringen is gebleken dat een radiologisch gevisualiseerd (door MRI) intracraniële laesie verschijnt ongeveer 2 weken na de implantatie. Alternatief voor deze directe injectie model, hebben we onlangs geïmplementeerd een intracardiale injectie cel aanpak naar de andere orthotoop borstkanker hersenmetastasen model te creëren door het injecteren van kankercellen in de linker ventrikel van muizen. Echter, pre-selectie van hersenmetastasen-gevoelige borstkanker cellen nodig is om multi-focale hersenletsels te bereiken in dit model 7. We hebben onlangs dezelfde HRE-luc construct in de muis borstkanker 4T1-cellen die in staat zijn om in de hersenen van muizen uitzaaien via intracardiale injectie.
Bioluminescentie beeldvorming is uiterst gevoelig en efficiënt, dat in tegenstelling tot fluorescentie beeldvorming, geen licht nodig excitatie. Dit vergemakkelijkt beeldvorming van diepgewortelde tumoren in knaagdiermodellen, bijvoorbeeld, de intracraniale hersentumoren van de muis in deze studie. Drie of zelfs vijf muizen kunnen worden afgebeeld op hetzelfde moment. Echter, om de gevoeligheid vooral als een zwak signaal werd gezien op het hele lichaam beeld te verhogen, waarin het dier staat dichter bij de camera nodig zal zijn. In dit geval kan slechts een of twee dieren worden afgebeeld per keer. Een beperking van BLI is een lage ruimtelijke resolutie van de anatomie al zijn er methoden om tomografische beelden te genereren. Co-registratie met micro-CT of MR beelden zouden helpen om de juiste identificatie van de anatomie.
Uitgebreide pogingen zijn gezocht naar niet-invasieve benaderingen te ontwikkelen voor tumor hypoxie in vivo 8,9 monitor. Door de introductie van een hypoxie reportergen in het genoom van kankercellen, kunnen longitudinale monitoring van tumor hypoxie evolutie gecontroleerd worden door optische beeldvorming 10,11. Op dezelfde manier kan tumor hypoxie dynamiek na de behandeling worden gecontroleerd met behulp van deze aanpak.
In aanvulling op luciferase en haar substraat, luciferine, zuurstof en ATP zijn onmisbare elementen in de luciferine-luciferase reactie op licht te produceren. In hypoxische omgeving kan de beschikbaarheid van zuurstof en ATP productie aanzienlijk beperkt, wat kan resulteren in een verminderde emissie van licht. Echter, onze in vitro BLI-test toonde aan dat de MDA-231/HRE-luc cellen geïncubeerd onder hypoxische toestand (<0,1% O 2) significant meer het uitgestraalde licht, in vergelijking met die in normoxische conditie. Bovendien is de immunohistochemische gegevens van tumor weefsel toonde een goede ruimtelijke correlatie tussen de luciferase expressie en pimonidazole. Deze waarnemingen zijn in een goede overeenkomst met eerdere studies van anderen, wat suggereert dat de zuurstofconcentratie en de ATP die nodig is voor een efficiënte lichte productie ver onder hun niveau te vinden in levende zoogdiercellen. Wij hebben ook een combinatie van functionele MRI benaderingen, BOLD (zuurstofgehalte in het bloed niveau afhankelijk is) en verteld (weefsel zuurstof niveau afhankelijk) MRI worden geëvalueerd tumor hypoxie in dit model. Vergelijkbare gegevens zijn verkregen van de multimodale beeldvorming aanpak (ongepubliceerde gegevens). Bovendien, immunohistochemische kleuring bevestigde colocaliztion van hypoxische tumorcellen en luciferase tot expressie brengen. Accurate beoordeling van de uitgangswaarde tumor hypoxie en de dynamische veranderingen in reactie op de behandeling moet een rationele therapeutische combinatie 12 mogelijk te maken.
Concluderend kan de goedkope, snelle en zeer gevoelige BLI een nuttig instrument voor niet-invasieve tumor hypoxie dynamiek te beoordelen in vivo. Terwijl de orthotope hersentumor model is gebruikt in deze studie, kan de methodiek zeker toegepast worden voor andere soorten van diepgewortelde orthotope tumoren bij knaagdieren.
Subscription Required. Please recommend JoVE to your librarian.
Disclosures
Geen belangenconflicten verklaard.
Acknowledgments
Dit onderzoek wordt gedeeltelijk ondersteund door DOD Breast Cancer IDEA Award W81XWH-08-1-0583 en NIH / NCI CA141348-01A1 (DZ) en FAMRI klinische Scientist Award (DS). Imaging infrastructuur wordt geleverd door Southwestern Small Animal Imaging Research Program mede ondersteund door U24 CA126608 en Simmons Cancer Center (P30 CA142543) en NIH 1S10RR024757-01.
Materials
| | | | |
| --- | --- | --- | --- |
| Name | Company | Catalog Number | Comments |
| D-luciferin | Gold Biotechnology | L-123 | 120 mg/kg in PBS in a total volume of 80 μl for in vivo study |
| Isoflurane | Baxter Internationl Inc. | 1001936060 | |
| Matrigel | BD Biosciences | 354234 | |
| Hamilton syringe | Hamilton Co | 1701 | |
| 32G Hamilton needle | Hamilton Co | 7803-04 | |
| Hypoxia chamber | Billups-Rothenberg, Inc. | MIC-101 | |
| Bioluminescence imaging system | Caliper Life Sciences | IVIS Spectrum system | |
| G418 | Fisher Scientific | SV3006901 | |