Summary
Humana pluripotenta stamceller hPSCs) har potential att behandla en mängd olika sjukdomar. Användbarheten av dessa celler ligger i det faktum att de kan differentiera till vilken celltyp som helst i kroppen. Här beskriver vi teratom-analys som användes för att demonstrera pluripotence av hPSCs.
Cite this Article
Copy Citation | Download Citations | Reprints and Permissions

Peterson, S. E., Tran, H. T., Garitaonandia, I., Han, S., Nickey, K. S., Leonardo, T., Laurent, L. C., Loring, J. F. Teratoma Generation in the Testis Capsule. J. Vis. Exp. (57), e3177, doi:10.3791/3177 (2011).
Abstract
Pluripotenta stamceller (PSC) har den unika egenskapen att de kan differentiera till celler från alla tre germinallager. Detta gör dem potentiellt värdefullt verktyg för behandling av många olika sjukdomar. Med tillkomsten av inducerade pluripotenta stamceller (iPSCs) och fortsätter forskning med humana embryonala stamceller (hESCs) finns det ett behov för analyser som kan visa att en viss cellinje är pluripotenta. Könsceller överföring har varit guldmyntfoten för att påvisa pluripotence av mus embryonala stamceller (Mesc) linjer 1,2,3. Med denna analys, kan forskarna visa att en Mesc linje kan göra alla celltyper i embryot, inklusive könsceller 4. Med genereringen av humant ESC linjer 5,6, var den lämpliga analysen för att visa pluripotence av dessa celler oklar eftersom humana ESC inte kan testas med avseende könsceller överföring. Som ett surrogat är teratom analysen för närvarande används för att demonstrera pluripottransparensen för mänskliga pluripotenta stamceller (hPSCs) 7,8,9. Även denna analys har nyligen kommit under kontroll och ny teknik är aktivt utforskas, är teratom analysen nuvarande guldmyntfoten 7. Vid denna analys är cellerna i fråga injiceras i en äventyrad immunfunktion mus. Om cellerna är pluripotenta, kommer en teratom utveckla slutligen och sektioner av tumören kommer att visa vävnader från alla 3 germinallager 10. I teratom analys kan hPSCs injiceras i olika områden av musen. De vanligaste injektionsställen innefattar testikel kapsel, njurkapseln, levern, eller in i benet antingen subkutant eller intramuskulärt 11. Här beskriver vi ett robust protokoll för generering av teratom från hPSCs med testiklarna kapseln som plats för tumörtillväxt.
Protocol
OBS: Alla animaliska rutiner måste godkännas av lACUC eller motsvarande.
All kirurgisk utrustning måste steriliseras före operation. Sterila handskar, draperier och gasväv måste användas.
1. Förberedelser inför operation
Erhålla 6 veckor gamla Mus musculus CbySmn.CB17-Prkdc SCID / J-hanmöss eller andra immunförsvagade musstam.
Sterilisera alla kirurgiska instrument, handskar och gasväv.
Dissocierar hPSCs som skall injiceras med Accutase.
Räkna celler och resuspendera 1.000.000 celler per 20-30 pl i Matrigel utspädd 1:1 i DMEM/F-12. Hålla cellerna på is tills färdig.
Notera att det ofta är lämpligt att göra en genomgång av experimentet där trypanblått injiceras. Detta kommer att bidra till att identifiera eventuella problem innan cellerna slösas bort.
I terrariet, bedöva musen enligt vedertagna förfaranden på din institution. I våra experiment använde vi en Anesthesia maskin med isofluran. Möss ursprungligen placeras i en induktion kammare med 1L/min syre och 3-4% isofluran. Gång bedövades var en noskon med 1L/min syre och 2-3% isofluran användas.
Raka buken med klippare och rengör den främre väggen av musen buken, med början från mitten av buken och arbeta medurs utåt. Första användningen povidon-jodlösning tvätta därefter med 70% etanol. Upprepa 3 gånger, byta kompresser varje gång. Överföra djuret till en värmedyna för att hålla djuret varm inuti en vävnadsodling eller dissekerande huv.
Göra en 1 cm longitudinellt snitt genom huden och bukhinnan med sterila kirurgiska saxar strax under nivån för höftleden.
Håll bukhinnan med pincett, når ner mot höger höft med en annan steril forcept och dra ut den vita fettvävnaden tillsammans med bifogade testiklar.
Placera testiklarna på steril gasväv.
Fyll en tuberkulin eller Hamilton (1 ml) sprutan wite de hPSCs som skall injiceras. Observera att det är en bra idé att ta en kontroll hPSC linje som du vet är pluripotenta som WA09 (även känd som H9). Detta gör att du har en positiv kontroll, som du kan använda för att avgöra om din injektion eller operation var felaktig.
Injicera långsamt hPSCs (20-30 fil) i mitten av testiklarna kapseln från några större blodkärl, stoppa om testikelcancer kapseln börjar svälla.
Dras nålen långsamt för att undvika återflöde av cellerna.
Använd pincett, överföra testiklar och fettvävnad tillbaka till sitt ursprungliga läge i buken.
Närbild bukhinnan med 2 eller 3 återabsorberbara suturer och stäng huden med autoclips.
Musen ska hållas varm tills den återhämtat sig och gett någon form av smärtstillande (se vad som accepteras i terrariet) efter operation två gånger dagligen under 1-2 dagar.
Observera att varken bedövningsmedel eller smärtstillande med störa tumörutveckling.
Övervaka: ee djur för tumörtillväxt under 6-12 veckor. Mycket sällsynta fall kan tumörer växa till 5 mm i storlek före 6 veckor efter injektion, därför är det viktigt att följa djuren. Om detta händer, bör djuren avlivas och tumörerna bearbetas och analyseras som vanligt.
När tumören är påtaglig och når ca 5 mm i storlek, bedöva musen och offra det enligt accepterade djurförsök protokoll förfaranden.
Ta bort tumören och dokument i enlighet - fotografera, mått storlek, väger.
Skär tumör i små bitar och fäst i 4% paraformaldehydlösning. Förvaras i 4% paraformaldehyd tills proverna skickas till en patolog för sektionering, färgning och analys.
2. Representativa resultat:
När detta protokoll utförs såsom beskrivits och den injicerade cellinjen är pluripotenta, bör en palpabel, visuellt uppenbar, tumör bilda inom 12 veckor som mest. För etablerade hPSC rader som WA09, ser vi vanligentumörer inom 6 veckor. För IPSC linjerna är det inte ovanligt att se tumörer inom 8-10 veckor. Det är mycket viktigt att injicera möss med en linje som är känd att vara pluripotenta, som en positiv kontroll, i syfte att vara säker på att förfarandet utfördes korrekt. Tumörer ser oftast mycket heterogen och har många bifogade cystor (figur 1). Analys av tumörprover från en patolog bör uppvisa differentierade vävnader hos samtliga tre germinallager (figur 2).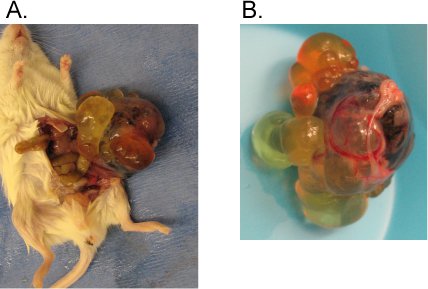 Figur 1. Typisk hPSC härledd teratom i testikeln kapsel.
Efter det beskrivna protokollet, har en miljon WA09 celler injiceras i testis kapsel av en komprometterad immun mus. Sex veckor senare en teratom observerades. A) Teratom dras från mus. B) Närbild bild av teratom. Observera heterogenitet och cysta strukturer.
Figur 2. Hematoxylin och Eosin färgade snitt från teratom visar vävnader från varje frö lager.
Efter fixering var teratom snittades och färgades med hematoxylin och eosin. Analys av en patolog avslöjade närvaron av celler från var och en av de 3 germinallager.
Discussion
Metoden som presenteras här ger en mycket pålitlig, enkla sättet att generera teratom från hPSCs i testiklarna kapseln. Det finns flera kritiska parametrar i denna teknik. I synnerhet är det viktigt att injicera hPSC cellinjer som är kända för att vara pluripotenta som en kontroll. Andra viktiga parametrar omfattar tidsintervallet mellan injektion och tumör observation. För cellinjer som WA09 bör teratom iakttas i 6-8 veckor. För nya IPSC linjer finner vi som ofta 10 veckor krävs. Ett annat bekymmer är antalet injicerade celler. Vi injicera en miljon celler men analysen kan lätt göras med färre celler. Dessutom är det injektionsmedium viktig. Vi finner att vi får de bästa resultaten när cellerna injiceras i en 1:1 blandning av Matrigel och DMEM/F-12, i motsats till PBS eller DMEM/F-12.
Disclosures
Inga intressekonflikter deklareras.
Acknowledgments
Detta arbete har finansierats av CIRM bidrag # TR-1250, RT1-01.108 och CL1-00.502.
Materials
| | | | |
| --- | --- | --- | --- |
| Name | Company | Catalog Number | Comments |
| Accutase | Invitrogen | A1110501 | |
| DMEM/F-12 | Invitrogen | 113300-032 | |
| Matrigel | BD Biosciences | 354277 | |