Summary
Humane pluripotente stamceller (hPSCs) har potentialet til at behandle et utal af forskellige sygdomme. Anvendeligheden af ​​disse celler består i det faktum, at de kan differentiere til enhver celletype i legemet. Her beskriver vi teratom assay, som anvendes til at påvise pluripotence af hPSCs.
Cite this Article
Copy Citation | Download Citations | Reprints and Permissions

Peterson, S. E., Tran, H. T., Garitaonandia, I., Han, S., Nickey, K. S., Leonardo, T., Laurent, L. C., Loring, J. F. Teratoma Generation in the Testis Capsule. J. Vis. Exp. (57), e3177, doi:10.3791/3177 (2011).
Abstract
Pluripotente stamceller (PSC) har den unikke egenskab, at de kan differentiere til celler fra alle tre kimlag. Dette gør dem potentielt værdifuldt redskab til behandling af mange forskellige sygdomme. Med fremkomsten af ​​inducerede pluripotente stamceller (IPSC'er) og fortsatte forskning med menneskelige embryonale stamceller (hESCs) der er behov for analyser, der kan påvise, at en bestemt cellelinje er pluripotente. Kimlinjeoverførsel er guldstandarden for at demonstrere pluripotence af muse embryonale stamceller (mESC) linjer 1,2,3. Ved hjælp af dette assay, kan forskerne viser, at en mESC linje kan gøre alle celletyper i embryoet herunder kimceller 4. Med genereringen af human ESC linier 5,6, var den passende assay for at bevise pluripotence af disse celler uklar, da humane ESC ikke kan testes for kimlinietransmission. Som et surrogat er teratom assayet for tiden anvendes til at påvise pluripottighed af menneskelige pluripotente stamceller (hPSCs) 7,8,9. Selvom denne analyse for nylig er kommet under kontrol, og nye teknologier er ved at blive aktivt udforskes, den teratom analysen er den nuværende guldstandarden 7. I dette assay bliver cellerne pågældende injiceres i et immunkompromitteret mus. Hvis cellerne er pluripotente, vil et teratom tiden udvikle og dele af tumoren vil vise væv fra alle 3 kimlag 10. I teratom assayet, kan hPSCs injiceres i forskellige områder af musen. De mest almindelige injektionssted omfatter testis kapslen, nyrekapslen, leveren eller i benet enten subkutant eller intramuskulært 11. Her beskriver vi en robust protokol for produktion af teratomer fra hPSCs anvender testis kapslen som stedet for tumorvækst.
Protocol
Bemærk: Alle dyreforsøg skal godkendes af IACUC eller tilsvarende.
Alt kirurgisk udstyr skal steriliseres forud for operationen. Sterile handsker, forhæng og gaze skal anvendes.
1. Forberedelse forud for operationen
Opnåelse af 6 uger gamle Mus musculus CbySmn.CB17-Prkdc SCID / J-hanmus eller andre immunkompromitterede stamme af mus.
Steriliser alle kirurgiske instrumenter, handsker, og gaze.
Dissocierer hPSCs skal injiceres med accutase.
Tæl celler og resuspenderes 1.000.000 celler pr 20-30 ul i Matrigel fortyndet 1:1 i DMEM/F-12. Holde cellerne på is indtil færdig.
Bemærk, at det ofte er nyttigt at udføre en kørsel gennem af eksperimentet, hvor Trypan Blå injiceres. Dette vil hjælpe med at identificere eventuelle problemer, inden de celler går til spilde.
I terrariet, bedøver musen i overensstemmelse med accepterede procedurer på din institution. I vores eksperimenter, brugte vi en AnesthESIA maskine med isofluran. Mus blev indledningsvis sat i en induktion kammer med 1L/min oxygen og 3-4% isofluran. Når først bedøvet, blev en næsekonus med 1L/min oxygen og 2-3% isofluran anvendes.
Barbering maven med trimming og rense den forreste væg af muse maven, startende fra midten af ​​maven og arbejder med uret udad. Første anvendelse Povidon-iod-opløsning og derefter vaskes med 70% ethanol. Gentages 3 gange, ændrer podninger hver gang. Overføre dyret en varmepude til at holde dyret varme inde i en vævskultur eller dissekere hætte.
Foretag en 1 cm indsnit gennem huden og peritoneum med sterile kirurgiske sakse lige under niveauet af hofteleddet.
Mens du holder bughinden med pincet, nå ned mod højre hofte med en anden steril forcept og trække det hvide fedtvæv sammen med vedhæftede testikler.
Placer testiklerne på steril gaze.
Fyld en tuberkulin eller Hamilton (1ml) sprøjte with de hPSCs skal injiceres. Bemærk, at det er en god idé at inkludere en kontrol hPSC linje, som du ved er pluripotente såsom WA09 (også kendt som H9). På denne måde har du en positiv kontrol, som du kan bruge til at afgøre, om din indsprøjtning eller operation var behæftet med fejl.
Injicer langsomt hPSCs (20-30 ul) i midten af ​​testis kapslen væk fra større blodkar, standse, hvis testikel kapslen begynder at kvælde.
Fjern kanylen langsomt for at undgå tilbageløb af cellerne.
Ved hjælp af pincetter, overfører testiklerne og fedtvæv tilbage til sin oprindelige position i maven.
Nærbillede peritoneum med 2 eller 3 reabsorberbare suturer og lukke huden med autoclips.
Musen skal holdes varm, indtil den genindvinder og givet en form for smertestillende (se, hvad der er accepteret i din vivarium) efter operation to gange dagligt i 1-2 dage.
Bemærk, at hverken anæstetiske eller analgetiske med interferere med tumorudvikling.
Overvåg the dyr for tumorvækst i 6-12 uger. Meget sjældent kan tumorer vokser til 5 mm i størrelse forud for 6 uger efter injektion, hvilket er det vigtigt at overvåge dyrene. Hvis dette sker, bør dyrene aflives, og de tumorer behandlet og analyseret som sædvanlig.
Når tumor er håndgribelig og når ca 5 mm i størrelse, bedøver musen og ofre det i henhold til anerkendte dyreforsøg protokol procedurer.
Fjern tumor og dokumenter i overensstemmelse hermed - fotografi, foranstaltning størrelse, vejer.
Skær tumor i små stykker og fastgør i 4% paraformaldehydopløsning. Opbevares i 4% paraformaldehyd, indtil prøverne sendes til en patolog for sektionering, farvning og analyse.
2. Repræsentative resultater:
Når denne protokol udføres som beskrevet, og injiceres cellelinien er pluripotente, bør en håndgribelig, visuelt klart, tumor dannelse inden for 12 uger mest. Etablerede hPSC linjer som WA09, typisk vitumorer i 6 uger. For IPSC linjer er det ikke usædvanligt at se tumorer inden for 8-10 uger. Det er meget vigtigt at injicere mus med en linje, der vides at være pluripotente, som en positiv kontrol, for at være sikker på, at proceduren er blevet udført korrekt. Tumorer normalt ser meget heterogen og har mange vedhæftede cyster (figur 1). Analyse af tumorprøver af en patolog bør vise differentierede væv fra alle tre kimlag (figur 2).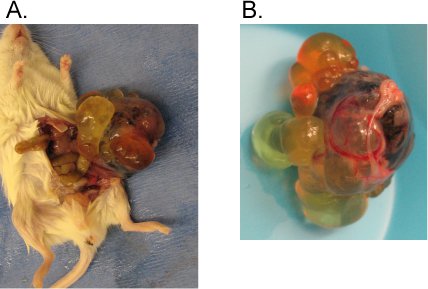 Figur 1. Typisk hPSC afledt teratom i testiklerne kapslen.
Efter den beskrevne protokol blev en million WA09 celler injiceret i testiklerne kapslen af ​​en immunkompromitteret mus. Seks uger senere et teratom blev observeret. A) Teratom trukket fra musen. B) Nærbillede billede af teratom. Bemærk heterogenitet og cyste strukturer.
Figur 2. Hematoxylin og eosin-farvede sektioner fra teratom viser væv fra hver kimlag.
Efter fiksering blev teratom snittet og farvet med hematoxylin og eosin. Analyse af en patolog afslørede tilstedeværelsen af ​​celler fra hver af de 3 kimlag.
Discussion
Metoden præsenteres her giver en yderst pålidelig og enkel måde at generere teratomer fra hPSCs i testiklerne kapslen. Der er adskillige kritiske parametre i denne teknik. I særdeleshed er det vigtigt at injicere hPSC cellelinier, som vides at være pluripotent som en kontrol. Andre vigtige parametre indbefatter tidsintervallet mellem injektion og tumor observation. For cellelinjer, såsom WA09 skal teratomer observeres i 6-8 uger. For nye IPSC linjer, vi finder der ofte 10 uger er påkrævet. En anden bekymring er antallet af injicerede celler. Vi injicere en million celler, men assayet kan let gøres med færre celler. Desuden er injektion medium vigtig. Vi finder, at vi får de bedste resultater, når cellerne injiceres i en 1:1 blanding af matrigel og DMEM/F-12, i modsætning til PBS eller DMEM/F-12.
Disclosures
Ingen interessekonflikter erklæret.
Acknowledgments
Dette arbejde blev finansieret af CIRM tilskud # TR-1250, RT1-01.108, og CL1-00.502.
Materials
| | | | |
| --- | --- | --- | --- |
| Name | Company | Catalog Number | Comments |
| Accutase | Invitrogen | A1110501 | |
| DMEM/F-12 | Invitrogen | 113300-032 | |
| Matrigel | BD Biosciences | 354277 | |