Summary
Humane pluripotent stamceller (hPSCs) har potensial til å behandle en myriade av ulike sykdommer. Nytten av disse cellene ligger i det faktum at de kan differensiere i hvilken som helst celletype i kroppen. Her beskriver vi teratom analysen, som brukes til å demonstrere pluripotence av hPSCs.
Cite this Article
Copy Citation | Download Citations | Reprints and Permissions

Peterson, S. E., Tran, H. T., Garitaonandia, I., Han, S., Nickey, K. S., Leonardo, T., Laurent, L. C., Loring, J. F. Teratoma Generation in the Testis Capsule. J. Vis. Exp. (57), e3177, doi:10.3791/3177 (2011).
Abstract
Pluripotent stamceller (PSCs) har den unike egenskap at de kan differensiere i celler fra alle tre bakterie lag. Dette gjør dem en potensielt verdifullt verktøy for behandling av mange forskjellige sykdommer. Med bruk av induserte pluripotent stamceller (iPSCs) og videre forskning med humane embryonale stamceller (hESCs) er det behov for analyser som kan påvise at en bestemt cellelinje er pluripotent. Germline overføring har vært gullstandarden for å demonstrere pluripotence av musen embryonale stamceller (mESC) linjer 1,2,3. Ved hjelp av denne analysen, kan forskerne viser at en mESC linje kan gjøre alle celletyper i embryoet inkludert kjønnsceller 4. Med generasjon av menneskelig ESC linjer 5,6, var den aktuelle analysen å bevise pluripotence av disse cellene uklar ettersom menneskelige ESCs ikke kan testes for germline overføring. Som en surrogat, blir teratom analysen dag brukes til å demonstrere pluripotsering av humane pluripotent stamceller (hPSCs) 7,8,9. Selv om denne analysen har nylig kommet i søkelyset, og nye teknologier blir aktivt utforsket, er det teratom analysen dagens gullstandard 7. I denne analysen, blir cellene aktuelle sprøytet inn en immun kompromittert mus. Hvis cellene er pluripotent, vil en teratom etter hvert utvikle og deler av svulsten vil vise vev fra alle 3 spiren lag 10. I teratom analysen, kan hPSCs injiseres i ulike områder av musen. De vanligste injeksjonssteder inkluderer testis kapselen, nyrene kapsel, leveren, eller i benet enten subkutant eller intramuskulært 11. Her beskriver vi en robust protokoll for generering av teratomer fra hPSCs bruker testis kapsel som sted for tumorvekst.
Protocol
Merk: Alle dyr prosedyrer må godkjennes av IACUC eller tilsvarende.
Alt kirurgisk utstyr må steriliseres før operasjonen. Sterile hansker, forheng og gasbind må brukes.
1. Forberedelse før operasjonen
Skaff 6 ukers gamle Mus musculus CbySmn.CB17-Prkdc SCID / J hannmus eller annen immunkompromitterte stamme av mus.
Steriliser alle kirurgiske instrumenter, hansker og gasbind.
Distansere hPSCs å bli injisert med accutase.
Telle celler og resuspender 1.000.000 celler per 20-30 mL i matrigel fortynnet 1:1 i DMEM/F-12. Hold celler på is inntil ferdig.
Merk at ofte er det nyttig å gjøre en gjennomgang av forsøket der Trypan Blå injiseres. Dette vil bidra til å identifisere eventuelle problemer før noen celler blir bortkastet.
I vivarium, anesthetize musen i henhold til aksepterte prosedyrer ved institusjonen din. I våre forsøk har vi brukt en anesthESIA maskin med isofluran. Musene ble først satt i en induksjon kammer med 1L/min oksygen og 3-4% isofluran. Når bedøvd, ble en nese kjegle med 1L/min oksygen og 2-3% isofluran brukt.
Barbere magen med clippers, og rengjør fremre vegg av mus magen, fra midten av magen og jobbe klokken utover. Første gangs bruk povidonjodid løsning vask deretter med 70% etanol. Gjenta 3 ganger, endrer vattpinner hver gang. Overfør dyret til en varmepute for å holde dyret varmt inne en vevskultur eller dissekere hette.
Lag en 1 cm langsgående snitt gjennom huden og peritoneum med sterile kirurgiske saks like under nivået i hofteleddet.
Mens du holder peritoneum med tang, nå ned mot høyre hofte med en annen steril forcept og trekke ut det hvite fettvevet sammen med vedlagt testiklene.
Plasser testiklene på steril kompress.
Fyll en tuberkulinprøve eller Hamilton (1cc) sprøyte with hPSCs skal injiseres. Merk at det er en god idé å inkludere en kontroll hPSC linje som du vet er pluripotent som WA09 (også kjent som H9). På denne måten har du en positiv kontroll som du kan bruke til å finne ut om injeksjon eller operasjon var feil.
Sakte injiserer de hPSCs (20-30 mL) i midten av testikkel kapselen bort fra noen store blodårer, stoppe hvis testiklene kapselen begynner å svelle.
Fjern nålen sakte for å unngå refluks av cellene.
Ved hjelp av pinsett, overføre testiklene og fettvev tilbake til sin opprinnelige posisjon i magen.
Lukk opp peritoneum med 2 eller 3 reabsorbable suturer og lukke huden med autoclips.
Musen bør holdes varm før den gjenoppretter og gitt noen form for smertestillende (se hva som er akseptert i vivarium din) etter operasjonen to ganger daglig i 1-2 dager.
Vær oppmerksom på at verken bedøvelse eller smertestillende med forstyrre tumor utvikling.
Overvåk the dyr for tumorvekst i 6-12 uker. Svært sjelden, kan svulstene vokser til 5 mm i størrelse før 6 uker etter injeksjon, derfor er det viktig å overvåke dyrene. Hvis dette skjer, bør dyrene avlives og svulster behandlet og analysert som vanlig.
Når svulsten er håndgripelig og når ca 5mm i størrelse, anesthetize musen og ofre det i henhold til aksepterte dyr protokoll prosedyrer.
Fjern tumor og dokument følgelig - fotografi, mål størrelse, veie.
Skjær svulst i små biter og fikse i 4% paraformaldehyde løsning. Oppbevares i 4% paraformaldehyde inntil prøvene blir sendt til en patolog for seksjonering, farging og analyse.
2. Representative Resultater:
Når denne protokollen er gjort som beskrevet og den injiserte cellelinje er pluripotent, bør en håndgripelig, visuelt åpenbar, tumor danne innen 12 uker på det meste. For etablerte hPSC linjer som WA09, vi vanligvis sersvulster innen 6 uker. For iPSC linjer er det ikke uvanlig å se svulster innen 8-10 uker. Det er svært viktig å injisere mus med en linje som er kjent for å være pluripotent, som en positiv kontroll, for å være sikker på at inngrepet ble utført riktig. Svulster vanligvis ser veldig heterogen og har mange festet cyster (figur 1). Analyse av tumorprøver av en patolog bør vise differensierte vev fra alle tre bakterie lag (Figur 2).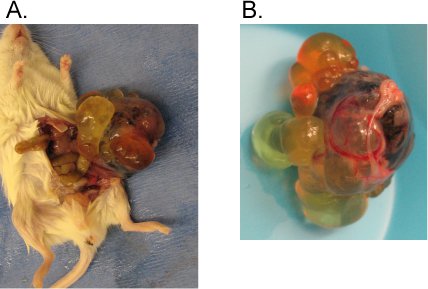 Figur 1. Typisk hPSC utledet teratom i testis kapselen.
Etter beskrevet protokollen, ble én million WA09 celler sprøytes inn i testis kapsel av en immun kompromittert mus. Seks uker senere en teratom ble observert. A) teratom trukket fra musen. B) Lukk opp bilde av teratom. Legg merke til heterogenitet og cyste strukturer.
Figur 2. Hematoxylin og eosin fargete snitt fra teratom viser vev fra hver bakterie lag.
Etter fiksering var teratom seksjoneres og beiset med Hematoxylin og eosin. Analyse av en patolog avslørte tilstedeværelsen av celler fra hver av de 3 bakterie lag.
Discussion
Metoden som presenteres her gir en svært pålitelig og ukomplisert måte å generere teratomer fra hPSCs i testikkelen kapselen. Det er flere kritiske parametere i denne teknikken. Spesielt er det viktig å injisere hPSC cellelinjer som er kjent for å være pluripotent som en kontroll. Andre viktige parametre er tidsintervallet mellom injeksjon og tumor observasjon. For cellelinjer som WA09, bør teratomer observeres i 6-8 uker. For nye iPSC linjer finner vi at ofte 10 uker er nødvendig. En annen bekymring er antall celler injisert. Vi injiserer en million celler, men analysen kan enkelt gjøres med færre celler. I tillegg er injeksjon middels viktig. Vi finner at vi får de beste resultatene når cellene blir injisert i en 1:1 blanding av matrigel og DMEM/F-12, i motsetning til PBS eller DMEM/F-12.
Disclosures
Ingen interessekonflikter erklært.
Acknowledgments
Dette arbeidet ble finansiert av CIRM tilskudd # TR-1250, RT1-01108, og CL1-00502.
Materials
| | | | |
| --- | --- | --- | --- |
| Name | Company | Catalog Number | Comments |
| Accutase | Invitrogen | A1110501 | |
| DMEM/F-12 | Invitrogen | 113300-032 | |
| Matrigel | BD Biosciences | 354277 | |