Summary
Diseksiyon tekniği high-throughput ekranlarında fenotipleme gerçekleştirmek için doku fiksasyonu fare gözün enükleasyonu göstermektedir.
Cite this Article
Copy Citation | Download Citations

Mahajan, V. B., Skeie, J. M., Assefnia, A. H., Mahajan, M., Tsang, S. H. Mouse Eye Enucleation for Remote High-throughput Phenotyping. J. Vis. Exp. (57), e3184, doi:10.3791/3184 (2011).
Abstract
Fare insan gözü oftalmik hastalık translasyonel çalışma için önemli bir genetik modelidir. Bu tür makula dejenerasyonu, fotoreseptör dejenerasyonu, katarakt, glokom, retinoblastom ve diyabetik retinopati gibi, insanlarda körleştiriyor hastalıklar 1-5 En transgenik ve nakavt fareler olmayan oftalmik hastalıklar çalışma laboratuarları tarafından üretilen oylandı. Transgenik farelerin değinmeyecek ama oylandı organ sistemleri arasındaki genetik koruma, aynı genlerin çoğunun da oküler geliştirme ve hastalık bir rol oynadığını düşündürmektedir. Dolayısıyla, bu farelerin gözünde yeni genotip-fenotip ilişkisi keşfetmek için önemli bir kaynak oluşturmaktadır. Bu farelerin dünyaya yayılmış olduğundan, bu satın korumak ve verimli, maliyet-etkin şekilde fenotip bunları zordur. Böylece, en yüksek verim oftalmik fenotipleme ekranlarında canlı farelerde gözler incelemek, oftalmik uzmanlığı bünyesinde gerektiren birkaç yerle sınırlıdır. 6-9 laboratuar tarafından geliştirilen diğer bir yaklaşım, transgenik fare gözünde büyük ya da küçük-çaplı araştırmalar kullanılabilir uzak doku-kazanılması için bir yöntemdir. Video tabanlı cerrahi beceri transferi, doku fiksasyonu ve nakliye için Standartlaştırılmış prosedürler herhangi bir laboratuar mutant hayvanlar kadar tüm gözler toplamak ve moleküler ve morfolojik fenotipleme için bunları göndermek için izin verir. Bu video makalede, uzaktan fenotipleme analizleri için sabitlenmemiş ve perfüzyon hem sabit fare gözler tanıttılar ve aktarmak için teknikler mevcut.
Protocol
1. Künt diseksiyon: sabitlenmemiş örneklerinde fare göz Enükleasyon
Maruz kalma ve posterior dünya (gözün) yüzey erişimi geliştirmek için göz kapaklarını açarak çekin.
Yörüngede (altında) dünya (göz çukuru) arkasında eğik pansuman forcep yerleştirin. Mahajan Sharptip pansuman forcep (malzeme ve reaktiflerin tabloya bakınız) bu adımı kolaylaştırmak için sivri uçlu özel bir araçtır.
Forcep kapatın ve dünya sıkma önlemek için dikkatli olmak ise dünyanın arkasında bağ dokusunda ve optik sinir kavramak.
Yavaşça yukarı forcep çekin ve yörüngeden küresi koparmak. Beyaz iplik benzeri doku optik sinir olduğunu.
PBS içinde göz yerleştirin. 30-gauge iğne kullanarak, tek bir delinme küresi içine iğne 1-2 mm takarak limbus hemen posteriorunda yara olun. Bu göz dokusuna nüfuz çekemeyen gibi glutaraldehit gibi fiksatif,, en doğrudan sağlarter göz. Bir sabitleştirici, örneğin paraformaldehit veya alkol gibi, ilgi göz dokusu içine difüzyon yeteneğine sahipse bu delme yara bölgesinin oluşturulması gerekli olmayabilir.
Hemen daldırma fiksasyonu için fiksatif içine tüm göz yerleştirin.
2. Keskin Diseksiyon: fare gözü aşağıdaki perfüzyon fiksasyon Enükleasyon
Uzakta dünyanın gelen göz kapağı tutmak için kavisli bir colibri forcep kullanın.
Dünya paralel Orient kavisli Westcott diseksiyon makas, yörüngenin arkasına doğru hedeflerken.
Inferior, medial, üstün, ve lateral taraftan dünya çevreleyen sabit bağ dokusu kesin.
Dünyanın arkasındaki kavisli forcep yerleştirin, dünya üzerinde basmadan bağ dokusu tutun ve gözün enükleasyonu için ileriye doğru çekin. Orbital bağ doku perfüzyonunun tespit edildiği sert olduğu için, orbital doku ilave kesme topak tamamen serbest bırakmak için gerekli olabileceke.
3. Fiksasyon ve Paketleme
Sabit dokuların Nakliye uygun etiket ve ambalaj dahil olmak üzere kurumsal ve posta hizmet gereksinimleri takip etmelidir. Aşağıdaki protokol, ortam sıcaklığında bir enfeksiyöz olmayan biyolojik numune nakliye bir örnektir. Bu 3 ambalaj katmanları ama hiçbir A / B sınıfı biyolojik madde veya sıvı azot etiketleri gerektirir.
Tespit kısa olması durumunda, en az 3 mL sabitleştirici, ya da post-sabitleştirici tampon ile 5 mililitrelik bir cam sintilasyon şişesi içine göz yerleştirin. Şişenin kapağı üzerinde takip numarasını yazın ve Parafilm ile kapayın.
Biyolojik numune içine yerleştirin sintilasyon şişeleri koliyi onayladı. Örnek içine yerleştirildiği bir kapalı kap, bir emici orta tabaka ve bir dış koruyucu katman: Bu enstitü, örneğin, uygun kaplar üç tabaka gerektirir.
Bir kabarcık şal paket içine ve sonra app içine bir kap yerleştirinuygun dokümantasyon ile birlikte roved laboratuar konteyner nakliye.
4. Temsilcisi Sonuçlar
Gözlerin Histolojik incelemede Hematoksilen-Eozin boyama, enzimatik ifade algılama, transmisyon elektron mikroskobu ve immünhistokimya gibi çeşitli yöntemler ile gerçekleştirilebilir. % 4 paraformaldehid immersiyon fiksasyon sonrasında doku parafin ve mikrotom üzerinde kesit içinde gömülü idi. Yüksek verimli fenotipleme, biz öğrenci-optik sinir bölümleri analiz, göz örnek tüm doku tipleri (Şekil 1). Doku bölümleri de lacZ ifade (Şekil 2), hücresel organel transmisyon elektron mikroskobu (Şekil 3) ve antikorlar (Şekil 4) ile spesifik moleküllerin ekspresyonu incelendi.
Bizim fenotipi tarama yöntemi olarak, (Latera nazal göre (medial canthus) ve zamansal ile gözün yönünü korumak için önemli değildil canthus) taraf. Göz yönelimi gerekli ise en az iki seçenek vardır. Enükleasyon sonra, bir el koter cihazı ile üç pozisyonunda temporal korneaya ışık koter uygulamış. Lezyon histoloji açıktır ve histolojik mürekkepler gibi işleme sırasında kaybolmak yok. Downside koter zararlardan muayene için kritik bir doku olabilir kornea olduğunu. Diğer seçenek ekstraoküler kas eklemeleri belirleyebilir yetenekli bir anatomist gerektirir. Stereomikroskopta altında, inferior ve superior oblik kas ekleme belirlenmesi dünyanın inferior ve superior ve yönü işaretler. 3. Her iki yönelim yöntemi ile, bir gözün sağ veya sol olarak numune izlemek için önemlidir. Birlikte, bu kesit öncesinde tam küre yönelim sağlayacaktır.


Şekil 1. Fare göz histolojik görüntüler afte r uzaktan edinimi. Fare gözler% 4 paraformaldehit ile perfüzyon fiksasyon izleyerek keskin diseksiyon ile iki parçaya ayrıldı. Hematoksilen ve eosin ile boyandı A. Öğrenci-optik sinir bölümünde tüm doku altyapılar korunması gösterir. Optik sinir, ON. ; IPL, iç pleksiform tabaka; INL, iç nükleer tabakada; OPL, dış pleksiform tabaka; onl, dış RGC, retina ganglion hücrelerinin: Normal retina (yeşil ölçek çubuğu = 500 mikron) B. Daha yüksek bir büyütme ile laminar yapısını gösterir nükleer tabaka (fotoreseptör hücre) (ok); OS, fotoreseptör dış segmentleri;; RPE, retina pigment epiteli, C, koroid, fotoreseptör iç segment (ok başı) IS. (Yeşil ölçek bar = 50 mikron) C. Normal retina ile karşılaştırıldığında, bu numune fotoreseptör dejenerasyonu için tiner kaynaklanmaktadır. Onl, IS ve OS (ok) tamamen bulunmaz. (Yeşil ölçek bar = 50 mikron)
"Alt =" Şekil 2 "/>
Transgenik farelerde Şekil 2. LacZ ekspresyonu. Gözler (5 mM K3Fe (CN) 6, 5 mM K4Fe (CN) 6, 2 mM MgCl2,% 0.02 NP40 diseksiyon ile çıkarıldı ve 1 mg / ml X-gal çözelti içerisinde bekletilmiştir , 37 geceleme ve% 0,1 sodyum deoksikolatın) ° C Gözler 30 dakika ve bir mikrotom üzerinde kesit için% 2 formaldehyde/0.2% gluteraldehit ile tespit edildi. X-gal ürün (mavi) etiketler: A. Silier epiteli, B. kornea epitel ve C retina retina ganglion hücre (RGC) katmanı. INL, iç nükleer tabakada; onl, dış nükleer tabaka.

Şekil 3,. Retina pigment epiteli (RPE) Transmisyon elektron mikroskobu. Bir delinme yara künt diseksiyon ve yaratıldıktan sonra, gözleri daldırma vardı 0.1M sodyum fosfat tamponlu% 2.5 lik Paraformaldehyde /% 2.5 glutaraldehit ile tespit edildi. Gözler secon edildidarily,% 1 osmiyum textroxide sabit giderek susuz ve Spurr en reçine gömülü. Doku 90 nm'de kesitli ve Formvar kaplı bakır yuvası ızgaralar üzerine yerleştirilir ve bir transmisyon elektron mikroskobu ile görüntülendi. Mikrografı, fotoreseptör dış nörosensöriyel retinanın kesimleri, retina pigment epiteli içindeki melanozom (M) ve Bruch membranı gösterir.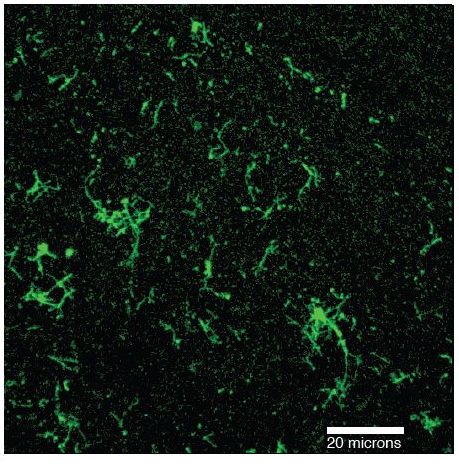 Şekil 4. Fare vitreusta süperoksit dismutaz-3 immünhistokimyasal etiketleme (yeşil). Gözler künt diseksiyon ile çıkarıldı ve% 4 paraformaldehid daldırma fiksasyon uygulandı. Onlar mikrotom kullanılarak parafin ve kesitli gömüldü. 01:50 seyreltilmiş Doku kesitleri tavşan poliklonal SOD3 antiserum ile inkübe edildi. SOD3 ifade keçi anti-tavşan IgG (H + L)-Alexa Fluor 488 konjuge sekonder antikor ile tespit edildi. SOD3 Etiketlenmesi gre gösterilirtr.
Subscription Required. Please recommend JoVE to your librarian.
Discussion
Çoğu transgenik fareler gözleri incelemek yok laboratuvarlarda bulunması. Bizim video tekniği gözleri ile az deneyime sahip laboratuvarlar doku edinimi optimize etmek için uzaktan cerrahi beceri transferi için basit ve standartlaştırılmış bir yöntem gösterilmektedir. Bu video tekniği anlamlı karşılaştırmalı fenotipik ve moleküler çalışmalar önlemek standart olmayan doku toplama ve fiksasyon yöntemleri nedeniyle uzman sitelere sınırlı sayıda kullanımı yüksek hacimli fenotiplendirme, büyük bir hatadır üstesinden yardımcı olur. Herhangi bir yeni uzaktan laboratuvar ve teknisyen ile kalite kontrol kurmak ve korumak için, başlangıçta ve periyodik çalışma boyunca yabani tip gözü dahil etmek önemlidir. Biz de çok genotipleri birden gözleri gibi her göz için benzersiz bir kimlik numarası atamak için web tabanlı bir sistem olarak, transfer edildiğinde bir izleme sistemi önemli olduğunu buldu. Daha yüksek kalitede tespit ve takip eden doku bölümleri ile elde edilse bileperfüzyon sabit hayvanlar, biz sabitlenmemiş hayvanlardan enüklee örneklerin çoğu morfolojik ve moleküler çalışmalar için yeterli olduğunu bulmak. Dahası, sabitlenmemiş hayvanların gözleri alımından farklı kaynaklardan yüksek verimli çalışmalarda işlemek için önemli ölçüde daha kolay olabilir. Transgenik farelerin yerel fenotipleme bu değerli kaynağın en yapar için insan oftalmik hastalığı, 10, 11 ve uzak doku satın araştırmak için önemli bir araçtır. Doku diseksiyonu ve paylaşım için benzer bir stratejiyi uygulaması olmayan oftalmik dokuların high-throughput fenotipleme üzerinde önemli bir etkisi olabilir.
Subscription Required. Please recommend JoVE to your librarian.
Disclosures
Çıkar çatışması ilan etti.
Acknowledgments
Bartly J. Mondino MD, Jules Stein Göz Enstitüsü, UCLA Direktörü ve Ramiro Ramirez-Solis, Jacqui Beyaz ve Sanger Enstitüsü, Wellcome Trust Genom Kampüsü'nde Jeanne Estabel Körlük Engellenir Araştırma. Bu araştırma Oftalmik ve Görsel Araştırma Hayvanları Kullanım ARVO Bildirimi ile uyumludur.
Materials
| | | | |
| --- | --- | --- | --- |
| Name | Company | Catalog Number | Comments |
| Curved Dressing Forcep | Storz Ophthalmics | E1408 | |
| Mahajan Sharptip dressing forcep | Storz Ophthalmics | E1406 (REF SP7-64520) | |
| Curved Westcott Scissors | Storz Ophthalmics | E3321 WH | |
| 15° BD Beaver Microsurgical Blade | BD Biosciences | 374881 | |
| 0.22 Fine-Castroviejo Suturing Forceps | Storz Ophthalmics | E1805 | |
| 0.12 Colibri forceps | Storz Ophthalmics | 2/132 | |
| 30-gauge needle | BD Biosciences | 305128 | |
| Biohazard Mailer | Fisher Scientific | 03-523-4 | |
| Parafilm | Fisher Scientific | 13-374-10 | |
| Glass scintillation vials | Wheaton | 4500413033 | |
| PBS, pH 7.4 | Invitrogen | 70011-044 | |
| 16% Paraformaldehyde | Electron Microscopy Sciences | 15700 | |
| 2.5% Paraformaldehyde/ 2.5% Glutaraldehyde in 0.1M sodium phosphate buffer | Electron Microscopy Sciences | 15700 & 16300 | Mixed in laboratory |
| 50% Glutaraldehyde | Electron Microscopy Sciences | 16300 | |
| 0.25% Formvar | Electron Microscopy Sciences | 15810 | |
| Copper Slot Grid | Electron Microscopy Sciences | M2010-CR | |
| 4% Osmium Tetroxide | Electron Microscopy Sciences | 19140 | |
| Anti-SOD3 antibody | Abcam | Ab21974 | |
| Goat anti-rabbit Alexa Fluor 488 | Invitrogen | A11070 | |
| Spurr's embedding resin | Electron Microscopy Sciences | 14300 | |
References
Song, B. J., Tsang, S. H., Lin, C. -S. Genetic models of retinal degeneration and targets for gene therapy. Gene Ther. Mol. Biol. 11, 229-262 (2007).
Mahajan, V. B., Mondino, B. J., Tsang, S. H. A high-throughput Mouse Eye Phenomics System. Cold Spring Harbor Laboratories, Mouse Genetics Meeting. (2010).
Smith, R. S., John, S. W. M., Nishina, P. M., Sundberg, J. P. In Research Methods For Mutant Mice. CRC Press. Boca Raton, FL. (2002).
Chang, B., Hawes, N. L., Hurd, R. E., Davisson, M. T., Nusinowitz, S., Heckenlively, J. R. Retinal degeneration mutants in the mouse. Vision Res. 42, 517-525 (2002).
Anderson, M. G., Smith, R. S., Hawes, N. L., Zabaleta, A., Chang, B., Wiggs, J. L., John, S. W. Mutations in genes encoding melanosomal proteins cause pigmentary glaucoma in DBA/2J mice. Nat. Genet. 30, 81-85 (2002).
Hawes, N. L., Smith, R. S., Chang, B., Davisson, M., Heckenlively, J. R., John, S. W. Mouse fundus photography and angiography: a catalogue of normal and mutant phenotypes. Mol. Vis. 5, 22-22 (1999).
Won, J., Shi, L. Y., Hicks, W., Wang, J., Hurd, R., Naggert, J. K., Chang, B., Nishina, P. M. Mouse model resources for vision research. J. Ophthalmol. 2011, 391384-391384 (2011).
Pinto, L. H., Vitaterna, M. H., Siepka, S. M., Shimomura, K., Lumayag, S., Baker, M., Fenner, D., Mullins, R. F., Sheffield, V. C., Stone, E. M., Heffron, E., Takahashi, J. S. Results from screening over 9000 mutation-bearing mice for defects in the electroretinogram and appearance of the fundus. Vision. Res. 44, 3335-3345 (2004).
Heckenlively, J. R., Winston, J. V., Roderick, T. H. Screening for mouse retinal degenerations. I. Correlation of indirect ophthalmoscopy, electroretinograms, and histology. Doc. Ophthalmol. 71, 229-239 (1989).
Tsang, S. H., Gouras, P., Yamashita, C. K., Kjeldbye, H., Fisher, J., Farber, D. B., Goff, S. P. Retinal degeneration in mice lacking the gamma subunit of the rod cGMP phosphodiesterase. Science. 272, 1026-1029 (1996).
Tsang, S. H., Woodruff, M. L., Jun, L., Mahajan, V., Yamashita, C. K., Pedersen, R., Lin, C. S., Goff, S. P., Rosenberg, T., Larsen, M., Farber, D. B., Nusinowitz, S. Transgenic mice carrying the H258N mutation in the gene encoding the beta-subunit of phosphodiesterase-6 (PDE6B) provide a model for human congenital stationary night blindness. Hum. Mutat. 28, 243-254 (2007).