Summary
Extracellulaire opnames van neuronale activiteit met behulp van silicium sondes in de verdoofde rat wordt beschreven. Deze techniek maakt het mogelijk informatie te verkrijgen over verschillende hersengebieden die uit meer dan 100 neuronen tegelijk. Het geeft informatie met enkele cel resolutie over neuronale ensembles dynamiek in meerdere lokale circuits.
Abstract
Grootschalige elektrofysiologische opnames van neuronale ensembles bieden de mogelijkheid om te onderzoeken hoe de hersenen de grote verscheidenheid van gedragingen van de stekelige activiteit van de neuronen regisseert. Een van de meest effectieve methoden om toezicht te houden stekelige activiteit van een groot aantal neuronen in meerdere lokale neuronale circuits wordt tegelijkertijd met behulp van silicium elektrode arrays 1-3.
Actiepotentialen produceren grote transmembraan spanning veranderingen in de omgeving van de cel somata. Deze uitgangssignalen kunnen worden gemeten door het plaatsen van een dirigent in de nabijheid van een neuron. Als er veel actief (spiking) neuronen in de buurt van de tip, de elektrode records gecombineerde signaal van alle van hen, waar de bijdrage van een enkel neuron wordt gewogen met zijn 'elektrische afstand'. Siliconen sondes zijn ideaal registrerende elektroden om meerdere neuronen als gevolg van een groot aantal van de opname locaties (+64) en een klein volume te controleren. Furthermobent, kunt meerdere sites worden geregeld over een afstand van millimeters, waardoor voor de simultane opnames van neuronale activiteit in de verschillende corticale lagen of in meerdere corticale kolommen (afb. 1). Belangrijk is dat de geometrisch precieze verdeling van de opname locaties maakt het ook mogelijk voor de bepaling van de ruimtelijke relatie van de enkele, geïsoleerde neuronen 4. We beschrijven hier een acute, grootschalige neuronale opname van de linker en rechter voorpoot somatosensorische cortex gelijktijdig in een verdoofde rat met siliconen sondes (afb. 2).
Protocol
1. Voorbereiding operatie
Verdoven de rat met het juiste type en de dosis van de verdoving. Hier gebruiken we urethaan (1,5 g / kg, Sigma-Aldrich Co, St. Luis, MO) - bereid als 20%-oplossing door het verdunnen van 20 g van urethaan in 100 ml van fosfaat gebufferde zoutoplossing (PBS), dwz het dier krijgt 7,5 ml / kg van urethaan-oplossing intraperitonealy (IP). Door zijn dosis-response curve, is de totale dosis van urethaan verdeeld in vier toepassingen, elk gescheiden door ongeveer 30 minuten. Voordat de eerste twee toepassingen van urethaan, dier is verdoofd met isofluraan toegediend in een concentratie van 3-4% (zuurstof op 2 liter per minuut) en gehandhaafd op 2% (zuurstof bij tot 2 liter per minuut) om een ​​dier te voorkomen om stress door middel van injectie. Tijdens de operatie, kan een bijkomende toediening van isofluorane (2% concentratie gedurende 2 minuten) worden gebruikt als dat nodig is.
Scheren de vacht langs de incisie site (dorsale zijde van het hoofd) om ervoor te zorgen datde vacht zal niet verontreinigen de wond en dat er voldoende ruimte kan worden gedesinfecteerd om de incisie site.
Bereid operatiegebied steriel met behulp van organische jodium of chloorhexidine zeep en ontsmettingsmiddelen (ethanol).
Bereid silicium sensoren (NeuroNexus Technologies, Ann Arbor, MI). Sondes kunnen worden gedesinfecteerd met 70% ethanol gevolgd door spoelen met gedestilleerd water. Indien nodig, kan sondes worden beschilderd met een fluorescente marker steriel bereid (bijvoorbeeld Dye I, Invitrogen Co), om de positie van de sonde later onthullen in histologische analyse. Om dit te doen gebruiken we een kleine en zeer zachte kwast en subtiel de achterkant van het silicium sonde contact op met de kleurstof. Deze procedure moet altijd worden gedaan over een microscoop om te controleren of de sonde niet wordt beschadigd of verbogen. Controleer altijd om ervoor te zorgen dat de kleurstof niet is een van de kanalen te blokkeren. Eventueel resterende kleurstof links op de sonde kan later verwijderd worden met alcohol, gevolgd door spoelen met water.
Silicon electrodes zorg: Vanwege hun kleine formaat, siliconen sondes zijn kwetsbaar en zeer gevoelig voor breken, zelfs wanneer u deze gebruikt met aanzienlijke zorg. Zo adviseren wij monitoren potentiële risico's te allen tijde, zoals: (i) de probes in een gepaste aangewezen box Keep, (ii) Voorkom crashen of te laten vallen sondes bij de omgang met hen, (iii) Zorg ervoor dat de stereotaxische manipulatoren goed vast om ongelukken te voorkomen, (iv) bij het opnemen, het omringende weefsel en / of bloed kan hechten aan de sondes. Daarom is het belangrijk om ook voorzichtig bij het verwijderen van de sondes na de opname. Met behulp van een constante stroom van PBS of zoutoplossing wordt ten zeerste aanbevolen, (v) Reinig de sondes na de opname. Voor het reinigen van de sondes, is het sterk aanbevolen om onder te duiken ze in een vloeistof enzymatische reiniger (Boston, Bausch & Lomb) voor een paar minuten. Spoel de sondes met gedestilleerd water en breng ze terug naar hun specifieke vak. In onze ervaring, adequate zorg van het silicium zorgt voor sondesgoede kwaliteit opnames voor meer dan 10 experimenten. Als een kanaal 'krijgt luidruchtige' tijdens het gebruik, moet worden uitgesloten van verdere analyses. We hebben gevonden dat cross-talk tussen kanalen minimaal is en daarom een ​​lawaaierige kanaal heeft meestal weinig effect op een signaal in andere kanalen.
2. Chirurgie
Breng een eye-zalf op het oog oppervlak voordat een operatie manipulaties.
Dien Dexamethason 5 mg / ml subcutaan tot ontsteking van de hersenen te verminderen.
Bevestig het dier in stereotaxisch beeld heel chirurgie.
Dien Lidocaïne HCl 2% met epinefrine (2-4 mg / kg verdund tot 0,5% oplossing) subcutaan op de incisie site voordat de incisie wordt gemaakt om het potentiële risico van de wond bloeden en voor lokale anesthesie te verminderen.
Maak een 2 cm ingesneden de hoofdhuid middellijn en zijwaarts verplaatsen van de huid op de schedel oppervlak bloot te leggen.
Schakel het dorsale hoofdhuid van fascia door stompe dissectie en controlehet bloeden door microcautery of met behulp van bot was.
Maak twee boren van gaten voor kleine schroeven bevestigen in de occipitale bot van de schedel voor dierlijke aarding en referentie. De referentie schroef moet in contact komen met dura. Om de elektrische ruis te verminderen tijdens de opnames, is het raadzaam om de schroeven nat te allen tijde te houden. Om dit te doen, kan een kleine acryl barrière rond de schroeven worden gebouwd of de schroeven kan worden bedekt met agar.
Maak een 1-2 mm diameter craniotomie in de coördinaten die overeenkomt met de corticale en / of subcorticale gebied (en) van belang 5. Gebruik perslucht om het bot stof te verwijderen als dat nodig tijdens de craniotomie (boorgat). Voorkom schedel opwarmen van het boren door het aanbrengen van druppels PBS. Maak een tweede craniotomie als dat nodig is om de tweede probe te voegen. In deze video, presenteren we een opname van twee corticale gebieden tegelijk, dus twee craniotomies worden gemaakt.
Bouw een kleine barrière van acryl-hars (bijv.: Lang DentalManufacturing, Co, Inc, Wheeting, IL), rond de twee craniotomies om PBS te houden op de top van de blootgestelde dura, waardoor deze tegen uitdrogen. Voortdurend toe te passen PBS gedurende het hele experiment.
Open de dura aangelegenheid is van zowel craniotomies. Twee naalden (30 ½ meter) gebogen over de tips (de vorming van een haak), kan worden gebruikt voor deze manipulatie.
Bevestig de connector van de silicium sondes naar de stereotaxische manipulatiors. Connectors zijn aangesloten op een paal om de schachten van de sondes perfect parallel aan de stereotaxische manipulator hebben. Dit is cruciaal voor een stabiele opnames te behouden en sonde schade te voorkomen.
Sluit de verwijzing schroef aan het silicium sonde referentie pin. , Ii) het chassis grond van de opname-apparaat, en iii) de stereotaxisch kader i) de grond van de sonde stekker: om elektrische ruis van de grond schroeven moeten worden verbonden te verminderen.
Plaats het topje van de silicium sondes alleen in contact met de pia.
Langzaam invoering van ee silicium probes en zorg ervoor dat de schachten van het silicium sondes (figuur 1 en 2) kan worden ingebracht in de hersenen zonder weerstand of buigen.
Voorzichtig lager de sondes tot het bereiken van de gewenste opname gebied. Indien nodig, voeg druppels PBS op de top van craniotomies te voorkomen dat ze uitdrogen van het weefsel.
Omdat urethaan narcose mag alleen worden gebruikt voor de terminal procedures, is het dier gedood door een ip injectie van ten minste 200mg/kg van natriumpentobarbital verdund tot een concentratie van niet meer dan 60 mg / ml. Dit wordt gevolgd door onthoofding van het dier.
3. Representatieve resultaten:
Representatieve opnamen van de lokale veld mogelijkheden en stekelige activiteit worden geïllustreerd in figuur 3A. Na het uitvoeren van spike sorteren (onderscheid pieken afkomstig van verschillende neuronen; figuur 3B, C, 6, 7, 8) silicium probe-opnamen bieden de mogelijkheid om neuronale activiteit van de bevolking betrokken bij de onderzoeken, among andere, de volgende processen: het geheugen en de besluitvorming 9, plasticiteit 10, stimulus codering 11, 12 spontane activiteit en de effecten van verschillende drugs 13.

Figuur 1. A. Voorbeeld van een silicium sonde met een enkele schacht is bovenop een montage van gereconstrueerde neuronen (met dank aan S. Sakata 14). B. Voorbeeld van een sonde met een Tetrode configuratie op elk van de acht schachten. C. Schema van een rat schedel. De groene blokjes staan ​​voor de omvang van de craniotomie over de linker en rechter somatosensorische cortex.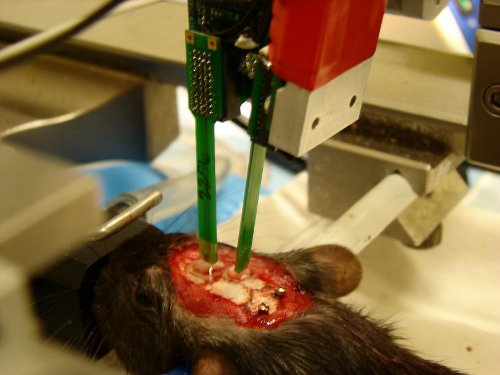 Figuur 2. Voorbeeld van een experiment met siliconen sondes in de prefrontale cortex en de hippocampus. Druppels van PBS betrekking hebben op de craniotomie om de blootgestelde br beschermenain tegen uitdrogen. Twee schroeven in de kleine hersenen wordt aangesloten op de grond en referentie, respectievelijk.

Figuur 3. A. beeld toont 500ms van een vertegenwoordiger elektrofysiologische opname van Local Field Potential (LFP) van een Tetrode (let op: negatieve spanning is uitgezet op de y-as). Plaats shows - een golfvorm van een spike B. Twee-dimensionale opvattingen van eenheid clusters in functie van de ruimte een Tetrode.. Elk cluster staat voor spikes uit een enkele unit (neuron). C. Gemiddelde spike golfvormen van representatieve eenheden (kleurcode) op elk van de vier opname sites van een enkele Tetrode. D. Waveform-energie (in verband met amplitude) van de opgenomen spikes loop van de tijd . Let op de relatief constante energie-waarden voor elke eenheid, wijst dit op een stabiele opname over de duur van de weergegeven periode.
Discussion
Dit document laat zien hoe het silicium elektrode arrays te gebruiken om op te nemen van de grote populatie van neuronen (> 100) in meerdere corticale gebieden tegelijk. Om succesvol te zijn in een operatie en opname moeten de volgende aspecten worden overwogen:
Introductie van de probes om een ​​gewenste gebied: Bij het plaatsen van de sondes in het hersenweefsel, is het mogelijk om aanzienlijke schade veroorzaken. Dit kan resulteren in een lage kwaliteit van de opgenomen eenheden. Om dit probleem te voorkomen adviseren wij het volgende: (i) Introduceer de sondes op een zekere hoek (aan te raden om een ​​10 graden hoek te gebruiken). Door dit te doen, kan dendritische beschadiging van de opgenomen neuronen worden verminderd, (ii) Nadat de sondes worden ingebracht in het hersenweefsel, ze zijn in eerste instantie verlaagd in een sneller tempo (ongeveer 50 tot 100 micron per 10-30 sec), tot ze dichter bij het gewenste gebied van de opname. Wanneer de probes zijn ongeveer 200 micron uit het doelgebied, wordt de positie langzaam aangepast (ca.imately 10 micron elke 2 of 3 minuten).
Stabilisatie van de opnames: Wanneer de probes zich in het aangewezen gebied en de grote activiteit wordt gedetecteerd (opvallende pieken in de meerderheid van de kanalen), wordt aanbevolen om ongeveer 30 minuten te wachten voordat u een opname. Dit zal toelaten hersenweefsel mechanisch te stabiliseren na het inbrengen van sondes en een meer stabiele opname te verzekeren.
Brain pulsatie: Soms is het mogelijk om te zien dat de hersenen pulsatie aanzienlijk kunnen verminderen de kwaliteit van een opname. Een kleine craniotomie (net genoeg ruimte om de sonde te passen) kan verminderen de hersenen pulsaties in een opname gebied. Indien nodig kan de cisterna magna doorboord worden. Dit vermindert de cerebrospinale vloeistof druk en vermindert zwelling en pulsatie.
Silicon probe configuratie: Silicon sondes kunnen een verscheidenheid van vormen en het registreren van configuraties hebben. Bijvoorbeeld, kunnen ze variëren in het aantal schachten, de lengte en dikte van de schachten, en inde regeling van opname locaties (bijv. Tetrode versus lineaire configuratie, zie: www.neuronexustech.com). De keuze van de sonde gebruikt worden met een specifieke configuratie hangt af van de wetenschappelijke vraag hoeft te worden beantwoord. Bijvoorbeeld, als het doel is om populaties van neuronen record in meerdere locaties in een specifieke laag (zoals gepresenteerd in deze opnames), de beste keuze is om een ​​sonde te gebruiken met acht schachten en een Tetrode configuratie. Dit zorgt voor opnames van meerdere afzonderlijke eenheden op elke Tetrode en bemonstering van de acht locaties in een 1,4 mm overspanning. In een ander geval, als iemand zou graag activiteiten propagations over corticale lagen te bestuderen, zou de beste keuze is om een sonde te gebruiken met een schacht met regelmatig verdeeld opname locaties langs die schacht die het mogelijk maakt opnamen in meerdere corticale lagen tegelijk 14.
Disclosures
Geen belangenconflicten verklaard.
Acknowledgments
Dit werk werd ondersteund door NSERC & AHFMR. De auteurs danken Mariam Alaverdashvili en Amanda Mauthe-Kaddoura voor commentaar op het manuscript en Hiroe Yamazaki voor hulp op de operatie voorbereiding.
Materials
| | | | |
| --- | --- | --- | --- |
| Name | Company | Catalog Number | Comments |
| Urethane | Sigma-Aldrich | | |
| Phosphate Buffer Saline (PBS) | | | |
| Isoflurane | Benson Medical Instruments | 02241315 | |
| Silicon probes | NeuroNexus Technologies | A 4 X 2 - Tet - 5mm - 150 - 200 – 312 | |
| Dye I (DiIC18(3)) | Invitrogen | 617830 | |
| Dexamethasone 5 | Vétoquinol | 0A0640B | |
| Eye ointment | Vétoquinol | 005165414 | |
| Lidocaine HCl 2% with Epinephrine | Bimeda-MTC | 00141984 | |
| Stereotaxic Frame | Kopf Instruments | 1430-B | |
| Electrode manipulator and holder | Kopf Instruments | 960 | |
| Rat ear-bars | Kopf Instruments | 1955 | |
| Rat adaptor | Kopf Instruments | 920 | |
| Anaesthesia mask | Kopf Instruments | 906 | |
| Scalpel | Roboz Surgical Instruments Co. | RS-9843 | |
| Scalpel blades | Paragon | 0086 | |
| Micro dissecting scissors | Roboz Surgical Instruments Co. | RS-5910 | |
| Screws | Gould Pasteners Limited | 14084701 | |
| Hemostatic forceps | Roboz Surgical Instruments Co. | RS-7130 RS-7211 | |
| 30½ gauge needles | BD Biosciences | 305115 | |
| Micromotor control | Foredom | HP4-917 | |
| Dissecting forceps | Roboz Surgical Instruments Co. | RS-5237 | |
| Bone wax | Lukens | M263500 | |
| Compressed air bottle | Falcon BD | 50-10521C | |
| Enzymatic cleaner | Bausch and Lomb | BAUSCH497628 | |
| Distilled water | | | |
| Dental acrylic powder | Lang Dental | 1220 | |
| Dental acrylic liquid | Lang Dental | 1404 | |
| Digital Lynx SX System | Neuralynx Inc. | 4SX-Z400 | |
| Cheeta Softwere | Neuralynx Inc. | | |
| Alligator cables | | | |