Summary
Biz canlı manikür görselleştirmek için bir yöntem mevcut
Cite this Article
Copy Citation | Download Citations

Schultz, R. D., Gumienny, T. L. Visualization of Caenorhabditis elegans Cuticular Structures Using the Lipophilic Vital Dye DiI. J. Vis. Exp. (59), e3362, doi:10.3791/3362 (2012).
Abstract
C. kütikül elegans hayvan 1-4 dış çevreler son derece dayanıklı bir yapıdır . Manikür hayvan çevreden korur, aynı zamanda vücut şekli belirler ve motilitesi 4-6 önemli bir rol oynar sadece. Epidermal hücreler tarafından salgılanan çeşitli katmanları bir dıştaki lipit tabaka 7 de dahil olmak üzere, manikür oluşmaktadır.
Dairesel sırtlar manikür annuli desen hayvan uzunluğu olarak adlandırılır ve geliştirme 8 tüm aşamalarında bulunmaktadır. Alae Belirli gelişim aşamaları sırasında L1, Dauer ve yetişkin aşamaları 2,9 de dahil olmak üzere mevcut çatılar. Cuticular kollajen organizasyonu etkileyen genlerindeki mutasyonlar cuticular yapısı ve hayvan vücut morfolojisi 5,6,10,11 değiştirebilir. Cuticular yapıları Fluores, cuticular görüntüleme DIC optik ile bileşik mikroskobu kullanarak vurgulamak mümkün, güncel yöntemleryüzde transgen ifade 12, antikor boyama 13 ve elektron mikroskobu 1. Etiketli buğday tohumu agglutinin (WGA) cuticular glikoproteinler görselleştirmek için kullanılan, ancak daha ince cuticular yapılar 14 çözümünde sınırlıdır. Floresan boya kullanarak cuticular yüzey boyama gözlenmiş, ancak ayrıntılı 15 hiç karakterize olmuştur. Biz canlı C. manikür görselleştirmek için bir yöntem mevcut kullanarak elegans, yaygın olarak C. kullanılan kırmızı floresan lipofilik boya DII (1,1 '-dioctadecyl-3, 3,3', 3'-tetramethylindocarbocyanine perklorat ) elegans çevreye maruz kalan nöronlar görselleştirmek için. DII boyama için optimize edilmiş Bu protokol, yüksek çözünürlüklü floresan annuli görselleştirme, alae, vulva, erkek kuyruk ve C hermafrodit kuyruk başak için basit, güçlü bir yöntemdir elegans.
Protocol
1. Hazırlık DII, leke
DMF 20 mg / ml DII (Biotium, Inc, Hayward, CA) stok solüsyonu hazırlayın. DII ışığa karşı hassastır, bu yüzden folyo sararak ışık DII korumak.
0.6 mcL DII stok her nüfus için 399,4 mcL M9 ekleyerek DII bir çalışma seyreltme oluşturun. Bu son bir çalışma seyreltme 30 mcg / ml DII M9 vermelidir. Bu, aynı anda birden fazla popülasyonlar boyama için ölçeklendirilebilir. Kalkan DII tüp (ler) folyo sararak ışık.
2. Nematod hazırlanması
Kirlenmemiş nematod bir nüfusu içeren 60 mm levha kullanın. Tüm larva ve yetişkin hayvanların yavaşça gevşetin plaka yüzey üzerinde dairesel bir hareket içinde sıvı dönen bir çözüm% 0.5 Triton X-100 M9 tampon kullanarak plaka hayvan yıkayın. 1,5 mL steril bir tüpe transfer yıkayın.
2000 rpm'de 30 sn için hayvanların hemen aşağı doğru döndürün. Kadar destek çıkartın ve atıntüp altındaki hayvanların kitle bozmadan mümkün olduğunca ernatant.
Azaltmak için artık Triton X-100, M9 tampon, spin kullanarak hayvanların temizleyin, durulayın ve süpernatant kaldırmak. Bir kez bu adımı yineleyin.
Çözüm hayvanların tekrar süspansiyon tüp ve vorteks kısaca DII çözüm M9 olarak çalışan 400 mcL ekleyin.
20 tüp sallayın ° C yatay ışık korumalı bir ortamda 350 rpm'de 3 saat. İsterseniz, hayvan boyama için 16 saate kadar inkübe edilebilir.
Bağlanmamış boya miktarını azaltmak için, 2000 rpm'de 20 sn için hayvanların aşağı doğru döndürün. Çıkartın ve hayvanların kitle rahatsız etmeden, mümkün olduğunca çok supernatant olarak atın.
400 mcL M9 tampon ve OP50 E. numaralı seribaşı NGM agar plaka bir bakteri kısmı üzerine sıvı dökün yeniden süspanse hayvanlar coli. Hayvanların en az 30 dakika kurtarmak için izin ver. Iyileşme süresi sırasında hayvanlar DII boyama sıvı ve gıda üzerine sürünerek gerekir. Bu adımücretsiz DII arka floresan azaltır.
3. Montaj ve gözlemleyerek örneklerin
Bir otoklav veya mikrodalga kullanarak su içinde% 4 agar eritin.
Yeniden kullanılabilir ayırıcılar, bir bardak slayt laboratuvar bant katman iki adet agar pad tek tip kalınlık sağlamak için kullanılabilir oluşturun. Toplam iki ayırıcı slaytlar olun.
Iki ayırıcı slaytlar arasında temiz bir cam slayt düzenleyin. % 4, temiz bir cam slayt merkezi üzerine erimiş agar Pipet yaklaşık 150 mcL (dört damla). Hızla erimiş agar agar pad oluşturmak için ek bir slayt kullanarak kapsar. Montaj slayt üst merkezli ped dikkatlice tutarak, kapağını kaydırarak çıkarın.
Pipet nematod anestezik (100 mcM - 1 mM levamizol, örneğin) 5 mcL hakkında ped üzerine.
Dağı 8 - 12 anestezi hayvanlar ve bir mikroskop lamel ile kaplayın.
En az bir 40x objecti ile donatılmış bir bileşik veya konfokal mikroskop kullanılarak hayvanlar dikkat inceledim ve TRITC / DSRed (veya diğer uyumlu) filtresi. DII floresans uyarma maksimum 549 nm ve emisyon bağlı boya (Biotium, Inc Hayward, CA) için maksimum 565 nm.
4. Temsilcisi Sonuçlar
Yabani tip ve mutant C. DII lekeler manikür elegans. Cuticular yüzey annuli bazı aşamalarında, çevresel oluklar ile ayrılmış ve içeriyorsa, çatılar alae çağırdı. Her bir gelişim aşaması, 2 farklı kompozisyonlar ile cuticular yapılara sahiptir . Alae ve annuli hem de dişler veya oluklar, larva ve yetişkin aşamalarında, floresan yüzey bileşimi bağlı olarak, leke ve bu yöntemi kullanarak bir gün sonra kurtarma görünür kalır. Arkaplan floresan benekler bazen (Şekil 2F, G), ancak rutin olarak değil (Şekil 1, Şekil 2A-E, H, I). Tüm görüntüler kaydetti dönen disk konfokal veya, widefield (wf) bileşik mikroskobu ile alınmıştır.
ent ">
Şekil 1. DII lekeler manikür ve çevre maruz kalan nöronlar.
L2 aşamasında hayvan. 630x büyütme. Mozaik görüntü parçaları ivision-Mac yazılımı (BioVision Teknolojileri, Exton, PA) kullanılarak ele geçirildi. Görüntüler, Adobe Photoshop CS3 (, Adobe Systems, Inc, San Jose, CA) ile katıldı. Ölçek çubuğu = 10 mm. DII da floresan lekeleri amphid ve baş ve kuyruk phasmid duyusal nöronlar sırasıyla (oklar bazı işareti).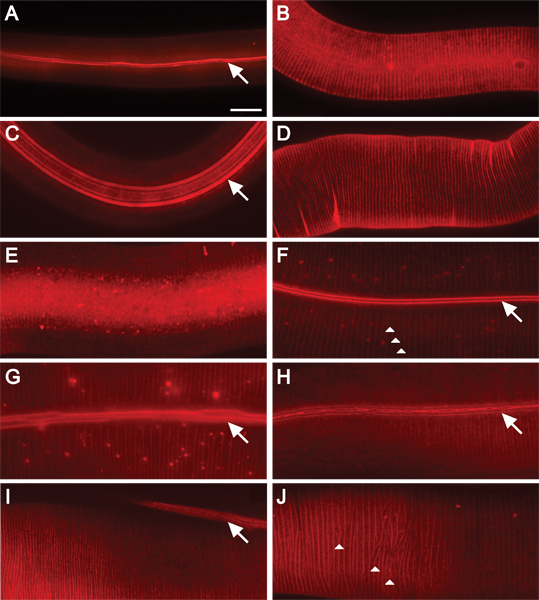 Şekil 2. DII floresan lekeleri C. post-embriyonik gelişimin her aşamasında elegans manikür. 630x büyütme. Ölçek çubuğu = 10 mm. A) L1 vahşi hayvanların Boyama B) L2 C) Dauer; D) L3; E) L4 ve F) yetişkin aşamaları. Alae ve halkalı sırtlar floresan (A, C), L1 ve Dauer hayvanlar lekeli. L2 hayvanlar DII lekeleri anüler sırtlar(B). Anüler, L3 ve L4 hayvanlar (D, E) leke oluklar. Alae oluklar ve annuli yetişkin hayvanların (FH) lekeli. Alae hayvanın uzunluğu (oklar) 16 çalıştırmak, iki, beş, ya da üç sırtlar (L1, Dauer, sırasıyla veya yetişkin hayvanlar,) oluşmaktadır . Annuli hayvan etrafında dairesel sırtlar (ok ucu, F ve J) oluşturun. Manikür yetişkin mutant hayvanlar orta cuticular organizasyon defektleri (GH) gösterir. G) alae, Ridges süreksiz (wf). H) supernumerary alae sırtlar erimiş ve dallı ya da çatallı (wf). Kollajen gen mutantlar alae ve anüler organizasyon defektleri (Aİ) sergilerler. I) transgenik hayvanlar eksprese pRF4 (rol-6 (su1006)), hayvanın uzunluğu bir açıyla alae yalan sırtlar. Transgenik hayvanlar eksprese pRF4 (rol-6 (su1006)) J) Annuli düzensiz bir desen gösterir.

Şekil 3. Eksternal morfolojik yapıları DII boyama aydınlatılmıştır. 630x büyütme. Ölçek bar = 10 mm. DII A) yetişkin hermafrodit vulva, B) yetişkin erkek kuyruk ışınları ve fan dahil olmak üzere diğer dış özellikleri, olayları, ve C) hermafrodit kuyruk başak (bu mutant arka planda çatallı).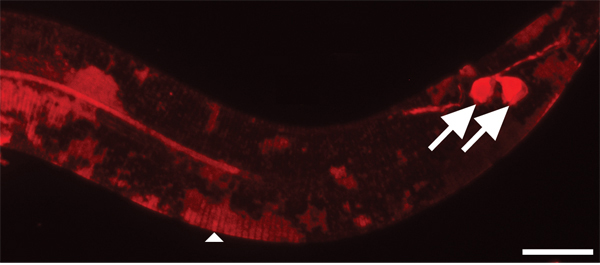 Şekil 4. Tırnak çevreye maruz kalan nöronlar daha DII leke daha uzun sürer. 630x büyütme. Ölçek çubuğu = 10 mm. Iki saat sonra boyama, amphid (gösterilmemiştir) ve phasmid duyusal nöronları (oklar) yeterince lekeli. Buna karşılık, genç hayvanların manikür sadece kısmen yamaları (ok ucu) lekeli.
| | | | |
| --- | --- | --- | --- |
| Yıkama | Leke çözüm (+ DII) | İnkübasyon süresi | Tırnak boyandı |
| M9 +% 0.5 Triton X-100 | M9 +% 0.5 Triton X-100 | 2 saat | yok |
| M9 +% 0.5 Triton X-100 | M9 +% 0.5 Triton X-100 | 3 saat | yok |
| M9 +% 0.5 Triton X-100 | M9 | 2 saat | kısmi |
| M9 +% 0.5 Triton X-100 | M9 | 3 saat | evet |
| M9 +% 0.5 Triton X-100 | H 2 0 | 2 saat | kısmi |
| M9 +% 0.5 Triton X-100 | H 2 0 | 3 saat | evet |
Tablo 1. Farklı koşullar altında cuticular boyama Çeşitli kuluçka çözümleri ve saatleri hayvanlar cuticular boyama optimize etmek için test edildi. H 2 0, steril distile su. Kısmi boyama rağmen yetişkin manikür lekeleri c, larva manikür yamalı boyaması (Şekil 4) gösterironsistently.
Subscription Required. Please recommend JoVE to your librarian.
Discussion
Burada sunulan DII boyama yöntemi C. elegans manikür görselleştirmek için oldukça hızlı ve rahat bir şekilde sağlar . Repurposing ve optimize ederek, yaygın olarak görüntü çevreye maruz duyusal nöronlar 15,17 kullanılan bir yöntemdir, DII floresan alae ve halkalı yapılar (Şekil 1 ve 2), yanı sıra vulva, erkek kuyruk ve hermafrodit kuyruk başak leke için kullanılabilir (Şekil 3). Biz DII yeteneği inkübasyon çözüm ve zaman etkisi sürekli manikür (Tablo 1, Şekil 4) leke bulduk. DII boyama çevreye maruz kalan nöronlar için yöntem, Triton X-100 15 M9 iki saatlik bir inkübasyon süresi kullanır . Sürfaktan ile M9 bir ön yıkama, Triton X-100 cuticular yüzey kirlenme temizlenmesine yardımcı olur ve topaklanma gelen hayvanlar önler. Ancak, aynı tampon boyama çözüm hayvanların üç saat inkübe manikür (Tablo 1) boyama boya engeller.Bu lipidler, deterjan solüsyonu uzun tedavi çıkardı nematod yüzey üzerinde neden olabilir. M9 tuz solüsyonu manikür DII boyama için gerekli olmadığını belirten DII lekeler manikür su hayvanların Kuluçka. Nöronal DII boyama 15 su bazlı bir protokol olmasına rağmen, hayvanların bu şekilde çoğu zaman sağlıksız görünür tedavi bulmak . Boyama çözüm M9 ile yapılan üç saatlik bir inkübasyon tarafından takip Triton M9 X-100,% 0.5 kısaca hayvanlar Yıkama cuticular yapıları tutarlı boyama sağlar ve hayvan refahını korumaktadır.
Hayvanlar gözlem sonra kurtarıldı ve doğrudan akış aşağı analizleri izin, bakımlı olabilir. Bu yöntem de dahil olmak üzere, pek çok çalışmada kullanılacak uygun bir araç, ancak, cuticular sekresyonu ve organizasyon, epidermal hücre gelişimi, heterochronic gen yollar ve nematod evrim ile sınırlı değildir.
Subscription Required. Please recommend JoVE to your librarian.
Disclosures
Biz ifşa etmek başka bir şey var.
Acknowledgments
Biz S. Taneja-Bageshwar, K. Beifuss, S. Kedroske, ve HC teşekkür etmek istiyorum. Yararlı tartışmalar için Hsiao. Bu çalışma, Moleküler Tıp TAMHSC Anabilim Dalı start-up fonları tarafından finanse edildi. Bileşik kapsamı ve dönen disk departmanı ve TAMHSC Dekan Ofisi tarafından sağlanan fonlar ile satın alındı. Bazı suşlar, Ulusal Araştırma Kaynakları Merkezi tarafından finanse edilen Caenorhabditis Genetik Merkezi tarafından verilmiştir . pRF4 (rol-6 (su1006)) A. Ateş bir hediye oldu.
Materials
Name
Company
Catalog Number
Comments
DiI (1,1'-Dioctadecyl-3,3,3',3'-tetramethylindocarbocyanine perchlorate)
Biotium, Inc.
60010
Stock dilution:
20 mg/mL in DMF
working dilution: 30 mg/mL
DMF (Dimethylformamide)
Sigma-Aldrich
D4551
Triton X-100 (Octylphenoxypolyethoxyethanol)
VWR international
EM-9410
M9 (22mM KH2PO4, 42mM Na2HPO4, 86mM NaCl, 1mM MgSO4)
NGM (Nematode growth medium)
IPM Scientific, Inc.
11006-501
Can be prepared following NGM agar protocol18
Agar-agar
EMD Millipore
1.01614
4% in water
Levamisole (Levamisole hydrochloride)
Sigma-Aldrich
31742
100 μM - 1 mM levamisole as required
Microscope slides
VWR international
16005-106
Microscope cover glasses
VWR international
16004-302
Compound scope
Carl Zeiss, Inc.
A1m
Use objectives to match the needs of the experiment
TRITC or other compatible filter
Chroma Technology Corp.
49005
ET - DSRed (TRITC/Cy3) sputtered filter set