Summary
Denne protokol illustrerer en høst teknik til halebenshvirvel kvæg intervertebrale skiver for orgel kultur for
Abstract
Det intervertebral disk (IVD) er fælles i rygsøjlen forbinder ryghvirvel til ryghvirvel. Den fungerer til at overføre belastning af rygsøjlen og give fleksibilitet til rygsøjlen. Det komponerer af tre rum: den inderste kerne pulposus (NP) og omfatter af annulus fibrosus (AF), og to bruskspidserne endeplader forbinder NP og AF til vertebrale kroppen på begge sider. Discogenic smerter, muligvis forårsaget af degenerative intervertebrale disc disease (DDD) og disk herniations er blevet identificeret som et stort problem i vores moderne samfund. For at undersøge mulige mekanismer IVD-degeneration, er in vitro-orgel kultur systemer med live-disk celler yderst tiltalende. In vitro kultur intakt kvæg halebenshvirvel IVDs er avanceret til en relevant model system, der tillader studiet af mekanisk-biologiske aspekter i en velkontrolleret fysiologiske og mekaniske miljø. Bovin hale IVDs kan fås relativt let i højere tal end er meget lig den menneskelige lumbal IVDs med hensyn til celletæthed, cellepopulation og dimensioner. Men tidligere kvæg caudale IVD Høstningen fastholde bruskspidserne endeplader og benet endeplader mislykkedes efter 1-2 dage i kultur siden ernæring veje tydeligvis var blokeret af størknet blod. IVDs er de største avascular organer dermed de næringsstoffer til cellerne i NP er udelukkende afhængig diffusion via kapillar knopper fra det tilstødende vertebrale kroppen. Tilstedeværelse af knogle-rester og størknet blod på gavl overflader kan hindre næringsstoffer diffusion ind i midten af ​​disken og kompromis cellernes levedygtighed. Vores gruppe etableret en relativt hurtig protokol til "crack"-ud IVDs fra halen med en lav risiko for forurening. Vi er i stand til at permeabilize af nyslået knoklet gavl overflader ved hjælp af en kirurgisk jet lavage system, der fjerner blodpropper og opskæring snavs og meget effektivt genåbner ernæring diffusion vejtil midten af ​​IVD. Tilstedeværelsen af ​​vækst plader på begge sider af vertebrale knogle skal undgås, og skal fjernes forud for kultur. I denne video, skitsere vi det afgørende trin under tilberedningen og demonstrere nøglen til en vellykket orgel kultur opretholde en høj cellelevedygtighed i 14 dage under fri hævelse kultur. Kulturen tid kunne udvides når det er hensigtsmæssigt mekaniske miljø kan opretholdes ved hjælp af mekaniske laste bioreaktor. Teknikken viste her, kan udvides til andre dyrearter såsom svin, får og leporine caudale og lumbalt IVD isolation.
Protocol
1. Intervertebral Disc Høst
Hele længden, kvæg hale er fremstillet af et lokalt slagteri, hvis det er muligt uden skind da tilstedeværelsen af ​​hud øger risikoen for forurening (figur 2).
Forbered store skærebræt og forberede sterilt arbejde station og instrumenter oven på et skærebræt (fig. 2).
Forbered under sterile laminar flow hætte steril gaze fugtet med 0,9% natriumklorid indeholdende 55mm natriumcitrat og lagt i hver brønd af 6-brønds plade.
Forbered en balje og fortyndes 1:100 Betadine løsning med vand fra hanen.
Fordyb hele kvæg hale i et bassin, som indeholder 1% Betadine løsning for 5 min.
Kortvarigt tør hale med steril gaze og placer det på sterilt arbejde station.
Fjern forsigtigt musklen omkring halen med skalpelblad # 22.
Hak væk de dele af halen, som ikke er nødvendige, normalt begge ender af halen, som indeholder relativt store og meget småIVDs (Fig. 3).
Trim yderligere muskel og sener omkring IVD hjælp skalpelblad # 10. Pas på ikke at skære den ydre annulus af diskene.
Marker den forreste af IVD med en kirurgisk hud markør (dette trin er valgfrit, det hjælper til at bestemme centrum for aksial rotation i vores bioreaktor).
Find IVD og hvirvler tilslutningspunkt ved at flytte hale forsigtigt. Mærk grænsen mellem IVD og knogle med den kedelige side af en skalpel kniv. Den kløve websted skal være 1-2 mm væk af IVD mod ryghvirvel. Placer skræddersyede industrielle kniv indehaveren på kløve stedet (fig. 4).
Kløve IVD og ryghvirvel ved at hamre på toppen af ​​skræddersyede industrielle kniv holder (fig. 3).
Gentag på den anden side af IVD-hvirvel-forbindelse.
Wrap isoleret IVD med steril gaze fugtet med 0,9% natriumklorid indeholdende 55mm natriumcitrat.
Fortsæt med at isolering af IVDs til det ønskede prøvenummer (normalt omkring 6 kanhøstes med en diameter på mellem 10-20 mm).
Tilslut jet lavage system (Zimmer, inkl.) Med steril Ringer-opløsning, 5L poser er en nyttig størrelse (alternativt steril PBS eller 0,9% saltvandsopløsning).
Hold IVD med pincet og jet-lavage begge sider af gavl overfladen med Zimmer Pulsavac jet-lavage system (Fig. 1C). Jet pistol bør være skudt på gavl overfladen i en vinkel mellem 30 - 60 ° i ca 30'erne på hver side. (Fig. 1 og 7)
Sæt IVDs tilbage til den 6-brønds plade og wrap med gaze, mens jet vask anden disk prøve.
IVDs er klar til orgel kultur og downstream-applikationer (f.eks cellelevedygtighed, mekaniske belastning, orgel kultur) (Fig. 1D).
2. Repræsentative resultater
Outcome målinger til at bedømme en vellykket intervertebral disc forberedelse kan være en diffusion eksperiment, hvor en lille molekylvægt fluorescerende farvestof (f.eks procion rød)er udarbejdet som en 1% opløsning i PBS 2. Den IVD derefter holdes med mindst 100 ml farvestof løsning og farvestoffet er derefter lov til at diffuse passivt til IVD til 24 under fri hævelse. Den IVD er derefter flash-frosset i flydende nitrogen og bragt tilbage til stuetemperatur og dehydreret af en række af acetone overførsler (første pre-afkølet i -80 ° C, så -20 ° C, derefter 4 ° C og endelig til stuetemperatur ). Disken kan derefter være indlejret i poly-methyl-acrylat (PMMA) og skæres med en skarp kniv til at producere 100 mM-tykke sektioner. Disse afsnit kan derefter ses af nogen standard brightfield mikroskop, men fortrinsvis ved brug af fluorescens mikroskopi siden procion rød udsender en rød fluorescens (fig. 5-6). Den trabeculi af knoglens overflade synes meget ren efter jet lavaging trin (fig. 7).
Parametre for en vellykket orgel kultur er først og fremmest ikke er kontamineret, opretholdt cellernes levedygtighed (Fig. 8-9), skive højde ogsamlede "disk integritet", målt med histologiske sektioner og safranin O / hurtige grønne pletter eller Meyers Hematoxilin 3. Vi udviklede protokoller og makroer offentliggøres andetsteds 4,5 til pletten leve disk væv og til at scanne cellernes levedygtighed i 3D ved hjælp af en konfokal laser scanning mikroskop og de ​​levende / døde pletter kit (Molecular Probes, Invitrogen, Basel, Schweiz). Vi har videreudviklet en makro og rutine til at udføre automatiseret celletælling at estimere cellernes levedygtighed i 3D væv eller 3D beflyver NIH ImageJ platformen 4-6. Alternate protokoller er blevet foreslået til at bestemme cellernes levedygtighed disk celler ved indledende udrådning ved at bruge sekventielle fordøjelse af den ekstracellulære matrix hjælp pronase og collagenase type 2 og derefter til pletten cellesuspensionen 7. En tidligere version af protokollen involverede en inkubation i PBS indeholdende ti gange mere koncentreret penicillin / streptomycin koncentration i 10min efter høst af diske før orglet culture. Med jet lavage skridt dette skridt bliver forældet, da dette trin synes gavnligt for dyrkning formål.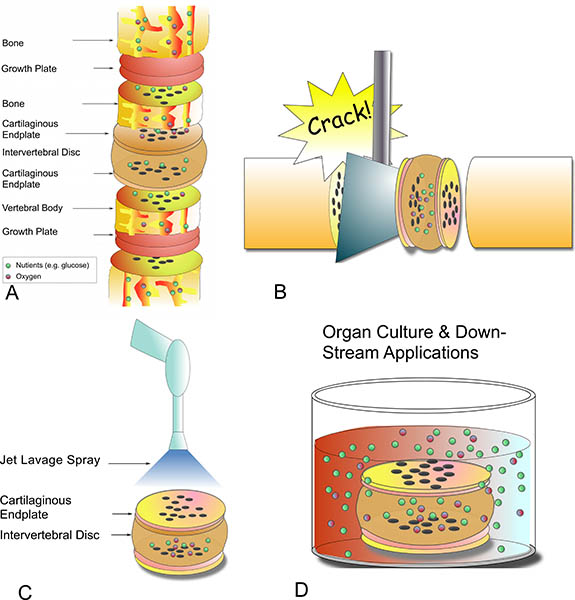 Figur 1. Oversigt over de metodiske skridt til at forberede kvæg halebenshvirvel intervertebrale skiver med intakt endeplader og et tyndt lag (1-2mm) af ben. A) Skematisk billede af intervertebral disk (IVD) og dens ernæringsmæssige veje. B) Procedure at skære ud IVD med en tilpasset kniv-indehaveren og et industrielt skarpe klinge. C) Jet lavage skridt for at sikre høj cellernes levedygtighed og for at give næringsstoffer udveksle holde endepladerne og 1-2 mm af ben fastgjort på begge sider. D) Endelig IVD kan dyrkes i prøven kammer i en bioreaktor, eller bruges til down-stream ansøgning.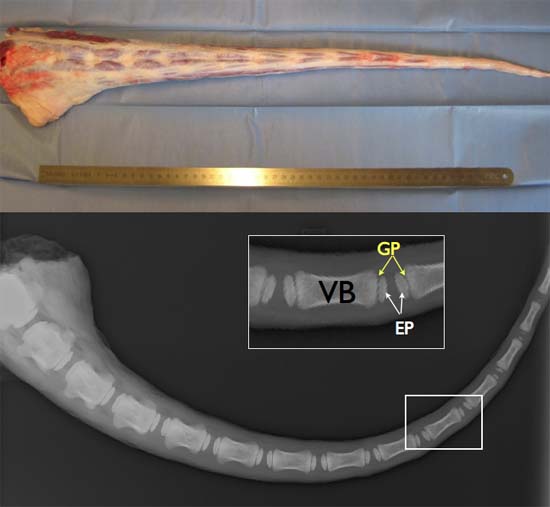 Figur 2 TOP:. Fuld længde fersk okse-hale (ideelt SKAFFESINED inden for 2-3 timer efter slagtning for at sikre høj cellernes levedygtighed. Nederst: X-ray billede af en kvæg hale i alderen omkring 6 måneder, der illustrerer eksistensen af ​​vækstzoner (GP), sekundære centrum ossifikation, mellem benede endepladerne (EP) og hvirvler organer (VB).


Figur 3. A) Værktøjer til at dissekere kvæg halen under sterile forhold. B) Tilpassede kniv indehaveren til at cut-out bevægelsens segmenter fra kvæg halen i aktion mens der skæres intervertebral disken. C) Side-billede af den tilpassede blade-holder med en standard industriel klinge (Lutz, Tyskland).

Figur 4. Tegning og billede af kvæg hale efter at have fjernet de omkringliggende muskler og ledbånd, der illustrerer kløvning steder at skære bevægelsens segmenter. Delvis ryghvirvel skal være "krakket" with de skræddersyede kniv indehaveren ideelt 1-2 mm væk fra bruskspidserne endepladerne for at sikre fuld knogleoverflade.

Figur 5. Demonstration af effektiv rensning af jet-lavage trin før (A) og efter (B). Læg mærke til den rene benede overflader intervertebral disksegmenter efter sprøjtning procedure.

Figur 6. Gratis-hævelse diffusion eksperiment af frisklavede skåret kvæg hale intervertebrale diske (IVDs) forlod i 24 timer i 1% procion rød-løsning, der påviser blokering effekt af væksten plade. Et digitalt røntgen sagittal baggrund af en IVD stadig indeholder vækst pladen og et andet lag af knogle fluorescerende mikroskopi billede af sagittal skærer sig gennem halebenshvirvel kvæg intervertebral disc eksplantation med brusk og benet endepladen efter 24h fri diffusion. GP: vækst plade, 2ndry CO: sekundære centrum ossifikation.

Figur 7. Gratis-hævelse eksperiment af frisklavede skåret kvæg hale intervertebrale diske (IVDs) forlod i 24 timer i 1% procion rød-løsning, som viser rengøring effekten af jet udskylning behandling. Sagittal tykke sektioner (~ 100 mm) skåret kvæg IVDs med ~ 1,5-mmthick knoklet endeplader, der er blevet jet lavage behandling (Venstre) kontrol side uden behandling (Højre) jet-lavaged behandling. Inlet viser spray mønster, som blev anvendt fra Zimmer såret debridering systemet 24 fri diffusion eksperimenter af kvæg intervertebral disc eksplanteret i 1% procion rød.

Figur 8. Live / Dead billeder af fremskrivninger af konfokal Imaging stakke (250μm) taget fra Bovine intervertebral disc segmenter fremstillet af dette jet-lavage metoden holdes under frit hævelse for 0 og 14 dage for henholdsvis kernen pulposus (NP), den inderste annulus fibrosus (IA) og den ydre annulus fibrosus (OA). Grøn celler = levende celler plettet af calcein AM (acetyl methylester), røde blodlegemer = døde celler kerne plettet af ethidium homodimer-1.

Figur 9. Cellelevedygtighed af intervertebral disk ved hjælp af konfokal laser scanning mikroskopi på levende væv og 3D stak scanning. Cellernes levedygtighed af Nucleus pulposus (NP) og Cirkelring Fibrose (AF) i løbet af 21-dages-kultur under frie-hævelse tilstand. (Middelværdi ± SEM, N = 6) Statistiske forskelle blev testet ved hjælp af ikke-parametrisk Kruskal-Wallis underskrevet rank sum test blandt grupper. Signifikante forskelle blev fundet mellem dag 21 og alle andre tidspunkter i NP. Mens der i AF-signifikante forskelle blev fundet mellem dag 7 tildag 0. (* P <0,05, ** p <0,01).
Subscription Required. Please recommend JoVE to your librarian.
Discussion
Det første skridt for en vellykket orgel kulturen er at sikre, at eksplantation ikke burde være forurenet. Halen bør være flået, inden du starter med proceduren. Enhver dyrehår kørt ind i et sterilt laboratorium kan være problematisk i forhold til forurening. Kvæg Halen bør ideelt set være så friske som muligt (dette påvirker første celle levedygtighed). Desuden er betadine vasketrin anbefales at reducere risikoen for forurening yderligere. I stedet for at bruge en custom-made kniv indehaveren og en hammer til at adskille IVD fra ryghvirvel kroppen, kan dette udføres ved hjælp af en histologiske båndsav (den diamantklinge skal køles med PBS eller Ringer-løsningen, mens skæring). Vær opmærksom på båndsav, prøveholderen og kniven skal være sterile. Teknikken viste her er ikke begrænset til kvæg hale IVD isoleret, men kan udvides til andre dyrearter såsom svin, får og leporine caudal eller endda lumbal IVD isolation. For IVD harvest i området, hvor spinal processer er til stede, er det vigtigt at fjerne alle de processer først.
Cellen levedygtighed Tallene i figur 9 blev indsamlet under frit hævelse i op til 21 dage og kan bruges som reference. Denne metode fastholder cellernes levedygtighed i 14 dage under fri-hævelse. Faldet i celle levedygtighed efter 21 dage kan skyldes mangel på mekaniske belastning, som har vist sig at være vigtige i at hjælpe næringsstof diffusion gennem gavle og til at opretholde disc cellernes levedygtighed 3. Det vil være meget sandsynligt, at den celle levedygtighed vil være endnu højere under hydrostatisk kompression og / eller yderligere døgnets læsning 8-10.
Som en alternativ protokol, kan kvæg diske være forberedt ved at fjerne alle de tilstødende knogler i ryghvirvler ved hjælp af en tand burr og bare forlader bruskspidserne endeplader 11. IVD cellelevedygtighed blev opretholdt over 4 uger ved hjælp af denne metode.Men i dette tilfælde torsion ikke kan anvendes på en enkel måde til bevægelsens segmenter, da der ikke er stiv knogle til rådighed for "gribe" disken. Den konkave gavle i stedet for en parallelle flader på begge sider også har behov for en justering af prøvekammer i enhver bioreaktor design for at tage højde for lastning profilen forskelle 11. Hertil kommer, at evalueringen af ​​diffusion af molekyler på tværs knoklet endeplader er heller ikke muligt i disse eksplanteret.
Betydningen af ​​vores arbejde
Brugen af ​​single-brug industrielle klinger til cut-out intakt intervertebral disksegmenter for orgel kultur forkorter høst protokollen betydeligt i forhold til protokoller, der vedrører en cutting-skridt med en histologisk båndsav. Også trabekulær strukturen af ​​knoglen er upåvirket, som det er tilfældet fra en slibning bevægelse med en diamant savblad.
Jet-lavaging af knoglens overflade skyller ud størknet blod meget effektivt og significantly forbedrer cellernes levedygtighed af kernen pulposus (i midten af ​​skiven) over tid i forhold til ubehandlet intervertebrale diske.
Subscription Required. Please recommend JoVE to your librarian.
Disclosures
Vi har intet at afsløre.
Acknowledgments
Dette projekt blev støttet af den schweiziske National Science Foundation (SNF # 310030-127586/1).
Materials
| | | | |
| --- | --- | --- | --- |
| Name | Company | Catalog Number | Comments |
| Fresh bovine intervertebral disc tissue from bovine tails, from local slaughter house (ideally within hours post-mortem and without skin). | | | |
| Pulsavac Plus AC System | Zimmer inc., Switzerland | 00-5150-486-01 | Best performance with the hip-spray head and with AC power supply (the one with the 8 AA battery pack d–s also work but is less convenient) |
| High Capacity Fan Spray w/Splash Shield, 12.7cm length | Zimmer inc., Switzerland | 00-5150-175-00 | There are several spray heads available, we tested this one successfully |
| Scalpel blades #22 and #10 | Swann-Morton | #10: 0201 #22: 0208 | |
| Scalpel blade holder # 3 and #4 | Hausmann, Germany | #3: 06.103.00 #4: 06.104.00 | |
| Lutz industrial blade | Lutz, Germany | 1022.0884 | |
| Phosphate buffered Saline (PBS) | Invitrogen | 10010-023 | |
| Dulbecco's Modified Eagle Medium (DMEM) | GIBCO, by Life Technologies | 11960-044 | |
| Lactated Ringer's solution (without glucose) | Bichsel, Switzerland | 133 0002 | |
| 6-well multi-well plate | Techno Plastic Products | 92006 | |
| Betadine solution | Mundipharma, Switzerland | 10055025 | |
| Surgical skin marker | Porex Surgical, Switzerland | 9560 | |
| Large cutting board | | | Any brand is possible |