Summary
Denne protokollen illustrerer en høsting teknikk for Senen ved halebeinet bovine intervertebral plater for orgel kultur for
Cite this Article
Copy Citation | Download Citations

Chan, S. C., Gantenbein-Ritter, B. Preparation of Intact Bovine Tail Intervertebral Discs for Organ Culture. J. Vis. Exp. (60), e3490, doi:10.3791/3490 (2012).
Abstract
Den intervertebral plate (IVD) er felles for ryggraden koble vertebra til vertebra. Det fungerer å overføre lasting av ryggraden og gi fleksibilitet til ryggraden. Det komponerer av tre avdelinger: den innerste kjernen pulposus (NP) som omfatter ved ringrommet fibrosus (AF), og to cartilaginous gavlene forbinder NP og AF til vertebralis kroppen på begge sider. Discogenic smerter muligens forårsaket av degenerative intervertebral plate sykdom (DDD) og plate herniations har blitt identifisert som et stort problem i vårt moderne samfunn. For å studere mulige mekanismer for IVD degenerasjon, er in vitro orgelkultur systemer med live-plate cellene svært tiltalende. In vitro kultur intakt storfe Senen ved halebeinet IVDs har avansert til en relevant modell system, som gjør studiet av mekano-biologiske aspekter i et godt kontrollerte fysiologiske og mekaniske miljø. Bovine hale IVDs kan skaffes relativt enkelt i høyere tall end er svært lik den menneskelige lumbar IVDs med hensyn til celle tetthet, celle befolkning og dimensjoner. Imidlertid feilet forrige storfe caudal IVD høsting teknikker beholde cartilaginous gavler og beinete gavlene etter 1-2 dager med kultur siden ernæring banene var tydeligvis blokkert av levret blod. Er IVDs de største avascular organer, og dermed næringsstoffer til cellene i NP er utelukkende avhengig av diffusjon gjennom kapillære knopper fra tilstøtende ryggvirvel kroppen. Tilstedeværelse av bein rusk og levret blod på gavl overflater kan hindre næringsstoffer diffusjon inn i midten av platen og kompromiss celleviabilitet. Vår gruppe etablert en relativt rask protokoll for å "knekke"-ut IVDs fra halen med en lav risiko for forurensning. Vi er i stand til permeabilize den ferske snitt bony gavl overflater ved hjelp av et kirurgisk jet lavage system, som fjerner blodpropper og skjæring rusk og svært effektivt gjenåpner ernæring diffusjon veientil midten av IVD. Tilstedeværelsen av veksten plater på begge sider av ryggvirvel bein må unngås, og må fjernes før til kultur. I denne videoen, skissere vi de viktigste trinnene under forberedelse og demonstrere nøkkelen til en vellykket orgelkultur opprettholde høy celleviabilitet i 14 dager under fri hevelse kultur. Kulturen tiden kan utvides når det er hensiktsmessig mekanisk miljø kan opprettholdes ved bruk av mekanisk belastning bioreaktor. Teknikken vist her kan utvides til andre dyrearter som svin, sau og leporine caudal og lumbar IVD isolasjon.
Protocol
1. Mellomvirvelskive Disc Høsting
Hele lengden storfe halen er hentet fra et lokalt slakteri, om mulig uten hud ettersom tilstedeværelse av huden øker sjansen for forurensning (fig 2).
Forbered store skjærebrett og forberede sterile arbeid stasjon og instrumenter på toppen av et skjærebrett (Fig. 2).
Forbered under sterile laminær hette sterilt gasbind fuktet med 0,9% natriumklorid inneholder 55mm natriumsitrat og satt i hver brønn av de 6-brønnen plate.
Utarbeide et basseng og fortynn 1:100 Betadine løsning med vann fra springen.
Dypp hele storfe halen i et basseng som inneholder 1% Betadine løsning for 5 min.
Kort tørr hale med sterilt gasbind og plasser den på sterile arbeid stasjon.
Fjern forsiktig muskel rundt halen med skalpell blad nr. 22.
Hakk bort de delene av halen som ikke er nødvendig, vanligvis begge ender av halen, som inneholder relativt store og svært småIVDs (Fig. 3).
Trim ytterligere muskler og sener rundt IVD bruke skalpell blad nr. 10. Pass på ikke å klippe den ytre ringrom av plater.
Marker anterior av IVD med en kirurgisk hud markør (dette trinnet er valgfritt, hjelper det å bestemme senter for aksial rotasjon i bioreaktor vår).
Finn IVD og vertebra tilkoblingspunkt ved å bevege halen forsiktig. Kjenn grensen mellom IVD og bein med den kjedelig siden av en skalpell blad. Den spalte området bør være 1-2 mm bort av IVD mot vertebra. Plasser skreddersydde industriell blad holderen på spalte området (Fig. 4).
Cleave IVD og vertebra ved å hamre på toppen av skreddersydde industrielle blad holderen (fig 3).
Gjenta på den andre siden av IVD-vertebra tilkobling.
Pakk isolert IVD med sterilt gasbind fuktet med 0,9% natriumklorid inneholder 55mm natriumsitrat.
Fortsett isolering av IVDs til ønsket prøve nummer (vanligvis rundt 6 kanhøstes med diameter 10-20 mm).
Koble jet lavage systemet (Zimmer, mva.) Med sterile Ringer-laktat oppløsning, 5L Posene er en nyttig størrelse (alternativt steril PBS eller 0,9% saltløsning).
Hold IVD med pinsett og jet-lavage begge sider av gavl overflaten ved hjelp av Zimmer Pulsavac jet-lavage system (Fig. 1C). Jet pistol skal være skutt på gavl overflaten i en vinkel mellom 30 - 60 ° i ca 30-årene på hver side. (Figur 1 og 7)
Sett IVDs tilbake til 6-brønn plate og sjal med fuktet kompress mens jet vask annen plate prøven.
IVDs er klar for orgel kultur og down-stream applikasjoner (f.eks celleviabilitet, mekanisk belastning, orgel kultur) (fig 1D).
2. Representant Resultater
Utfallet målinger for å bedømme en vellykket intervertebral plate forberedelse kan være en diffusjon eksperiment der en liten molekylvekt fluorescerende fargestoff (f.eks procion rød)er utarbeidet som en 1% løsning i PBS 2. Den IVD blir deretter holdes med minst 100 ml fargestoff løsning og fargestoff er da lov å spre passivt inn i IVD for 24 henhold gratis hevelse. Den IVD er da flash-frosset i flytende nitrogen og brakt tilbake til romtemperatur og dehydrerte av en rekke aceton overføringer (første pre-avkjølt i -80 ° C, deretter -20 ° C, deretter 4 ° C og til slutt til romtemperatur ). Platen kan deretter bygges inn i poly-metyl-acrylate (PMMA) og kuttet med en skarp kniv til å produsere 100 mikrometer tykke seksjoner. Disse delene kan da bli sett av noen standard lysfelt mikroskop, men fortrinnsvis ved bruk av fluorescens mikroskopi siden procion rød avgir en rød fluorescens (figur 5-6). Den trabeculi av bony overflaten vises veldig rene etter jet lavaging trinn (Fig. 7).
Parametere for en vellykket orgel kultur er først og fremst fravær av forurensning, vedlikeholdt celleviabilitet (figur 8-9), plate høyde ogoverall "plate integritet", målt med histologiske snitt og safranin O / rask grønn flekk eller Meyers Hematoxilin 3. Vi utviklet protokoller og makroer publisert andre steder 4,5 til stain leve plate vev og å skanne celleviabilitet i 3D ved hjelp av en confocal laser scanning mikroskop og live / dead flekker kit (molekylære prober, Invitrogen, Basel, Sveits). Vi har videreutviklet en makro og rutine for å utføre automatiserte celle telle til å estimere celleviabilitet i 3D vev eller 3D bærere med NIH ImageJ plattform 4-6. Alternative protokoller har vært foreslått å bestemme celleviabilitet plate celler ved innledende fordøyelsen bruke sekvensielle fordøyelsen av ekstracellulær matrix bruker pronase og collagenase type 2, og deretter å farge cellesuspensjonen 7. En tidligere versjon av protokollen involvert en inkubasjonstid skritt i PBS inneholder ti ganger mer konsentrert penicillin / streptomycin konsentrasjon for 10min etter høsting av skivene før organ culture. Med jet lavage steg dette trinnet blir foreldet ettersom dette trinnet synes gunstig for dyrking formål.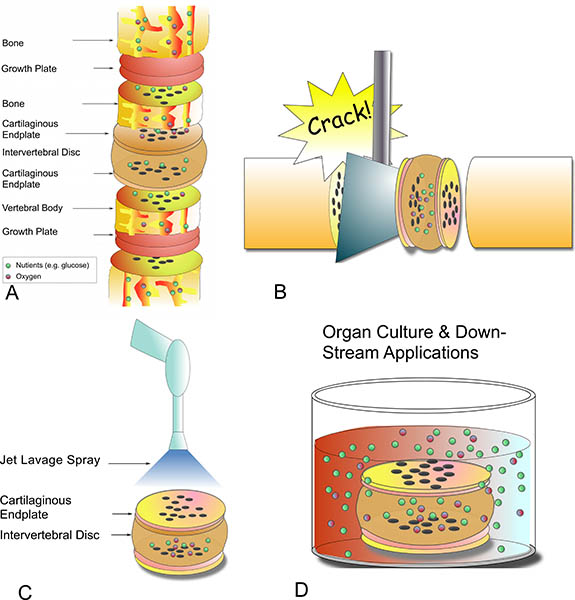 Figur 1. Oversikt over de metodiske trinnene for å klargjøre storfe Senen ved halebeinet intervertebral plater med intakt gavler og et tynt lag (1-2mm) av bein. A) Skjematisk visning av mellomvirvelskive plate (IVD) og dens ernæringsmessige veier. B) Prosedyre for å kutte ut IVD med en tilpasset blad-holder og en industriell skarp kniv. C) Jet lavage skritt for å sikre høy celleviabilitet og å muliggjøre næringsstoffer utveksle holde gavler og 1-2 mm av bein festet på begge sider. D) Til slutt IVD kan dyrkes i prøven kammer av en bioreaktor eller brukes for noen down-stream program.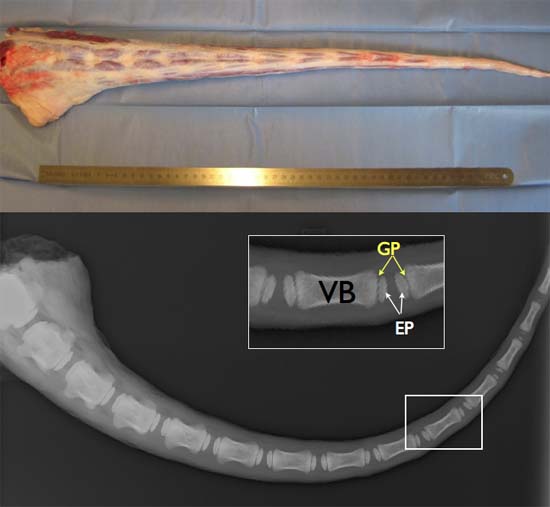 Figur 2 TOP:. Full lengde frisk storfe halen (ideelt obtastudere aggressiv i løpet av 2-3 timer post-mortem for å sikre høy celleviabilitet. Nederst: X-ray bilde av et storfe hale i alderen rundt 6 måneder illustrerer eksistensen av vekstplater (GP), sekundære sentrum av ossifikasjon, mellom den benete gavlene (EP) og vertebra organer (VB).


Figur 3. A) Verktøy til å dissekere storfe halen under sterile forhold. B) Tilpasset blad-holder til cut-out motional segmenter fra storfe halen i aksjon mens kutte intervertebral plate. C) Side-view av den tilpassede blad-holder med en standard industriell blad (Lutz, Tyskland).

Figur 4. Tegning og bilde av storfe halen etter fjerning omkringliggende muskler og leddbånd illustrerer spalte steder å kutte ut motional segmenter. Delvis vertebra skal være "sprukket" with skreddersydd knivfestet ideelt 1-2 mm unna cartilaginous gavler for å sikre full bein overflaten.

Figur 5. Demonstrasjon av effektiv rensing av jet-lavage trinnet før (A) og etter (B). Legg merke til den rene benete flater av intervertebral plate segmentene etter sprøyting prosedyren.

Figur 6. Free-hevelse diffusjon eksperiment nylagde excised storfe halen intervertebral plater (IVDs) forlot for 24 timer i 1% procion rød løsning, viser blokkert effekten av veksten plate. En digital X-ray sagittal visning av en IVD fortsatt inneholder vekst plate og en andre lag av bein fluoriserende mikroskopi bildet av sagittal skjære gjennom Senen ved halebeinet storfe intervertebral plate eksplantering med brusk og beinete gavl etter 24h fri diffusjon. GP: vekst plate, 2ndry CO: sekundær sentrum ossifikasjon.

Figur 7.. Free-hevelse eksperiment nylagde excised storfe halen intervertebral plater (IVDs) forlot for 24 timer i 1% procion rød løsning, demonstrerer rengjøring effekten av jet lavage behandling. Sagittal tykke seksjoner (~ 100 mm) av excised storfe IVDs med ~ 1,5 mmthick bony endeplater som gjennomgikk jet lavage behandling (Venstre) kontroll side uten behandling (Høyre) jet-lavaged behandling. Inlet viser spray mønsteret, som ble brukt fra Zimmer såret debridement system 24 fri diffusjon eksperimenter av storfe intervertebral plate explants i 1% procion rødt.

Figur 8. Live / Død Bilder av projeksjoner av confocal Imaging stacks (250μm) tatt fra Bovine intervertebral plate segmenter forberedt med dette jet-lavage metoden holdes under free-hevelse for 0 og 14 dager henholdsvis for kjernen pulposus (NP), det indre ringrommet fibrosus (IA) og ytre ringrom fibrosus (OA). Grønn celler = levende celler farget av calcein AM (acetyl methylester), røde celler = døde celler kjerne farget av ethidium homodimer-1.

Figur 9. Celleviabilitet av intervertebral plate ved hjelp confocal laser scanning mikroskopi på levende vev og 3D stack skanning. Celleviabilitet av Nucleus pulposus (NP) og ringrommet fibrose (AF) over 21-dagers-kulturen som free-hevelse tilstand. (Mean ± SEM, N = 6) Statistiske forskjeller ble testet ved hjelp av ikke-parametrisk Kruskal-Wallis signert rank sum test blant grupper. Signifikante forskjeller ble funnet mellom dag 21 og alle andre tid punkter i NP. Mens i AF signifikante forskjeller ble funnet mellom dag 7 tildag 0. (* P <0.05, ** p <0,01).
Subscription Required. Please recommend JoVE to your librarian.
Discussion
Det første skrittet for vellykket organ kultur er å sørge for at eksplantering ikke skal bli forurenset. Halen skal være flådd før du starter med prosedyren. Eventuelle dyrehår brakt inn et sterilt laboratorium kan være problematiske i forhold til forurensning. Den bovine halen bør ideelt sett være så ferske som mulig (dette påvirker initial celleviabilitet). Videre er betadine vasketrinn anbefales for å redusere risikoen for smitte videre. I stedet for å bruke en skreddersydd blad holderen og en hammer til å skille IVD fra vertebra kroppen, kan dette gjøres ved hjelp av en histologisk Båndsag (diamant blad bør kjøles med PBS eller Ringer løsning mens skjæring). Pass på at båndsagen, prøven holderen og kniven skal være steril. Teknikken demonstrert her er ikke begrenset til bovine halen IVD isolert, men kan utvides til andre dyrearter som svin, sau og leporine caudal eller lumbar IVD isolasjon. For IVD harvest i regionen der spinal prosesser er til stede, er det viktig å fjerne alle prosesser først.
Cellen levedyktighet data gitt i figur 9 var samlet under free-hevelse i opptil 21 dager og kan brukes som referanse. Denne metoden opprettholder celleviabilitet i 14 dager under free-hevelse. Nedgangen i celle levedyktighet på 21 dager kan være på grunn av mangel på mekanisk belastning som har vist seg å være viktig i å hjelpe næringsstoff diffusjon over gavlene, og for å opprettholde plate celleviabilitet 3. Det vil være svært sannsynlig at celleviabilitet vil bli enda høyere under hydrostatisk kompresjon og / eller ekstra døgnvariasjoner lasting 8-10.
Som en alternativ protokoll, kan storfe platene være forberedt ved å fjerne alle de tilstøtende ben av ryggvirvlene ved hjelp av en tannlege Burr og bare forlater cartilaginous gavlene 11. IVD celleviabilitet ble opprettholdt over 4 uker ved hjelp av denne metoden.Men i dette tilfellet torsjon ikke kan brukes på en enkel måte til motional segmenter siden det ikke er stiv bein tilgjengelig for "grab" platen. Den konkave gavlene stedet for parallelle flater på begge sider også behov for en justering av prøven kammeret i noen bioreaktor design for å redegjøre for lasting profilen forskjeller 11. Videre er evalueringen av diffusjon av molekyler over benete gavler også umulig i disse explants.
Betydningen av vårt arbeid
Bruken av enkelt-bruk industriell bladene til cut-out intakt intervertebral plate segmenter for orgel kultur forkorter høsting protokoll betraktelig i forhold til protokoller involverer en cutting-trinn med en histologisk båndsag. Også trabekulært strukturen i benet er upåvirket som det er tilfellet fra en sliping bevegelse med en diamant sagblad.
Jet-lavaging av bony overflaten vasker ut levret blod svært effektivt og significantly forbedrer celleviabilitet av kjernen pulposus (midten av platen) over tid sammenlignet med ubehandlet mellomvirvelskiver.
Subscription Required. Please recommend JoVE to your librarian.
Disclosures
Vi har ingenting å avsløre.
Acknowledgments
Dette prosjektet ble støttet av den sveitsiske National Science Foundation (SNF # 310030-127586/1).
Materials
| | | | |
| --- | --- | --- | --- |
| Name | Company | Catalog Number | Comments |
| Fresh bovine intervertebral disc tissue from bovine tails, from local slaughter house (ideally within hours post-mortem and without skin). | | | |
| Pulsavac Plus AC System | Zimmer inc., Switzerland | 00-5150-486-01 | Best performance with the hip-spray head and with AC power supply (the one with the 8 AA battery pack d–s also work but is less convenient) |
| High Capacity Fan Spray w/Splash Shield, 12.7cm length | Zimmer inc., Switzerland | 00-5150-175-00 | There are several spray heads available, we tested this one successfully |
| Scalpel blades #22 and #10 | Swann-Morton | #10: 0201 #22: 0208 | |
| Scalpel blade holder # 3 and #4 | Hausmann, Germany | #3: 06.103.00 #4: 06.104.00 | |
| Lutz industrial blade | Lutz, Germany | 1022.0884 | |
| Phosphate buffered Saline (PBS) | Invitrogen | 10010-023 | |
| Dulbecco's Modified Eagle Medium (DMEM) | GIBCO, by Life Technologies | 11960-044 | |
| Lactated Ringer's solution (without glucose) | Bichsel, Switzerland | 133 0002 | |
| 6-well multi-well plate | Techno Plastic Products | 92006 | |
| Betadine solution | Mundipharma, Switzerland | 10055025 | |
| Surgical skin marker | Porex Surgical, Switzerland | 9560 | |
| Large cutting board | | | Any brand is possible |