Summary
MALDI-TOF massespektrometri blev succesfuldt udnyttet til at overvåge amid hydrogen / deuterium udveksling i protein kinase Pak2 aktivering.
Cite this Article
Copy Citation | Download Citations

Hsu, Y., Traugh, J. A. Amide Hydrogen/Deuterium Exchange & MALDI-TOF Mass Spectrometry Analysis of Pak2 Activation. J. Vis. Exp. (57), e3602, doi:10.3791/3602 (2011).
Abstract
Amid hydrogen / deuterium udveksling (H / D udveksling) kombineret med massespektrometri er blevet brugt til at analysere grænsefladen af ​​protein-protein interaktioner, protein konformationelle ændringer, protein dynamik og protein-ligand interaktioner. H / D udveksling på rygraden amid stillinger er blevet anvendt til at måle deuteration satserne for de mikro-regioner i et protein massespektrometri 1,2,3. Løsningen af ​​denne metode afhænger af pepsin fordøjelse af deutereret protein af interesse i peptider, der normalt interval fra 3 til 20 rester. Selv om løsningen af ​​H / D udveksling målt ved massespektrometri er lavere end en enkelt restkoncentration opløsning målt ved Heteronuclear Single kvantekohærens (HSQC) metode af NMR, de massespektrometri måling i H / D Børs er ikke begrænset af størrelsen af protein 4. H / D udveksling er udført i en vandig opløsning, som fastholder protein kropsbygning. Vi tilbyder en metode, der utilizes MALDI-TOF til påvisning 2, i stedet for en HPLC / ESI (electrospray ionisering)-MS-system 5,6. MALDI-TOF giver præcise masse intensitet data til peptider af fordøjet protein, i dette tilfælde protein kinase Pak2 (også kaldet γ-Pak). Proteolyse af Pak 2 er udført i en offline pepsin fordøjelsen. Denne alternative metode, når brugeren ikke har adgang til en HPLC og pepsin kolonne forbundet med massespektrometri, eller når pepsin kolonne på HPLC ikke resultere i en optimal fordøjelse kort, for eksempel, den stærkt disulfid-bonded udskilles fosfolipase A 2 (SPLA 2). Ved hjælp af denne metode, vi med succes overvåges ændringer i deuteration niveau i aktivering af Pak2 ved caspase 3 spaltning og autophosphorylation 7,8,9.
Protocol
1. Pak2 Aktivering
Tilsæt passende præ-testede mængden af ​​caspase 3 til 20 μl af 12 mg / ml Pak2 i buffer A (50 mM Tris-HCl, 150 mM NaCl, og 2 mM DTT ved pH 7,5) og inkuber ved 34 ° C i 30 min til fuldt ud at kløve og aktivere Pak2.
Analyser spaltningsprodukterne ved SDS-PAGE (10%) og Coommassie blå farvning.
Tilføj kløvet Pak2 til aktivering buffer B (50 mM Tris-HCl, 150 mM NaCl, 15 mM MgCl 2, 10 mM ATP) ved pH 7,5, i 20 mikroliter med en endelig koncentration på 10 mg / ml Pak2, og inkuber i 34 ° C i 30 min til fuldt ud at aktivere Pak2 af autophosphorylation på 8 sider.
Bekræft fuld spaltning af Pak2 ved migration af P34 og P27 fragmenter som fastlagt ved SDS-PAGE 10. Korrekt kontrol af autophosphorylation betingelser sker via autoradiografi i et separat eksperiment ved hjælp af (32 P) ATP eller massespektrometri til at opdage phosphopeptides.
2. Identifikationaf Pepsin-resumé Pak2 Fragments
Tilsæt 1 ml 0,1% Trifluroacetic Acid (TFA) ved pH 2,5 til vaske agarose perler to gange før anvendelse. Derefter centrifugeres prøverne i 15 sekunder ved 2.000 xg for at fjerne perlerne.
Tilføj Pak2 (20 mg i 2 μl af 150 mM NaCl, 50 mM Tris-HCl og 2 mM DTT ved pH 7,5) til 100 μl 0,1% TFA, og inkuber prøven i 5 min med 30 μl pepsin-konjugeret agarose perler .
Ligevægt en omvendt fase HPLC C18 kolonne med et primært opløsningsmiddel-system på 0,1% TFA ved pH 2,5. Pepsinet fordøje (50 μl) elueres ved hjælp af en lineær 100-min gradient fra 0 - 80% acetonitril indeholdende 0,1% TFA ved en flowhastighed på 0,2 ml / min. Fraktioner indsamles hver 2 min.
Tør HPLC fraktioner med en hastighed-Vac (3 t) og opblande prøver i en opløsning af acetonitril (5 mikroliter) og 0,1% TFA (5 mikroliter) ved pH 2,5.
I første omgang er hver fraktion screenes for peptider ved hjælp af MALDI-TOF PerSeptive Biosystems Voyager DE-STR (PE Biosystems, Foster City, CA, USA).
De 16 fraktioner med peptider er udsat for tandem massespektrometri ved hjælp af en Q-TOF massespektrometer og et QSTAR XL oMALDI MS / MS for at identificere de fragmenter.
Rækkefølgen af hver peptid er kontrolleret af det produkt ioner genereret af tandem massespektrometri med den teoretiske m / z nøgletal baseret på den primære sekvens af Pak2 bruge Protein Prospector hjemmeside ( http://prospector.ucsf.edu/ ) 11.
3. Måling af amid H / D Exchange
Hold alle opløsninger og reagenser er nødvendige for H / D udveksling ved 25 ° C i et vandbad. ATP er opløst i vand, og pH justeres til 7,0 før brug. De ekstra 4mm ATP i D 2 O buffer er at forhindre ATP adskilles fra Pak2 efter fortynding.
Starte H / D udveksling ved tilsætning af 18 μl af buffered D 2 O (50 mM MOPS pH 6,98, 125 mM NaCl) til 2 μl (20 mikrogram) Af Pak2 i en buffer indeholdende 150 mM NaCl, 50 mM Tris-HCl (pH 7,5) og 2 mM DTT, hvilket resulterer i en Pak2 niveau på 10 mg / ml og en pH-værdi på 7,0 ved 0 ° C.
Inkubér prøverne i tre eksemplarer i H / D gengæld for 0, 0,5, 1, 3, 5 og 10 minutter, eller 24 h.
Quench H / D udveksling processen ved at tilsætte 180 μl af is-kold 0,1% TFA ved pH 2,2, hvilket bringer pH til 2,5 i en endelig mængde på 200 μl. For de prøver indeholdende ATP, 180 μl af is-kold 0,11% TFA ved pH 2,2 bruges til at fastholde pH på 2,5 i slukket tilstand.
Tilsæt en portion (100 μl) af hver bratkølet prøve til 30 μl af aktivt pepsin-konjugeret agarose perler. Pepsinet fordøjelsen får lov at fortsætte på is i fem minutter og prøverne er vortexed hver 30 sek.
Afslut fordøjelsen ved centrifugering af prøven i 15 sekunder ved 5.000 xg ved 4 ° C for at fjerne pepsin.
Hurtigt fryse prøverne i flydende N 2 og opbevares ved -80 ° C i ikke mere end 2dage før MALDI-TOF analyse.
Den matrix for MALDI er 5 mg / ml α-cyano-4-hydroxycinnamic syre (CHCA) opløst i en opløsning (01:01:01) acetonitril, ethanol og 0,1% TFA ved pH 2,5 og holdt på 0 ° C.
Delvis optøning hver prøve, hurtigt og bland 1 ml af hver prøve med 1 ml af matrix og plet på en 4 ° C MALDI målplade.
Påfør en moderat vakuum til pladen at tørre pletter i 30 sek før MALDI-TOF analyse. Tiden mellem optøning af prøven og spektrum hentning er ca 3 min.
Anskaf MALDI-TOF massespektre med en PerSeptive Biosystems Voyager DE STR. Erhverve data på en 2-GHz-sampling rate på 100.000 datakanaler, med et 20.000-V accelerationsspænding, og en 65% gitter spænding ved hjælp af forsinket ekstraktion med et 180-ns puls forsinkelse. Et hundrede scanninger er gennemsnit i 2 min. MALDI-TOF instrument er ikke begrænset til nogen mærke eller en bestemt software.
Brug Data Explorer 4.0 edb-program til calculspiste deuteration af hver fragment.
Beregn tilbage udveksling baseret på forholdet mellem det faktiske indarbejdet deuteron antal på 24 timer i H / D udveksling divideret med alle mulige udskiftelige sites, som er rygraden amider med undtagelse af N-terminal amid (Figur 1).
4. Repræsentative resultater:
Den caspase spaltning og autophosphorylation er verificeret af SDS-PAGE Commassie farvning. Inaktiv Pak2 er et enkelt band på 58 kDa. Caspase spaltning af Pak2 er færdig, og producerer to fragmenter, P27 og P34, der vandrer hver for sig. Migrationen af autophosphorylated P27 og P34 viser et overlap på gelen på grund af den retarderede migration af den fuldt fosforyleret P27 fragment (Figur 2).
H / D udveksling forsøgene gennemføres flere gange mellem 0 og 10 min (Figur 3). Som et eksempel, tidsfølgen af ​​deuterium integration i m / ZPEAK 1697,85 af inaktive Pak2 er sammensat af flere isotopiske toppe som det fremgår af skift af massen konvolutten over tid.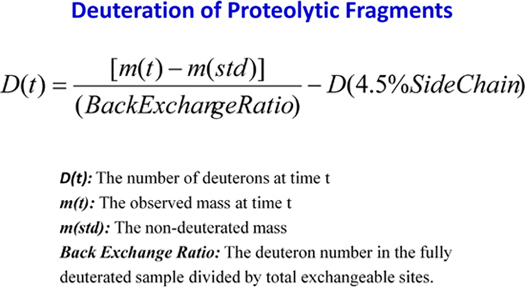 Figur 1. Ligning til beregning af deuteration.
Figur 2. Autophosphorylation og caspase spaltning af Pak2. Caspase-kløvet Pak2 (venstre vognbane), intakt inaktive Pak2 (midterste vognbane) og caspase-kløvet autophosphorylated Pak2 (højre vognbane) blev analyseret ved SDS-PAGE og Coommassie blå farvning. Tilpasset fra Hsu, YH et al 2.
Figur 3. Massespektrum af en tid løbet af deuterium iblanding for inaktive Pak2. Inaktive Pak2 blev udsat for H / D exchaNSÆ for 0-10 min, og analyseret af MALDI-TOF. Et eksempel på den udvidede isotopiske distribution af MALDI-TOF af top m / z 1697,85 i den tid løbet af H / D udveksling vises. Den røde stiplede linje angiver gennemsnittet af massen konvolutten og skiftet af massen kuverten viser deuteration af et peptid.
Discussion
Identifikation af Pepsin-resumé Fragmenter er et kritisk trin i H / D udveksling eksperiment. Ukorrekt identifikation af peptid kan føre til en forkert konklusion. Pepsin-fordøjet Pak2 elueres gennem en omvendt fase HPLC C18 kolonne for at opnå en ren baggrund. I vores eksperimenter, var i alt 40 fraktioner indsamlet og udsat for MALDI-TOF. Flere peptider kunne identificeres i de enkelte fraktioner. De peptider blev udsat for tandem massespektrometri (Q-TOF MS / MS og oMALDI MS / MS) for at identificere deres sekvenser. MS / MS spektre af et peptid skal have mindst tre produkt-ioner til at bekræfte identifikationen af ​​peptid.
Data Explorer 4.0 edb-program (Applied Biosystems) udfører den indledende baseline korrektion og støj filtrering. Hvert spektrum skal kalibreres baseret på to sekventeret toppe. Vi kalibrerer vores spektrum af teoretiske masse af undeuterated m / z, som er 923,45 og 1697,84. THan masse nøjagtighed efter kalibrering kan nå op på 10 ppm. Ved deuteration, kan mono-isotop skift til et højere masse. Enhedsstat skridt stiger til disse m / z nøgletal gav de forbedrede masserne er forbundet med deuteration. De højeste intensiteter af massen kuvert vil ikke påvirke deuteration niveau. Men peak intensiteten af ​​den isotopiske toppe i et bestemt masse konvolut er afgørende for beregningen af ​​den gennemsnitlige masse. Det første skridt i beregningen af ​​de indbyggede deuteron er at trække peptid masse af ikke-deutereret prøve fra deutereret prøven. Tre andre faktorer, D 2 O fortynding, det resterende deuteroner i sidekæder og ryggen udveksling, vil skulle overvejes yderligere i beregningen (Figur 1). D 2 O er den fortynding faktor D 2 O efter blanding af prøven og D 2 O buffer at indlede H / D udveksling. De resterende deuteron (4,5%) i sidekæder af pepsinet-digested peptider skal fratrækkes. Den back-udveksling er det uundgåelige tab af deuteration i alle deutereret og pepsin-fordøjet peptider i massen måleprocessen.
Den mest solvente tilgængelige peptid (m / z = 1105,60) efter 24-time H / D udveksling repræsenterer en fuld deuteration region. Den indbyggede deuteron nummer for hver af peptider er forskellen mellem det geometriske tyngdepunkt af de deutereret og ikke-deutereret Pak2 peptisk peptider. Den mest deutereret peptid m / z 1105 blev valgt til at repræsentere fuld deuteration når Pak2 var på 24 timer i H / D udveksling. Back Exchange Ratio blev beregnet af det faktiske indarbejdet deuteron antal på 24 timer i H / D udveksling divideret med alle mulige udskiftelige websteder på peptid m / z 1105.
Disclosures
Ingen interessekonflikter erklæret.
Acknowledgements
Dette arbejde er delvist understøttet fra National Institutes of Health Grant GM-26738 (til JAT).
Materials
| | | | |
| --- | --- | --- | --- |
| Name | Company | Catalog Number | Comments |
| D2O | Aldrich | 7789-20-0 | |
| α-cyano-4-hydroxycinnamic acid | Sigma-Aldrich | 28166-41-8 | |
| MALDI-TOF | PE Biosystems | Voyager DE STR | |
| Q-TOF mass spectrometer | Q-TOF Ultima-Global | | |
| QSTAR XL oMALDI MS/MS | Applied Biosystems | | |
| Data Explorer 4.0 computer program | Applied Biosystems | | |