Summary
Drosophila melanogaster is een genetisch en gedragsmatig soepel model systeem dat is gebruikt om de moleculaire en cellulaire basis van een groot aantal belangrijke biologische processen meer dan een eeuw een begrip. Drosophila goed is benut om inzicht te krijgen in de genetische basis van vlieg gedrag.
Cite this Article
Copy Citation
Nichols, C. D., Becnel, J., Pandey, U. B. Methods to Assay Drosophila Behavior. J. Vis. Exp. (61), e3795, doi:10.3791/3795 (2012).
Abstract
Drosophila melanogaster, de fruitvlieg, is gebruikt om moleculaire mechanismen van een breed scala van menselijke ziekten zoals kanker, hart-en vaatziekten en diverse neurologische ziekten 1 te bestuderen. We hebben geoptimaliseerd eenvoudig en robuust gedrag assays voor het bepalen van larvale motoriek, volwassen klimvermogen (RING-test), en verkering gedrag van Drosophila. Deze gedrags-tests zijn breed toepasbaar voor het bestuderen van de rol van genetische en omgevingsfactoren op vlieg gedrag. Larven kruipen mogelijkheid betrouwbare wijze kan worden gebruikt voor het bepalen vroeg stadium veranderingen in de kruipende capaciteiten van Drosophila larven en ook voor de behandeling effect van geneesmiddelen of ziekte bij de mens genen (in transgene vliegen) op hun motoriek. De larven kruipen test wordt meer van toepassing als uitdrukking of afschaffing van een gen veroorzaakt letaliteit in pop of volwassen stadia, als deze vliegen niet overleven tot de volwassenheid, waar ze anders zouden kunnen worden beoordeeld. Deze fundamentele eenssay kan ook worden gebruikt in combinatie met licht en stress extra gedragsreacties onderzoeken Drosophila larven. Baltsgedrag is op grote schaal gebruikt om de genetische basis van seksueel gedrag te onderzoeken, en kan ook worden gebruikt om de activiteit en de coördinatie te onderzoeken, maar ook leren en geheugen. Drosophila baltsgedrag heeft betrekking op de uitwisseling van verschillende zintuiglijke prikkels visuele, auditieve en chemosensory signalen tussen mannen en vrouwen die leiden tot een complexe reeks goed gekarakteriseerde motor gedrag met als hoogtepunt in succesvolle copulatie. Traditionele volwassen klimmen assays (negatieve geotaxis) zijn vervelend, arbeidsintensief en tijdrovend, met aanzienlijke verschillen tussen de verschillende studies 2-4. De snelle iteratieve negatieve geotaxis (RING) test 5 heeft veel voordelen ten opzichte van meer op grote schaal gebruikt protocollen, die een reproduceerbaar, gevoelig, en hoge doorvoer benadering van volwassenen bewegingsapparaat en negatieve geotaxis b kwantificerenehaviors. In de RING-test kunnen verschillende genotypen of behandelingen met medicijnen worden getest gelijktijdig gebruik van grote aantal dieren, met de high-throughput benadering waardoor het meer vatbaar voor screening experimenten.
Protocol
A. larven kruipen Assay
1. Larven Collectie
Opzetten van een 8 ounce fles vliegen (10-15 mannen + 10-15 vrouwtjes).
Laten we vliegen eitjes leggen gedurende 24 uur, dan is duidelijk fles vliegen. (Breng de volwassenen in een nieuwe fles en indien nodig herhalen).
Incubeer fles voor 3-4 dagen of tot de derde instar larven zichtbaar zijn.
Voeg 50 - 100 ml van 20% sucrose aan de fles met larven en laat zitten voor 20 minuten. Larven zal drijven naar de top.
Verzamel larven met behulp van een 25 ml serologische pipet met de punt afgesneden, en plaats in een maas mand.
Was larven in de gaasmand twee maal met gedeïoniseerd H2O De larven zijn nu klaar voor de experimenten.
2. De larven te behandelen met geneesmiddelen
Gebruik een borstel om het gewenste aantal larven te vervoeren naar een 5 ml bekerglas met een oplossing van 5% sacharose + drug.
Laat larven ten minste 15 minuten.
Giet drugs behandelde larven in een maas mand en spoelen. Ze zijn nu klaar voor gebruik.
3. Beweegwijzer Assay (meten van het totale afgelegde afstand of het lichaam muur contracties)
Gebruik een borstel om de individuele larve te vervoeren naar een:

15 cm Petri schaal die 2% agarose (eerder gestort en uitharden) over grafiek in een 0,2 cm 2 raster.

Tel het aantal rasterlijnen gekruist in 1 minuut.

Wel van een glazen dissectie schotel met een verdunde gist pasta oplossing.

Tel peristaltiek samentrekkingen (full anterior naar posterior beweging = 1 contractie) in een minuut met inachtneming van onder een dissectie microscoop.

Herhaal dit tot het gewenste aantal larven zijn geteld.
B. Snelle iteratieve negatieve geotaxis (RING) Protocol
Deze test werd oorspronkelijk gedebeschreven door Gargano et al. 5.
Verzamel nieuw opgedoken volwassen mannelijke vliegen onder lichte CO 2 verdoving en plaats in een standaard flesje met voeding (of food + drugs).
Houd vliegen bij kamertemperatuur (op het tafelblad. ~ 22 ° C) gedurende 2-3 dagen te zorgen voor herstel van CO 2 (en de accumulatie van steady-state concentraties indien van toepassing).
Zet ongeveer 25 vliegen zonder verlamming aan geprepareerde polystyreen flacons.
Monteer injectieflacons met vliegen in de ring apparaat (figuur 1).
Laat vliegen te wennen aan het milieu, ongestoord, gedurende 15-20 minuten.
Gedurende deze tijd plaats digitale camera ~ 1 m in de voorkant van het apparaat (op een platform, indien nodig naar het midden van de lens af te stemmen op halve hoogte van de injectieflacons), focus en zoom van de camera op het apparaat, en een timer instellen zodat 3,0 seconde.
Voorzichtig pak de RING apparaat met uw linkerhand, zodat er geen disturb de vliegen, en houd de timer met uw rechterhand.
Sterk tik de inrichting op het oppervlak van de bank driemaal, zodat de kraan hard genoeg is om neerslaan alle vliegen de bodem van de flesjes.
Tegelijk met voltooiing van de derde kraan, start de 3 seconden countdown timer.
Op drie seconden een foto maken.
Stel de timer voor 1 minuut en te starten. Gedurende deze tijd opnieuw in te stellen van de camera en de focus op het apparaat, en stel een ander kanaal van de timer voor drie seconden.
Na 1 minuut, herhaalt u stap 1.7-1.10
Na een totaal van 5-6 proeven, afbeeldingen uploaden naar een computer en je favoriete image viewer te openen, en scoor de gemiddelde hoogte geklommen voor elke flacon.
Uitvoeren van statistische analyses op de verschillende groepen het vergelijken van de gemiddelde hoogte klom.
C. hofmakerij en Mating Assay
Het eerste wat in de ochtend, duidelijke goed-producerende flessen van FLIes worden gebruikt.
In de loop van de dag (om de 3-4 uur), het verzamelen van nieuw opgedoken seksueel naïeve mannen en vrouwen:

Individueel Plaats mannen in flesjes of tubes met een medium.
Samen Plaats 5-6 vrouwen per flacon / tube.
Isoleer verzameld vliegen bij 25 ° C tot 12 uur licht / donker gedurende 5 dagen.
Breng een vrouwtje in de kamer van een paring wiel.
Breng een mannetje in de kamer van een paring wiel.
Let paar onder een dissectie microscoop voor de volgende gedragingen:

Oriëntatie (de mannelijke oriënteert de richting van de vrouw)
Tappen (de mannelijke tikt de vrouw)
Wing song (de mannelijke verlengt en trilt een vleugel)
Likken (de man likt de vrouwelijke geslachtsorganen)
Curling (het mannetje krult haar buik, onder zich)
Geslachtsdaad poging (Curling activiteit tijdens een poging om het vrouwelijke te monteren)

Neem voor 10 minuten of tot succes paring merkt het tijdstip waarop elke probleem treedt (latentie), de totale tijd aan baltsgedrag tot paring (de courtship index te berekenen) en het aantal paren die goed uitvoeren van een bepaalde gedrag ( frequentie). 100% van de wild-type paren zullen over het algemeen paren binnen 5 minuten.
Berekenen een verkering index (CI) door de tijd doorgebracht in hofmakerij gedeeld door de totale tijd tot copulatie. Voor de wild-type paren dit varieert meestal tussen de 0.6-0.8.
D. representatieve resultaten
Crawling test
Normaal wild-type larve zal dwalen ~ 3 cm / minuut en een tentoonstellingsruimte ~ 40-50 lichaamswand contracties in een minuut. We hebben onlangs een Drosophila model van FUS / TLS-gerelateerde amyotrofe laterale sclerose die larven kruipen gebrek, verminderde levensduur en volwassen klimmen impairment 6 toont. We gerichte expressie of wild type en mutante vormen van FUS / TLS aan de motorische neuronen (OK-371-GAL4 driver) en voerde een larvale kruipen test. Zoals hieronder wordt weergegeven, wild-type larven kruipen tot 12 cm, terwijl de expressie van wild-type FUS een daling van de larven kruipen mogelijkheid om ongeveer 6 cm. Dieren de uiting van de ALS-veroorzakende mutatie R521C in FUS / TLS aantonen dat er een zeer ernstige verslechtering van hun trillende beweging (figuur 1), kruipen slechts ongeveer 1 cm / minuut.
Negatieve geotaxis RING-test
Young wild-type volwassen vliegen dient een gemiddelde klimhoogte van 4-5 cm ~ in een 3 tweede periode (de tijd kan worden ingesteld van 3 seconden tot verschillende stammen of activiteit geschikt een bepaalde gemiddelde grootte definiëren voor een bepaalde stam / behandeling). Vliegen die nog op de bodem krijgen een waarde van 0. Het is niet aangeraden om meer dan 25 vliegen per flacon te gebruiken omdat het dan wordt het moeilijk om de locatie van elke individuele fly om de hoogte te meten te bepalen. No desensibilisatie is waargenomen bij tot aan de 6 opeenvolgende proeven afstand van elkaar een minuut van elkaar die we hebben toegepast. Het is kritisch NIET het polystyreen testen flesjes in deze test opnieuw na de eerste reeksen van gegevens worden verzameld door nieuwe vliegen geplaatst in gebruik flacons niet in dezelfde mate klimmen in vers flesjes.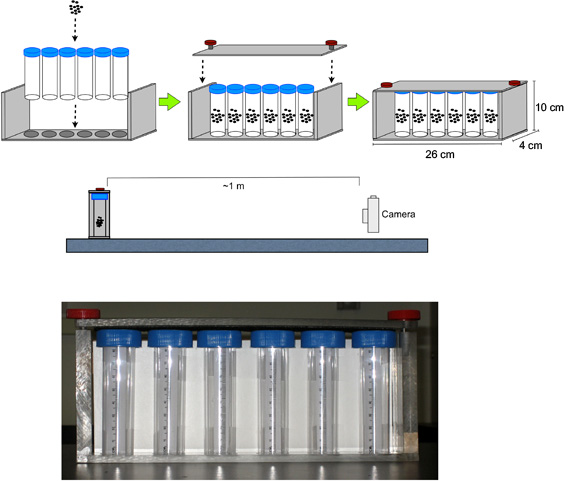 Figuur 1. Setup voor de RING Assay. De digitale camera wordt geplaatst ~ 1 m in de voorkant van het apparaat met vliegen in de polystyreen flacons, focus en zoom van de camera op het apparaat, en een timer instellen tot 3,0 seconden.
Figuur 2. Vertegenwoordiger van de gegevens van de larven kruipen test met behulp van vliegen ectopisch tot expressie UAS-FUS WT, en UAS-FUS R521C onder de controle van een motor neuron driver (OK371-GAL4).
Subscription Required. Please recommend JoVE to your librarian.
Discussion
Drosophila gedrag wordt strak gereguleerd door genetische en omgevingsfactoren. Wij, en anderen, in het verleden gebruikte de testen hier beschreven om gegevens te verzamelen om genen die verband houden met het gedrag en de menselijke neurodegeneratieve ziekten gemodelleerd in Drosophila 5-19 vliegen te onderzoeken. Voor de kruipende test, zorgvuldige selectie van de 3 e instar larven is een cruciale stap. Als de behandeling met een geneesmiddel, duurt 10-15 minuten (of meer afhankelijk van het type en de aard van het geneesmiddel) om een ​​maximaal effect te bereiken als het goed oplosbaar. Daarom hebben we regelmatig eten vliegt het geneesmiddel gedurende 15 minuten, en daarna nog eens 15 minuten te wachten alvorens te testen. Belangrijk is echter geneesmiddelconcentraties in oplossing te houden, en belichtingstijden tussen de groepen hetzelfde voor nauwkeurige vergelijking. CZS drugs zal gewoonlijk een maximaal effect blijvende 45 minuten. De larven moeten worden gewassen en na selectie (of gegraven voeding) om de vlieg voedsel te verwijderen entoegestaan ​​geacclimatiseerd 1 minuut voor aanvang van de kruipende test. De agar plaat moet worden bewaard bij kamertemperatuur (~ 22 ° C) gedurende een uur, zoals lage temperatuur larven kruipen kunnen beïnvloeden. Hoewel de larven kruipen test kan belangrijke informatie geven voor het activiteitsniveau, is het niet geschikt voor de analyse van subtiele coördinatie tekorten. Daarom, als screening platform is het meest geschikt voor een first-pass te onderzoeken bruto activiteit tekorten.
Een volwassen gedrag dat fijne motorische coördinatie betreft is hofmakerij en paring. Dit gedrag is gebruikt om aspecten van gedrag die relevant zijn voor ziekten bij de mens te onderzoeken, en het gaat om de sensorische integratie (geur, visuele, akoestische) in aanvulling op fijne motoriek 18. Wanneer een man een vrouw ziet, begint hij de hofmakerij ritueel dat verloopt in een stereotype patroon begint met oriëntatie gedrag (het draaien in de richting van en achter de vrouwen). Dit wordt gevolgd door wingsong, af te likkeng en tikken van de vrouwelijke genetalia, krullen van de buik in de richting van de vrouw, en culmineert in copulatie, die kan duren enkele tientallen minuten 20-22. Omdat veel van de aspecten van de hofmakerij te betrekken visuele aanwijzingen, donkere omstandigheden leiden tot een degradatie van het koppelen prestaties en testen moeten worden uitgevoerd met voldoende licht, zodat vliegt kan zien elkaar. Dienovereenkomstig, witte ogen vliegen hebben meestal zeer slechte prestaties in onze test beschreven en de lezers worden geadviseerd tegen de plannen van experimenten gebruik te maken van hen met dit protocol. Als de behandeling van de vliegen met een geneesmiddel, de drug zet in het medium de vliegen worden geïsoleerd op (bijvoorbeeld 1% agarose + 10% sucrose + drug in plaats van standaard voeding bij de behandeling met geneesmiddelen om eventuele degradatie van het geneesmiddel te vermijden door micro-organismen in de voedsel). Over het algemeen de vliegen zijn geïsoleerd in 5 ml reageerbuizen die 300-500 ml van voedsel in zich hebben, aangesloten met katoen. NIET verdoven de vliegen voor overdracht aan de dekking wiel. Het iis absoluut van cruciaal belang voor de dekking wiel was heel goed tussen gebruik maakt van het verwijderen van alle resterende feromonen (warm water met een kleine hoeveelheid van Alconox zeep 's nachts met schudden, dan gewassen voor minimaal 48 uur in gedeïoniseerd water met schudden, en tal van veranderingen van water) . Een andere overweging bij het uitvoeren van de test hebben we beschrijven is het weer. In onze ervaring vliegen zal niet het hof te maken als het regent of het lijkt alsof het regent zal zijn. Ze presteren het beste op heldere zonnige dagen, ongeacht of het laboratorium heeft ramen of niet. Onze huidige theorie is dat dit fenomeen is gerelateerd aan de atmosferische druk, maar we hebben niet onderzocht dit.
De traditionele negatieve geotaxis test is gebaseerd op het meten van het aantal vliegen klimmen boven een vooraf bepaalde hoogte in 10 seconden (beschreven in http://www.jove.com/details.php?id=2504 ). Wij zijn van mening dat de ring-test een aantal voordelen ten opzichte van de traditionele test heeft. Een is throughput als zes onafhankelijke duplo tegelijkertijd worden gemeten ten opzichte van die van de standaard test en het systeem is algemeen schaalbaar. Een andere is de gevoeligheid, omdat de gemiddelde hoogte klom in een bepaalde periode wordt gekwantificeerd, in plaats van een pass / fail-nummer voor absolute hoogte. Met deze aanpak kan meer subtiele tekorten in acht worden genomen. Vanwege het niveau van de throughput, de test is meer geschikt voor schermen dan de meer traditionele vervelende negatieve geotaxis test. Verder Garagano et al.. (2005) beschrijven een geautomatiseerd scoringsmethode dat als dienst zou verder toenemen doorvoer. De primaire overwegingen voor deze test zijn dat het noodzakelijk is dat de vliegen niet verdoofd voor het testen, en dat verse flesjes worden gebruikt na een bepaalde set van processen voor een nieuwe batch van vliegen worden getest.
Subscription Required. Please recommend JoVE to your librarian.
Disclosures
Wij hebben niets te onthullen.
Acknowledgements
We willen Astha Maltare bedanken voor het genereren van de larven kruipen gegevens. We willen graag Dr Nicholas Lanson Jr bedanken voor het geven van zijn commentaar op het manuscript. Dit werk werd ondersteund door het Robert Packard Center voor ALS aan de Johns Hopkins (tot UBP) en de Amyotrofische Lateraal Sclerose Vereniging (UBP) en R01MH083689 van de National Institutes of Mental Health (CDN).
Materials
| | | | |
| --- | --- | --- | --- |
| Name | Company | Catalog Number | Comments |
| Sucrose | Fisher Scientific | S5-500 | |
| Agarose | Invitrogen | 16500-500 | |
| 6 oz Drosophila bottle | Genesee Scientific | 32-130 | |
| Paint Brush (#1) | Ted Pella, Inc. | 11859 | |
| Cornmeal | Fisher Scientific | NC9109741 | |
| Agar | Genesee Scientific | 66-104 | |
| Molasses | Fisher Scientific | NC9349176 | |
| Propionic acid | Acros Organics | 14930-0010 | |
| Tegosept | Apex | 20-258 | |
| Ethanol | Fisher Scientific | BP2818-4 | |
| Yeast | Genesee Scientific | 62-107 | |