Summary
Kantitatif Real Time PCR (qPCR) tümör örneklerinde çeşitli mikroRNA ifade seviyeleri (miRNA) molekülleri araştırmak için hızlı ve duyarlı bir yöntemdir. Farklı miRNA moleküller yüzlerce bu yöntem ifadesi kullanılarak, amplifiye miktarı, ve aynı cDNA şablon ile analiz edilebilir.
Cite this Article
Copy Citation | Download Citations

Gordanpour, A., Nam, R. K., Sugar, L., Bacopulos, S., Seth, A. MicroRNA Detection in Prostate Tumors by Quantitative Real-time PCR (qPCR). J. Vis. Exp. (63), e3874, doi:10.3791/3874 (2012).
Abstract
MicroRNA (miRNA'lar) tek iplikçikli, 18-24 nükleotid uzunluğunda, kodlamayan RNA molekülleri vardır. Onlar geliştirme 1, 2 apoptoz ve hücre döngüsü regülasyon 3 olmak üzere hemen her türlü hücresel işlemi katılmaktadırlar. MiRNA'lar hedef haberci RNA (mRNA) 5 bağlanarak 4 insan genlerinin% 90% 30 ifadesi düzenleyen tahmin edilmektedir. MiRNA'lar yaygın düzensizliği çeşitli hastalıklar ve kanser alt 6 rapor edilmiştir. Yaygınlığı ve benzersiz yapısı sayesinde, bu küçük moleküllerin biyolojik, tedavi ajanları ve / veya hedeflerin nesil olması muhtemeldir.
MiRNA ifade araştırmak için kullanılan yöntemler SYBR yeşil Ben boya dayalı olarak Taqman-prob tabanlı qPCR içerir. MiRNA'lar etkili bir klinik uygulamada kullanılacak olursa, taze ve / veya muhafaza klinik örneklerde bunların algılama, tekrar üretilebilir ve sp olması şarttırecific. qPCR yaygın tür mikroarray çalışmaları 7 gibi tüm genom analizlerinde miRNA'lar ifade doğrulamak için kullanılmıştır. Bu protokolde kullanılan örnekleri klinik lokalize prostat kanseri için radikal prostatektomi yapılan hastaların oldukları gözlenirken, diğer doku ve hücre hatları ek dondurulmuş rezeksiyon sonrası sıvı azot vardı Prostat numuneler in ikame edilebilir. Klinik değişkenler ve her hasta için izlem bilgileri 8 sonraki analiz için toplandı.
Prostat tümörü örneklerinde miRNA düzeylerinin belirlenmesi. Tümörlerin qPCR analizinde temel adımları şunlardır: miRNA-spesifik primerler kullanılarak total RNA ekstraksiyonu, cDNA sentezi ve qPCR ürünlerinin tespiti. MRNA, miRNA ve diğer küçük RNA içerir RNA, TRIzol reaktif kullanılarak örneklerden çıkarıldı. Qiagen Kullanıcı miScript Sistemi cDNA sentez ve qPCR (Şekil 1) gerçekleştirmek için kullanılmıştır. Endojen miRNA'lar po değildirTers transkripsiyon işlemi sırasında bu nedenle, lyadenylated, bir poli (A) polimeraz miRNA polyadenylates. MiRNA oligo-dT ve Reverse Transcriptase kullanılarak cDNA sentezi için bir şablon olarak kullanılmıştır. Oligo-dT primerlerin 5 'ucunda bir evrensel bir etiket dizisi PCR adımda cDNA'sının çoğaltılmasında kolaylaştırır. PCR ürünü amplifikasyon SYBR Green, çift sarmallı DNA'ya intercalates bir boya tarafından yayılan floresan düzeyi tespit edilir. Evrensel etiketi dizisi bağlanan bir Universal Astar ile birlikte Özgül miRNA astar, özel miRNA dizileri yükseltmek olacaktır.
MiScript Primer Tahliller binin üzerinde insana özgü miRNA'lar ve fare özgü miRNA'lar yüzlerce mevcuttur. Nispi miktar yöntemi miRNA'lar ifadesi ölçmek için kullanılmıştır. Farklı örnekleri arasında değişkenlik düzeltmek için, bir hedef miRNA ifade seviyelerini bir referans genin ekspresyon düzeyleri normalize edilir. Bir GE seçimine analiz Göreceli ölçüm yöntemi kritik hedeflerinin ifade normalleştirmek için olduğu açıktır. Genellikle bu kapasite kullanılan referans gen örnekleri bunlar stabil en örnekleri üzerinden ifade edilmesi olarak kabul edildiğinden, küçük RNA RNU6B, RNU44 ve RNU48 vardır. Bu protokolde, RNU6B referans gen olarak kullanılır.
Protocol
1. Prostat Örnek Toplama
Prostatektomi zamanda prostat örnekleri toplamak. Numune anatomik noktalar kullanılarak yönlendirilmelidir edilir. Prostat ve seminal veziküllerin aşağıdaki gibi boyanmıştır: sağ tarafında yeşil, sol tarafında mavi.
Prostatın rastgele enine midsection, rektal yüzeyine dik alınan sıvı nitrojen içinde dondurulmuş ve -80 ° C 9 saklanır.
Örneklerin banked dilimleri, (, arka, ön sağ ve sol) odaklı, fotokopi quadrisected vardır. Bölüm Kriyostat kullanılarak kesilir.
Bölüm H & E ile boyandı ve lekeli slaytlar ve ilgili resmin üzerine tümör karşısında, normal alanlarını belirlemek ve tanımlamak için bir patolog tarafından incelenir. Işaretli alanların RNA sonraki adımlarda çıkartılacaktır hangi tümör dokusu ayıklamak için hangi bölgelerini göstermek için bir kılavuz olarak kullanılır.
"break>
2. Örneklerden miRNA dahil RNA, Ayırma
Kuru buz ve belirginlik fotokopi atıfta koyun donmuş prostat örnekleri, prostat tümörü küçük bir bölümünü (50 ila 100 mg arasında) kesip.
TRIzol Reaktif 1 mL prostat tümör dokusu homojenize edilir. Aşağıdaki adımlarla miktarlarda TRIzol Reaktif 1 mL kullanımına dayanmaktadır.
Not: Burada küçük izole Ancak diğer kitleri RNA içeren toplam RNA da kullanılabilir, ayıklanması RNA TRIzol Reaktif kullanmışlardır.
Oda sıcaklığında, 5 dakika süreyle homojenize örnekleri inkübe.
Numunelere kloroform 0.2 mL ve 15 saniye boyunca kuvvetlice çalkalanır. , Oda sıcaklığında 3 dakika süreyle inkübe örnekleri, daha sonra 4 azından 15 dakika süreyle 12,000 x g'de santrifüj ° C.
Taze tüplere renksiz bir üst sulu faz transfer, ve izopropil alkol ve 0.5 ml ilave edilir.Oda sıcaklığında 10 dakika inkübe örnekleri, daha sonra 4 azından 10 dakika süreyle 12,000 x g'de santrifüj ° C.
RNA içeren pelet bozmadan süpernatant dikkatlice aspire. % 75 Etanol ve 1 mL RNA pelet yıkanır. Vorteks 4 az 7500 x g'de 5 dakika için santrifüjleme ile örnek ve tortu yeniden ° C.
Dikkatle RNA pelet tamamen kuru olmamasını sağlayarak, 5-10 dakika yüzer ve kuru RNA pelet aspire. Pelet boyutuna uygun Nükleaz içermeyen su içinde yeniden çözülür. NanoDrop 1000 spektrofotometre (260 nm ve 280 nm'de absorbans ölçü) kullanılarak RNA konsantrasyonu ölçülür.
Agilent Bioanalyzer kullanarak RNA örnekleri kalitesini ve bütünlüğünü kontrol edin.
3. RNA ters transkripsiyon
RNA ters transkripsiyon üreticinin talimatlarına (Qiagen) 'ye göre miScript Ters transkripsiyon Kit kullanılarak gerçekleştirildi. Bu kit içerirtranskriptaz ve bir poli (A) tersine polimeraz. MiScript RT Tampon Mg 2 + dahil, dNTP, oligo-dT primerler ve rastgele primerler.
10 pg ve cDNA sentez RNA 1 mikrogram arasında kullanın. RNA fazla 1 mikrogram kullanıyorsanız, uygun hacimde doğrusal reaksiyon büyütmek.
20 ul nihai hacmi tepkiler getirmek için 5X miScript RT Buffer (4 ul) miScript Ters Transkripsiyon Mix (1 ul) ve RNaz içermeyen su içeren bir ana karışım hazırlayın. Ayrıca master miks şablonu RNA (en fazla 1 mg) içerir.
37 azından 60 dakika süreyle inkübe örnekleri ° C'de 95 ° C'de 5 dakika süreyle bir inkübasyon hemen sonra Bu adımda blok ya da su banyosu ısıtılması, bir PCR makinesinde gerçekleştirilebilir. Thermocyclers en uygun ve doğru yöntemdir. Kısa vadede buz üzerinde cDNA saklayın ve -20 ° C ile uzun süreli depolama için.
4. Standart Eğri oluşturma
Exper öncesindeHedef miRNA'lar ile iment, bir standart eğriden kesişme noktalarında (CP) (Şekil 2) karşı bilinen konsantrasyonlarının cDNAlann kullanılarak üretilir.
2 kat, 10 kat, 50 kat, 250 kat ve ilgi gen önemli bir ifadesi olduğu bilinen bir örnek 1250 kat orijinal cDNA dilüsyonları bir dizi hazırlayın.
Bölüm 5 "miRNA tespiti için real-time PCR" belirtilen cDNA seri dilüsyonlar statik bir 40x seyreltme olduğunu değişiklik ile, PCR çalıştırın.
Standart eğrisi oluşturmak için RelQuant yazılımı (Roche) kullanılarak analiz gerçekleştirin.
Not: yeni bir standart eğri ilgi her gen için oluşturulan edilmelidir.
5.. MiRNA tespiti için real-time PCR
MiRNA'lar için Real Time PCR üreticinin talimatlarına (Qiagen) göre miScript SYBR Green PCR Kiti ve miScript Astar Testi kullanılarak yapıldı. Içeren bir master karışımı hazırlayın2x QuantiTect SYBR Green PCR Master Mix, 10x miScript Universal Astar, 10x miScript Primer Testi ve RNaz içermeyen su. 20 ul hacim reaksiyon için bir ana karışım hazırlayın.
Primer Assay ilgi miRNA özgüdür. Sulandırmak 10x miScript Astar Testi için, kısaca flakon santrifüj ve 550 ul TE tamponu, pH 8.0 ekleyin. -20 ° C'de Vorteks karıştırmak için kısaca şişe, küçük birimlere kısım astar ve mağaza Iki primer gereklidir. Hedef geni ve referans gen için primerler RNU6B referans gen usedas olup.
-20 ° C'de cDNA 40x ve mağaza ekstra hacme seyreltilir
cDNA PCR için kalıp olarak hizmet eder. 40x seyreltilmiş cDNA 2 ul kullanın ve 20 ul ışık cycler kılcal (Roche) ile akıtın.
Her kılcal için ana karışım 18 ul ekleyin ve bir kılcal adaptörü kullanarak santrifüj.
Böyle LightCycler 3 gibi kılcal tabanlı Gerçek Zamanlı cycler, içinde kılcal yerleştirin.32-kapiller atlıkarınca formatı ile 5 Real-Time PCR Sistemi.
Aşağıdaki gibi PCR bisiklet programını çalıştırın:
2x QuantiTect SYBR Green PCR ana Karışım içinde HotStarTaq polimerazı aktive etmek için, 95 azından önceden 15 dakika süreyle inkübe ° C.
50 döngüleri Ardından:
Denatürasyon, 15 s, 94 ° C;
Tavlama, 30 s, 55 ° C;
Eklenti, 30 s, 70 ° C
Kalibratör olmak için bir örnek seçin ve 1 olarak normalize hedef miktarını ayarlayın. Kalibratörü tüm diğer örnekleri arasında miRNA bağıl ifade karşılaştırın.
Not: Çalışma kapsamında, aynı kalibre numune sonuçlarının tutarlılığı korumak için kullanılmalıdır.
6. Veri Analizi
PCR reaksiyonlar için Amplifikasyon eğrileri Moleküler Biyokimyasallar LightCycler Yazılım sürümü 3.5 (Roche) ile grafiksel ve sayısal olarak tasvir edilmektedir. Bir, "nicelik" sekmesinde reaksiyonları ölçmeknd bir metin dosyasına verileri.
Ölçümü sonuçları üretmek için RelQuant analiz yazılımı (Roche) veri alma. Hedef gen, referans gen ve standart eğri veri için ayrı dosyalar alın.
Hedef ve referans gen hem kalibratör pozisyonunu belirtin. Ayrıca, örnek pozisyonları belirtir. Veri kalibratörü referans oranı hedef bölünmesiyle farklı örnekleri arasında oranı referans hedef olarak ifade edilir. Daha önce belirli bir miRNA ve temizlik gen için oluşturulan standart eğrisi bilinmeyen konsantrasyonlarının miRNA hedefleri için nicel veri extrapolating için bir referans standart olarak kullanılır.
Örnekleri bir grup olarak analiz ve konsantrasyonları ve üç nüsha standart sapmaları hesaplanır demek olan üç çoğaltır. Kopyaların bir dizi geri kalanı ile tutarsız ise, bu program tarafından çıkartılacaktır.
7. Temsilcisi Sonuçlar
<p = sınıfı "jove_content"> prostat numuneler üzerinde qPCR analizi için bir örnek
Şekil 3
'de gösterilmiştir. Sonuçlar hem grafiksel olarak, sayısal olarak tasvir edilmektedir. Hedef gen, miR-98, ekspresyon döngü 25 azından yaklaşık gecikmeli amplifikasyon gösterirken referans gen, U6 ifade seviyelerini gösteren grafikleri, yaklaşık 20 döngü azından üstel amplifikasyon başlar. Bu deneyden elde edilen veriler metin dosyası olarak ihraç ve RelQuant analiz yazılımı ile analiz edildi. Kalibratör ve örnekler içeren kılcal Pozisyonlar belirtilir.
Şekil 4
kalibratör 1 olarak ayarlayın ve kalibratör göre diğer örneklerin ifadesi nasıl göstermektedir.

Şekil 1. MiScript ters transkripsiyon ve Real-time PCR de çeşitli adımlar.


Şekil 2. Standart eğri 2 kat, 10 kat, 50 kat, 250 kat, 1250 kat orijinal cDNA örnek dilüsyonlarının bir dizi kullanılarak oluşturulur.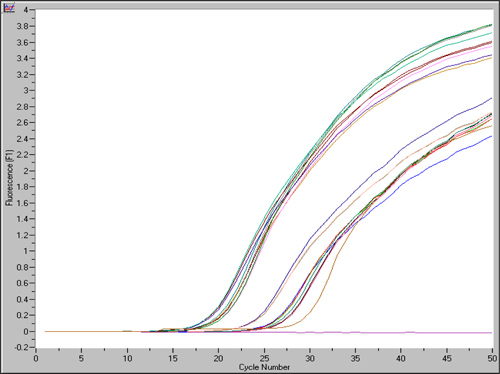 Şekil 3. Roche Molecular Biyokimyasallar LightCycler Yazılım grafiksel deney ve metin ile tüm bilgileri gösterir. Kantitatif Real-time PCR parsellerde çeşitli örneklerden floresans artış gösterirler.

Şekil 4. Veri RelQuant LightCycler analiz yazılımı kullanılarak ölçüldü. Genellikle, üç grup ve açıkça tutarsız sonuçlar dışlanan üretmek ve konsantrasyonları ve üç nüsha standart sapmaları hesaplanır anlamına örnekleri olarak analiz edilir örneklerin çoğaltır.
Subscription Required. Please recommend JoVE to your librarian.
Discussion
Bazı miRNA'lar anormal ifadeler, sürekli normal doku 10, ve bu miRNA'lar bazı prostat kanserine karşı 11 potansiyel yeni terapötik maddeler olarak adlandırılmış olan ile karşılaştırıldığında prostat tümörleri bulunmuştur. Dolayısıyla miRNA anormal ekspresyon düzeyleri yararlı tanısal ve / veya prognostik biyolojik olabilir. Burada sunulan Real-Time qPCR metodolojisi prostat tümör dokusunda miRNA düzeylerinin tayini için daha kesin bir ölçüm sağlar. Kullanılan miScript PCR sistemi olgun miRNA'lar arasındaki tek nükleotid farklılıkları tespit edebilirsiniz. MiScript miRNA qPCR Tahliller Ancak, farklı miScript Prekürsör Tahliller mevcut olduğu kök döngü öncü miRNA'lar, tespit için değildir.
Bu tekniğin güvenilirliği giriş RNA kalitesine bağlıdır, bu nedenle RNA konsantrasyonu, bütünlük ve saflık önce Real-Time PCR ile test edilmelidir. Ayrıca, çok ribonucleases stabl olane ve kolayca RNA aşağılamak, böylece ekstra dikkatli RNA ele alınmalıdır. Tüm reaksiyonlar RNA bozulması en aza indirmek için buz üzerinde kurulması gerekir. RNaz inhibitörleri de transkripsiyon tersine çevirmek için önceden reaksiyon için eklenebilir. Steril ve tek kullanımlık plastik eşyalara işlem boyunca kullanılması gerekir eldiven, sık sık değiştirilmelidir.
PCR ürün ya da herhangi bir amplifikasyon eğrisi Gerçek Zamanlı PCR geç algılandığında varsa, PCR döngüsü sayısını arttırarak deneyin ve bisiklet programı 95 azından 15 dakika süreyle HotStarTaq DNA polimerazı aktive ° C. içerir emin Düşük amplifikasyonu da yetersiz başlangıç ​​cDNA şablona bağlı olabilir, bu nedenle cDNA miktarını artırmaya çalışıyoruz. Geç amplifikasyon da yanlış pozitif temsil edebilir.
Subscription Required. Please recommend JoVE to your librarian.
Disclosures
Çıkar çatışması ilan etti.
Acknowledgments
Bu çalışma Kanada Kanser Topluluğu Araştırma Enstitüsü tarafından finanse edildi, hiçbir vermek. 019.038.
Materials
| | | | |
| --- | --- | --- | --- |
| Name | Company | Catalog Number | Comments |
| TRIzol Reagent | Invitrogen | 15596 | |
| miScript Reverse Transcription Kit | Qiagen | 218061 | |
| miScript Primer Assays | Qiagen | Experiment specific | |
| miScript SYBR Green PCR Kit | Qiagen | 218073 | |
| LightCycler 3.5 Real-Time PCR System | Roche Group | | |
| Light Cycler Capillaries | Roche Group | 04929292001 | |
| NanoDrop 1000 spectrophotometer | Thermo Fisher Scientific, Inc. | 2538 | |
| Agilent 2100 Bioanalyzer | G2943CA | | |