Summary
Kvantitativ realtids polymerasekædereaktion (qPCR) er en hurtig og følsom metode til at undersøge ekspressionsniveauerne af forskellige microRNA (miRNA) molekyler i tumorprøver. Anvendelse af denne fremgangsmåde ekspression af hundreder af forskellige miRNA molekyler kan forstærkes, kvantificeres, og analyseres fra det samme cDNA-skabelon.
Cite this Article
Copy Citation | Download Citations

Gordanpour, A., Nam, R. K., Sugar, L., Bacopulos, S., Seth, A. MicroRNA Detection in Prostate Tumors by Quantitative Real-time PCR (qPCR). J. Vis. Exp. (63), e3874, doi:10.3791/3874 (2012).
Abstract
MicroRNA (miRNA) er enkeltstrenget, 18-24 nucleotid lange, ikke-kodende RNA-molekyler. De er involveret i stort set alle cellulær proces, herunder udvikling 1, apoptose 2, og cellecyklus regel 3. MiRNA anslås at regulere ekspressionen af 30% til 90% af humane gener 4 ved binding til deres mål-messenger-RNA'er (mRNA'er) 5. Udbredt dysregulering af miRNA er blevet rapporteret i forskellige sygdomme og cancer undertyper 6. På grund af deres forekomst og unik struktur, disse små molekyler er sandsynligvis den næste generation af biomarkører, terapeutiske midler og / eller mål.
Metoder til at undersøge miRNA udtryk omfatter SYBR grønne I farvestof-baserede samt Taqman-sonde baseret qPCR. Hvis miRNA der effektivt kan anvendes i den kliniske omgivelser, er det bydende nødvendigt, at deres opdagelse i friske og / eller arkiverede kliniske prøver være præcise, reproducerbare, og specific. qPCR har været meget anvendt til validering af ekspressionen af miRNA i hele genomet analyser, f.eks microarray studier 7. Prøverne, der anvendes i denne protokol var fra patienter, som gennemgik radikal prostatektomi for klinisk lokaliserede prostatacancer, men andre væv og cellelinier kan være substitueret ind Prostate prøver blev lynfrosset i flydende nitrogen efter resektion. Kliniske variable og opfølgende oplysninger for hver patient blev indsamlet til efterfølgende analyse 8.
Kvantificering af miRNA niveauer i prostata tumorprøver. De vigtigste skridt i qPCR analyse af tumorer er: Total RNA ekstraktion, cDNA syntese, og afsløring af qPCR produkter ved hjælp af miRNA-specifikke primere. Totalt RNA, som omfatter mRNA, miRNA, og andre små RNA'er blev ekstraheret fra prøver med TRIzol reagens. Qiagen s miScript blev anvendt til at syntetisere cDNA og udføre qPCR (figur 1). Endogene miRNA ikke polyadenylated derfor under revers transkription-processen, en poly (A)-polymerase polyadenylates miRNA. MiRNA anvendes som en template til at syntetisere cDNA under anvendelse af oligo-dT og revers transkriptase. En universel tag-sekvens i 5'-enden af ​​oligo-dT-primere letter amplifikation af cDNA ved PCR trin. PCR-produktet amplifikation detekteres ved niveauet af fluorescens udsendt af SYBR Green, et farvestof, som interkalerer i dobbeltstrenget DNA. Specifikke miRNA primere, sammen med en universel primer, som binder til det universelle mærke sekvensen vil amplificere specifikke miRNA sekvenser.
De miScript Primer analyser er tilgængelige for mere end et tusind menneske-specifikke miRNA, og hundredvis af murine-specifikke miRNA. Relativ kvantificering fremgangsmåde blev anvendt her til at kvantificere ekspressionen af ​​miRNA. For at korrigere for forskelle mellem forskellige prøver, er ekspressionsniveauer af et mål miRNA normaliseret til ekspressionsniveauer af en reference-gen. Valget af en GEne, hvorpå der kan normalisere ekspressionen af ​​mål er kritisk i relativ kvantificering analysemetode. Eksempler på referenceniveauer gener der typisk anvendes i denne egenskab er det lille RNA'er RNU6B, RNU44 og RNU48 idet de anses for at være stabilt udtrykt i de fleste prøver. I denne protokol er RNU6B anvendes som reference-genet.
Protocol
1. Prostata Prøvetagning
Saml prostata prøverne på tidspunktet for prostatektomi. Prøven er orienteret ved hjælp af anatomiske vartegn. Den prostata og sædblærer er malet som følger: højre side grøn, venstre side blå.
En tilfældig tværgående midtersektion prostata er taget vinkelret på den rektale overflade, frosset i flydende nitrogen og opbevaret ved -80 ° C 9.
Opsparede skiver af enhederne fotokopiering, orienteret (anterior, posterior, højre og venstre), quadrisected. Sektioner skåret med kryostaten.
Sektionerne farves med H & E og gennemgået af en patolog at bestemme og afgrænse tumor versus normale områder på de farvede objektglas og et tilsvarende billede. De markerede områder anvendes som en guide at indikere områder, hvorfra at udtrække tumorvæv fra hvilken RNA vil blive udvundet i de efterfølgende trin.
bryde ">
2. Isolering af total RNA, herunder miRNA, fra prøver
Sted frosne prostata prøver på tøris og under henvisning til det afgrænsede fotokopi skære en lille del af prostatatumor (mellem 50 og 100 mg).
Homogenisere prostata tumorvævet i 1 ml af TRIzol reagens. Mængderne i de følgende trin er baseret på anvendelse af 1 ml TRIzol reagens.
Bemærk: Her har vi anvendt TRIzol Reagens til ekstraktion RNA, men andre kits, som isolerer de små RNA-holdige totalt RNA kan også anvendes.
Inkuber de homogeniserede prøver i 5 minutter ved stuetemperatur.
Tilsæt 0,2 ml chloroform til prøverne og rystes kraftigt i 15 sekunder. Inkuber prøverne i 3 minutter ved stuetemperatur, centrifugeres ved 12.000 xg i 15 minutter ved 4 ° C.
Overføre farveløs øvre vandige fase til friske rør, og der tilsættes 0,5 ml isopropylalkohol.Inkuber prøverne i 10 minutter ved stuetemperatur, centrifugeres ved 12.000 xg i 10 minutter ved 4 ° C.
Forsigtigt Aspirér supernatanten uden at forstyrre pellet indeholder RNA. Vask RNA-pellet med 1 ml 75% ethanol. Vortex prøven og re-sediment ved centrifugering i 5 minutter ved 7500 xg ved 4 ° C.
Omhyggeligt aspirere supernatanten og tørre det RNA-pellet i 5-10 minutter, idet det sikres at RNA-pellet er ikke helt tørt. Genopløses i nuklease-frit vand hensigtsmæssigt pellet størrelse. Måling af koncentrationen af ​​RNA ved hjælp af NanoDrop 1000 spektrofotometer (foranstaltning absorbans ved 260 nm og 280 nm).
Kontroller kvaliteten og integriteten af ​​de RNA-prøver ved hjælp af Agilent Bioanalyzer.
3. Revers transkription af RNA
Revers transkription af RNA blev udført ved anvendelse miScript Reverse Transcription Kit ifølge producentens instruktioner (Qiagen). Dette sæt indeholder enrevers transkriptase og en poly (A)-polymerase. Den miScript RT puffer omfatter Mg2 +, dNTP'er, oligo-dT-primere og tilfældige primere.
Anvendes mellem 10 pg og 1 ug af RNA til at syntetisere cDNA. Hvis der anvendes mere end 1 ug RNA, opskalere reaktionen lineært til det ønskede volumen.
Fremstille en master-blanding, der indeholder 5X miScript RT puffer (4 gl), miScript Revers transkription Mix (1 ul), og RNase-frit vand for at bringe reaktioner slutvolumen på 20 ul. Også omfatte skabelon RNA (op til 1 pg) i master mix.
Inkuber prøverne i 60 minutter ved 37 ° C efterfulgt umiddelbart af en inkubering i 5 minutter ved 95 ° C. Dette trin kan udføres i en PCR maskine, varmeblok eller vandbad. Thermocyclers er den bedst egnede og mest præcise metode. Opbevar cDNA på is i kort sigt, og -20 ° C til langtidsopbevaring.
4. Generering af en standardkurve
Forud for experiment med target miRNA er en standardkurve genereret under anvendelse af cDNA'er af kendte koncentrationer af deres grænseovergange (cP) (figur 2).
Fremstilling af en række fortyndinger af to-fold, 10-fold, 50-fold, 250-fold, og 1250-fold det oprindelige cDNA i en prøve, der vides at have en væsentlig ekspression af din genet af interesse.
Kør PCR, som angivet i afsnit 5 "Real-time PCR til detektion af miRNA", med den ændring, at cDNA er i seriefortyndinger ikke et statisk 40x fortynding.
Udføre analyse ved hjælp RelQuant software (Roche) til at generere din standardkurve.
Bemærk: en ny standardkurve skal genereres for hvert gen af ​​interesse.
5. Real-time PCR til påvisning af miRNA
Real time PCR for miRNA blev udført under anvendelse miScript SYBR Green PCR Kit og miScript Primer Assay ifølge producentens instruktioner (Qiagen). Forbered en master blanding som indeholder2x QuantiTect SYBR Green PCR Master Mix, 10x miScript Universal Primer, 10x miScript Primer Assay, og RNase-frit vand. Forbered en master-blanding for en 20 gl volumen reaktion.
Primeren Assay er specifikt for miRNA af interesse. At rekonstituere 10x miScript Primer Assay hætteglasset centrifugeres kort, og der tilsættes 550 pi TE-buffer, pH 8,0. Vortex hætteglasset kort at blande, alikvote primere til mindre mængder, og opbevares ved -20 ° C. To primere er påkrævet. Primere for mål-genet og reference-genet RNU6B er usedas reference-genet.
Fortyndes cDNA 40x og opbevares ekstra alikvoter ved -20 ° C.
cDNA tjener som template for PCR. Anvend 2 pi 40x fortyndet cDNA og dispensere til 20 ul lys cyklusmekanismens kapillærer (Roche).
Tilsæt 18 ul af master mix til hver enkelt kapillær, og centrifuger ved hjælp af en kapillær adapter.
Placer kapillærer i en kapillær-baseret Real-Time variator, såsom LightCycler 3.5 Real-Time PCR System med en 32-kapillær karrusel format.
Kør PCR cykling som følger:
At aktivere HotStarTaq polymerase som er i 2x QuantiTect SYBR Green PCR Master Mix, præ-inkuberes ved 95 ° C i 15 minutter.
Efterfulgt af 50 cykler af:
Denaturering, 15 s, 94 ° C;
Annealing, 30 s, 55 ° C;
Udvidelse, 30 s, 70 ° C.
Vælg en prøve for at være kalibratoren, og sæt dens normaliseret målbeløbet til 1. Sammenligne den relative ekspression af miRNA i alle andre prøver til kalibratoren.
Bemærk: Inden for en undersøgelse, bør den samme kalibrering prøven bruges til at opretholde ensartede resultater.
6. Analyse af data
Amplifikation kurver for PCR reaktioner afbildet grafisk og numerisk ved Molecular Biochemicals LightCycler softwareversion 3,5 (Roche). Kvantificer reaktioner i "Kvantificering" fanen, ennd eksportere data til en tekstfil.
Importer data til RelQuant analyse software (Roche) til at generere kvantificering resultater. Importer separate filer til målgen henvisning gen, og standardkurveprøver data.
Angiv placering af kalibrator for både mål og reference gen. Også indeholde positioner prøverne. Data er udtrykt som mål at referenceandelen af ​​forskellige prøver, divideret med det mål at henvisningen forholdet mellem kalibrator. Standardkurven tidligere blev genereret til et bestemt miRNA og rengøring genet anvendes som en referencestandard for at ekstrapolere kvantitative data for miRNA mål ukendte koncentrationer.
Tre gentagelser af prøver analyseres som en gruppe og middelkoncentrationer og standardafvigelser for tre eksemplarer beregnes. Hvis en af ​​de tre eksemplarer er i modstrid med resten af ​​sættet, vil blive udelukket af programmet.
7. Repræsentative resultater
<p class = "jove_content"> Et eksempel på qPCR analyse prostata prøver er vist i
figur 3.
Resultaterne er afbildet numerisk, såvel som grafisk. De grafer, der viser ekspressionsniveauer af reference-genet, U6, begynder eksponentiel amplifikation ved ca cyklus 20, medens ekspression af målgenet, MIR-98, udviste forsinket amplifikation omtrent cyklus 25. Dataene fra dette eksperiment blev eksporteret som tekstfil og analyseret ved RelQuant analyse software. Positioner i kapillærerne indeholdende kalibratoren og prøverne er angivet.
Figur 4
illustrerer, hvorledes kalibratoren er indstillet til at være en, og ekspressionen af andre prøver i forhold til kalibratoren.

Figur 1. Forskellige trin i miScript revers transkription og Real-time PCR.


Figur 2. En standardkurve genereret under anvendelse af en række fortyndinger af to-fold, 10-fold, 50-fold, 250-fold, og 1250-fold den oprindelige cDNA prøve.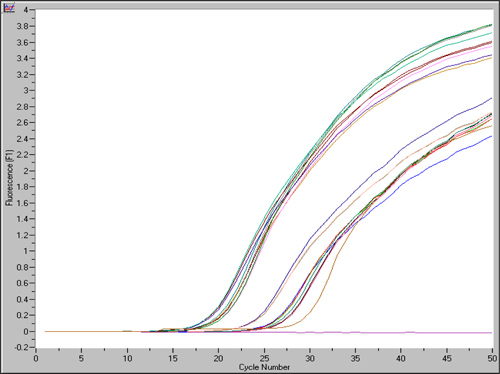 Figur 3. Roche Molecular Biochemicals LightCycler Software viser hele oplysninger om eksperimentet grafisk og tekst. Kvantitativ reel-tid-PCR amplifikation plots udviser øget fluorescens i forskellige prøver.

Figur 4. Data blev kvantificeret under anvendelse RelQuant LightCycler analyse software. Normalt tre gentagelser af prøver analyseres som en gruppe og prøver, der producerer klart inkonsistente resultater er udelukket, og middelkoncentrationer og standardafvigelser i tre eksemplarer beregnes.
Subscription Required. Please recommend JoVE to your librarian.
Discussion
Afvigende udtryk nogle miRNA har konsekvent fundet i prostatatumorer i forhold til normalt væv 10, og nogle af disse miRNA blevet nævnt som potentielle hidtil ukendte terapeutiske midler mod prostatacancer 11. Derfor de afvigende ekspressionsniveauerne af miRNA kan være nyttige diagnostiske og / eller prognostisk biomarkører. Real-Time qPCR metode præsenteret her giver en analyse for nøjagtig kvantificering af miRNA niveauer i prostata tumorvæv. Den miScript PCR anvendt Systemet kan detektere en enkelt nucleotid-forskelle mellem modne miRNA. De miScript miRNA qPCR assays er imidlertid ikke beregnet til påvisning af stem-loop precursor miRNA, som forskellige miScript Precursor Assays er tilgængelige.
Pålideligheden af ​​denne teknik afhænger af kvaliteten af ​​input RNA, således koncentration, integritet og renhed RNA skal testes forud for Real-Time PCR. Desuden ribonucleaser meget stable og let nedbrydes RNA, og dermed ekstra forsigtighed bør tages i håndtering af RNA. Alle reaktioner skal sættes op på isen for at minimere RNA nedbrydning. RNase-hæmmere kan også tilsættes til reaktionsblandingen forud for revers transkription. Handsker skal skiftes hyppigt, mens sterilt og engangs plastvarer skal anvendes under hele proceduren.
Hvis der ikke er PCR-produkt, eller forstærkning kurven opdages sent i Real-Time PCR, kan du prøve at øge antallet af PCR-cyklusser, og sørg for, at cykling programmet omfatter aktivering af HotStarTaq DNA-polymerase i 15 minutter ved 95 ° C. Lav amplifikation kan også være på grund af utilstrækkelig start cDNA-template, således at forsøge at øge mængden af ​​cDNA. Sen amplifikation kan også repræsentere en falsk positiv.
Subscription Required. Please recommend JoVE to your librarian.
Disclosures
Ingen interessekonflikter erklæret.
Acknowledgments
Dette arbejde blev finansieret af den canadiske Cancer Society Research Institute, ikke give. 019038.
Materials
| | | | |
| --- | --- | --- | --- |
| Name | Company | Catalog Number | Comments |
| TRIzol Reagent | Invitrogen | 15596 | |
| miScript Reverse Transcription Kit | Qiagen | 218061 | |
| miScript Primer Assays | Qiagen | Experiment specific | |
| miScript SYBR Green PCR Kit | Qiagen | 218073 | |
| LightCycler 3.5 Real-Time PCR System | Roche Group | | |
| Light Cycler Capillaries | Roche Group | 04929292001 | |
| NanoDrop 1000 spectrophotometer | Thermo Fisher Scientific, Inc. | 2538 | |
| Agilent 2100 Bioanalyzer | G2943CA | | |